These frosted zucchini brownies with their rich, chocolaty flavor and creamy chocolate frosting are sure to become a family favorite!
Post may include affiliate links, which means if you click on a link and purchase something, you won't pay anything extra but it will help support this blog.
I know, I know. You're wondering how in the heck chocolate brownies made with shredded zucchini could be any good. It sounds way too healthy to taste like real brownies, but believe you me, they do.
In fact, these frosted zucchini brownies are quite possibly my favorite homemade brownie recipe. They're right up there with my favorite peanut butter swirl brownies.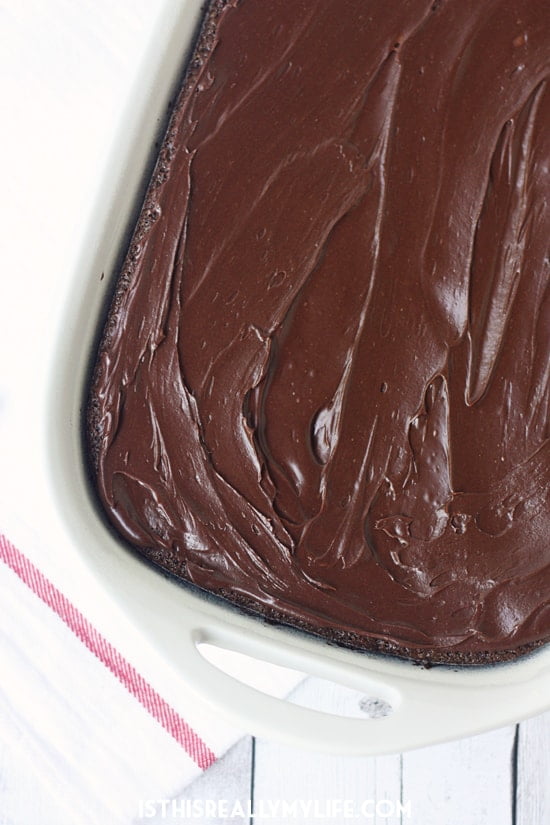 The batter is nice and thick making them extra dense and chewy. You can't even taste the zucchini in there… and not tasting veggies is my favorite way to eat them. They remind me of these yummy double chocolate zucchini muffins—full of zucchini but not full of zucchini flavor!
The creamy chocolate frosting pairs perfectly with the rich, chocolaty brownies. The flavor reminds me of the frosting on my mom's Texas sheet cake, and I could eat that by the bowlful.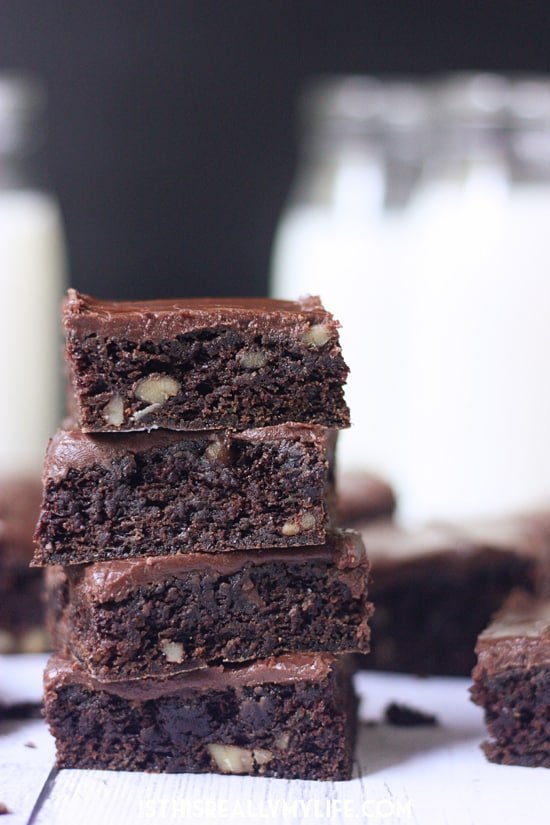 Think of all that zucchini lying around in your garden. I imagine it would love nothing more than to be made into a batch of frosted zucchini brownies and served at your next backyard get-together.
Or served to yourself as a late-night snack! Note: I use the smaller-sized grater on my favorite KitchenAid box grater so the zucchini is more finely shredded (and less noticeable).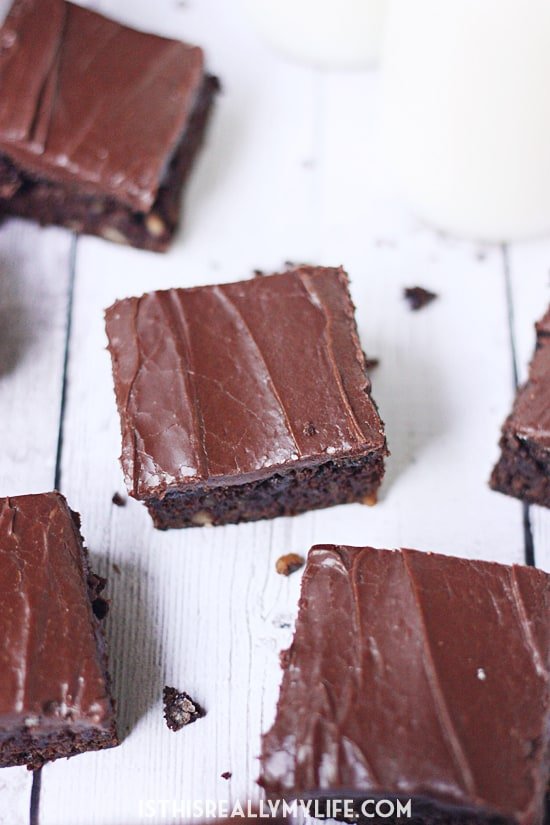 Printable recipe for frosted zucchini brownies below. Enjoy!
Frosted Zucchini Brownies
These frosted zucchini brownies with their rich, chocolaty flavor and creamy chocolate frosting are sure to become your family's favorite homemade brownie recipe.
Ingredients
Brownies
½ cup canola oil
1½ cups sugar
2 tsp vanilla
2 cups flour
½ cup unsweetened cocoa powder
1½ tsp baking soda
1 tsp salt
2 cups shredded zucchini (I use the smaller-sized grater)
½ cup chopped walnuts (optional)
Frosting
6 T unsweetened cocoa powder
¼ cup salted butter
2 cups powdered sugar
¼ cup milk
½ tsp vanilla
Instructions
Brownies
Preheat oven to 350 degrees. Grease and flour a 9x13-inch pan.
Mix oil, sugar and vanilla together in a large bowl until well blended.
Combine flour, cocoa, baking soda and salt in a separate bowl. Stir into sugar mixture until thoroughly combined. Fold in zucchini and walnuts. (Batter will appear dry at first but will become more wet as you mix.)
Spread evenly into prepared pan and bake 25 to 30 minutes or until brownies spring back when gently touched. Cool completely before frosting.
Frosting
Melt cocoa and butter in a small pan; set aside to cool.
Blend powdered sugar, milk and vanilla in a medium bowl. Stir in cocoa mixture. Spread over cooled brownies before serving.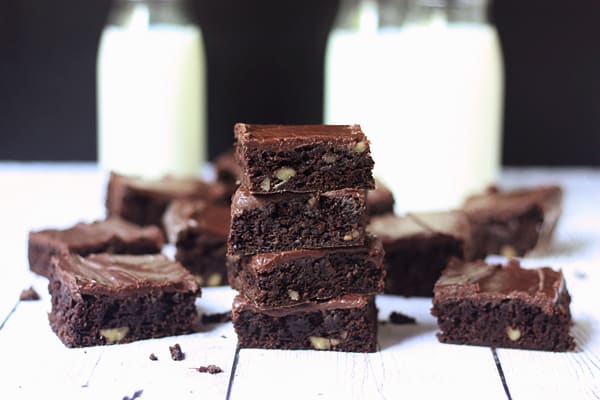 Here are a few more delicious brownie recipes for you to enjoy!