This easy mango protein smoothie is made with Greek yogurt, almond milk, and protein powder and makes for a healthy, tasty way to start the day!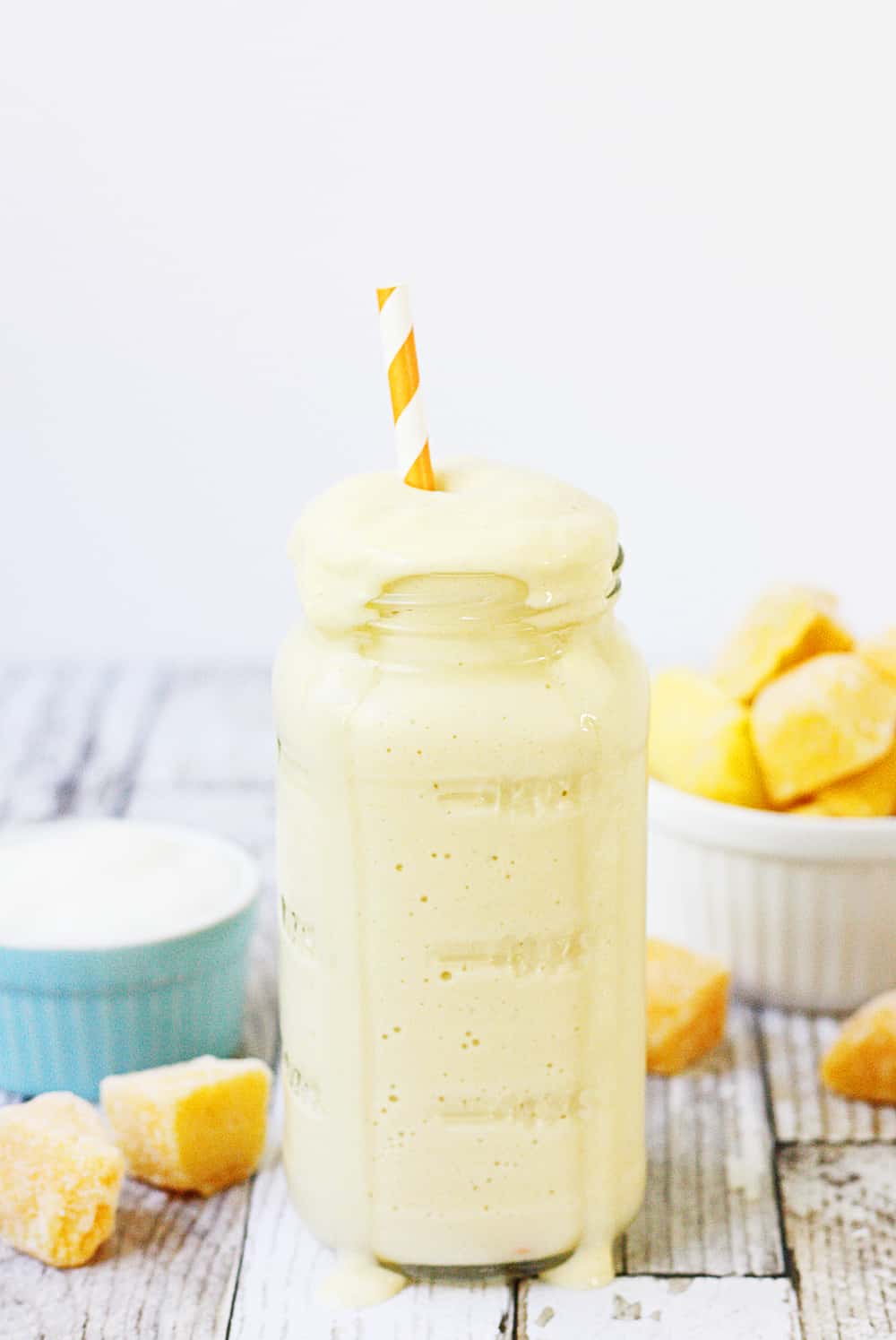 Every year, I make a resolution to eat healthier. And I need to make it every year because I find it nearly impossible to do so. *sigh* I love food—baking it, cooking it, and eating it.
But this year I really am going to try to make healthier choices, and while I won't get all crazy and cut out carbs and sweets entirely, I will try to limit how much and how often I indulge in them.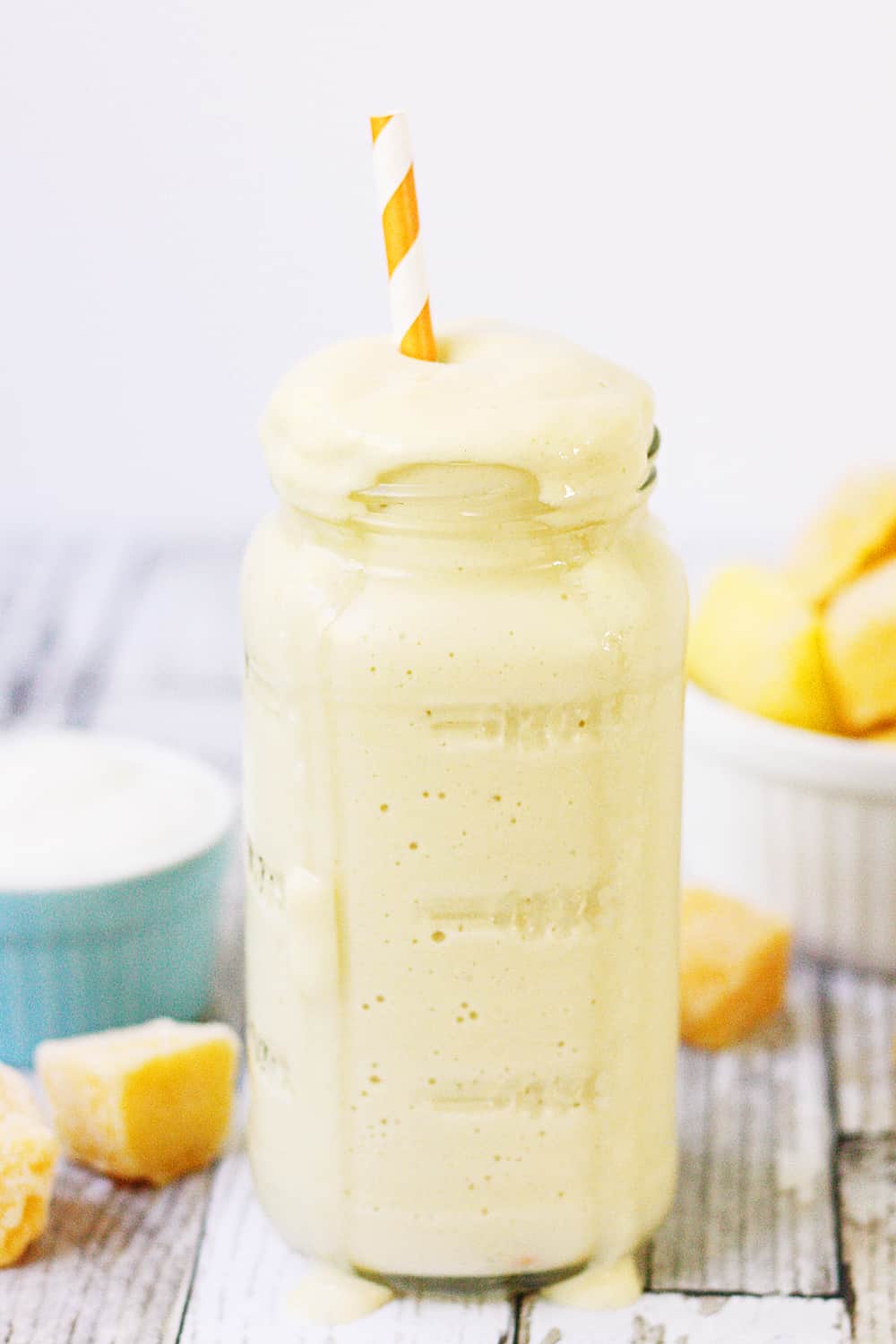 Fortunately there are healthy options that still taste good. This easy mango protein smoothie is one of those options. It's full of yummy mango flavor without being full of a lot of bad-for-you ingredients. It's a lot like my favorite pineapple coconut mango smoothie. Yum!
In fact, the only super sugary ingredient is the honey, and you can leave that out if you'd like. I have a sweet tooth so I love sweetening my smoothies with a little of this golden syrup.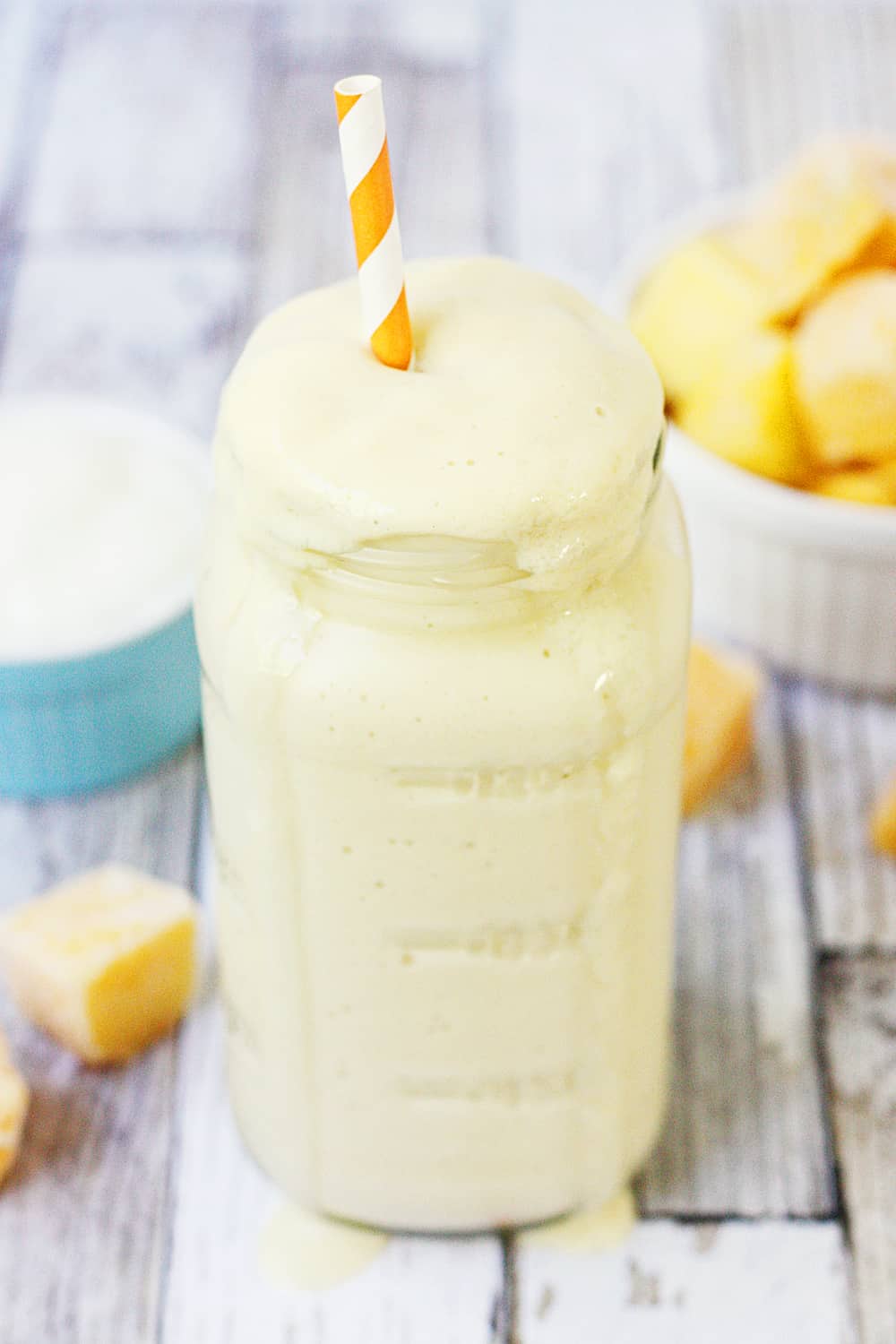 Did you know honey actually has some significant health benefits?
Some health benefits of raw honey
Honey, especially local honey, may help alleviate seasonal allergies.
Honey is known to offer anti-inflammatory effects and the ability to soothe coughs.
Honey is an excellent source of natural energy.
Honey is a good source of antioxidants.
Honey may help improve cholesterol.
Honey can help improve memory and brain healthy due to its ability to help the body absorb calcium.
Honey is a natural antibiotic and can help promote wound healing. (This was a new one for me!)
Who knew honey was packed with so many good-for-you things?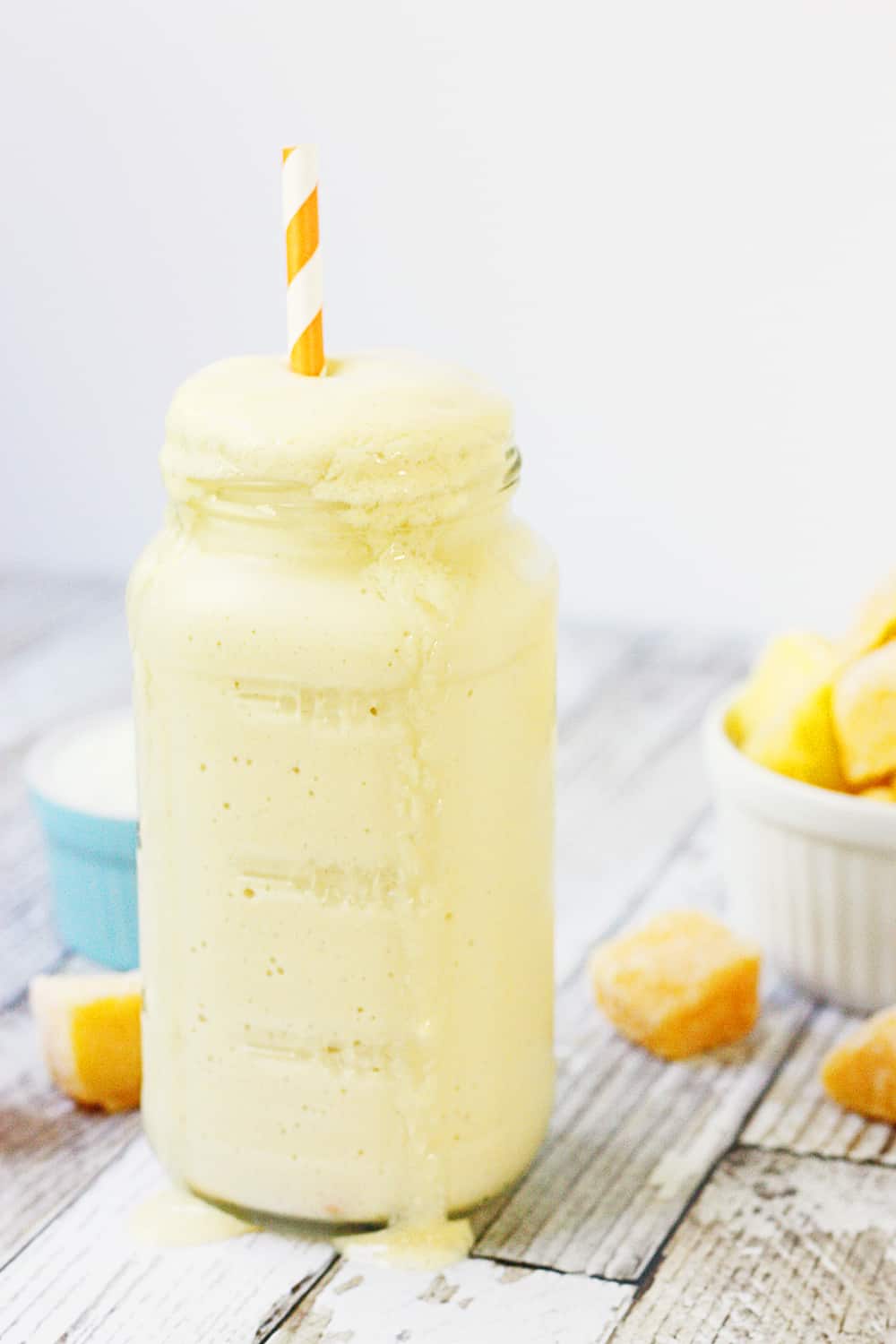 This mango protein smoothie recipe is also packed with good-for-you things like almond milk, Greek yogurt, and Purely Inspired French Vanilla protein powder. I love Purely Inspired organic protein powder. It's packed with 20 grams of plant-based, organic protein in a serving. It's non-GMO and gluten-free too!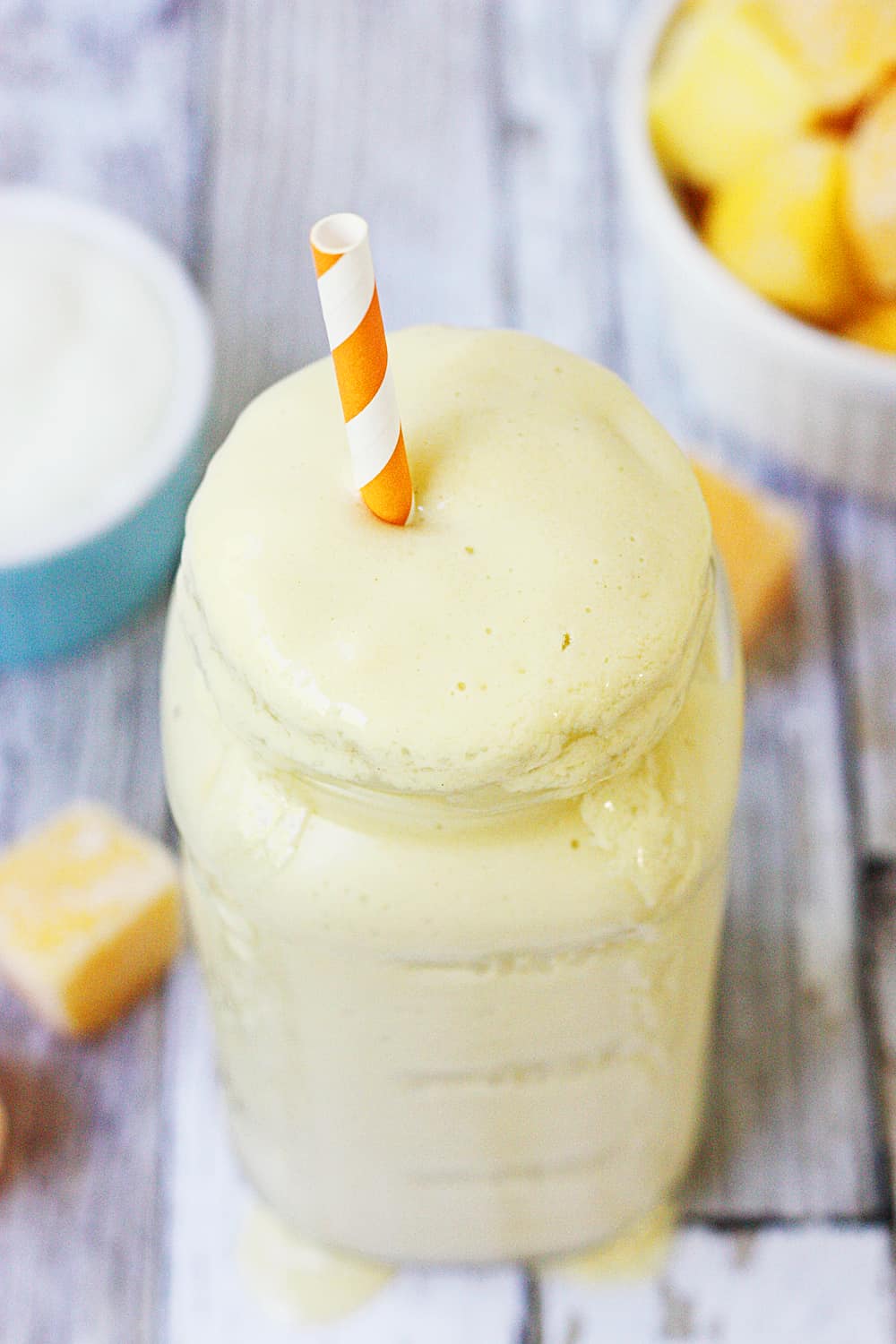 Using frozen mango chunks in this mango protein smoothie makes whipping up a healthy breakfast smoothie so easy you'll forget about that box of sugar cereal in the pantry.
Planning to make a lot of healthy smoothies or green smoothies this year? Invest in a quality blender. You won't regret it.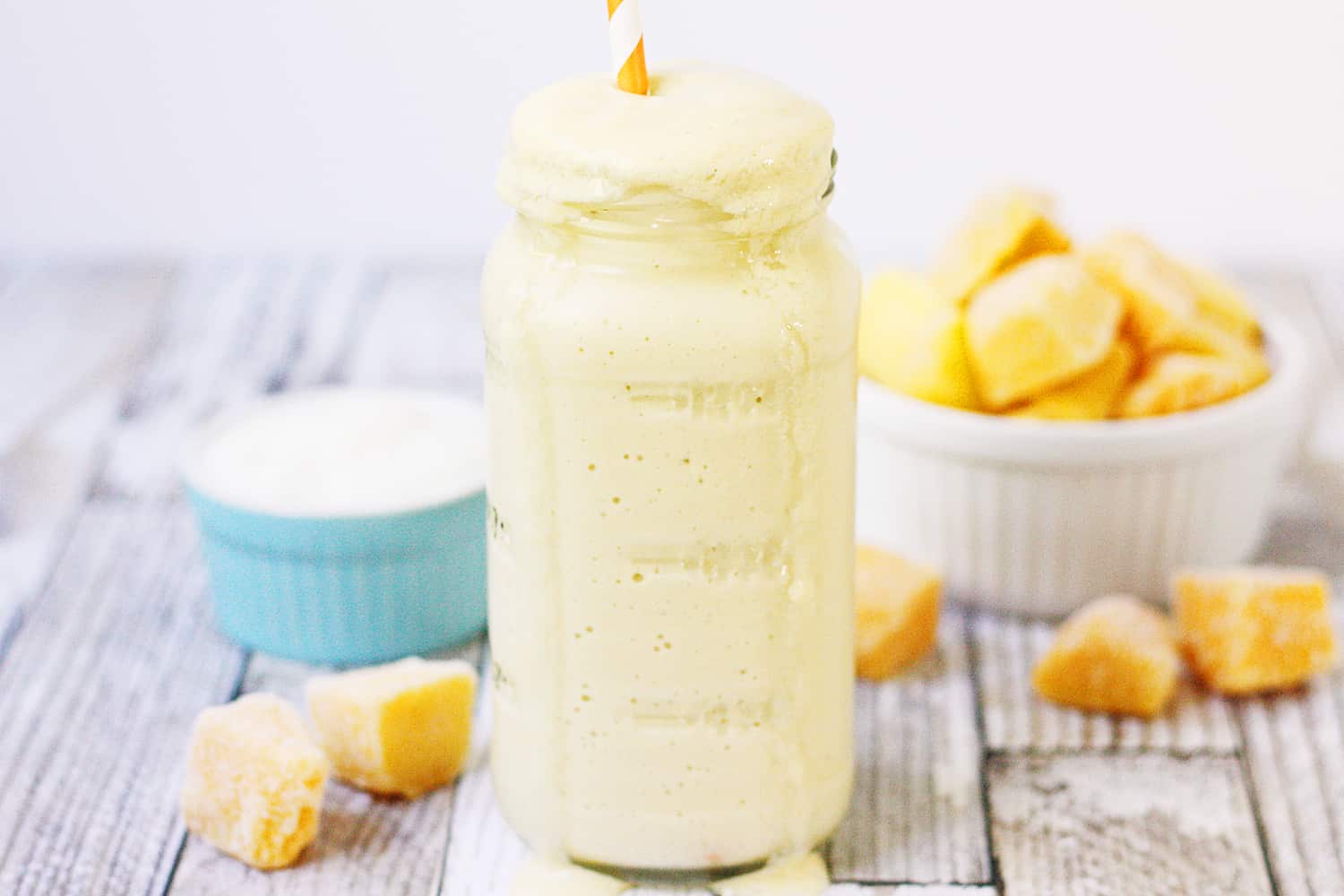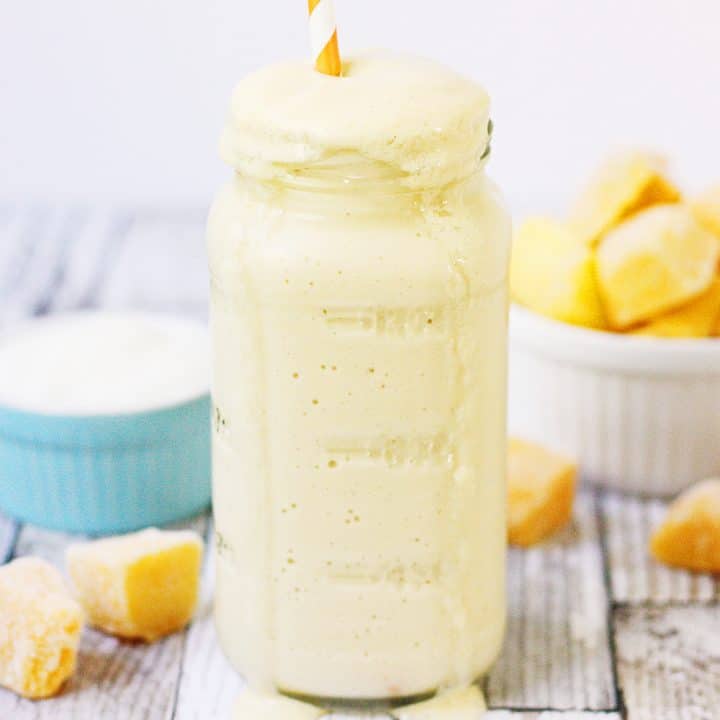 Easy Mango Protein Smoothie
This easy mango protein smoothie is made with Greek yogurt, almond milk, and protein powder and makes for a healthy, tasty way to start the day!
Ingredients
½ cup unsweetened vanilla almond milk
½ cup low-fat vanilla Greek yogurt
1 cup frozen mango chunks
1 scoop Purely Inspired vanilla protein powder
1 teaspoon raw honey or to taste (optional)
¼ teaspoon vanilla extract (optional)
Instructions
Place almond milk, Greek yogurt, mango, vanilla protein powder, honey, and vanilla extract in blender.
Blend until smooth. Serve immediately.
Notes
FOLLOW HALF-SCRATCHED ON INSTAGRAM (@half_scratched) and share the recipes you're whipping up in the kitchen. Don't forget the #HALFSCRATCHED hashtag so we can see what you've made!
Nutrition Information:
Yield:

1
Serving Size:

1
Amount Per Serving:
Calories:

333
Total Fat:

4g
Saturated Fat:

1g
Trans Fat:

0g
Unsaturated Fat:

0g
Cholesterol:

5mg
Sodium:

375mg
Carbohydrates:

47g
Fiber:

9g
Sugar:

37g
Protein:

28g