Instant Pot Mexican rice is easier than you think! This recipe starts with simple ingredients and ends with moist, flavorful rice impossible to resist!
The more Instant Pot recipes I try, the more I fall in love with my 6-quart Instant Pot. It started with Instant Pot Cafe Rio sweet pork and moved to loaded Instant Pot mashed potatoes followed by easy Instant Pot pork chops with mushroom gravy.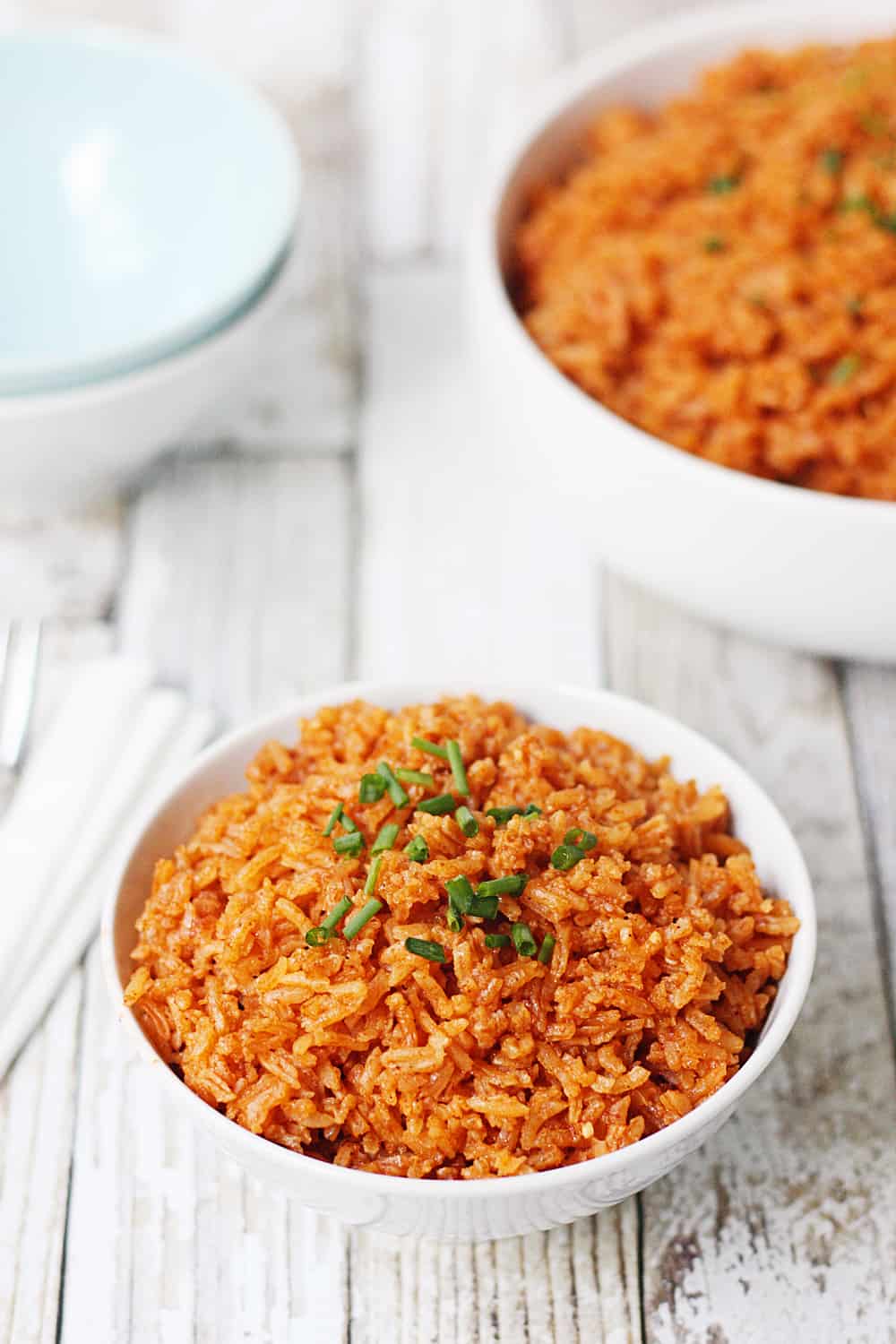 When I first bought my Instant Pot, I was a little intimidated. It had way more buttons than my slow cooker and "pressure cooking" seemed way beyond my skill set.
But I've found my successful Instant Pot recipes outnumber my fails (only one fail to date!) and there are a bazillion Instant Pot guides to help us newbies.
Fortunately this easy Instant Pot Mexican rice is a great recipe if you're new to cooking with an electric pressure cooker. Althought it does require you to use your Instant Pot in two different ways, don't be overwhelmed!
If I can do it, you can do it!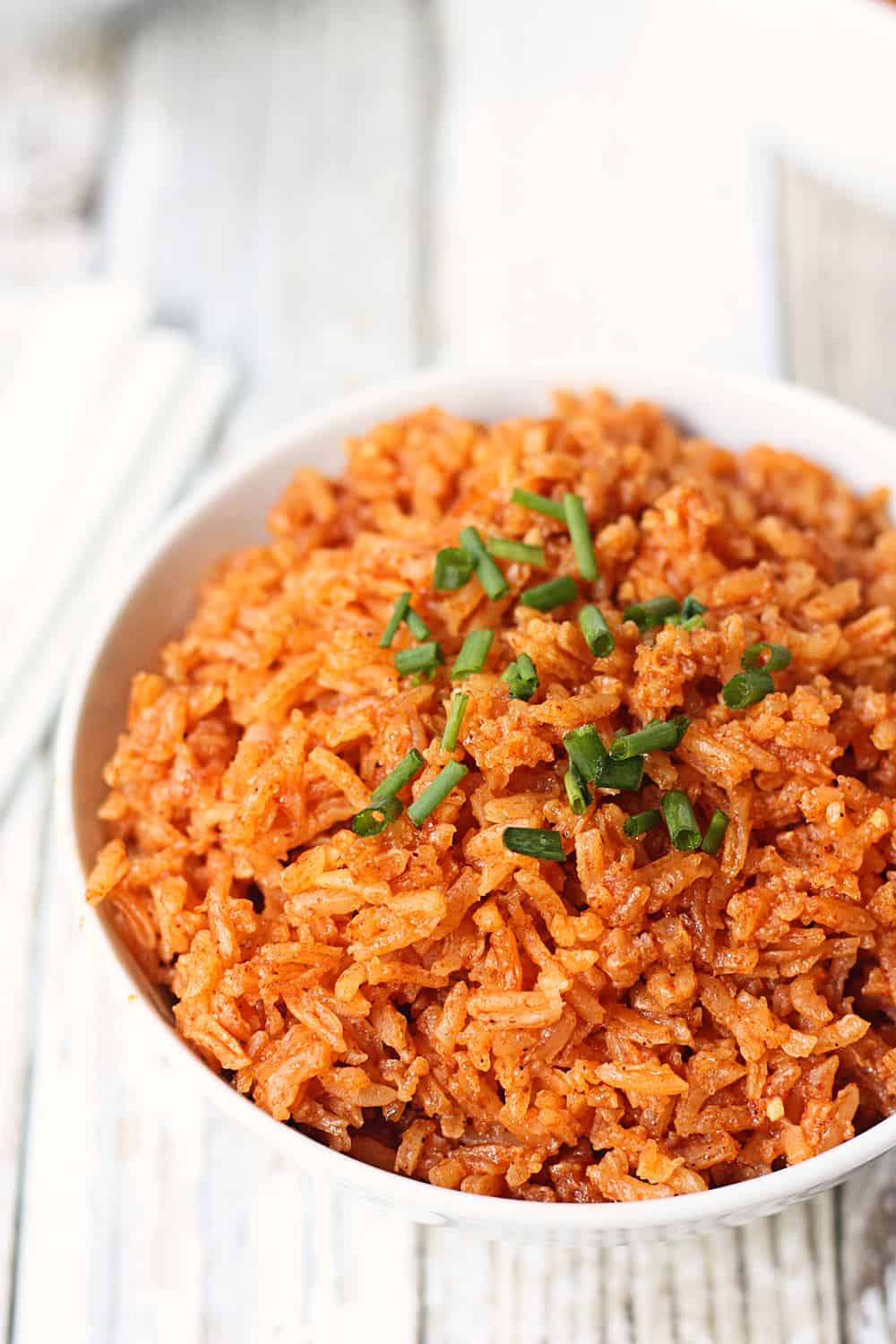 I first made this easy Mexican rice on the stovetop, but I'm here to tell you, it was even easier in the pressure cooker. And I swear it was even more moist and flavorful!
My kids LOVED this easy Mexican rice in the Instant Pot, which is saying a lot. They're picky about rice and rarely can I get them to agree on a rice side dish.
But everyone had seconds, and a few of us may have had thirds. Don't judge.
This easy recipe for Mexican rice calls for Calde de Tomate (tomato bouillon), which I found at my local grocery store. (You can also find it on Amazon.com) But if you can't find it or order it, you could use chicken or vegetable bouillon. It won't be quite is rich a tomato flavor but it will still be yummy!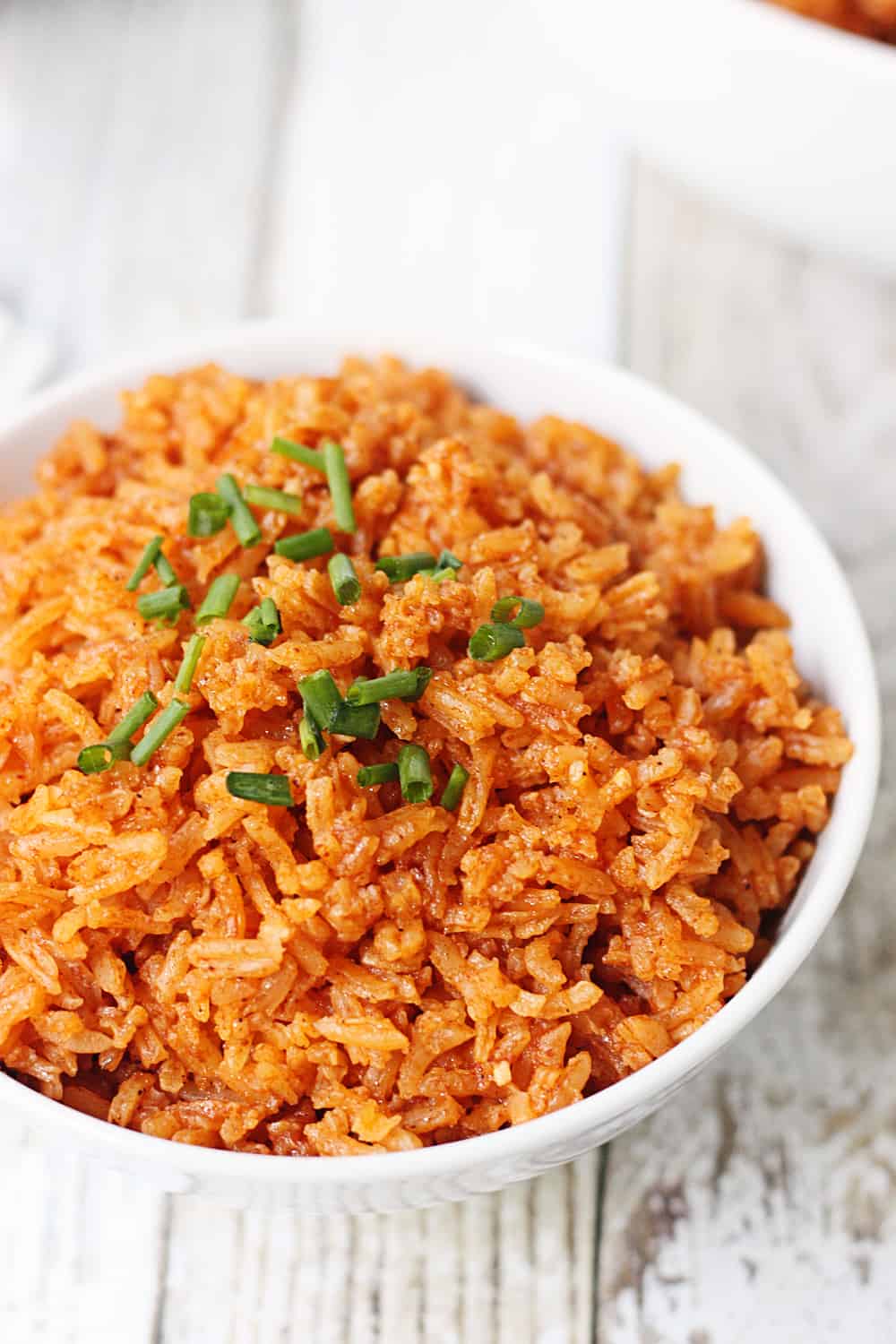 I wasn't sure why you would sauté the rice before cooking no matter the cooking method, so I did a little research.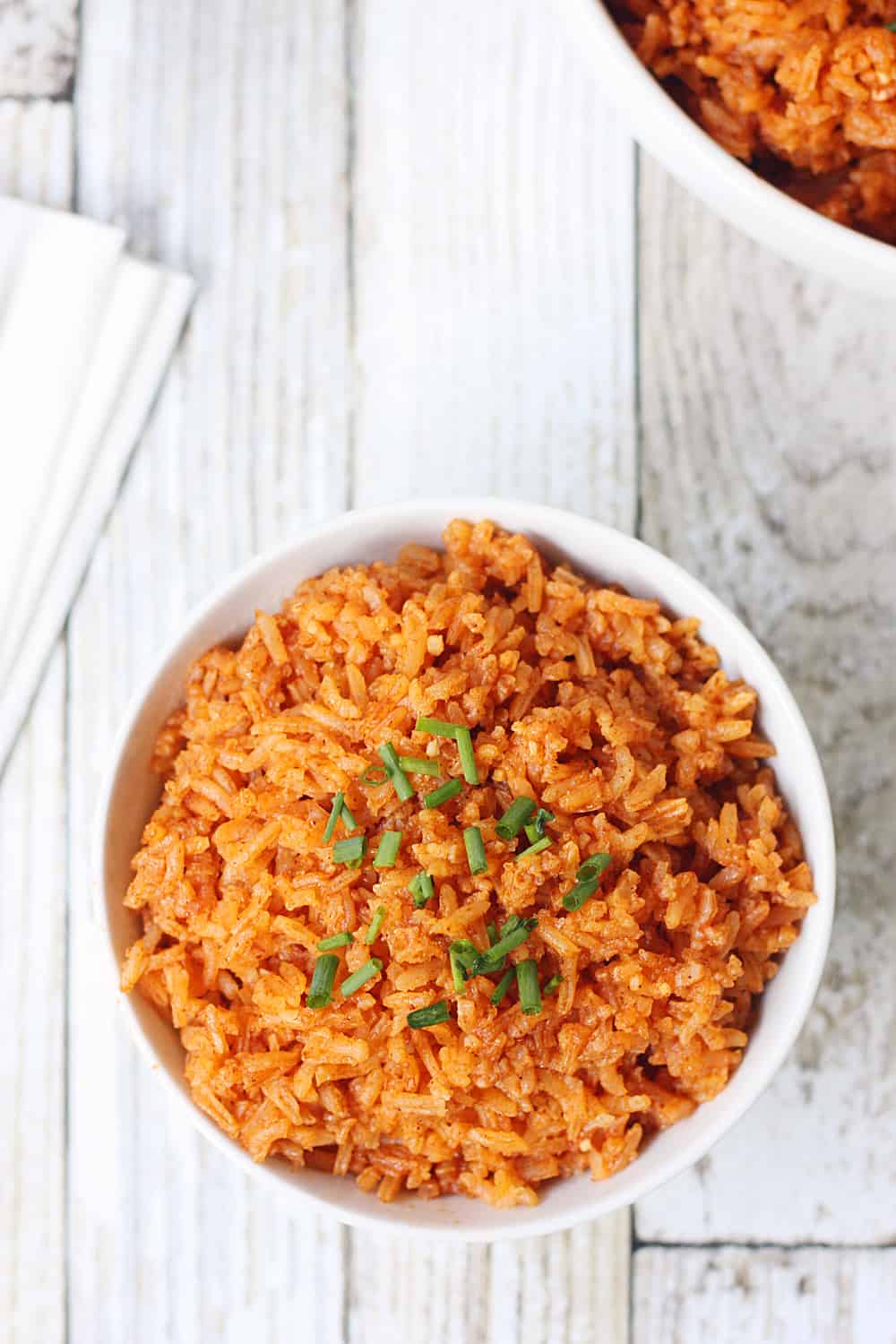 Why Do You Sauté Rice Before Cooking?
When you sauté rice before boiling or cooking, the rice can absorb flavors from whatever oil or fat your sautéing them with. For example, butter will give it more of a toasted, nutty flavor, sesame oil will give it a bit of Asian flavor, and olive oil will give it... well, an olive oil (fruit) flavor.
If you sauté rice with seasonings like spices or garlic, the rice gets infused with those seasonings. All the more reason to add more garlic!
When you sauté rice or other grains, the rice gets a bit toasted on the outside (yum!). This slightly toasted exterior keeps the rice from becoming too mushy and the grains perfectly sticky!
Once you try this easy Instant Pot Mexican rice, you'll never want to cook rice any other way!
Okay, maybe you'll have to cook it on the stovetop if your Instant Pot is busy cooking that Cafe Rio sweet pork!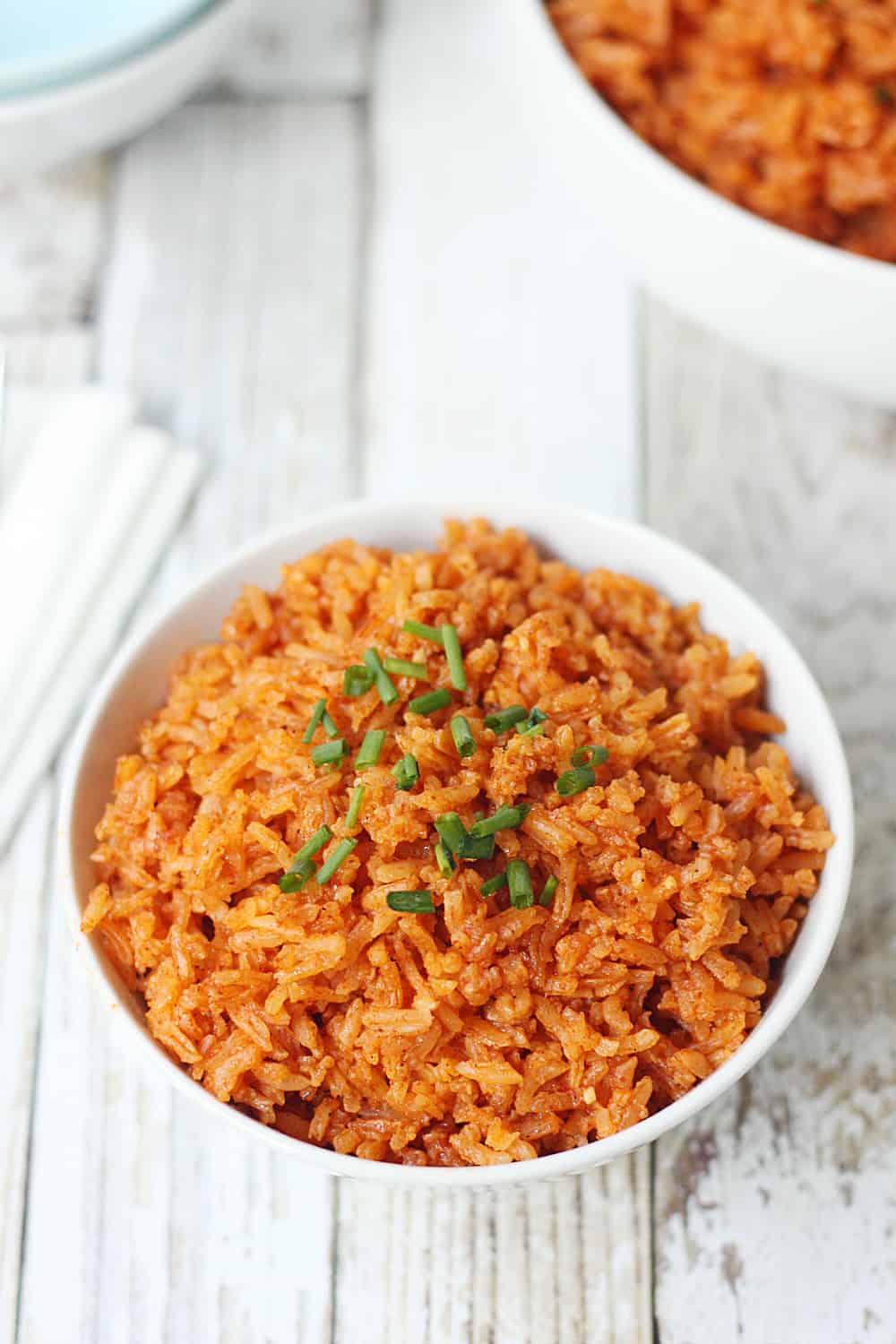 If you want more Instant Pot recipes, The Instant Pot Electric Pressure Cooker Cookbook: Easy Recipes for Fast & Healthy Meals looks like a good one and has great reviews!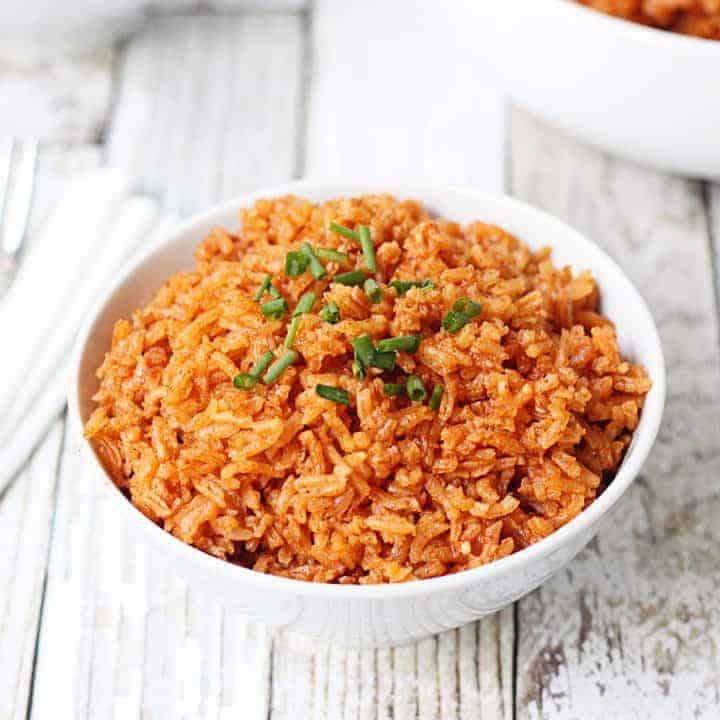 Easy Instant Pot Mexican Rice
Instant Pot Mexican rice is easier than you think! This recipe starts with simple ingredients and ends with moist, flavorful rice impossible to resist!
Ingredients
2 T canola oil
2 cups long-grain white rice, uncooked
2 (8-oz) cans tomato sauce
2 ½ cups warm water
2 teaspoon chili powder
4 teaspoon Calde de Tomate (tomato bouillon)
3 teaspoon fresh minced garlic
Instructions
Add oil to Instant Pot and press Saute setting. Saute rice, stirring constantly, for several minutes until rice starts turning golden brown.
Gently pour in water. Add tomato sauce, chili powder, Calde de Tomate, and minced garlic.
Lock lid and select Manual at High Pressure. Set timer for 4 minutes. Once beep sounds, turn off pressure cooker. Naturally release pressure for 10 minutes followed by a quick release. Remove lid when valve drops.
Fluff rice and let sit 5 minutes before serving.
Notes
FOLLOW HALF-SCRATCHED ON INSTAGRAM (@half_scratched) and share the recipes you're whipping up in the kitchen. Don't forget the #HALFSCRATCHED hashtag so we can see what you've made!
Nutrition Information:
Yield:

6
Serving Size:

1 cup
Amount Per Serving:
Calories:

150
Total Fat:

6g
Saturated Fat:

1g
Trans Fat:

0g
Unsaturated Fat:

4g
Cholesterol:

0mg
Sodium:

1271mg
Carbohydrates:

22g
Fiber:

2g
Sugar:

3g
Protein:

3g