Post may include affiliate links to support my Diet Coke habit.
This cowboy salsa (aka cowboy caviar) needs no introduction, but if it did, this is what I would say:
It's like crack.
...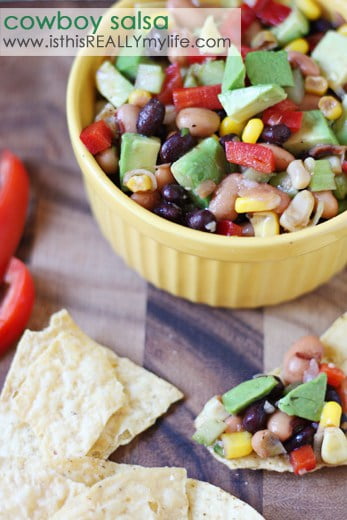 ...
I took my friend Kim's recipe and threw in a ripe California avocado to make it even more addictive—not that it needed any help.
You can serve this cowboy salsa with your favorite tortilla chips (our current favorite is On the Border) or atop pretty much anything: grilled chicken, tostadas, burritos, your fingers. Though I used super sweet yellow & white corn, you could also use white shoepeg corn (a personal fave).
Note: This recipe makes quite a bit of cowboy salsa so plan to either serve it at a get-together or give a batch or two to neighbors. Or send a batch to me; that works too.
Printable recipe for cowboy salsa below.
...

Cowboy Salsa (aka Cowboy Caviar)
Super easy salsa that tastes great atop chips, chicken, quesadillas--just about anything. It makes quite a large bowl, so plan to share it with friends and family.
Author:
Emily ~ isthisREALLYmylife.com
Ingredients
1 can pinto beans, drained and rinsed
1 can black-eyed peas, drained and rinsed
1 can black beans, drained and rinsed
1 can sweet yellow & white corn, drained and rinsed
1 California avocado, diced
1 cup chopped celery
1 cup chopped red bell pepper
½ to 1 cup chopped green onion
Diced jalapeno pepper to taste
¼ cup apple cider vinegar
¼ cup balsamic vinegar
¼ cup granulated sugar
¼ cup canola oil
½ tsp salt
½ tsp pepper
Instructions
In a large bowl combine pinto beans, black-eyed peas, black beans, corn, celery, red bell pepper, green onion and jalapeno pepper. (Don't add avocado until ready to serve.)
In a small saucepan combine cider vinegar, balsamic vinegar, sugar, oil, salt and pepper. Bring to a boil and boil until sugar dissolves. Let cool.
Pour over ingredients in bowl and toss to coat. Refrigerate overnight.
Add avocado just before serving and toss to coat evenly.
...
Join I Wash...You Dry and Southern Fairytale for the California Avocado Cinco de Mayo Recipe Fiesta sponsored by the California Avocado Commission.
...


Feel free to "like" is this REALLY my life? on Facebook. It won't always earn you an extra entry in a giveaway but it will give you warm fuzzies.
Don't forget to sign up for free is this REALLY my life? updates via RSS or email so you don't miss a single awesome post.
...