After comparing other copycat Chili's salsa recipes and making a few tweaks, this version is by far the closest to the original…and extremely addictive.
.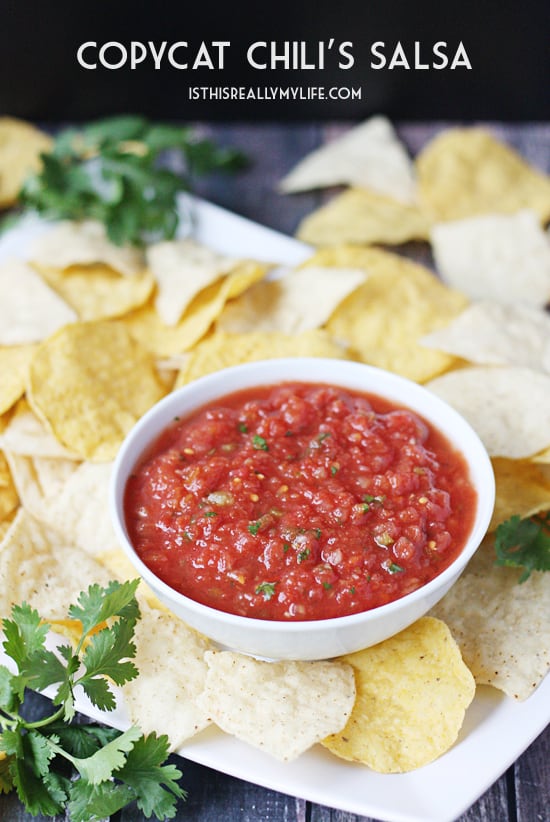 .
Post may include affiliate links, which means if you click on a link and purchase something, you won't pay anything extra but it will help support this blog.
.
Nathan would live on chips and salsa if he could, and my kids would live on nachos with a side of salsa mixed with ranch. (Don't knock it until you try it.) I enjoy the chips and salsa thing as well, though I prefer to mix in other foods now and then.
Twix is a food, right?
.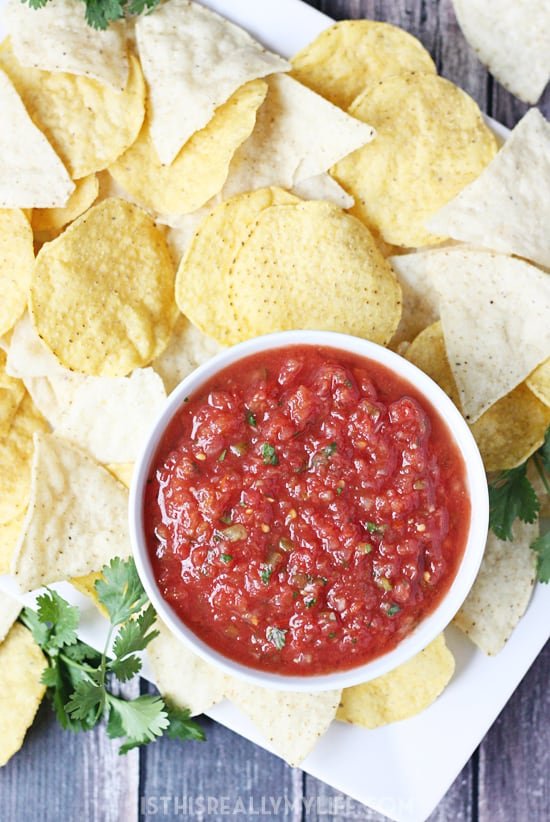 .
While we love Jack's salsa from Costco, sometimes I spoil the family and make a batch of homemade salsa. Our favorite is this fire roasted salsa, but I'd already made that homemade salsa recipe for a previous progressive dinner. (I talked about our annual Relief Society progressive dinner in last week's coconut poke cake post.) That's when I went on a hunt for the perfect copycat Chili's salsa recipe.
.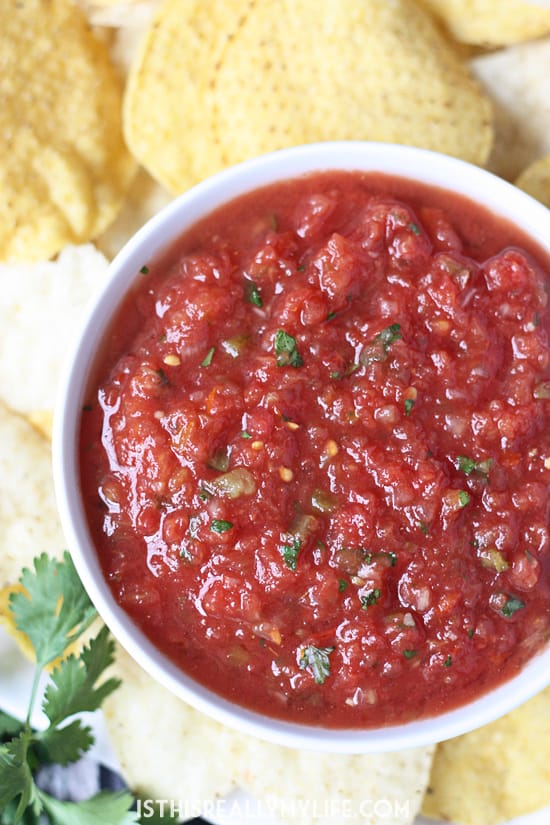 .
I found a lot of copycat Chili's salsa recipes on the Interweb, so I did a bit of comparing and tweaking and came up with what my entire family feels is the absolute most delicious copycat recipe ever made. It was the perfect consistency and the perfect flavor. Most important, it paired well with our favorite tortilla chips!
And yes, I'm tempted to buy that pack of 12 from Amazon…
.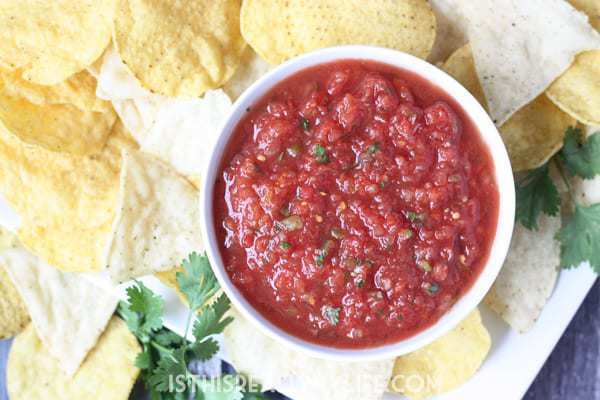 .
Make sure you make this copycat Chili's salsa early enough so it has plenty of time to refrigerate. I suggest preparing it a day ahead, allowing hours and hours for those yummy salsa flavors to marinate together. And believe me when I say it gets even better a day or two later.
Also, do NOT puree the salsa. You don't want large chunks—one reason I love Chili's salsa—but you don't want soup. This is when a food processor comes in handy. If you don't have one, treat yourself to a New Year's Eve gift and pick one up. This Hamilton Beach food processor is a bestseller and less than $25!
Printable copycat chili's salsa recipe below. Enjoy!
.

Copycat Chili's Salsa
After comparing other copycat Chili's salsa recipes and making a few tweaks, this copycat recipe is by far the closest to the original...and quite addictive.
Author:
Emily ~ isthisREALLYmylife.com
Ingredients
1 (14.5-oz) can Rotel Original Diced Tomtaoes & Green Chilies
1 (14.5-oz) can whole canned tomatoes plus juice
1 T canned diced jalapenos
¼ cup diced yellow onion
1 tsp minced garlic
1 to 2 T chopped fresh cilantro (optional)
½ tsp sea salt
½ tsp cumin
¼ tsp sugar
1 T fresh lime juice
Instructions
Place jalapenos and onions in a food processor and pulse for a few seconds.
Add both cans of tomatoes, garlic, cilantro, salt, cumin, sugar and lime juice and process until well blended. Do NOT puree.
Cover and chill for at least 2 hours before serving. Serve with your favorite tortilla chips.
.
If you like homemade guacamole and salsa, try these delicious appetizer recipes. They're definitely crowd pleasers!
.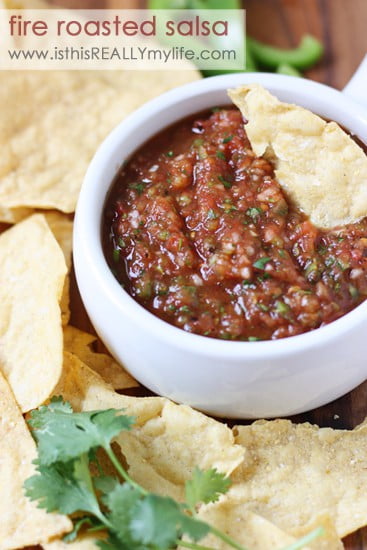 .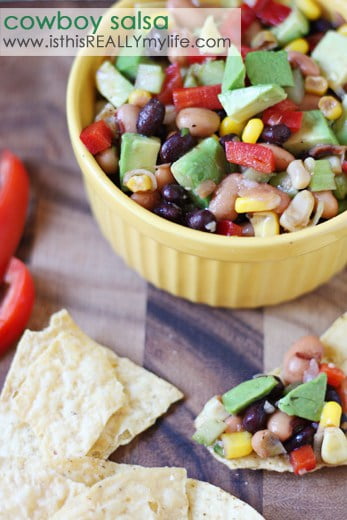 .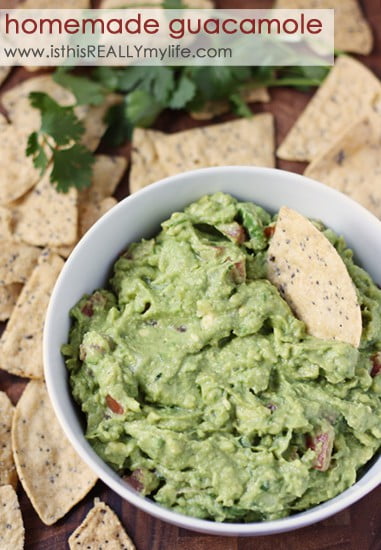 .
.
If you're looking for more yummy recipes, head over and check out my best of Is This Really My Life Pinterest board.
.
.


Feel free to "like" is this REALLY my life? on Facebook. It won't always earn you an extra entry in a giveaway but it will give you warm fuzzies.
Don't forget to sign up for free is this REALLY my life? updates via RSS or email so you don't miss a single awesome post.
.