Vitamin-filled and fiber-rich, asparagus is packed with folic acid, iron, potassium, and antioxidants. Broiling is one of the best (and quickest) ways to obtain all this healthy goodness; you just need to know how long to cook them for!
After preparation (trimming the spears and preheating the broiler), asparagus only takes five to seven minutes to cook, depending on the thickness of the stalks. We recommend keeping them roughly five to six inches away from the heating element for best results.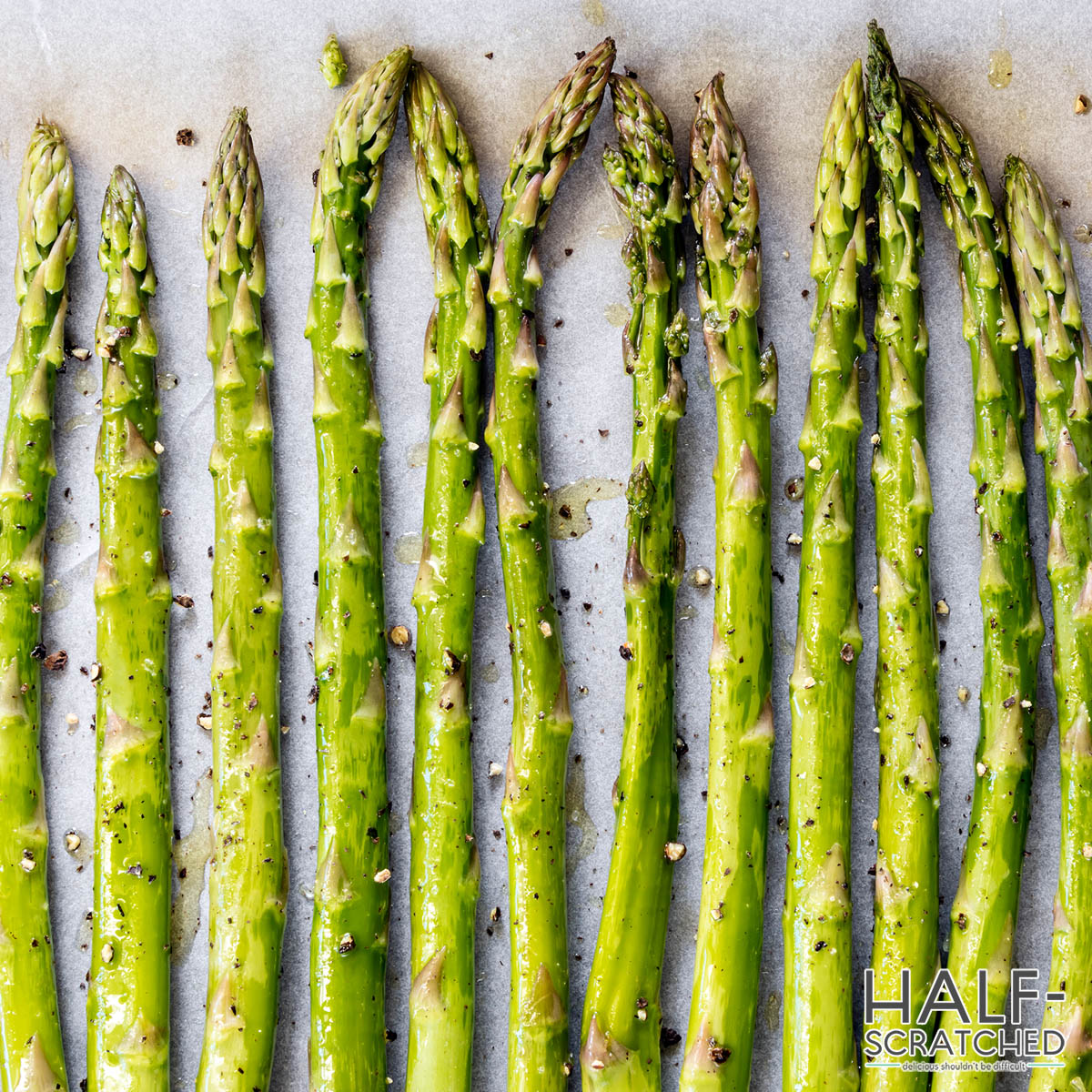 Due to the super-fast cooking time, staying in the kitchen is crucial. You don't want to come back to burnt spears! It's also worth keeping our tips and tricks below in mind, ensuring you broil nothing but top-notch asparagus.
Choosing the Freshest Asparagus for Sublime Broiling Results
You don't need to head to your local farm and request hand-picking asparagus (although it can be fun). Instead, just be mindful of the bunches you select in the store. Believe it or not, size, texture, and color all play a role in the spear's quality.
Size
Asparagus takes on a variety of sizes and thicknesses. Generally speaking, they'll be thin, medium, or thick.
The trick is to only pick up bundles that share a similar thickness and length. This will help you cook them all evenly without worrying about some being tougher than others.
Texture
For any recipe, the fresher the asparagus, the better the outcome. And it's pretty easy to tell the fresh from the wilting.
The perfect texture is firm to the touch. They'll stand up straight and won't succumb to floppiness. Wilting asparagus, on the other hand, is soft and limp — certainly not fresh feeling or looking.
Color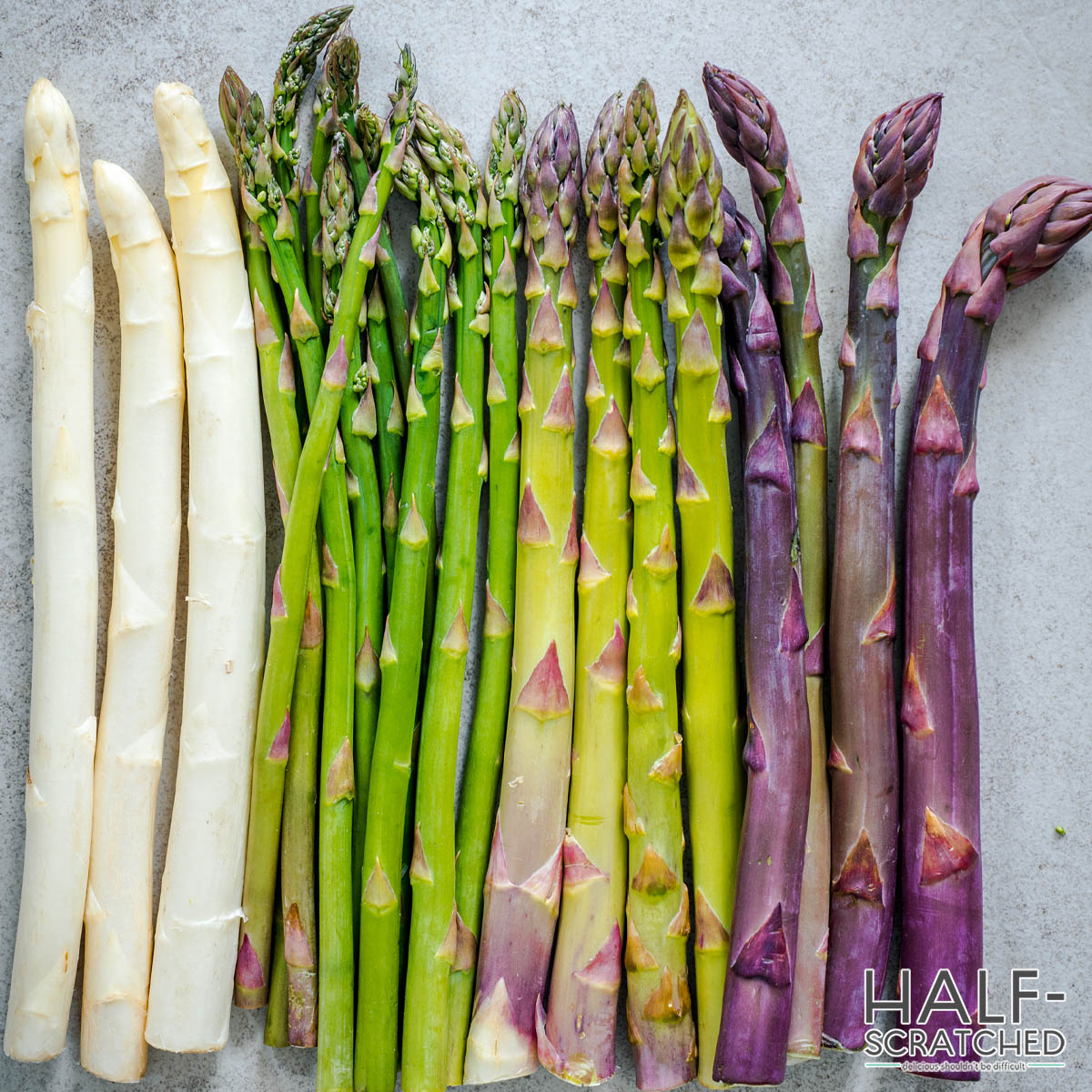 You want a rich green color that turns whiter as it gets to the bottom of the spear. Sometimes, the tip of the stalk is purple; other times, it's dark green. Either way, that's exactly what you're searching for.
This only applies if the asparagus you're after is green. White and purple varieties exist, which you're more than welcome to experiment with.
In the US, green is the common choice, while purple and white reign supreme in Europe. White and green are especially different when it comes to taste, texture, preparation methods, and growth approaches. The former is more bitter as it's grown underground to prevent chlorophyll from turning the spear green.
Purple asparagus is grown like green stalks. However, it has a higher natural sugar content, giving an extra hit of sweetness with every bite.
How to Prepare Asparagus for Broiling
Upon choosing the freshest asparagus, you need to know how to prepare it. Unfortunately, you can't just whack them straight under the broiler and hope for the best. Fortunately, preparation is a breeze.
Follow these ridiculously simple steps to prepare the stalks for broiling:
Wash your asparagus thoroughly.
Pat them dry with paper towels to prevent extra moisture from ruining the texture.
Get your cutting board out and line up the asparagus on it. Make sure the spears are facing the same direction.
Using your non-dominate hand, grab half the stalks.
Slice the bottom part off the stalks with a large chef's knife. By the "bottom part" we mean the portion that turns from green to white.
Repeat with the other half of the stalks.
That's it!
Alternatively, use the "bend and snap" method to prepare the asparagus. All you need to do is gently bend each spear until the woody part (the whiteish bottom pit) snaps off.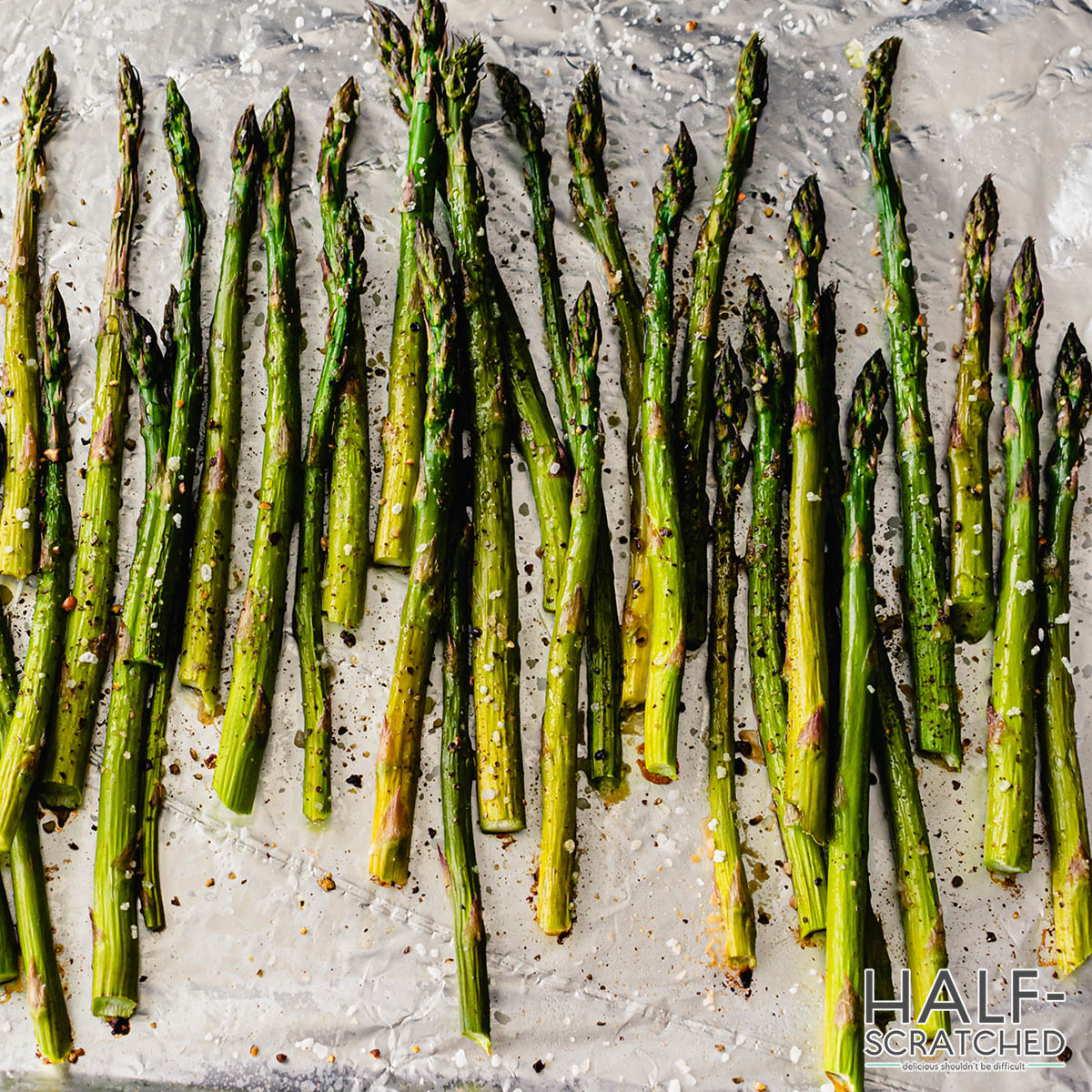 The Benefits of Broiling Asparagus
Retaining all the nutritious goodness that asparagus offers while ensuring they taste even better than they look is why we love broiling them so much. Such "nutritious goodness" includes:
A fantastic source of fiber. Just one cup of cooked asparagus has four grams of fiber.
A relatively high protein content for green veg. Like fiber, one cup has four grams of protein — roughly the same as broccoli.
Vitamins that aid in hair and eye health.
Broiling asparagus is perhaps the easiest and quickest way to obtain the vegetable's fantastic health benefits. As long as you ensure they're about five to six inches below the heating element in a single layer in the baking dish, they'll be ready to devour in just seven minutes.
Storing Asparagus to Stay Fresh for as Long as Possible
You can prepare asparagus in advance; the trimmed stems stay fresh in the refrigerator for three to five days prior to broiling. Stand them in a jar or glass with about one inch of water in the bottom. Use a plastic bag to cover the tips and they'll be right as rain when you want to use them.
If you only need to store them for a day or two, you won't have to do the above. Instead, lay them in your produce draw. They will hold for 48 hours without wilting.
Super Easy Broiled Garlic Asparagus Recipe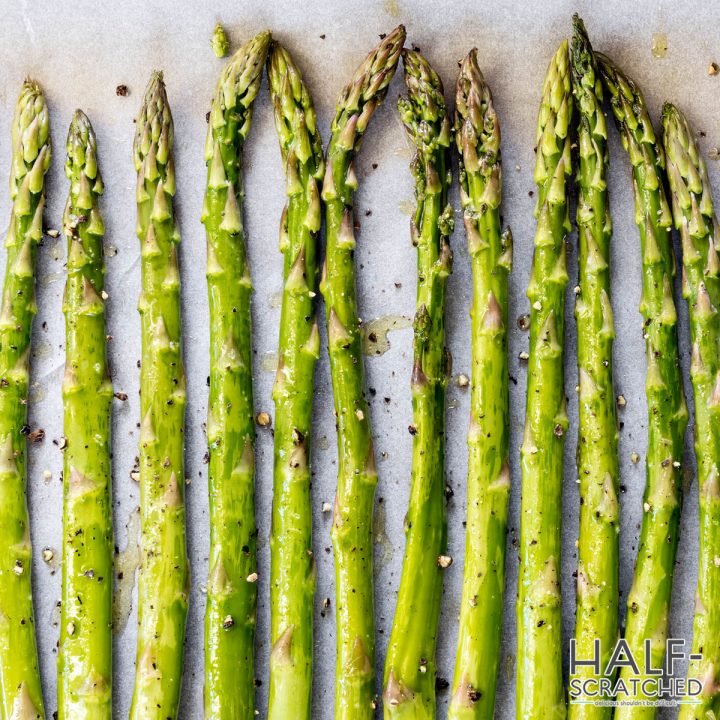 How Long to Broil Asparagus
Get the lowdown on how long to broil asparagus with our simple yet complete guide!
Ingredients
1 pound asparagus (trimmed and washed)
1 tablespoon avocado oil or extra virgin olive oil
¼ teaspoon salt
1 to 2 garlic cloves (crushed)
Black pepper (to taste)
Instructions
Turn your broiler on high.
Put the oven rack roughly five to six inches from the heating element.
Place the asparagus in a medium or large baking dish.
Drizzle with oil, crushed garlic, salt, and pepper.
Put the dish's lid on or securely cover with plastic wrap or aluminum foil.
Hold the dish at both ends and shake until the asparagus is coated evenly with the seasonings. You should expect to shake it for about one minute.
Remove the foil, plastic, or lid from the dish.
Ensure the asparagus spears are spread in a single layer.
Put the dish on the oven rack closest to the heating element.
Broil for around seven minutes, keeping a watchful eye on it after five minutes. All ovens are different, though; it might take some trial runs until you find the perfect time for your heating element.
Taste test to ensure it has finished cooking. The texture should be al dente (i.e., a level softer than crunchy).
Serve as a side dish with your favorite meal!
Notes
If you can't get enough of citrus, bring the zingy taste to your asparagus by adding a few lemon slices before broiling. Prefer cheese? Add Parmesan to the top after cooking. Freshly grated Parmesan is perfect for this.
Broiled asparagus can be stored for two days when placed in an airtight container and left in the fridge. That said, it's tastiest when consumed immediately after broiling.
Asparagus is super versatile, but if you're struggling for pairings, give these a go — salmon, tuna steak, seared scallops, crab cakes, or chicken casserole. You can even have it for breakfast as an accompaniment for eggs (fried or poached works best) or avocado toast.
You can use a shatterproof, oven-safe glass baking dish to broil your asparagus. However, we recommend choosing a ceramic baking dish or a baking tray lined with aluminum foil to reduce the likelihood of smashing under extreme heat. Remember, your cookware will be sitting closer to the heating element during broiling compared to baking.
Nutrition Information:
Yield:

4
Serving Size:

1
Amount Per Serving:
Calories:

89
Total Fat:

7g
Saturated Fat:

1g
Trans Fat:

0g
Unsaturated Fat:

6g
Cholesterol:

0mg
Sodium:

149mg
Carbohydrates:

6g
Fiber:

2g
Sugar:

1g
Protein:

3g