In the 1990s, a sheep puppet named Lamb Chop made her debut on television, but lamp chops have been around for far longer than the 20th century. As a staple in many American households, lamp chops are not as hard to bake as people think.
Lamp chops can be baked at 375 degrees Fahrenheit in the oven for about 40 to 45 minutes. Depending on the thickness of the lamp chop, it can take more or less time. The most important thing is that the internal temperature of the lamb chop is 145 degrees Fahrenheit, a little less than chicken.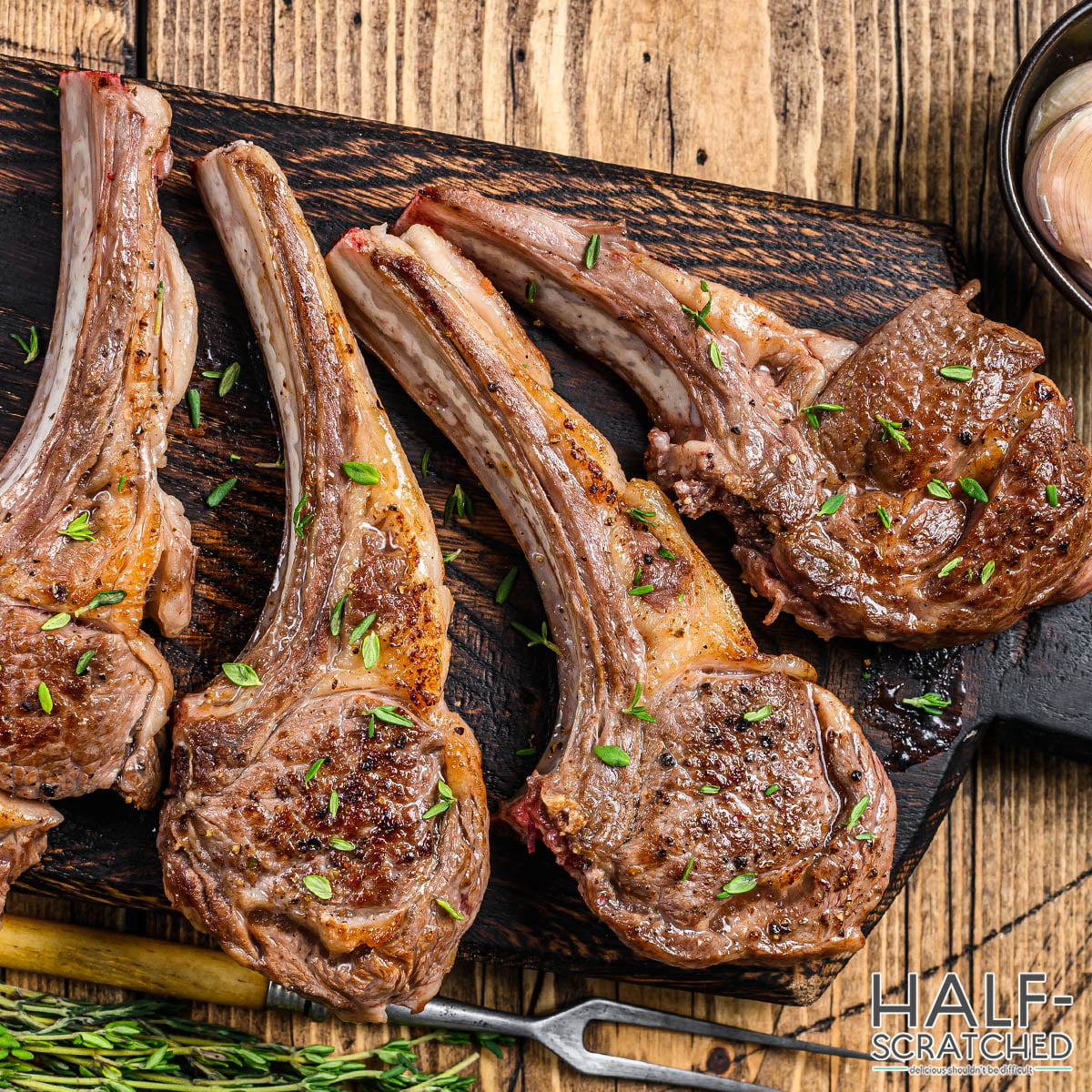 This article will look at tips and tricks to bake lamb chops, how to pair them with other foods, and a delicious lamb chop recipe.
What is a Lamb Chop?
A lamb chop can actually be made up of different parts of the lamb. For example, you could have a lamb shoulder chop or a loin chop. Depending where the lamb chop is from will determine the flavor and texture.
The most popular kind of lamb chop is from the loin or the side of the abdomen. It tends to be the most tender, and it has a delicious fat top in it.
Different Kinds of Lamb Chops
As mentioned before, the lamb loin is often sought after, but there are several different parts of the lamb that can be considered a chop:
Rib Chops: these come from the rib area (also called the rack). They tend to be very flavorful because the rack is often wrapped in fat.
Sirloin Chops: these come from the back end of the lamb and, while not as tender, are less chewy than other parts.
Shoulder Chop: the shoulder is a bigger cut of the lamb and tends to be fattier but also chewier. It usually has a gamier taste than other parts.
Blade Chop: this cut is from the lamb's shoulder blade and is great for roasting and grilling due to its higher fat content.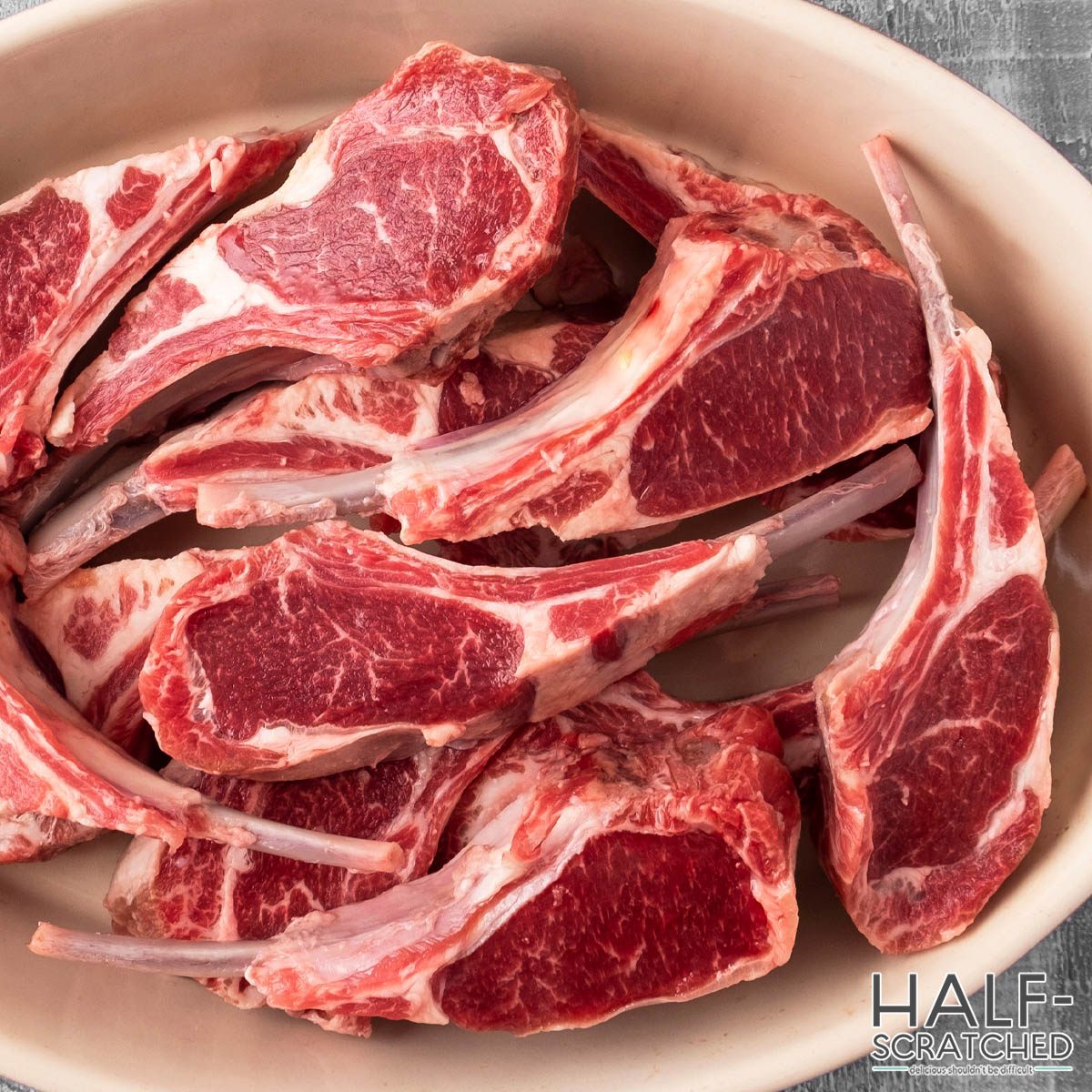 How to Choose a Lamb Chop
When looking at lamb chops, you should look for the following things:
Texture
Good lamb chops should look firm and be fine-grained, meaning that the muscles shouldn't look thick. It'll have a velvety texture; do not buy anything that seems dry or slimy.
Fat
Having fat on meat is a must because it provides flavor and extra richness and tenderness. A good lamb chop will have smooth, white fat. If it looks yellow, that means the meat has probably gone bad. Marbling isn't that important but it can be nice.
Thickness
Thickness of a lamb chop is a personal preference, but you want it to be at least one inch thick. This ensures that they'll be enough juices to make it taste good and it'll still be a satisfying amount.
Color
The color of a good lamb chop should have pink meat and be a reddish color around the bones. If you notice a brownish color or the meat is starting to turn gray, then that means it's going bad.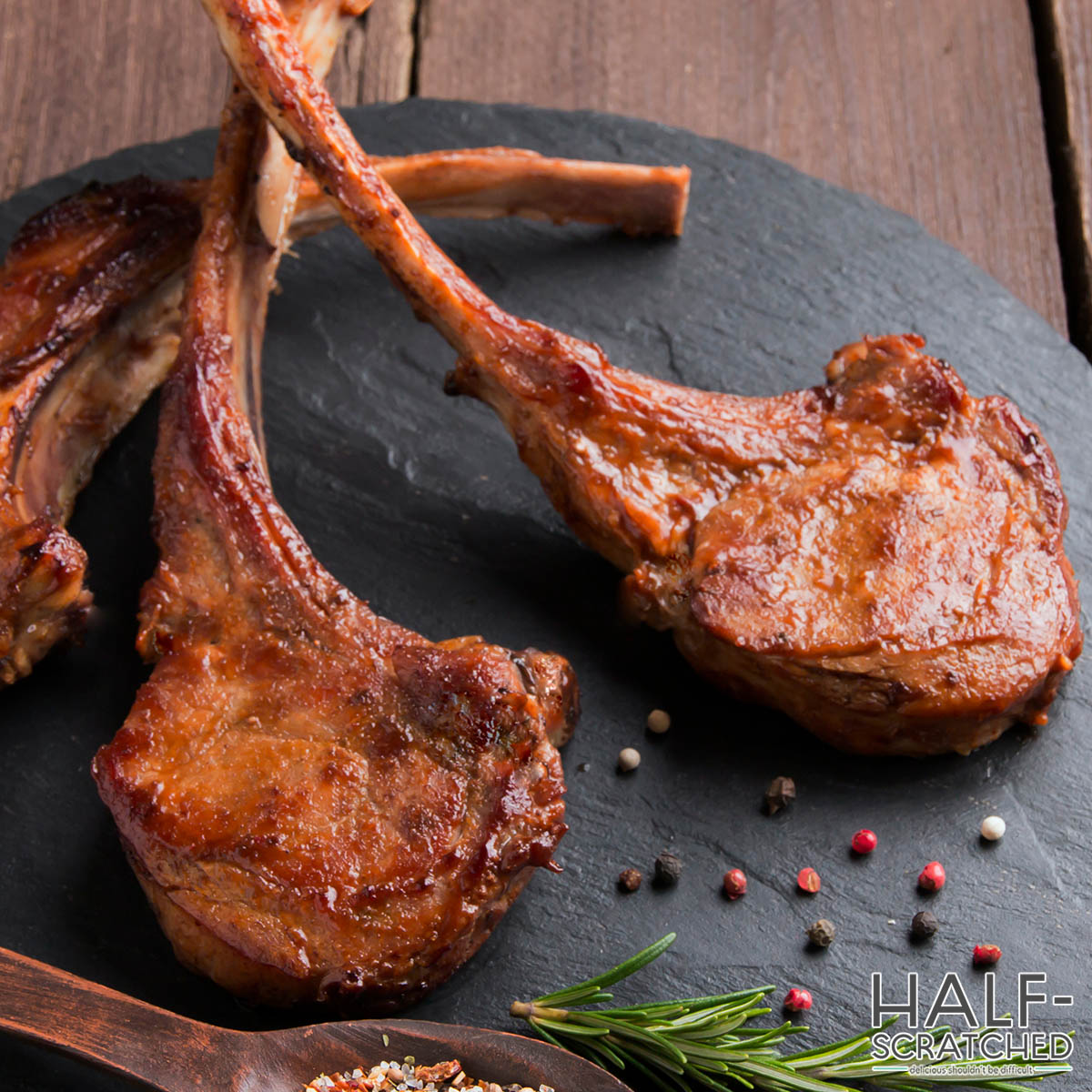 How Do I Ensure That My Lamb Chops Are Tender?
Eating tender lamb chops is one of the best things in the world, but often, baked lamb chops end up tough or overcooked. How can you make sure that your lamb chops are so tender that they melt off the bone?
Cut Against the Grain
The grain is how the animal's muscle fibers line up. While it might seem that cutting parallel to the grain would make the meat less tough, it's actually the opposite. Cutting against the grain breaks up the proteins in the muscles, thus making the meat more tender.
Use Salt or Fruit to Tenderize the Meat
Tenderizing meat means breaking down the muscle fibers using different ingredients. You can use salt by covering the entire lamb chop in kosher salt, rubbing it in, and letting it sit for about 15 minutes. Some fruits can also do this too, such as kiwi, papaya, and pineapple.
Marinate the Lamb Chops
Marinating your lamb chops as far ahead as 12 hours lets the juices settle into the meat, which in turn makes the lamb meat less tough.
Invest in a Meat Thermometer
You don't want to undercook or overcook your lamb chops, so you need to make sure that you take it out at exactly the right moment. Rib chops should be an internal temperature of 130 degrees Fahrenheit, whereas loin chops are better at 135-140 degrees.
Let the Meat Rest After Baking
A vital step to tender lamb chops is to make sure that you let them rest after taking it out of the oven. This allows the juices to settle and spread throughout the meat. If you cut the lamb chops right away, then the juices will spill out.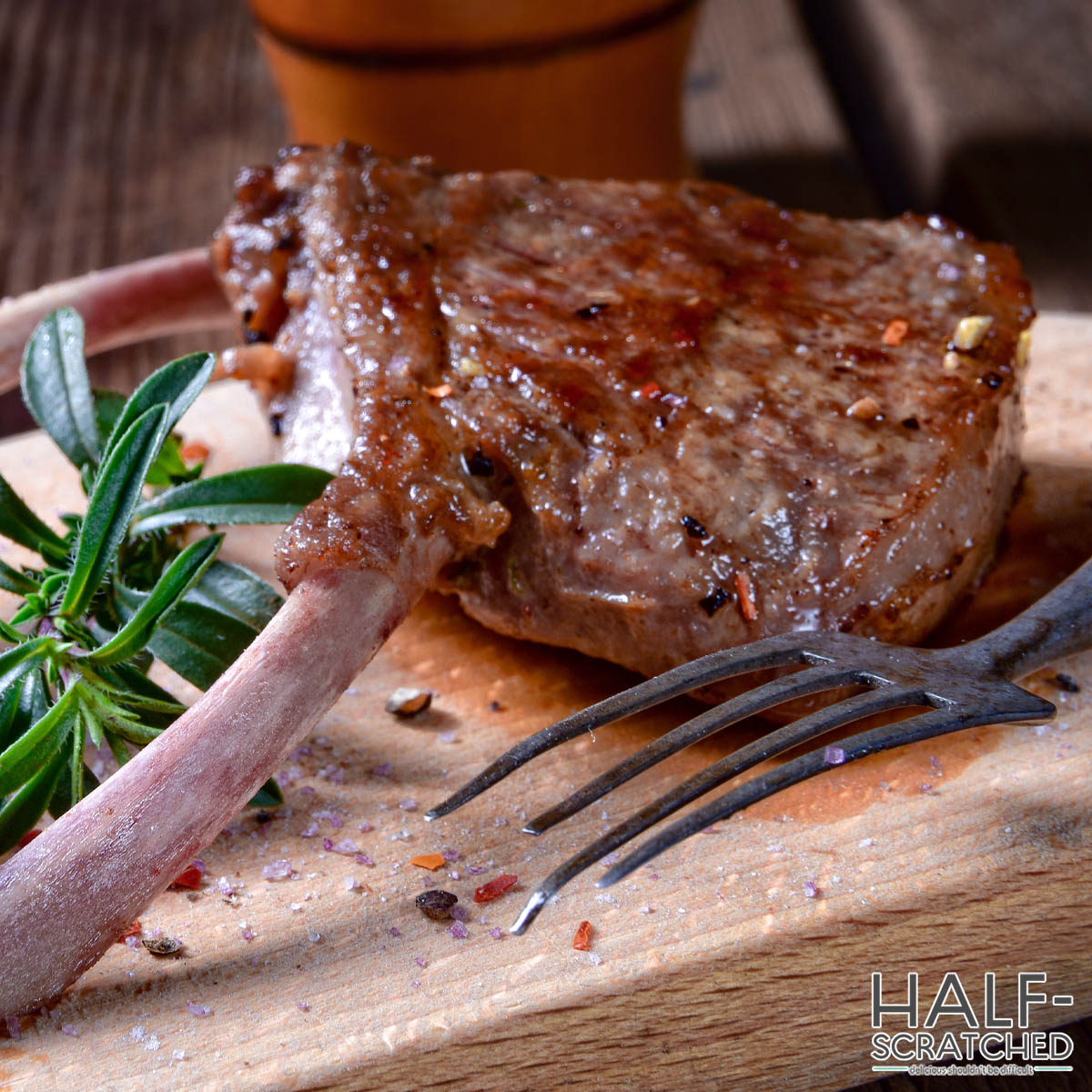 Is Lamb Healthier Than Other Red Meat?
Compared to other red meats, lamb tends to be healthier. It has more unsaturated fat than meat like beef and a single serving has half of the daily recommended amount of protein needed for the day. The fat in lamb meat also contains a lot of Vitamin E, which is an antioxidant.
What Should I Serve With My Lamb Chops?
Lamb chops pair well with a lot of things but are most commonly eaten with the following:
Roasted or stir-fried vegetables, such as carrots, spinach, or Brussels sprouts
Potatoes or sweet potatoes in all forms (mashed, roasted)
Grains, such as rice or bread
Red wine because there are higher tannins, which feel dry but pair well with the rich fattiness of lamb chops
If your lamb chops have bones, you can save them and use them in a stew or soup base.
What If I'm Not a Fan of the Lamb Taste?
Lamb has a very distinct taste, and while people like lamb chops, some will want to lessen the gamey taste. While you can't get rid of it completely, some people claim that there are some ingredients that decrease the gaminess:
Mustard
Red wine vinegar
Rosemary
Cumin
Spiciness, such as chili powder
Mint
Soak in milk
The lamb taste actually comes from the fat on the lamb and its diet. While this can be tweaked, it's likely not to get rid of the taste completely.
How Long Will Baked Lamb Chops Last in the Fridge?
After baking your lamb chops, you'll want to keep them as leftovers. To ensure that they don't go bad, keep them in the fridge for no more than five days, but if they seem off sooner, don't risk it and throw it away.
Perfect Lamb Chops with Garlic and Rosemary Recipe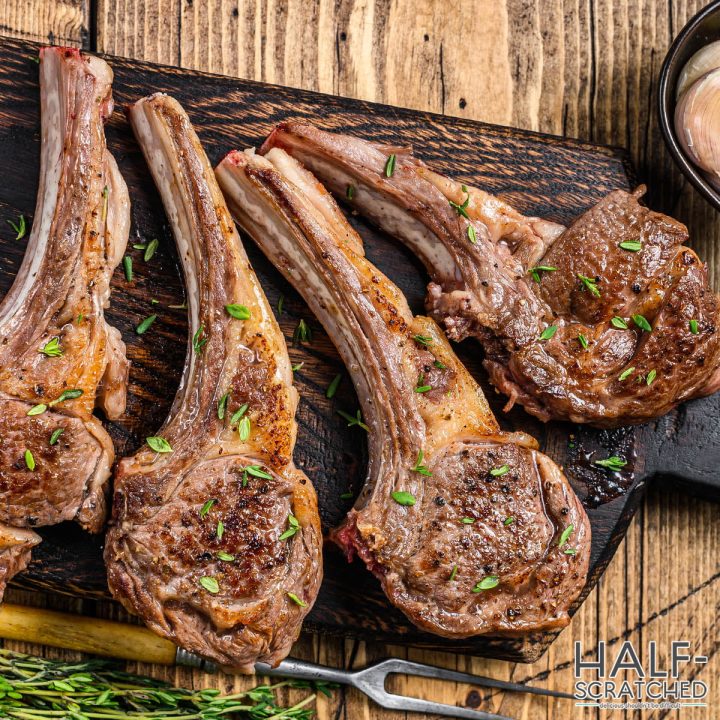 How Long to Bake Lamb Chops at 375 F
Additional Time:
30 minutes
Total Time:
1 hour
25 minutes
Baking lamb chops at 375 degrees is easy with our tips and tricks on how to keep them tender and what to pair with them.
Ingredients
3½ pounds of lamb chops
6 cloves garlic
1 tablespoon fresh rosemary
1 tablespoon lemon juice
1 tablespoon fresh thyme
1 teaspoon dried oregano
6 tablespoons olive oil
2 teaspoons salt
dash of black pepper
Instructions
Create the marinade: mix together lemon juice, crushed garlic, the fresh and dried herbs, and the salt and pepper along with three tablespoons of olive oil. Pour over the lamb chops.
Let the lamb chops marinate in the mixture for 30 minutes. In the meantime, preheat the oven to 375 degrees Fahrenheit.
Place the marinated lamb chops in a baking pan. Leave it in the oven for about 40 to 45 minutes, or until the internal temperature is 140 degrees Fahrenheit.
Take the lamb chops out of the oven and let it rest for 10 minutes. Cut into it and enjoy!
Nutrition Information:
Yield:

6
Serving Size:

1
Amount Per Serving:
Calories:

933
Total Fat:

70g
Saturated Fat:

30g
Trans Fat:

4g
Unsaturated Fat:

37g
Cholesterol:

241mg
Sodium:

916mg
Carbohydrates:

1g
Fiber:

0g
Sugar:

0g
Protein:

76g