I have tried countless recipes for homemade macaroni and cheese only to have my kids turn up their noses at each and every recipe. It's not that I mind them eating Kraft Macaroni & Cheese or Velveeta Shells & Cheese because let's face it, if the 14-year-old can make it, it's a win-win situation for everyone involved. But it would be nice if I could find a delicious, decadent homemade macaroni and cheese recipe everyone enjoyed.
Guess what? I totally found one. My friend Tiffany saw me tweet my Twitter plea for a good homemade mac & cheese and replied with a recipe she was certain my kids would enjoy. Considering her red velvet rice krispie treats were such a huge success (after the third attempt), I was more than willing to give it a shot even if it meant buying a cheese I had no idea existed before her email hit my inbox.
By the way, it was well worth the trip to Harmons and the confused expression I had on my face as I browsed their overwhelming amazing assortment of gourmet cheeses.
Comfort zone aside, this Fontina & SeaHive macaroni and cheese recipe did indeed become an instant family favorite. I am going to double the cheesy sauce next time around even if it does make it 10 times more expensive than Kraft. It's 100 times better!
Printable recipe for Fontina & SeaHive Macaroni & Cheese below.
NOTE: The recipe doubles the sauce. Feel free to try it with the original amounts by halving the ingredients. I also had some leftover heavy whipping cream in the fridge and added it to the sauce mixture to make it a little creamier. Yum!

Fontina & SeaHive Macaroni & Cheese
This is the first homemade macaroni and cheese my kids actually liked. It is decadent and yummy. The recipe doubles the amount of cheesy sauce, so if you'd like to try the original recipe, simply halve the sauce ingredients.
Author:
Emily ~ isthisREALLYmylife.com
Ingredients
2 packages pasta (elbow, small shells, penne or cellentani)
½ cup unsalted butter
4 to 5 T flour
2 cups milk
½ tsp salt
¼ tsp pepper
Dash of nutmeg
2 cups grated Fontina cheese
2 cups grated Beehive SeaHive cheese
½ to 1 cup heavy whipping cream (optional)
Instructions
Preheat oven to 350 degrees. Lightly grease a 13x13-inch or 11x14-inch pan and set aside.
Cook pasta for 2 minutes less than package directions. Start sauce while pasta is cooking.
For sauce, melt butter and whisk in flour. Slowly whisk in milk. Add salt, pepper and nutmeg.
Bring sauce mixture to a low simmer, whisking constantly.
Stir in cheeses gradually until sauce is creamy. For a richer sauce, gradually add heavy whipping cream until desired consistency.
Drain pasta and return to pan. Add sauce and stir until thoroughly combined. Pour into greased pan and cover with foil.
Bake 10 minutes, remove foil and sprinkle with additional cheese. Broil 3 to 5 minutes or until lightly browned. Serve immediately.
…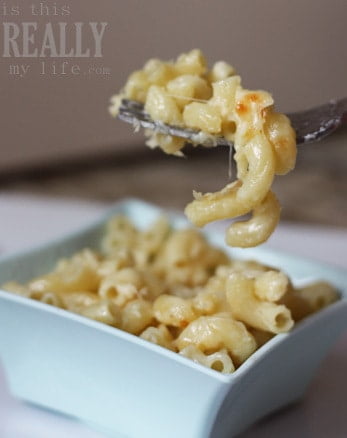 …
P.S.
You can find Beehive SeaHive cheese at Harmons Grocery here in Utah or buy it online.