Green bananas are a popular ingredient in savory dishes around the world. Explore the best recipes with our 16 Nutritious Green Banana Recipes round-up.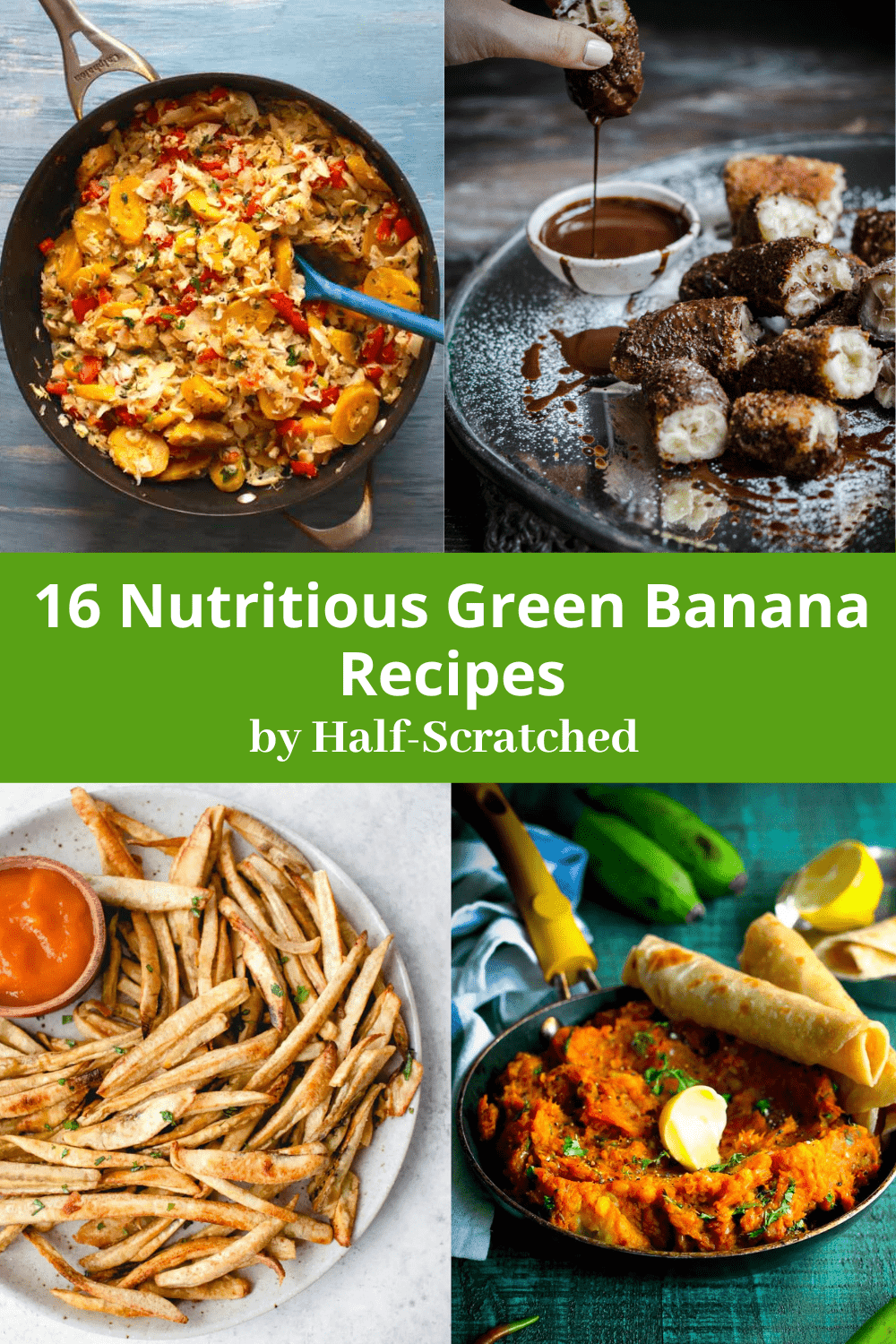 Green bananas are rich in vitamins, minerals, fiber and resistant starch making them a nutritious addition to one's diet. They're a popular ingredient in the Caribbean, African, South American and South Indian cuisine often used in savory dishes.
Some recipes use green bananas and plantains interchangeably but they're not the same thing. You can find them in African and Asian supermarkets or look out for green bananas in your local store.
Green bananas can be used to make soups, sauces, stews, curries, mash and salads. You can make your own green banana flour to use as a healthy alternative in baking.
In our 16 Nutritious Green Banana Recipes round-up we have included green bananas recipes from all around the world that we hope you will love as much as we.
1. Green Banana Run Down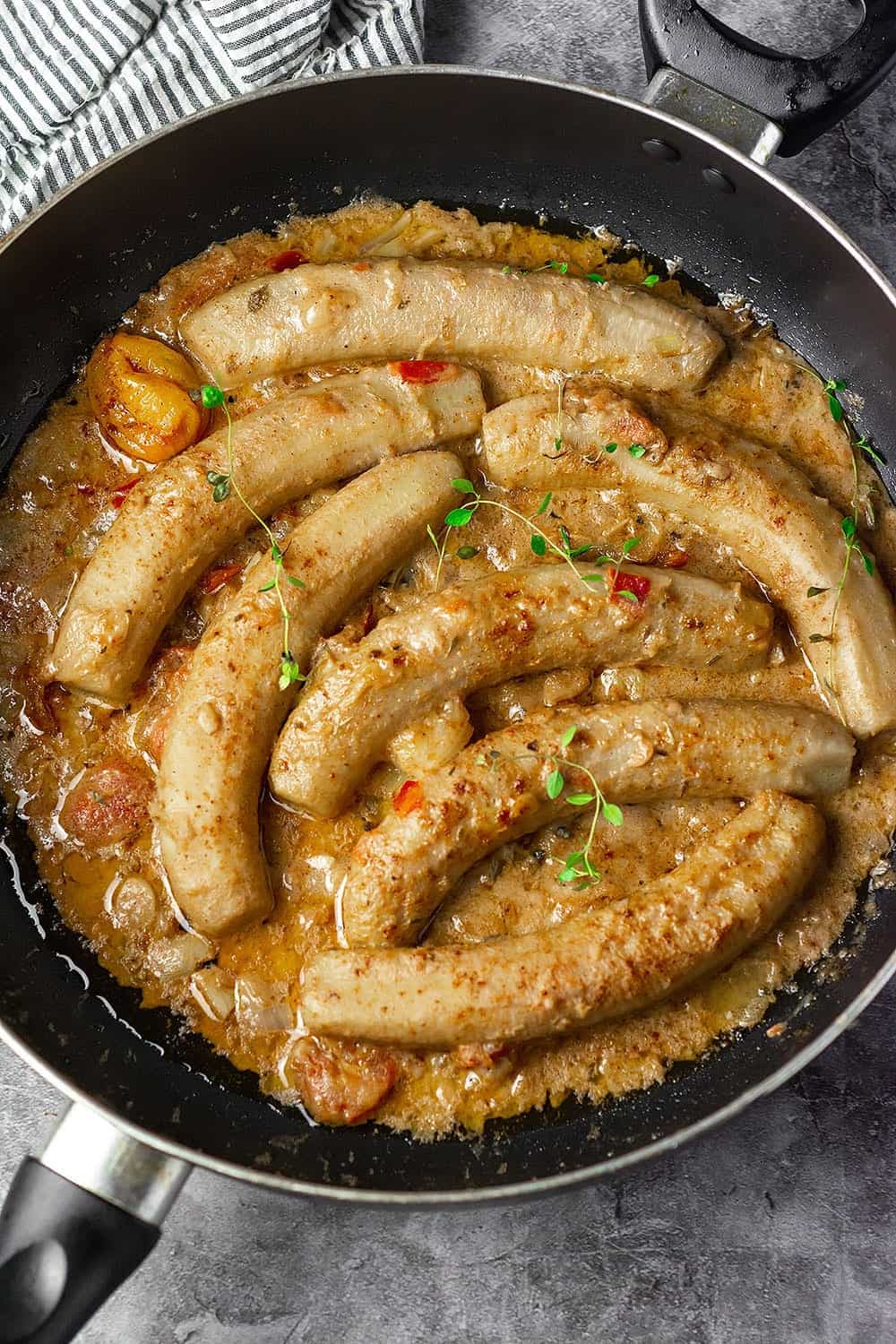 This tasty Green Banana Run Down by Healthier Steps is a traditional Jamaican stew. This dish features popular Jamaican flavors thyme, scotch bonnet pepper and scallions cooked with green bananas and coconut milk.
2. Green Banana Jerk Stew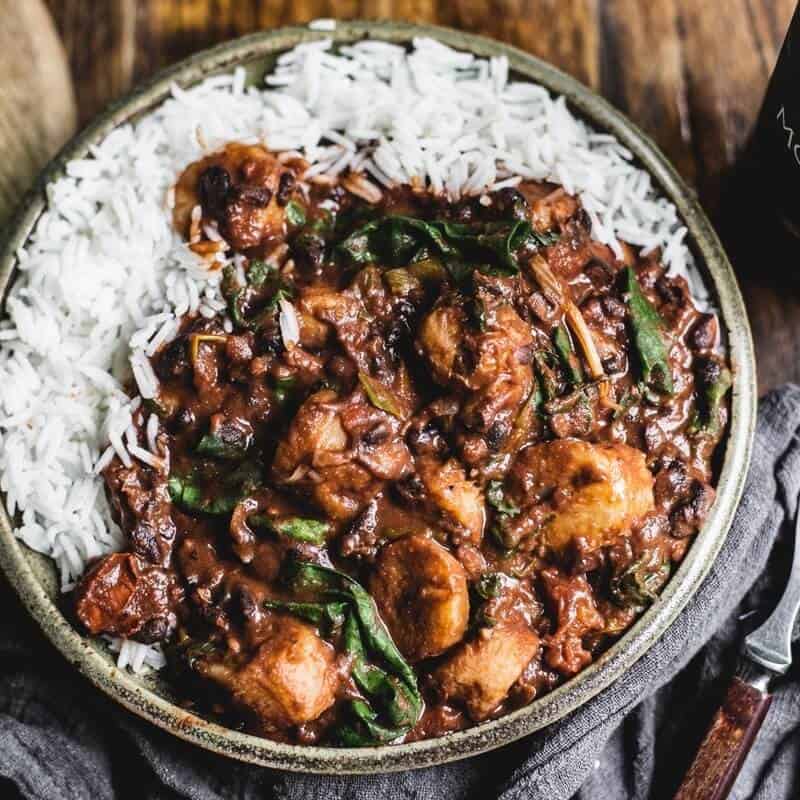 Try this wholesome plant-based Green Banana Jerk Stew by Riverford. This interesting flavorsome recipe is made with green bananas, black beans, plenty of spices and spinach all cooked into a hearty stew.
3. Ugandan Matoke (Spicy Green Banana Mash)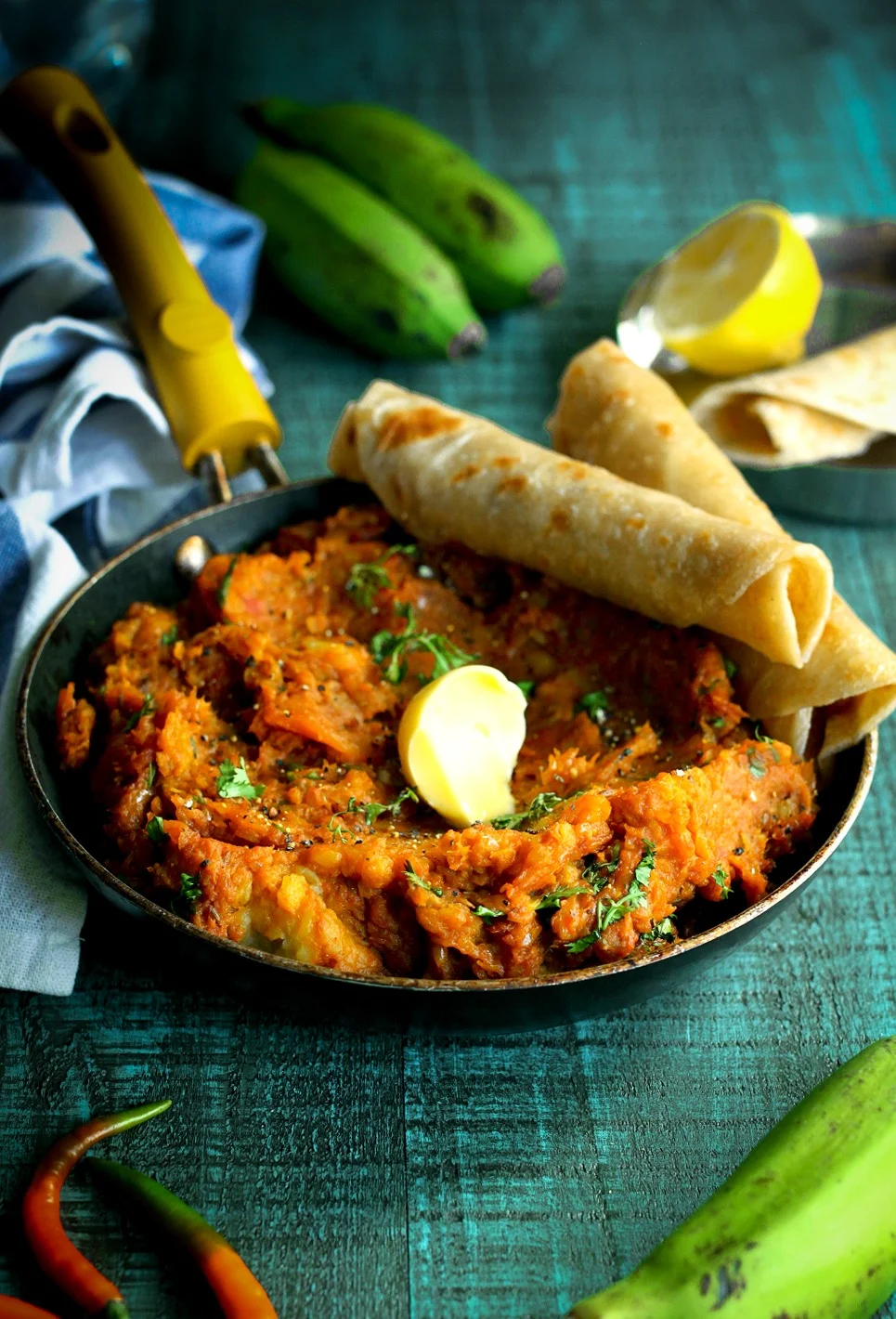 This hearty bold Spicy Green Banana Mash called Ugandan Matoke by Sanjana Feasts is a staple curry dish of green bananas cooked with a handful of spices. This traditional recipe is very simple to make and absolutely delicious.
4. Rose's Green Banana Stew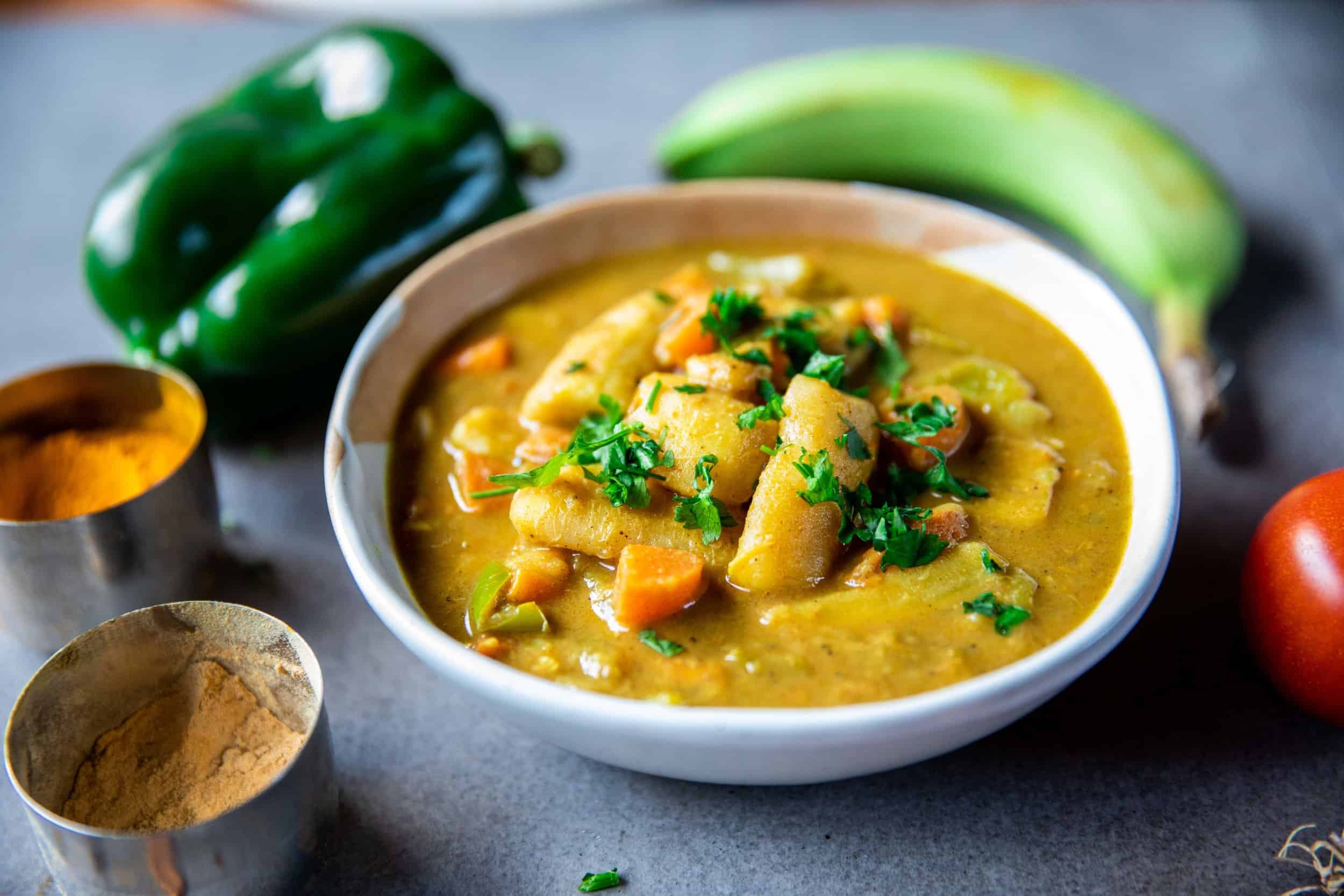 Cook this cozy inviting Rose's Green Banana Stew by Jasmine Hemsley. This Zanzibar recipe with green bananas, vegetables and beautiful warming spices is comparable to a perfectly cooked potato stew.
5. Green Fig and Saltfish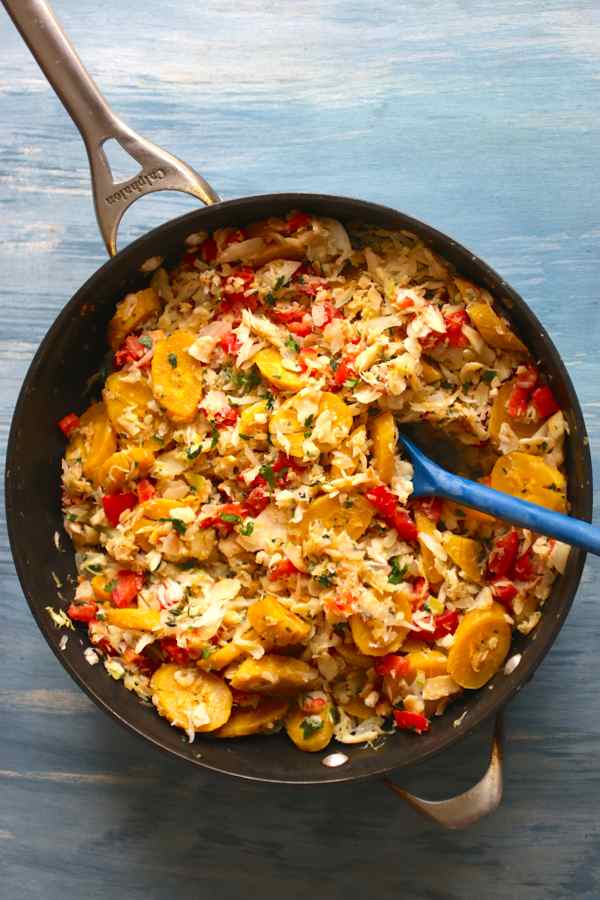 Green Fig and Saltfish by 196 Flavors is a national dish of St. Lucia and is often enjoyed on weekends and special occasions. This flavorful recipe is made with salted cod, green bananas, pickled peppers, cabbage, thyme and fresh parsley.
6. Crispy Fried Green Bananas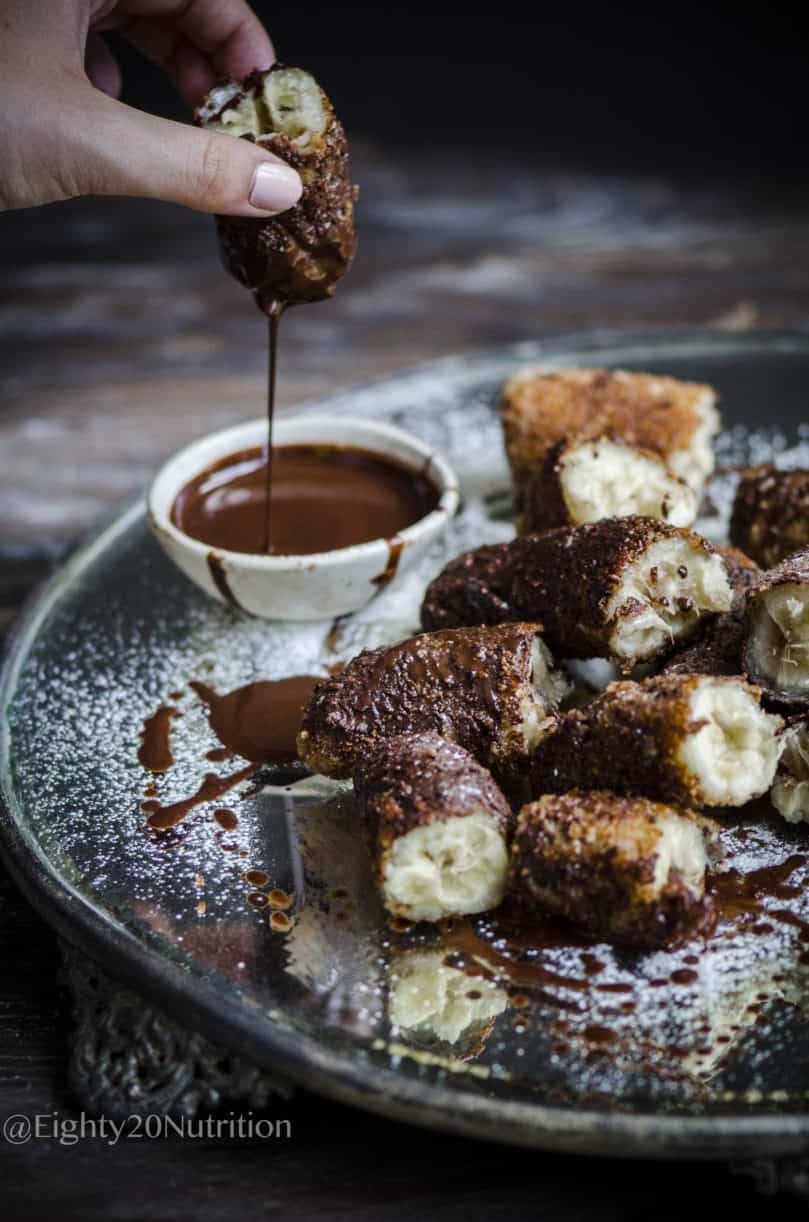 We love these moreish Crispy Fried Green Bananas by Eighty 20 Nutrition. In this healthy sweet recipe, green bananas are coated in egg, dipped in a mixture of coconut, almond flour and protein powder and fried in coconut oil. Delicious served with a bowl of melted dark chocolate.
7. Green Banana Fries
You'll be shocked how incredible these Green Banana Fries by Heal Me Delicious taste. These moreish fries are crispy, nutritious and paleo friendly without any banana flavor in sight.
8. Guineos en Escabeche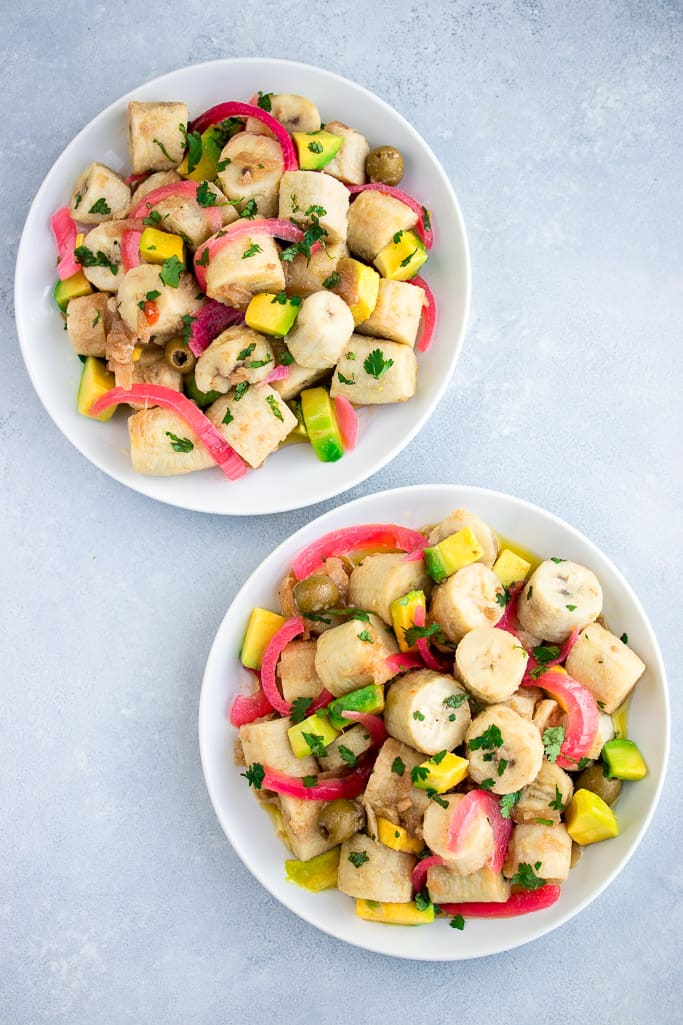 This delicious Guineos en Escabeche by Kitchen de Lujo is a Caribbean-inspired pickled green banana salad. This fresh tasty dish is made with green bananas, red onions, olives, avocado and fresh cilantro.
9. Homemade Banana Flour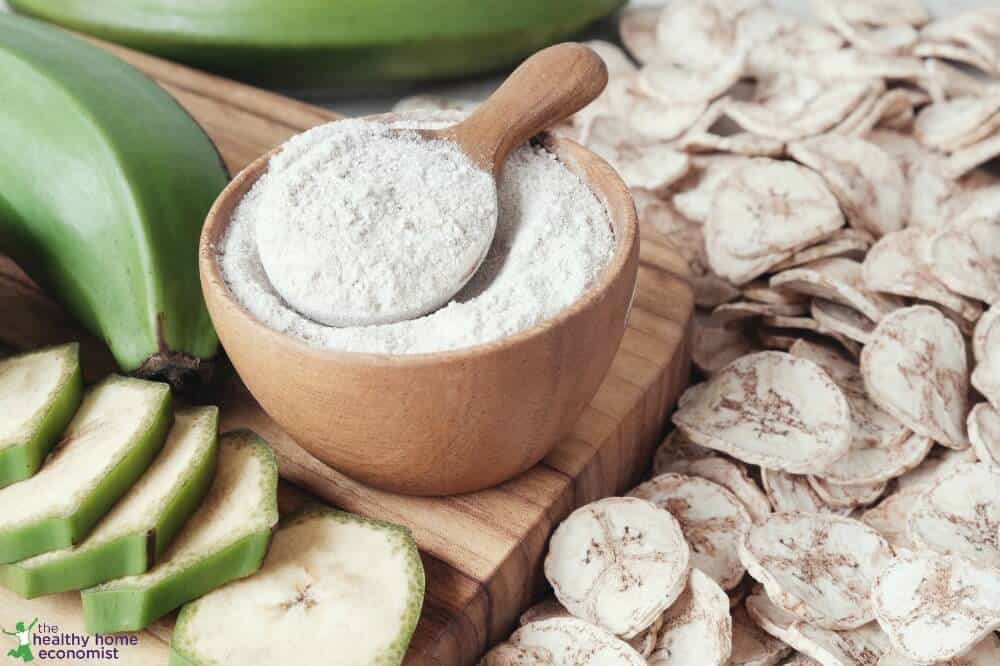 If you heard about the health benefits of banana flour why not try making your own? This Homemade Banana Flour by Healthy Home Economist is an easy budget friendly recipe that is high in health-boosting resistant starch for optimum gut health.
10. Jamaican Green Banana Porridge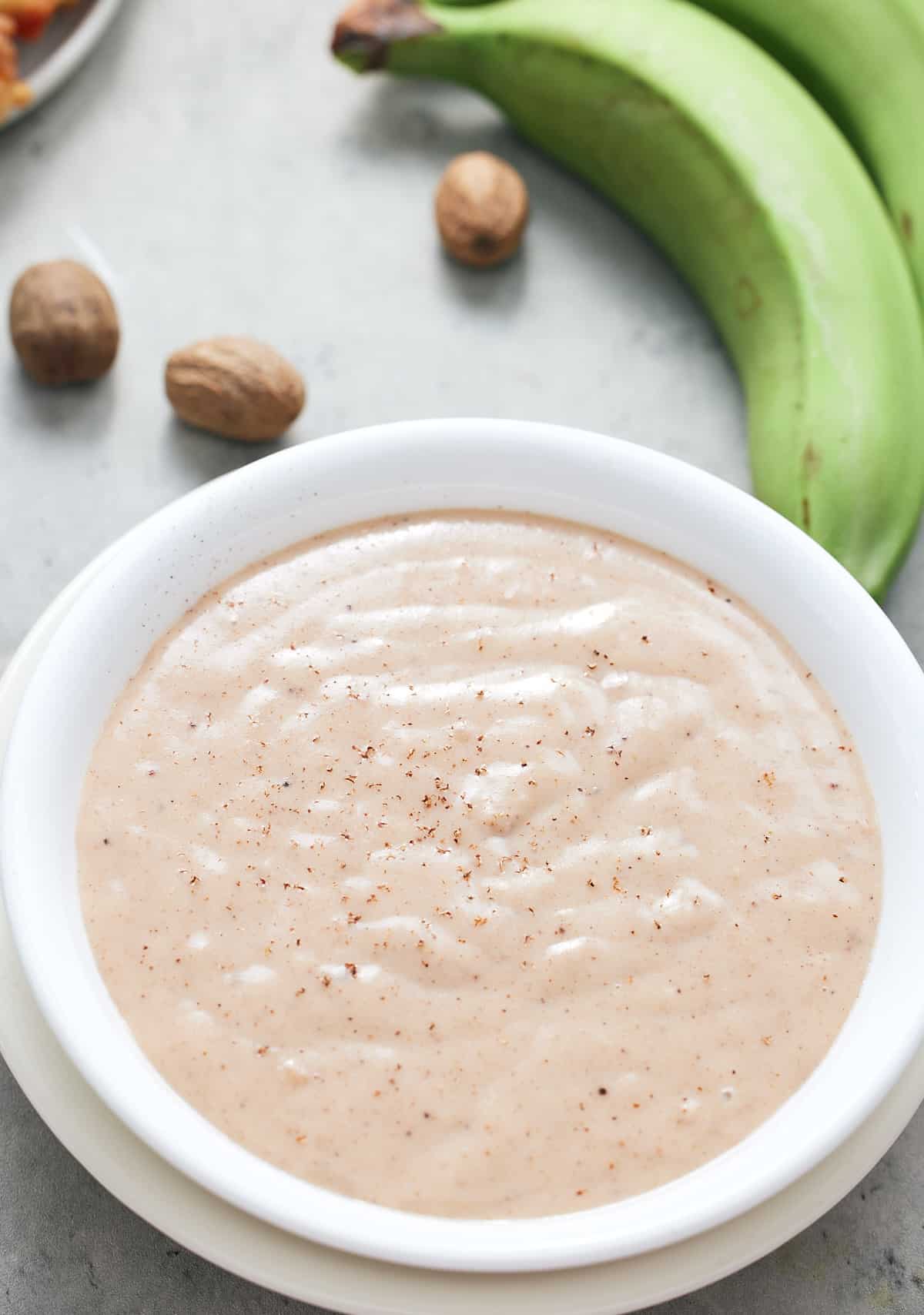 If you're bored of your oatmeal then this Jamaican Green Banana Porridge by My Forking Life is a delicious healthy alternative. This creamy porridge is flavored with spices and vanilla and sweetened with condensed milk.
11. Repe Lojano (Green Banana Soup)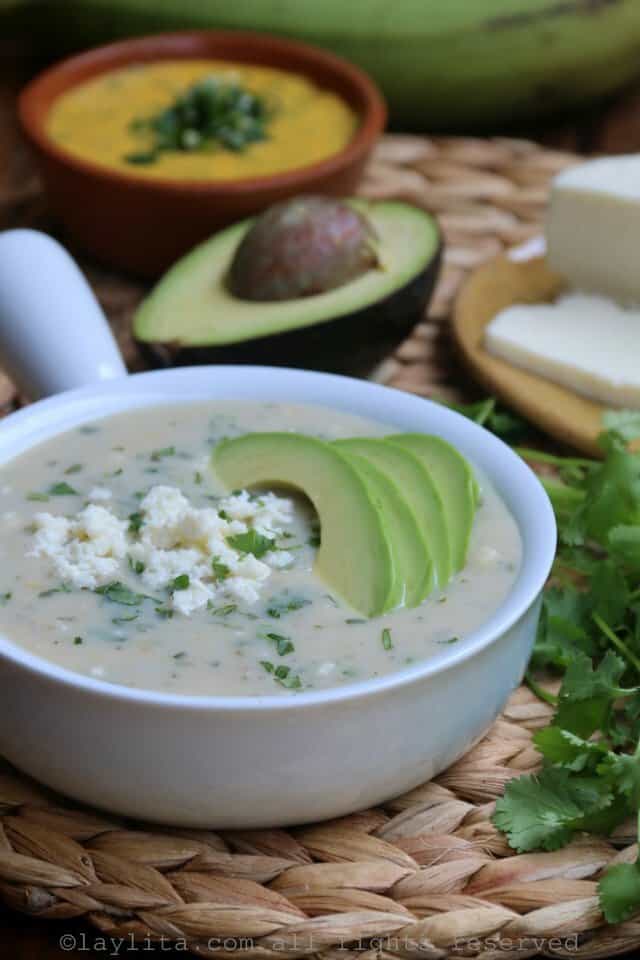 This Green Banana Soup called Repe Lojano by Laylita's Recipes is a traditional recipe from the province of Loja in Ecuador. This appetizing creamy soup made with green bananas is served with avocado slices, cheese and aji.
12. Deep-Fried Green Bananas with Green Chili & Tamarind Dipping Sauce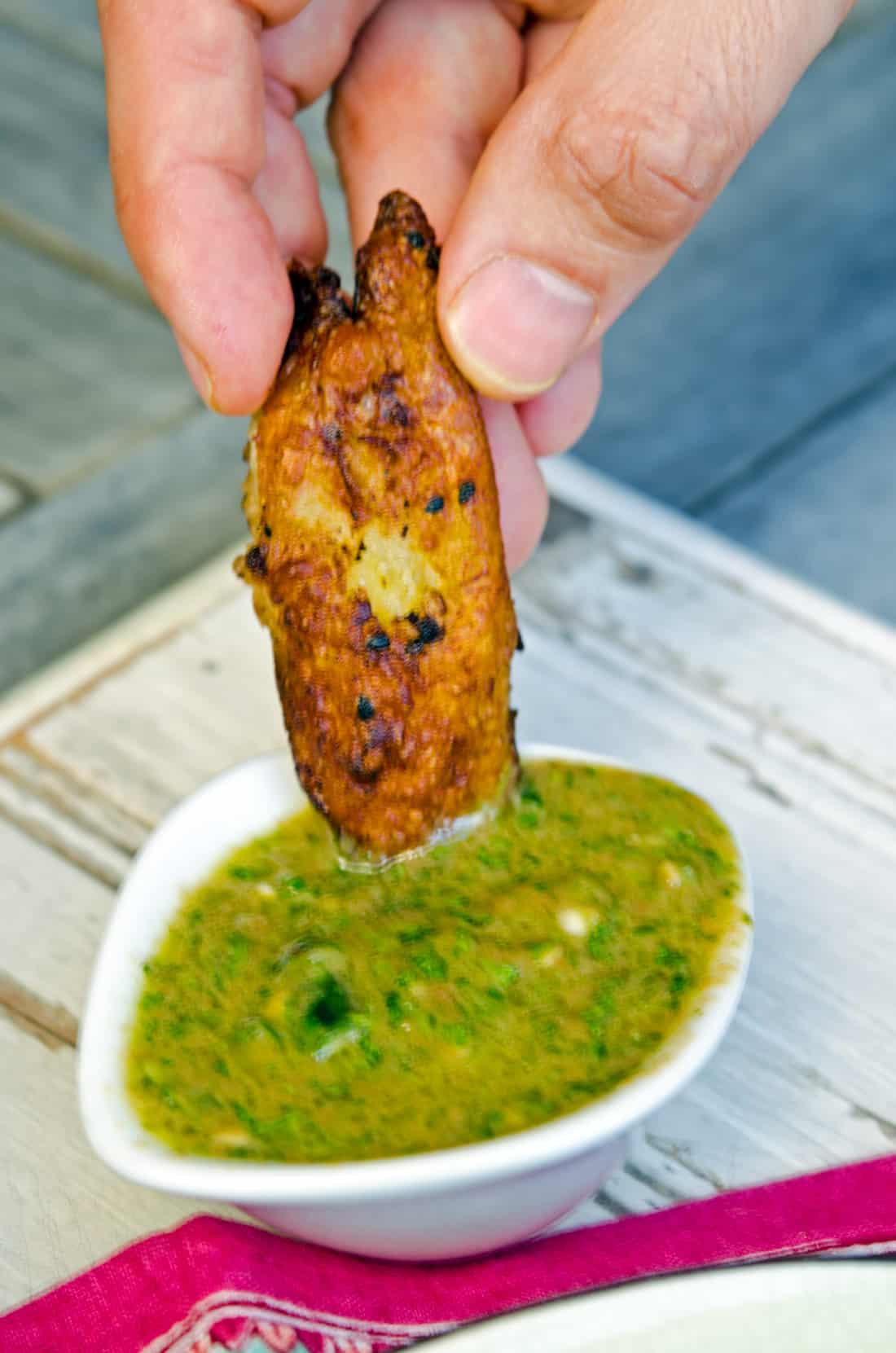 These delish Deep-Fried Green Bananas with Green Chili & Tamarind Dipping Sauce by Food & the Fabulous make the perfect appetizer. Green bananas are dipped in cumin, coriander, paprika, mango and nigella seeds spiced batter, fried and served hot with delicious chili and tamarind dipping sauce.
13. Raw Banana Curry
Green bananas referred to as raw bananas in India are a very popular ingredient in Indian cooking. This delicious Raw Banana Curry by Dine Delicious is a plant-based recipe made without onion or garlic and flavored with chili, garam masala, turmeric and peanut.
14. Vazhakkai Fry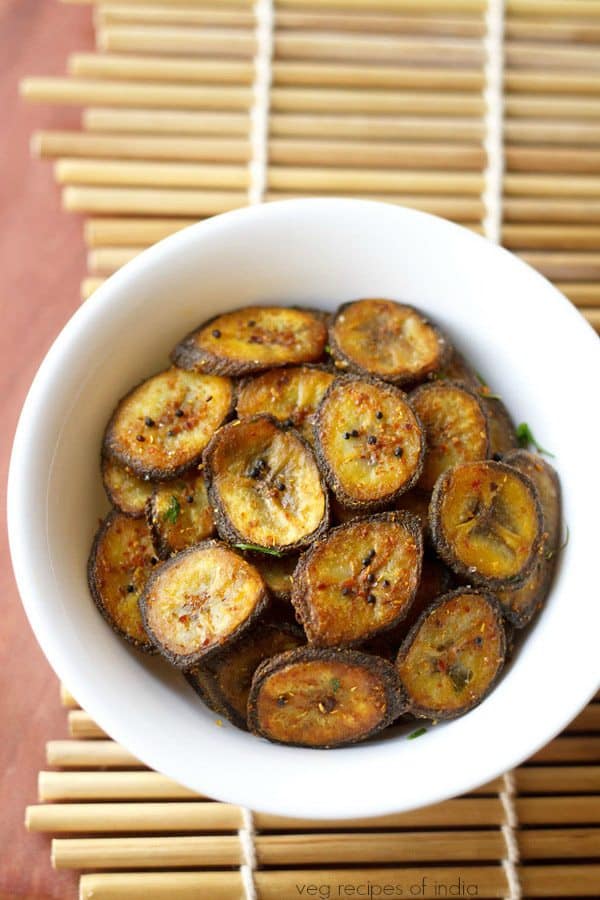 Vazhakkai Fry by Dassana's Veg Recipes is a mildly spiced South Indian dish. In this recipe sliced green bananas are coated in spices before frying until crisp and served with chopped fresh coriander.
15. Green Banana Mangu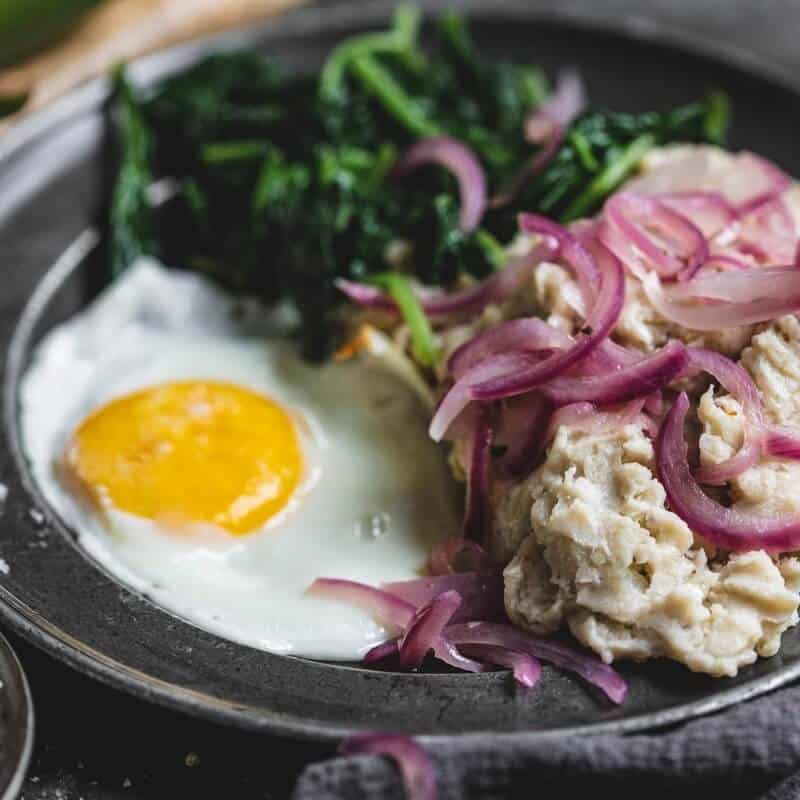 Make this traditional breakfast from the Dominican Republic. This Green Banana Mangu recipe by Riverford is a very simple yet very tasty recipe of boiled mashed green bananas with red onions and seasoning.
16. Easy Creamy Green Banana Sauce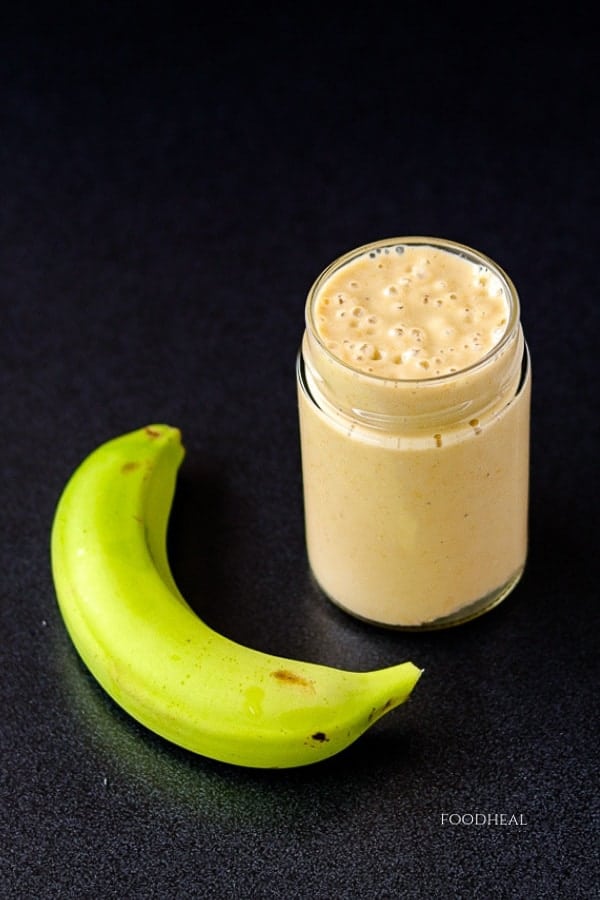 This Easy Creamy Green Banana Sauce by FoodHeal is a vegan and nut-free recipe. Spiced with fennel, cumin, ginger and cilantro this delicious sauce makes a healthy nutritious alternative to nut and seed sauces.