I've done all the research when it comes to DIY Ssharpie plates and mugs and discovered some solid dos and don'ts of crafting these giftable works of art.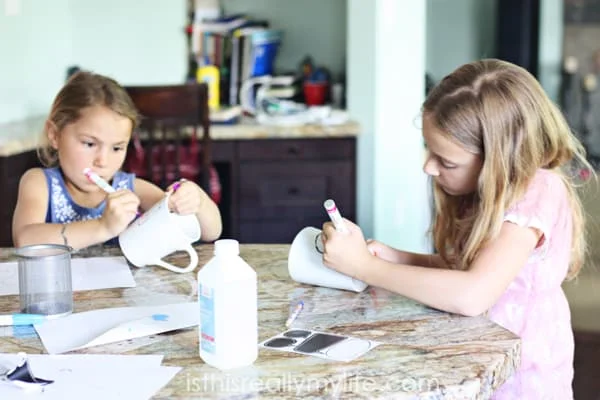 I recently planned a super fun playdate for George and Livi and a couple friends. The playdate involved some outdoor fun (bubbles on the trampoline are the BEST!) and some refreshment (granola bars and juices boxes FTW!), but I also wanted to throw in a super simple Father's Day craft since I so rarely plan playdates.
Or craft.
I did a bit of research on DIY Sharpie plates and DIY Sharpie mugs and found all kinds of how-tos. I sorted through the info and came up with what I thought was a solid plan.
I'd say it ended up about 92% solid.
I learned a thing or two about using Sharpie on plates and thought I'd share those bits of wisdom with you. I still think it's a bit of a crap shoot but I tend to feel that way about most crafts. Hashtag story of my life.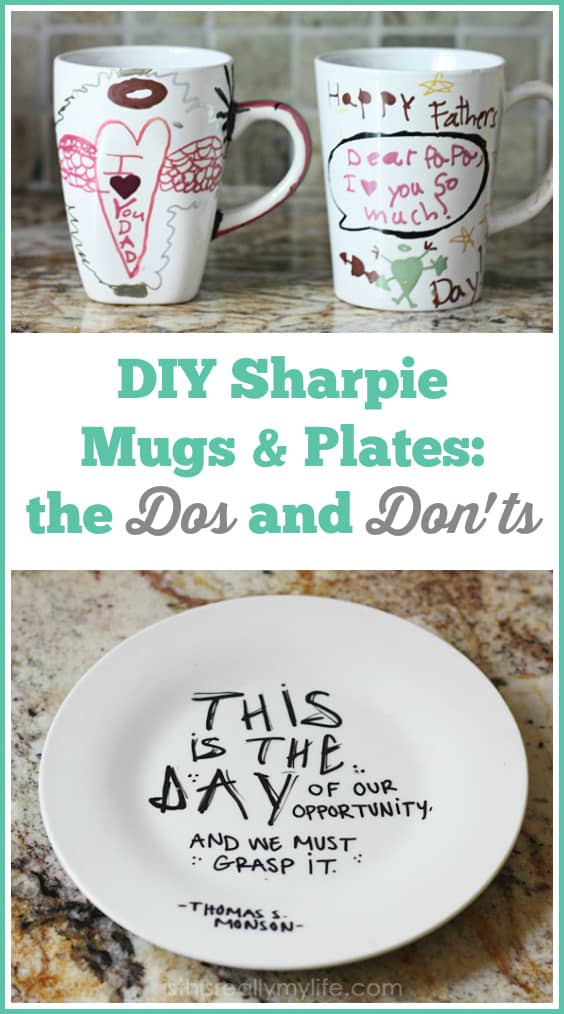 DO assemble all necessary Sharpie plate materials (dry erase marker not pictured) including more cotton swabs than you think you'll need.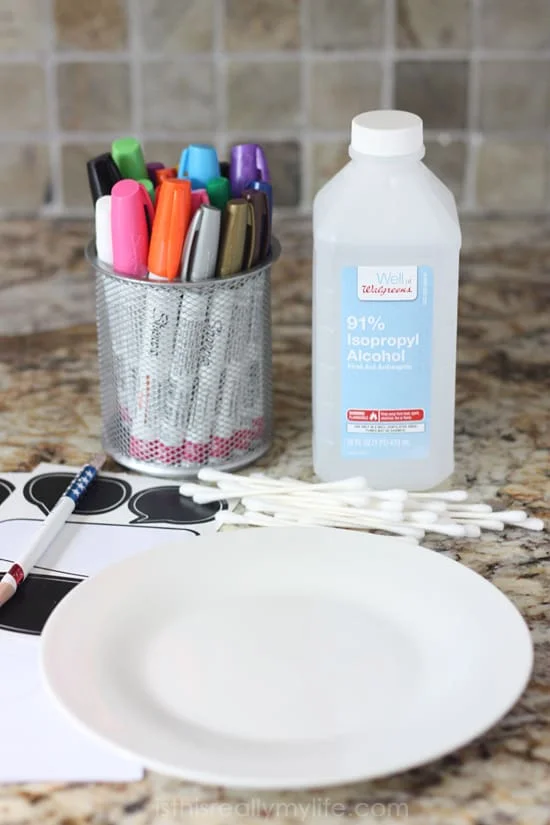 DO use rubbing alcohol to remove any mistakes until your 17-year-old tells—and then shows—you that dry erase marker is easier.
DO use dry erase marker moving forward. (Color over the Sharpie plate mistake and simply wipe clean; less messy than the rubbing alcohol.)
DO use Sharpie oil-based paint markers.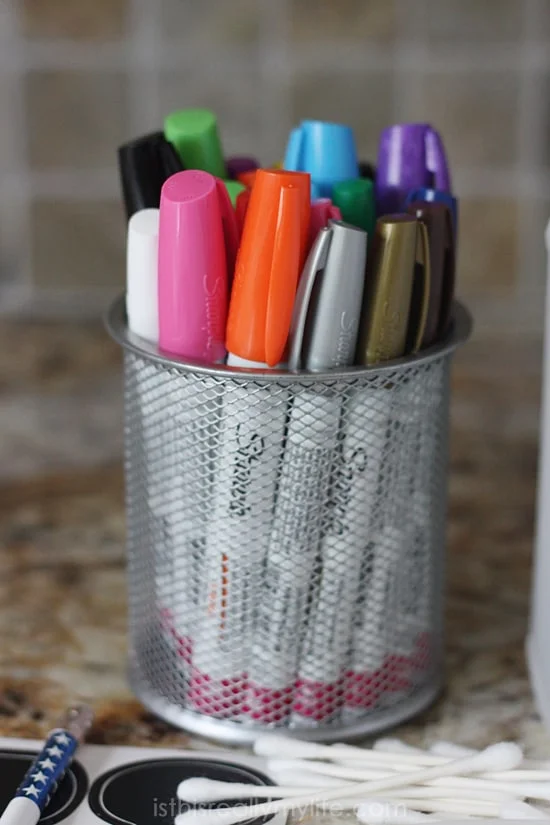 DON'T let the kids try to get the markers started. You'll end up with Sharpie oil paint all over your kitchen counter and all over their hands.
DO have kids wear paint shirts or smocks when crafting their DIY Sharpie plates just in case (see above).
DO use dollar store mugs and plates if you're feelin' lucky.
DON'T use dollar store mugs and plates if you're not. You may end up with random discolorations. You can see it in Madison's "pasta" plate above. Next time I think we'll try IKEA.
DO use stickers or stencils to create fun designs on your DIY plates and mugs. I gently stuck a speech bubble to a plate and then used the black paint marker to outline it. I let the marker dry before carefully removing the sticker. You can also use letter stickers like in this kid-made scribble mug.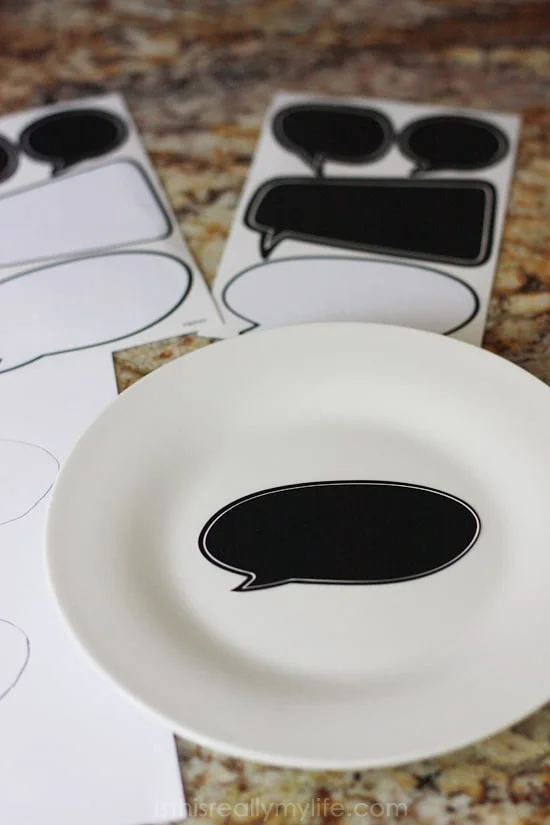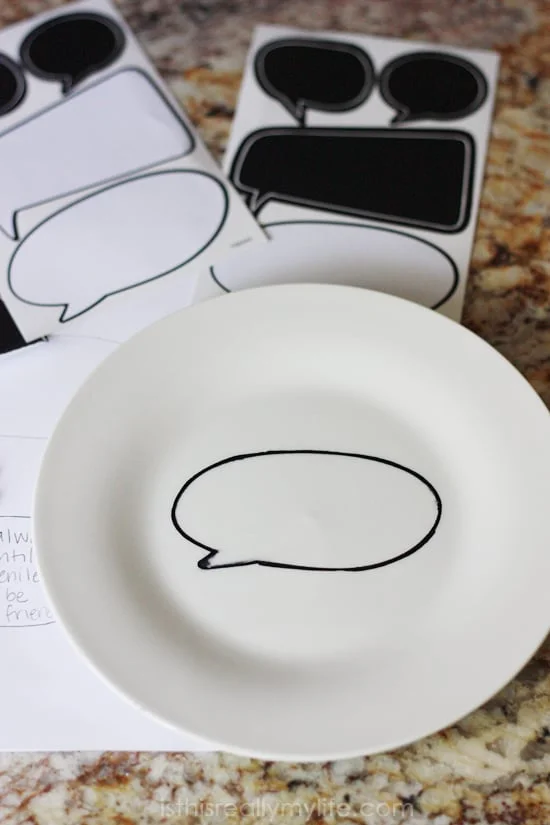 DO practice your DIY plate design on scratch paper so you don't get high from all the dry erase marker you use to correct your mistakes.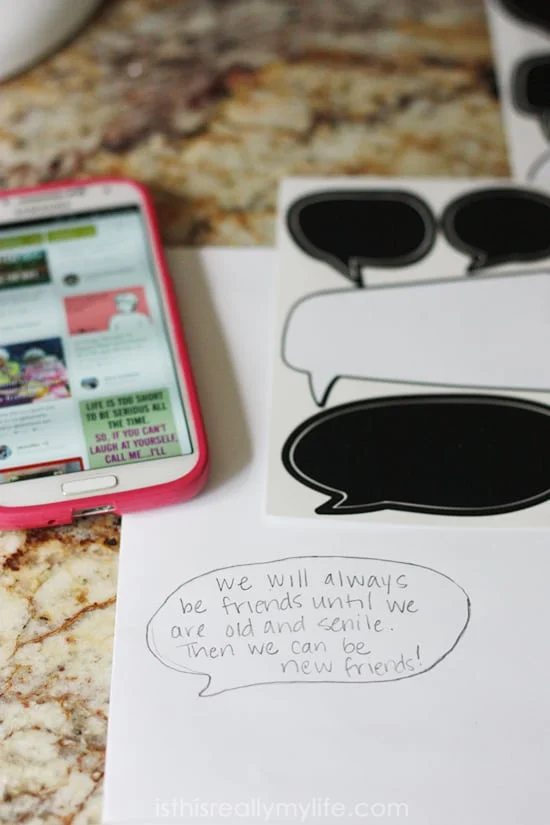 DON'T use your own handwriting if your 17-year-old's handwriting is cuter.
DON'T assume the colors of the markers will remain close to the original after baking. You'll be seriously disappointed. For example, the red turned to dark purple and the gold to silver.
My plate before baking: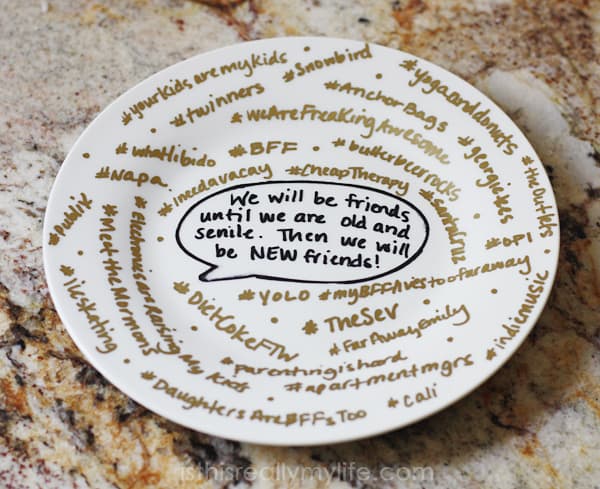 My plate after (still pretty but no longer gold):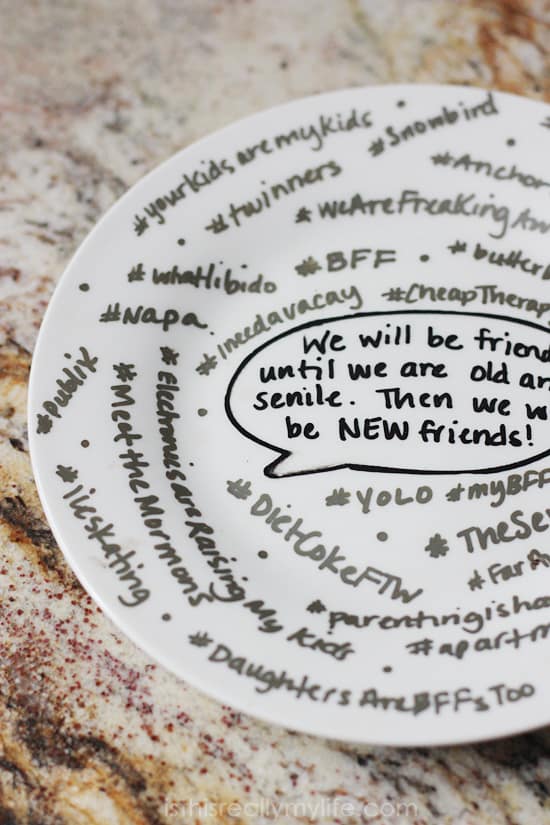 Before baking, Madison's DIY plates were black with red accents. After baking, they were black with dark purple accents.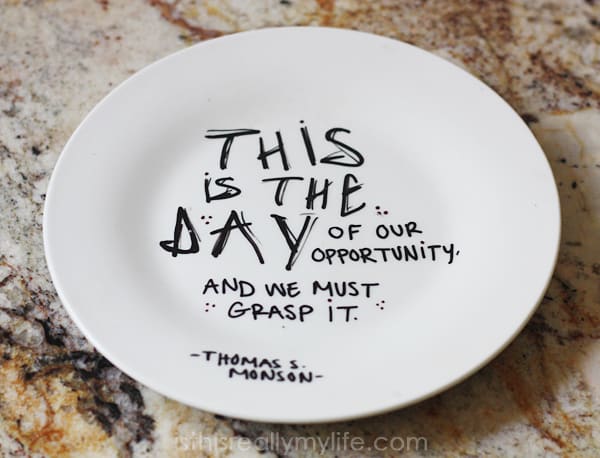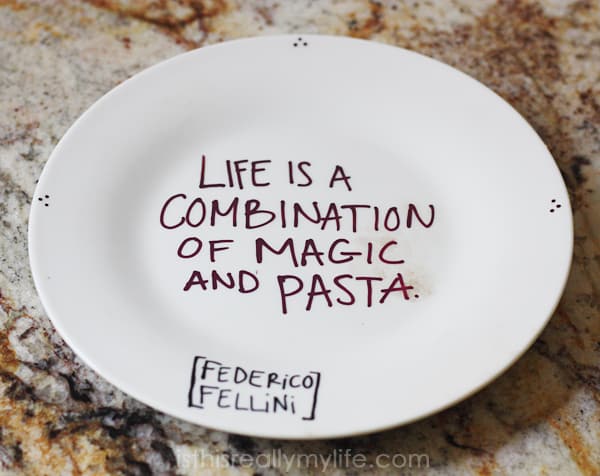 DO wait 72 hours before baking your Sharpie plates and Sharpie mugs.
DON'T let your kids continue to add to his design over the course of a week or it may not be done in time for Father's Day.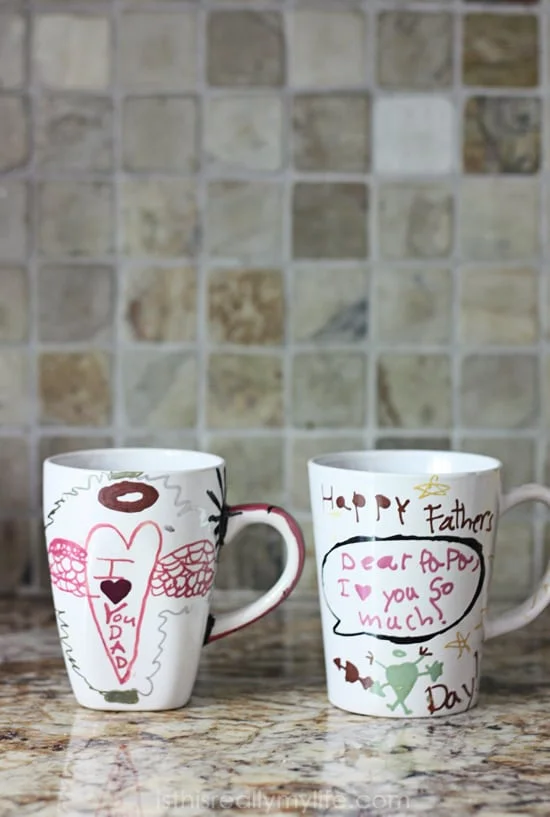 DO place mugs and plates in a cold oven and set bake temperature to 425. Let bake 1 hour and allow to cool completely before removing. This should help prevent cracking.
DO hand wash mugs and plates...unless you're still feeling lucky, then by all means take your chances with the dishwasher. Or the dog.
DON'T let the dog clean the mugs or plates. That's just gross.
DO have a lot of fun!