If you're looking for the perfect chicken cacciatore recipe, you've come to the right place. Ina Garten's chicken cacciatore recipe is among the best, and it is no wonder as she is such a highly-rated chef. Here is how to make chicken cacciatore step by step, as well as some information about storing and reheating it.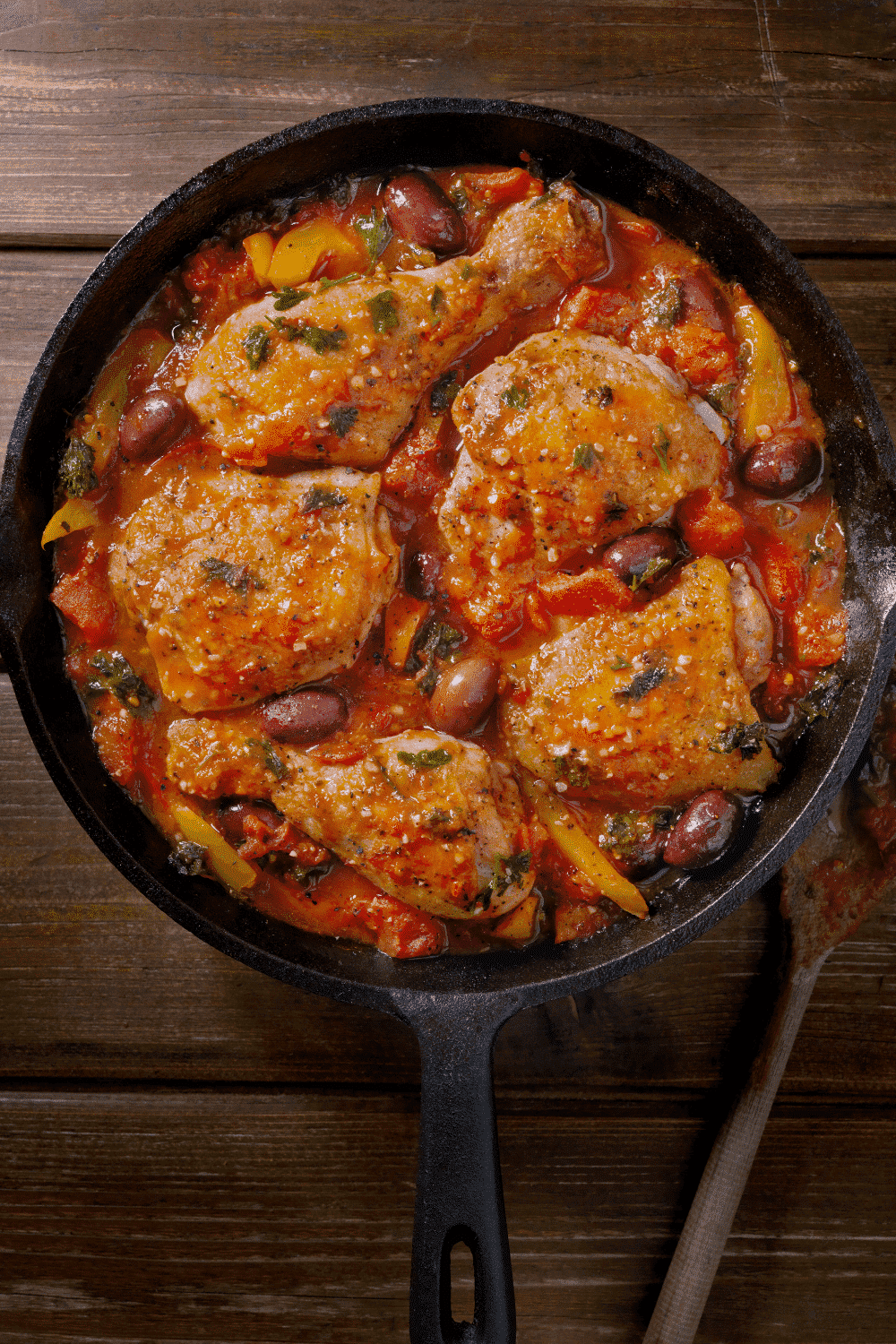 Ina Garten Chicken Cacciatore Recipe
Ina Garten's chicken cacciatore recipe is basically chicken cooked in a sauce comprising mushrooms, onions, red and yellow peppers, and other vegetables. The sauce is well seasoned with dried herbs, thyme, bay leaves, salt, and black pepper.
Chicken cacciatore is a great dish to serve with rice or pasta and it will make an amazing dinner.
What Does Cacciatore Mean?
In Italian, cacciatore means hunter. The term "Alla cacciatora" refers to a meal prepared "hunter-style" with onions, herbs, tomatoes, bell peppers, and wine.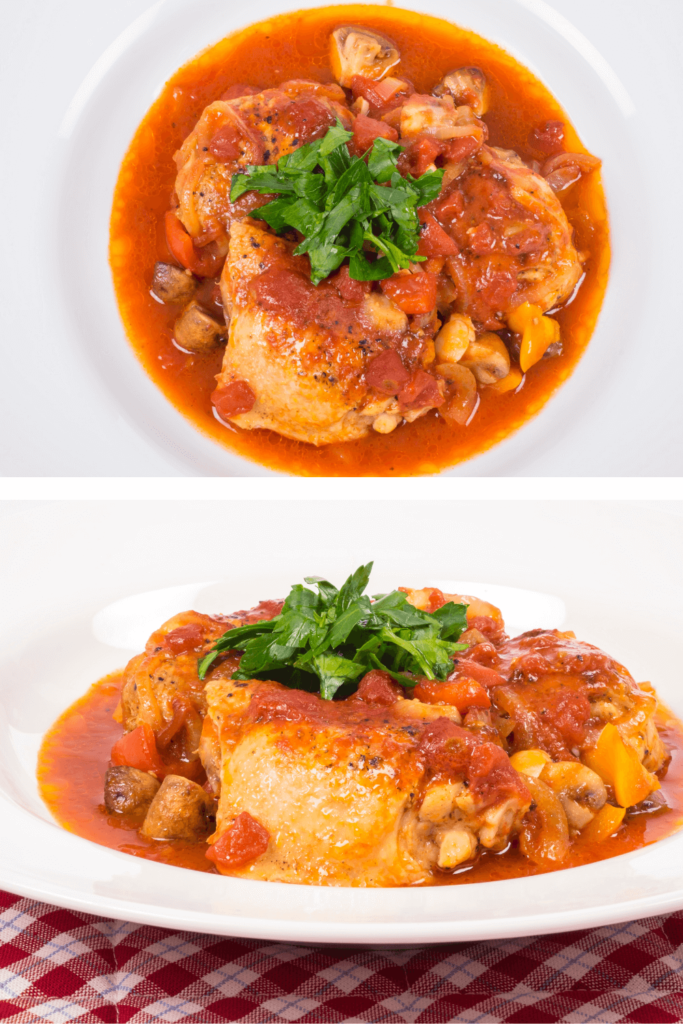 What is the Difference Between Chicken Parmesan And Chicken Cacciatore?
Chicken cacciatore and chicken parmesan are unrelated. While chicken parmesan is usually a baked dish made from boneless, skinless breasts, chicken cacciatore is a stew made from chicken thighs and/or drumsticks. In chicken cacciatore, you do not need to use cheese or Parmesan as you would in chicken parmesan, and the sauce is spicy.
What is Cacciatore Sauce Made Of?
Traditional cacciatore sauce is made from chicken thighs, flour, olive oil, onions, red bell peppers, plum tomatoes, green olives, capers, red/white wine, chicken stock, thyme, oregano, and fresh basil leaves. However, you can add your own touch by using vinegar instead of wine or adding herbs like rosemary for added flavor.
How Long Does Chicken Cacciatore Last in the Fridge?
Properly stored chicken cacciatore can last in the fridge for about 4 to 5 days. To store it correctly, allow the chicken cacciatore to cool until it reaches room temperature. Then, divide it between airtight containers to keep it fresh. You should store chicken cacciatore in a separate container from the side dish if you're preparing to serve it with rice or pasta.
How to Freeze and Thaw Chicken Cacciatore
The chicken cacciatore can be frozen for 3 to 4 months. As usual, let the chicken cacciatore cool, and then divide it into servings in freezer bags before freezing them. Make sure to leave about a ¼ inch space in the bags to allow the sauce room to expand. You should also write the freezing date on the bags.
There are two recommended methods for thawing chicken cacciatore. The first method is in the fridge. The chicken cacciatore will take about 24 hours to thaw completely using this method. The second way is to use warm water. To do this, put the frozen chicken cacciatore bags into a bowl of warm water (not boiling) and let them sit for about 2 to 3 hours to defrost.
Don't thaw in the microwave or the oven.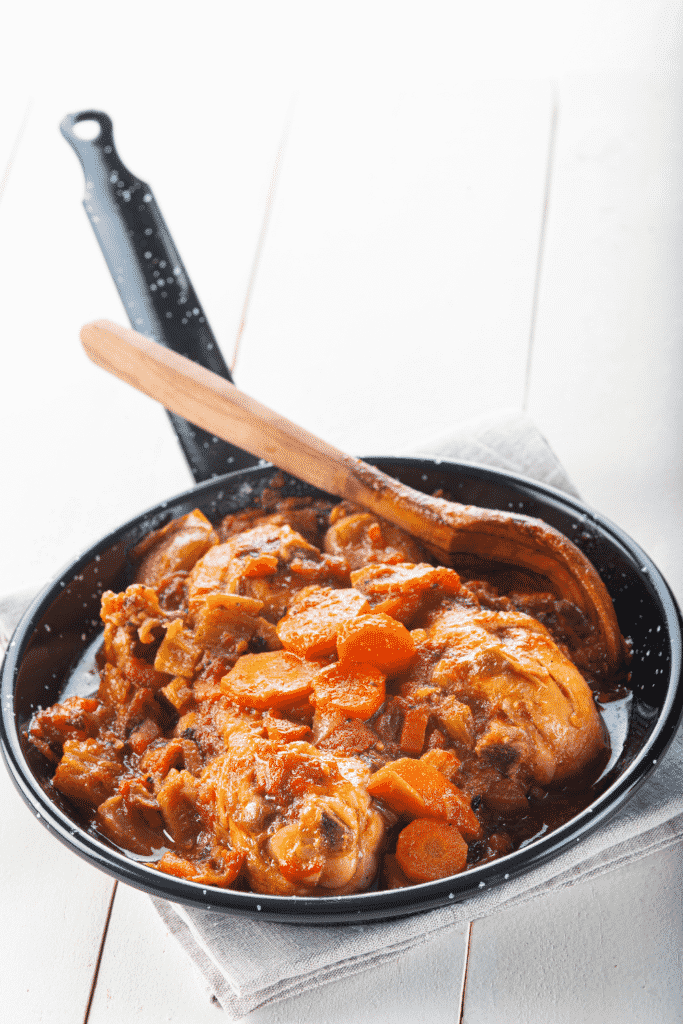 How to Reheat Chicken Cacciatore
The best way to reheat chicken cacciatore is in the oven. To do so, simply preheat the oven to 350 F and place the chicken cacciatore in a baking dish covered with foil. Then, reheat it for 20 to 25 minutes until it reaches 160 F. Alternatively, you reheat chicken cacciatore in the microwave or in the air fryer.
Reheat in the Air Fryer:
Set the air fryer to 350 F.
Place the chicken cacciatore in a bowl covered with foil.
Place it in the air fryer and reheat it for 7 to 8 minutes.
Remove the foil and reheat the cacciatore for another 3 minutes, or until the temperature reaches 160 F.
Reheat in the Microwave: Place a chicken cacciatore serving on a microwave-safe plate and heat it for 2 minutes or until heated through.
How Do You Reheat Chicken Cacciatore from Frozen? You should not reheat chicken cacciatore directly from frozen. Instead, you should thaw it first before reheating it in the oven, air fryer, or microwave.
What to Serve With Chicken Cacciatore
The best way to serve chicken cacciatore is with cooked rice or pasta. To serve the cacciatore, simply place some cooked rice or pasta on a plate and spoon the cacciatore on top. If you don't want cooked rice or pasta, though, you could serve the chicken cacciatore with some roasted veggies, mashed potatoes, or couscous.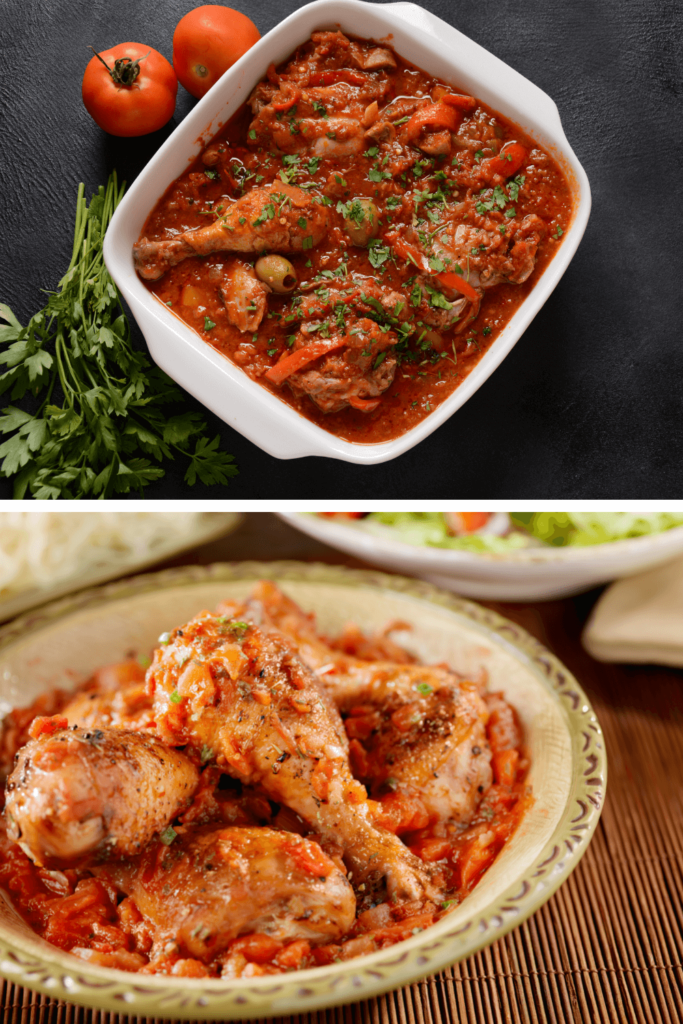 Below is a list of sides that can be served with chicken cacciatore:
Irish Soda Bread
Sweet Potato Casserole
Roasted Brussel Sprouts
Quinoa Salad
Butternut Squash Salad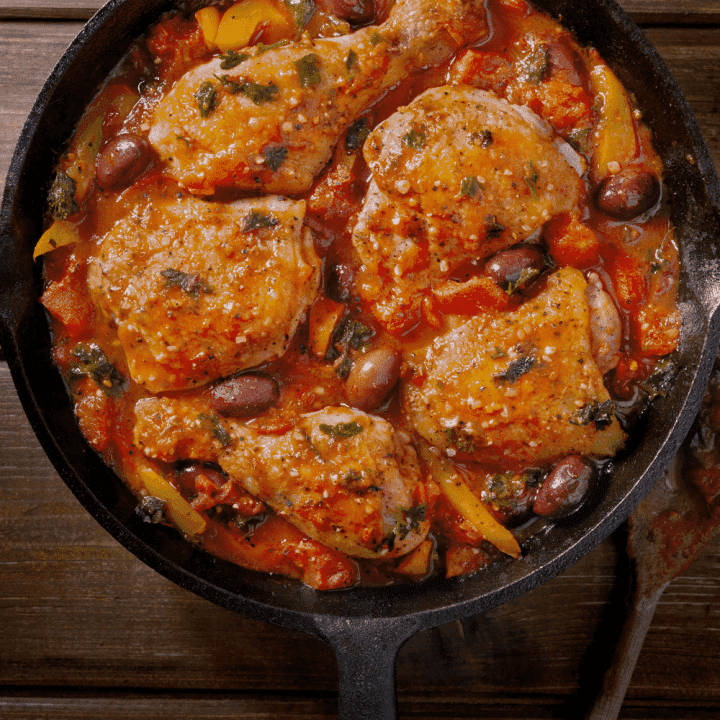 Ina Garten's Best Chicken Cacciatore Recipe
Additional Time:
5 minutes
If you're looking for the perfect chicken cacciatore recipe, you've come to the right place. Ina Garten's chicken cacciatore recipe is among the best, and it is no wonder as she is such a highly-rated chef. Here is how to make chicken cacciatore step by step, as well as some information about storing and reheating it.
Ingredients
Extra virgin olive oil
1 chicken (about 5 Ib), cut into 8 to 10 pieces
Kosher salt
Ground black pepper
2 large onions, sliced
1 pinch crushed red pepper flakes
4 garlic cloves, smashed and finely chopped
1 red pepper, cut into ½-inch pieces
1 yellow pepper, cut into ½-inch pieces
1 Ib cremini mushrooms, cleaned and sliced
2 cups white vinegar
2 (28-ounce) cans of Italian plum tomatoes
1 bunch of thyme
3 bay leaves
Instructions
Add olive oil to a deep pot and heat it over medium-high heat.
Season the chicken with salt and black pepper, and brown it in the hot oil and in batches if necessary.
As soon as all the chicken is browned, remove it to a plate and discard most of the fat.
Add 1 tablespoon olive oil to the bottom of the pot if necessary.
Saute the onions and crushed red pepper over low heat for 8 to 10 minutes; season it with salt.
Stir in the garlic, and cook it for about a minute.
Stir in the peppers and let them cook for a few minutes until they're soft.
Stir in the mushrooms and season with salt to taste.
Add the white vinegar and simmer it until it has reduced by half.
Return the chicken to the pot and add the tomatoes.
Place the thyme bundles and bay leaves in the pot.
Bring the mixture to a boil, and then reduce it to a simmer.
Partially cover the pot and simmer it for 20 to 30 minutes.
Throughout the cooking process, check the level of the sauce periodically and replenish it with water as needed; the liquid should be about the same level as the chicken.
Prepare a pretty serving platter and place the chicken on it after it has been removed from the pot.
Check the seasoning of the sauce and adjust if necessary.
If the sauce seems excessively greasy, you can skim the fat off.
Pour the sauce over the chicken.
Serve and enjoy!
Nutrition Information:
Yield:

4
Serving Size:

1
Amount Per Serving:
Calories:

348
Total Fat:

18g
Saturated Fat:

4g
Trans Fat:

0g
Unsaturated Fat:

12g
Cholesterol:

100mg
Sodium:

163mg
Carbohydrates:

15g
Fiber:

2g
Sugar:

5g
Protein:

28g