This creamy bacon broccoli salad is one of the best broccoli salads I've tasted. It features bacon, grapes, sunflower seeds and a creamy low-fat dressing.
.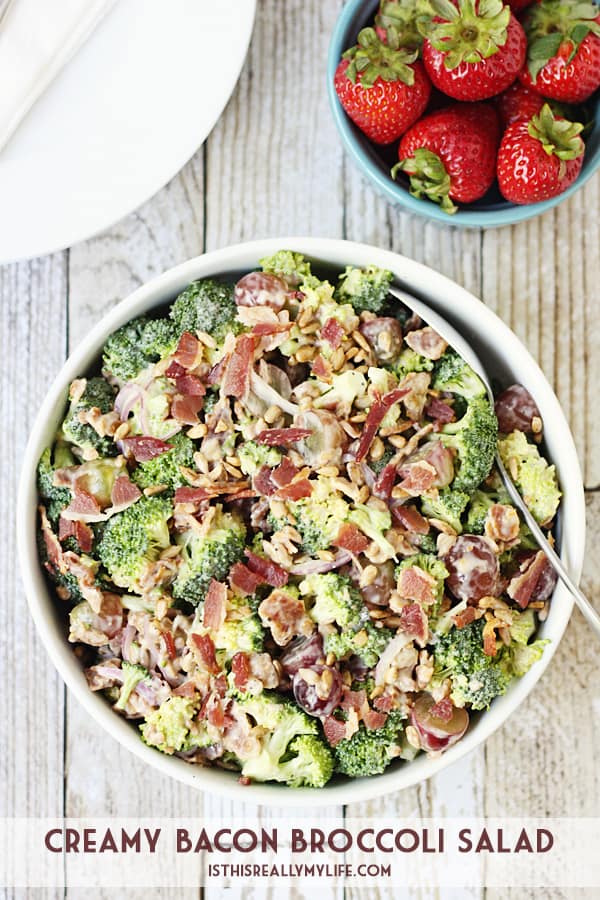 .
Bacon broccoli salad is one of my favorite summer salads.
Okay, it's not specifically a summer salad but I feel like it's mainly made and eaten between the months of April and September.
And while I enjoy most of them, sometimes they have too much red onion, not quite the right dressing or far too little bacon. But this…this creamy bacon broccoli salad is my fave.
.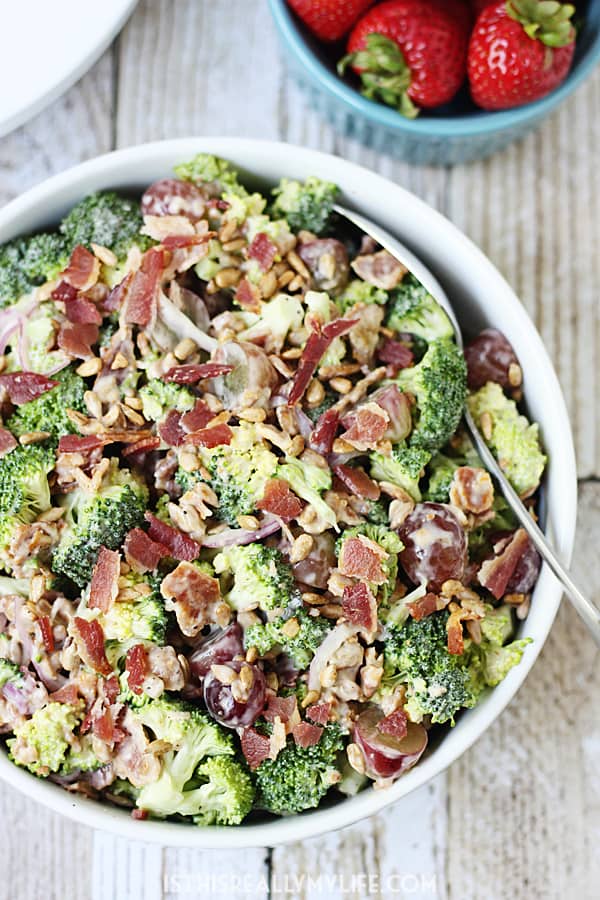 .
It has the requisite broccoli and bacon but also features the right amount of thinly sliced red onion, halved red grapes and sunflower seeds tossed with a creamy dressing (which I made low calorie and low fat by using low-fat mayo and Splenda).
.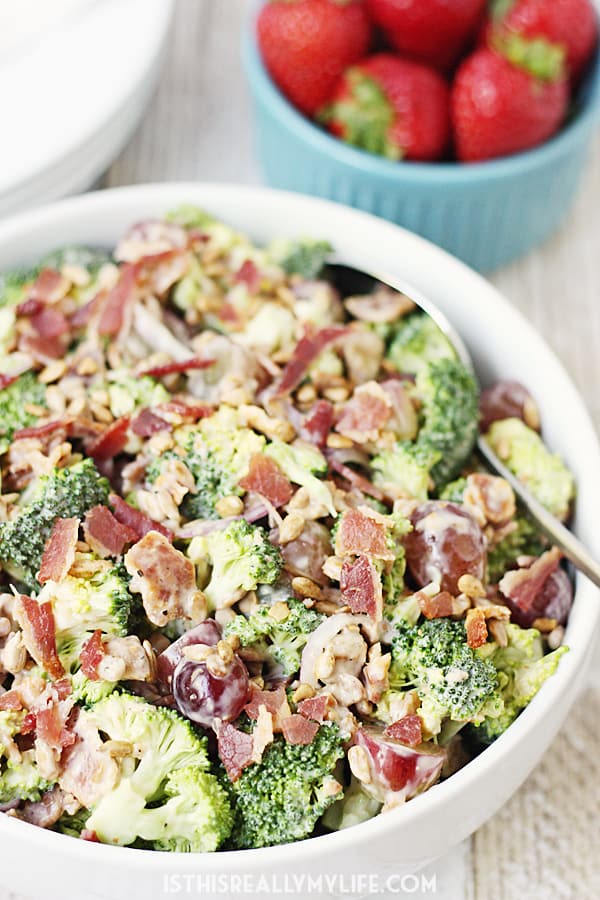 .
Two great things about this creamy bacon broccoli salad. One, it's a nice break from the standard green salad. And two, you can make it a day or two ahead and refrigerate until ready to serve. I love make-ahead recipes!
.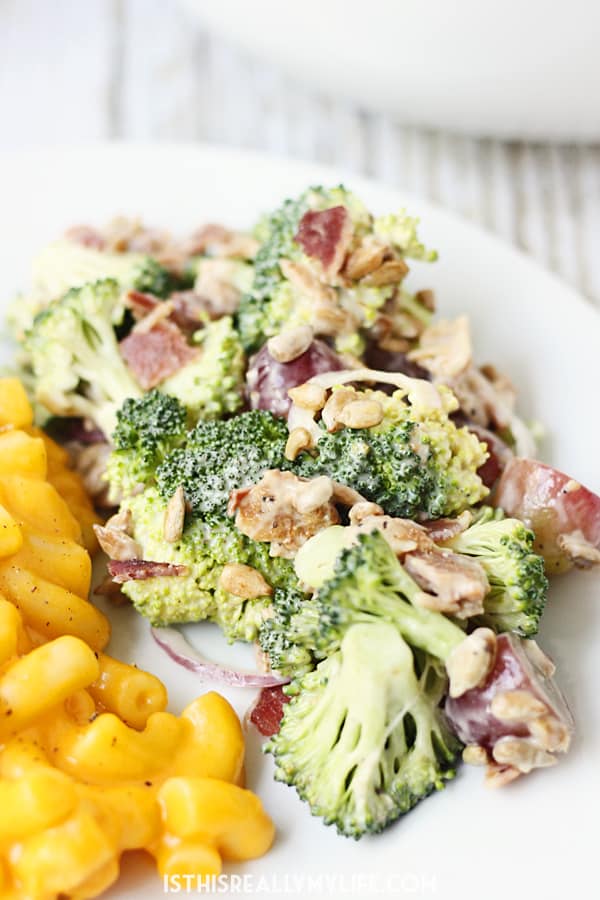 .
Guess what else? Creamy bacon broccoli salad is the perfect side dish to pair with prepared meals like creamy macaroni & cheese. Hey, that's two creamy things in one meal. I consider that a win!
.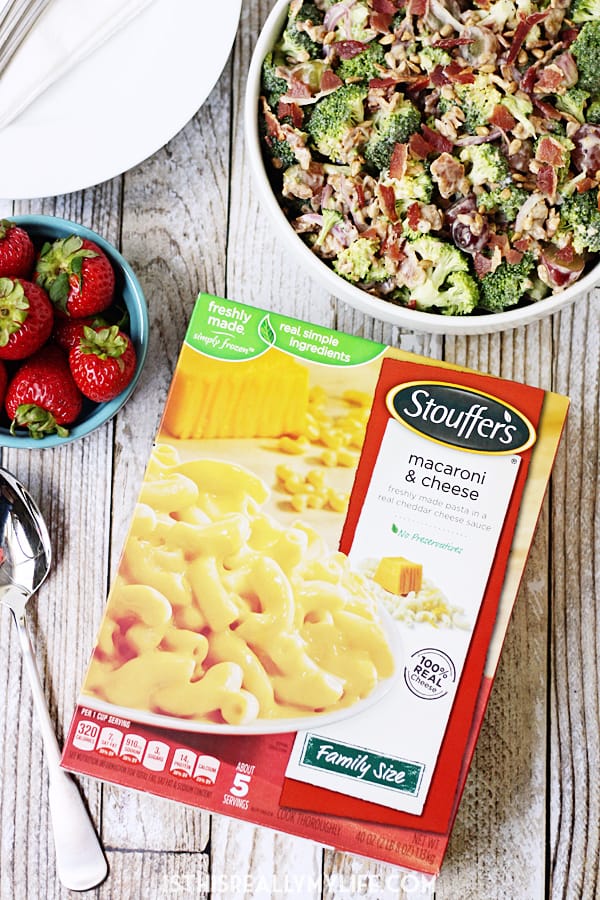 .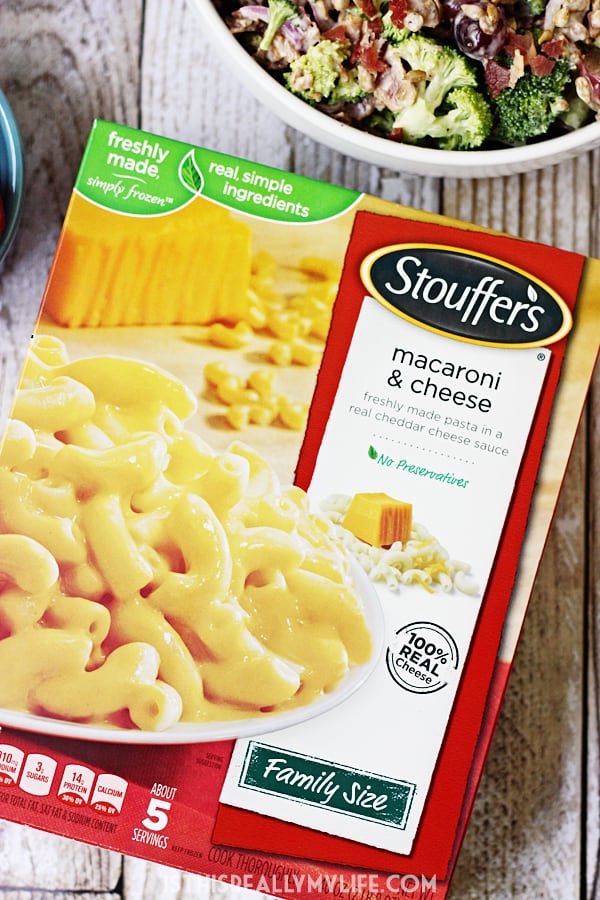 .
While homemade meals are the "golden standard" for many families, we live in a busy world where whipping up homemade dishes every night can be challenging. Stouffer's Macaroni & Cheese is an easy solution that you can feel good about feeding your family. Stouffer's Mac & Cheese recipe includes real, simple ingredients like freshly made pasta, cheddar cheese, milk and butter.
.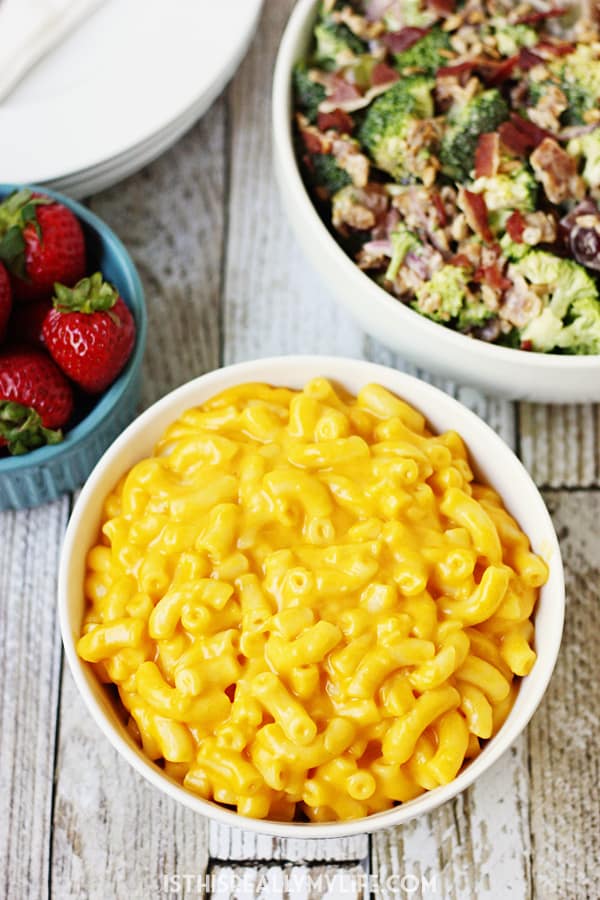 .
Research shows that Americans are only meeting MyPlate recommendations for vegetables, fruit, proteins, dairy and grains seven days out of 365. As shocking as that sounds, I'm not sure our family is meeting those recommendations on a daily basis except perhaps Sunday dinner. I've always been a fan of semi-homemade meals—pairing a nutritious (prepared) main dish with a salad, steamed or fresh vegetables or other side dish plus something dairy like yogurt parfaits with fresh fruit. Prepared foods are a great time saver and there are so many new dishes and flavors to choose from. Yay for timesavers and yummy things!
.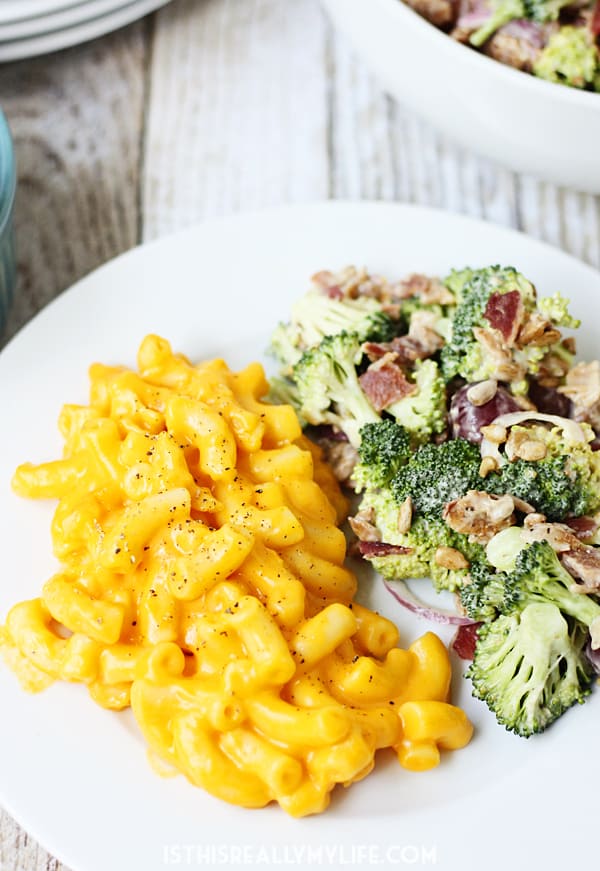 .
Printable recipe for creamy bacon broccoli salad below. Enjoy!
.

Creamy Bacon Broccoli Salad
This creamy bacon broccoli salad is one of the best broccoli salads I've tasted. It features bacon, grapes, sunflower seeds and a creamy low-fat dressing.
Author:
Emily ~ isthisREALLYmylife.com
Ingredients
⅔ cup low-fat mayonnaise
2 T white wine vinegar
½ tsp black pepper
½ to 1 tsp salt
2 T Splenda
2 large heads fresh broccoli, cut into small florets
¼ cup thinly sliced red onion
10 slices bacon, cooked and crumbled
1 cup grapes, halved
½ cup sunflower seeds
Instructions
Whisk together mayonnaise, vinegar, pepper, salt and Splenda in a small bowl; set aside.
Combine broccoli florets, red onion, bacon, grapes and sunflower seeds in a large bowl. Add mayonnaise mixture and toss to coat.
Cover and refrigerate until ready to serve.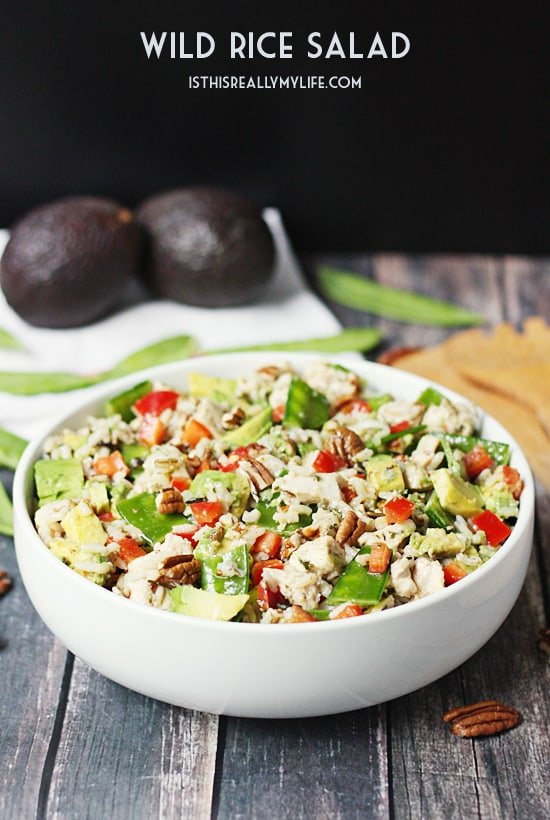 Wild rice salad with avocado & toasted pecans
.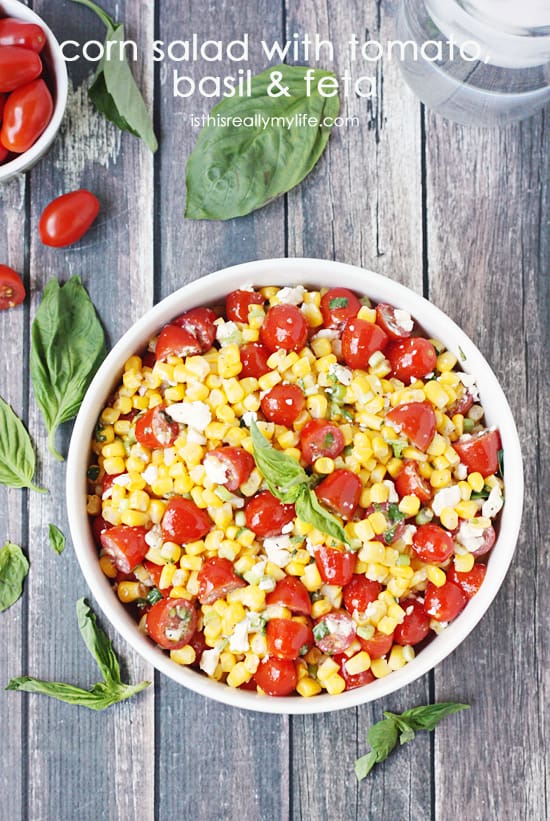 Corn salad with tomato, basil & feta
.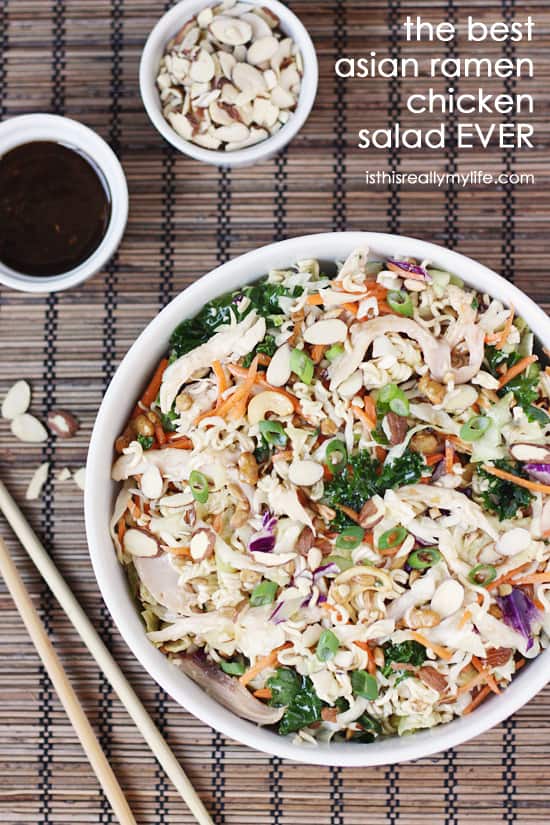 The best Asian ramen chicken salad EVER
.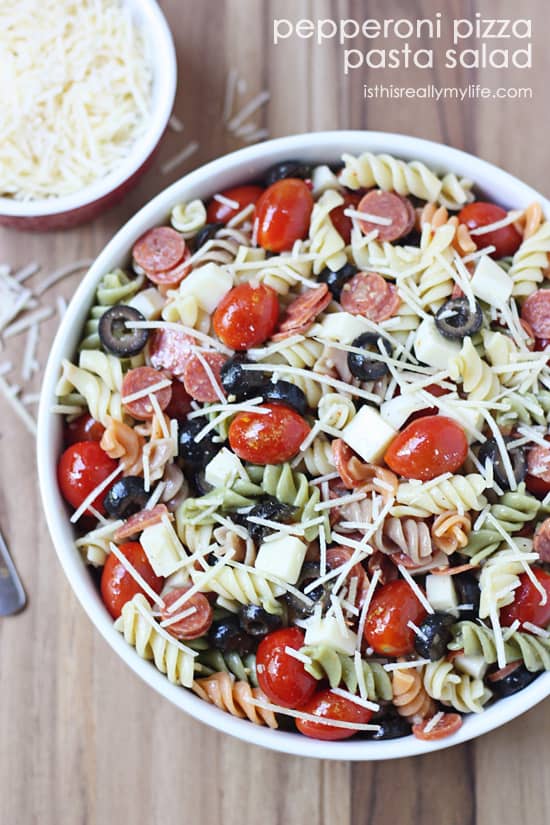 .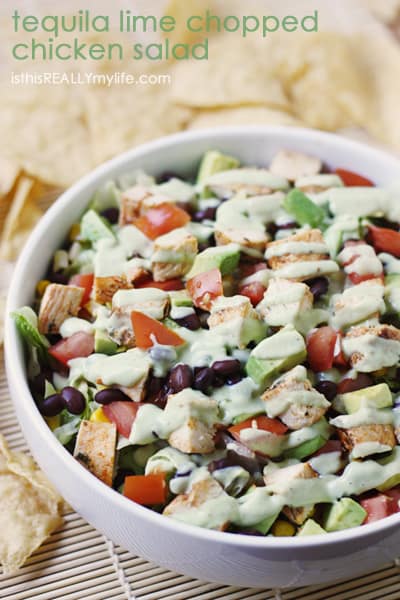 Tequila lime chopped chicken salad
.
I was selected for this opportunity as a member of CLEVER and the content and opinions expressed here are all my own.
.
.
If you're looking for more yummy recipes, you should browse my "best of" Pinterest board.
.
.

Feel free to "like" Is This Really My Life on Facebook. It won't earn you an extra entry in a giveaway but it will give you warm fuzzies.
Don't forget to sign up for free Is This Really My Life updates via RSS or email so you don't miss a single awesome post.
.