You might think Pinterest is the best way to save your favorite recipes—you know, recipes like these cookie dough pretzel bites...
Or this hot-from-the-oven peasant bread...
Or George's favorite dessert, a decadent chocolate brownie trifle...
But Pinterest can only do so much.
It can't:
Convert measurements from US to metric.
Populate shopping lists.
Provide you with printable recipes without viewing the original post.
.
Oh, and Pinterest doesn't do the review thing. I don't know about you, but I'm really not a fan of trying a recipe without being able to read some feedback from those who've already given it a go.
What if a cookie recipe needs more chocolate chips and I don't know that until they're already baked! Tragedy, my friends.
Never fear! There IS a site that can do all those things. It's called Yummly and you should totally check it out. For reals.
Unless you're not into eating yummy food or something crazy like that.
Signing up is easy (and free!). After you've created your account—and before you get distracted by all the delicious recipes—head to their bookmarklet page. Drag the Yum bookmarklet icon to your bookmark bar and you're ready to "yum" any recipe you find on the Interweb.
If you're on my site, you can use the bookmarklet you've so easily dragged to your toolbar to save your favorite ITRML recipes OR you can click the little "Yum" as shown in the screenshots below.
.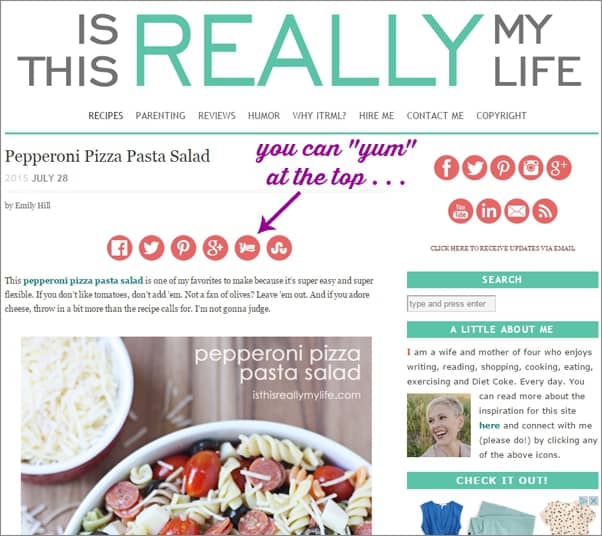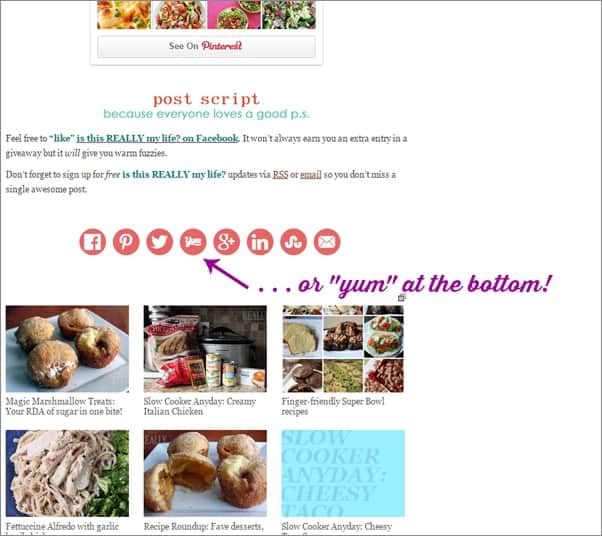 .
You can also find my recipes by heading straight to my Is This Really My Life page on Yummly.
Try it out and let me know what you think. I'm kind of excited to have such an awesome tool at my food-lovin' fingertips!
.
If you're looking for more yummy recipes, check out my best of Is This Really My Life Pinterest board.
.
Follow Emily Hill's board best of Is This Really My Life on Pinterest.
.

Feel free to "like" is this REALLY my life? on Facebook. It won't always earn you an extra entry in a giveaway but it will give you warm fuzzies.
Don't forget to sign up for free is this REALLY my life? updates via RSS or email so you don't miss a single awesome post.
.