I'm not exactly sure what "Yo Gabba Gabba! style" is, but if I had to guess I'd say it involves a celebrity showing me some awesome moves while we dance to tunes spun by DJ Lance Rock with Muno, Foofa, Brobee, Toodee, and Plex as backup dancers.
Oh, wait. Did I say me? I meant George and Livi would be doing the dancing while I cheered them on from the sidelines—and by "sidelines" I mean my seat inside Kingsbury Hall.
That's right! Your child's wildest dreams have come true! Yo Gabba Gabba! Live! is on tour and coming to Salt Lake City! On November 9th you and your little ones can sing, dance, clap, twirl and spin with the characters from Yo Gabba Gabba! Shows are at 3pm and 6pm—an extremely thoughtful move on their part because kids can still get to bed on time, which makes Mom happy. And it's all about making Mom happy, right?
...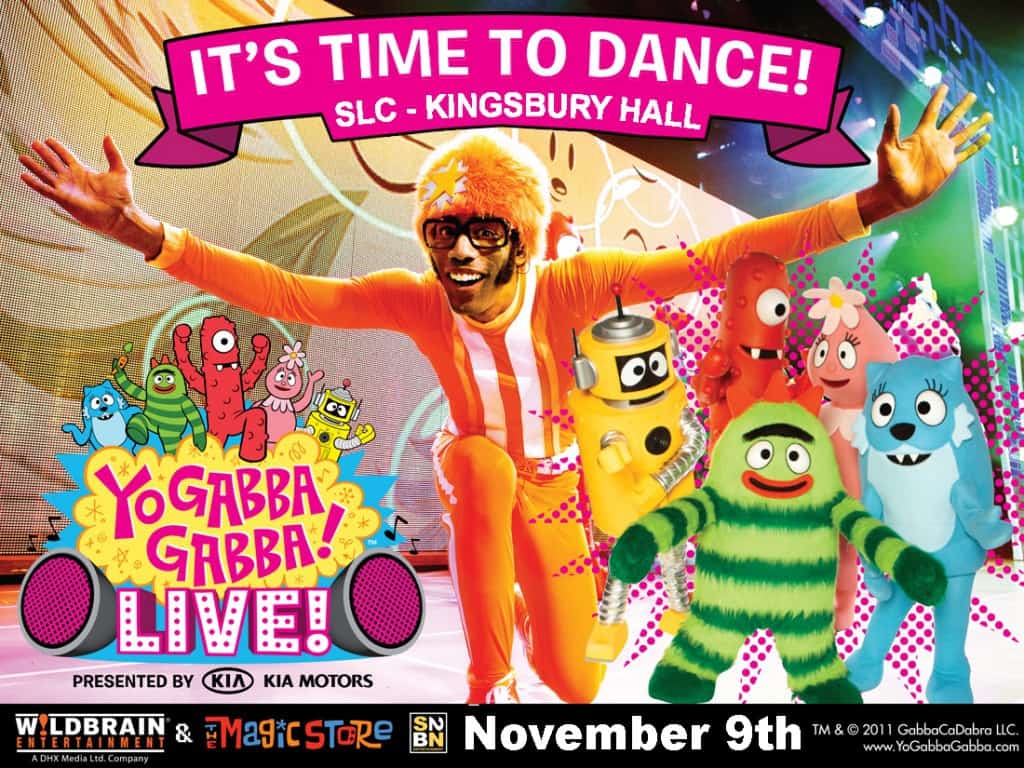 ...
Did you catch the details?
Wednesday, November 9th
Kingsbury Hall
3:00 pm & 6:00 pm
Live website: http://yogabbagabbalive.com/
SLC show link: http://yogabbagabbalive.com/events/35-kingsbury-hall-salt-lake-city
Facebook Event for SLC show: http://www.facebook.com/event.php?eid=245590045478765
BUT GET THIS! You can receive $10 OFF your ticket purchase by following this link and entering the code GABBA when checking out. That makes for one serious party in your wallet!
...

...
EVEN BETTER! One lucky ITRML reader is going to win a TWO (2) TICKETS to their choice of show (in Salt Lake City). Now THAT is a serious party!!!
(For me the serious party started when the Sassies reviewed Sammy's Cafe in Pleasant Grove and found out Sam is the brother of Yo Gabba Gabba's creator. The party continued when he offered us tickets to the upcoming show, and I've now invited YOU to the party by giving away a pair of tickets. Best party EVER!)

For your chance to win, leave a comment telling me your most favorite Yo Gabba Gabba! moment. For me, as it is for my friend Kim (also giving away a pair of tickets), it's when Jack Black takes the stage. I think I enjoy that episode more than my kids.
For extra entries, you can do any/all of the following. Please leave a separate comment for each one you do (each one earns you an extra entry).
~ "Like" Yo Gabba Gabba! on Facebook.
~ "Like" ITRML on Facebook.
~ Heck, "Like" Sammy's Cafe Pleasant Grove or Sammy's Cafe Provo on Facebook too!
~ Become a friend of ITRML on Google Friend Connect (sidebar) and/or subscribe to ITRML.
~ Tweet about this giveaway and leave the URL of your tweet.
This giveaway will end at midnight on October 19th.
Note: Winner will be notified via email. If no reply is received, a new winner will be drawn.
P.S. My friend Vanessa is also giving away Yo Gabba Gabba! tickets. Check it out here: "Yo Gabba Gabba in Utah."
Disclosure: A big thank-you to Sam for hooking up my readers with a discount on tickets and the giveaway. Another big thank-you for sending George, Olivia and me to the show. (That should probably read: "Another big thank-you for solidifying my spot as the best mom ever.")