One the most awesome things my handy—both literally and figuratively—Nathan has done is install a central vac in the main and basement levels of our home. He did the same thing in our previous home but it was a tad bit easier because that home was a rambler with an unfinished basement. In this home, the basement was finished so it made funneling the PVC pipe through walls all the more fun. And by fun I mean as enjoyable as a root canal.
And that is why we haven't installed it on the second floor. Yet.
But install on the other two floors he did, and now I have THE BEST kitchen accessory: the vac pan.
…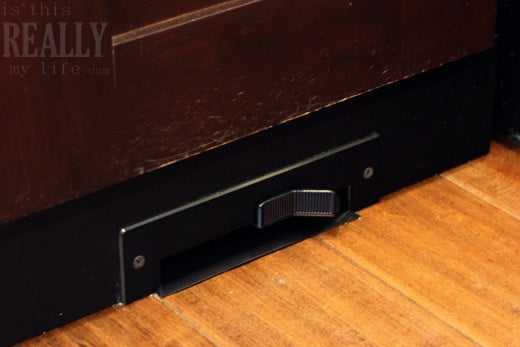 …
Or as I like to call it, the best invention since sliced cinnamon toast. (Or as I really like to call it, the kick plate.) Check out how well this thing sucks—literally, not figuratively:
Pay no mind to the crumbs I missed next to the stove. There are more where those came from. In fact, for some reason there's a never-ending supply of crumbs on my floor. I'm thinking it's because saltine crackers and kids don't mix. Ever.
Need central vac advice? I'm totally happy to pass along Nathan's wisdom.
I'm not happy to pass along his handy hands though. Those are needed at home. For various reasons.
…
Previous Why You Should Marry a Geek posts: