I just posted a giveaway over on SassyScoops.com for a full-conference pass to Story@Home, a blogging/storytelling/family history conference in Salt Lake City March 9th and 10th. It's going to be fabulous! I mean, who doesn't love inspiring keynotes, fab workshops and great storytelling all wrapped up into one?
So head over to SassyScoops.com to read more about the conference. You might even find out which track I'm planning to attend (might be Storytelling); which speakers you'll hear (may be CJane and Rachael Herrscher); and how much this conference costs (only $79—can you believe it?!?!).
Before you leave to enter the giveaway, I had to share with you this photo taken over 8 years ago. Talk about some sweet storytelling!
...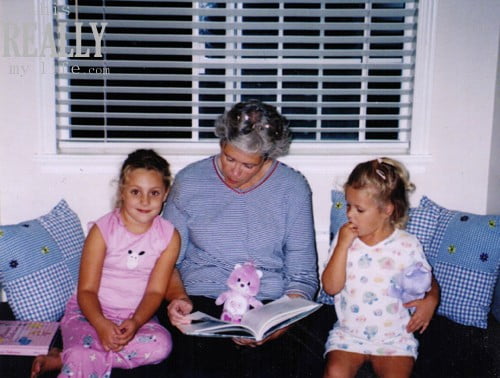 My mom reading books to Madison (now 14) and Lauren (now 12).
...
Story@Home website: http://www.cherishbound.com/blog/storyathome/
Story@Home Facebook: https://www.facebook.com/pages/StoryHome/175409965858537
P.S. You can also enter to win over at my friend Stacy's blog: Not Just a Housewife. Good luck...hope to see you there!