The holidays are a time for family, friends and lots of good food. It's also a time for games. There's nothing like a few rounds of Exploding Kittens or Settlers of Catan to strengthen relationships…or cause serious infighting. But as fun as it is to defuse an explosive feline or corner the market on brick, it's even more fun to watch family members (attempt to) bust a move. That's why our Just Dance games are always the first in the Wii. And with Just Dance 2016 hitting shelves, we know what we'll be doing—and dancing—this Christmas vacation.
I swear my kids had Just Dance 2016 out of its wrapping before I'd removed it from the box in which it was shipped. Next came a mad dash to find a charged remote. (Fortunately I keep a plentiful supply of AA batteries on hand for just such an occasion.) Once charged remotes were in hand, Livi fired up the game and the kids quickly created their players. Then it was the difficult decision of which song to try first.
"Uptown Funk" by Mark Ronson ft. Bruno Mars was the winner.
Next up was "Let's Groove" by Earth, Wind & Fire. I'll be honest, it was hard to stand there and video the kids; I so totally wanted to groove with them. I may have to secretly bust a move after they go to bed…
.
.
The final choice was "Blame" by Calvin Harris ft. John Newman.
.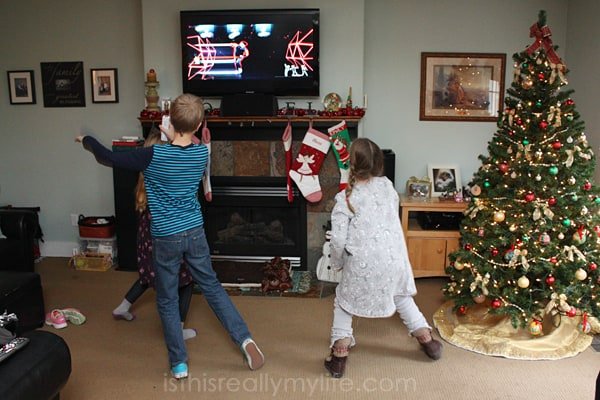 .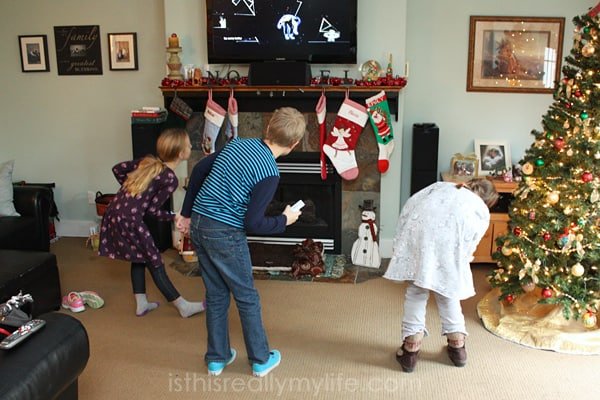 I asked the kids to give me official quotes for my post. Here's what they said:
George: "The songs are very fun and energetic and get you hyped up!"
Olivia: "It was really fun and I enjoyed it a lot. It was funny and stuff."
The new Just Dance 2016 features over 40 hits and quirky favorites including "All About That Bass" by Meghan Trainor, "Cool for the Summer" by Demi Lovato, "Copacabana" by Barry Manilow and "You're the One That I Want" from Grease. There's a song for everyone (including the Little Mermaid fans in your family), which makes Just Dance 2016 the perfect way to burn a few (hundred) holiday calories!
If you're lucky enough to play the game on an Xbox One, PlayStation 4 or Wii U, you'll have access to the Just Dance Controller App, which allows players to use their smartphone to track their moves and navigate through the game. No peripherals or added console cameras are needed. How cool is that?
Just Dance 2016 is available for all motion-control gaming platforms including Xbox One, Xbox 360, PlayStation 4, PlayStation 3, Wii U and Wii. You can check out the new game, including the latest trailer and full track list, by visiting Just Dance online.
NOTE: If you find your family Just Dance-ing during the holidays, make sure and video the action. You never know, one of those videos could go viral and make you the next YouTube sensation!
I was selected for this opportunity as a member of Clever Girls and the content and opinions expressed here are all my own.
.
If you're looking for more fun reviews, check out my ITRML reviews Pinterest board.
.
.


Feel free to "like" is this REALLY my life? on Facebook. It won't always earn you an extra entry in a giveaway but it will give you warm fuzzies.
Don't forget to sign up for free is this REALLY my life? updates via RSS or email so you don't miss a single awesome post.
.