First let me clarify one thing: geek is not the same as nerd. Geek is intelligent yet totally cool while nerd is intelligent yet totally uncool. I find this Venn Diagram to be super helpful in understanding the difference. (The diagram throws in dork for good measure.)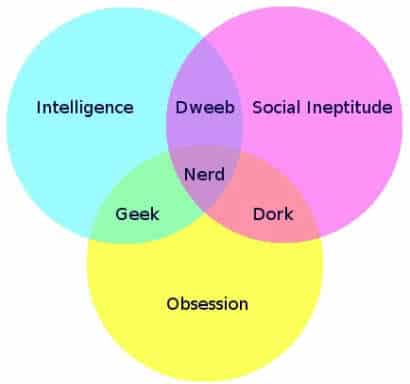 …
Though the outdoorsy have benefits (survival skills like drinking your own urine for staying hydrated) as do the athletic (unbelievable dedication to letting you experience single parenthood training hours and hours and hours for the Iron Man), the benefits of marrying a geek far outweigh them in my opinion. Or perhaps it's simply a geek is the right person for me and my needs—you know, needs like 24/7 technical support.
In honor of all those geeks out there, including the one I married, this post kicks off my new Why You Should Marry a Geek series. It's time we celebrated the super intelligent, slightly obsessed, often adorable geeks, especially if you're lucky enough to marry one.
…
Because Styrofoam isn't just for cups & takeout containers

Who knew one day I would see Styrofoam used someplace other than a warehouse where I would use its cousin, foam core, and a can of spray adhesive to mount nature posters for customers?*
Image by Matt Schilder, shared via Flickr.
…
Our previous home was a 30-year-old rambler with drafty windows. In the winter the bedrooms were a little chilly even with the thermostat set at 70 degrees. I figured all we could do was throw on one or two super furry, super warm QuiltSac blankets (a thick, soft, quilted blanket from LoveSac—quite possibly my favorite product; I have no idea why they discontinued it), a pair of socks and pray our eyelashes wouldn't freeze together overnight.
Lo and behold, another (very obscure) alternative existed. Thanks to Nathan's geekiness ingenuity, he promptly made a trip to Home Depot to buy several lengths of 3/8-inch-thick Styrofoam. He returned home, measured the windows and trimmed the Styrofoam so it would fit perfectly inside our bedroom windows. (It fit so perfectly we had a hard time getting it out.) He even threw one in our master bathroom so our teeth wouldn't chatter when we got out of the shower.
I will admit I thought the Styrofoam in the windows a bit on the white trash side, but an obvious increase in the rooms' temperature quickly humbled me. We did the Styrofoam thing three winters in that home and I could care less what passing cars may have thought of our whited-out windows. In fact, I don't think they appeared much different from the white wood blinds we always kept closed to keep out the cold.
I'm tempted to have Nathan do the same in our current home, though the pride has returned a bit and prevented me from doing it this winter. And I'll only admit this to you, but I kinda regret it. You should see my collection of fuzzy socks, and you won't find my bed without a thick blanket or two. Sometimes the geek really does know best, especially when it comes to Styrofoam and drafty windows.
NOTE: One word of warning from Nathan: the air between the Styrofoam and window can freeze. When it melts later (e.g., on a warmer day), it can run to the bottom of the window and possibly soak the drywall. Our air is pretty dry but there's still a chance this might happen. It caused some slight cosmetic problems in our previous home, but our windows were so old and bad already, it wasn't a big deal. (The new owners replaced every window before moving in…something we would've done had we stayed.)
* You know how when you buy posters at a store like Walgreens they come pre-rolled, slipped into a plastic sleeve? One of my many glamorous jobs was working at Impact's warehouse in El Dorado Hills, rolling those dang posters and sliding them into clear plastic bags. I got paid by piece. (I think it was 7 cents a poster.) I had my own wooden dowel. I even named it after a boyfriend.