Last night I was craving cookies but also felt like crap, so I decided I'd try a healthy oatmeal chocolate chip cookie recipe thinking if it's healthy, it might make me feel better. Okay, I didn't really think that—even I know chocolate chip cookies only figuratively make you feel better. But I do have a husband who blames me when he eats any treats I make because, you know, it's my fault they're in the house, not his fault he can't have just one. (And no, I'm not kidding. I get blamed all. the. time.)
With that in mind, I thought I'd give the Chocolate-Spiked Oatmeal Cookies recipe from my newest cookbook, The Best of Clean Eating, which I reviewed on BoutiqueCafe.com a few weeks ago. It uses agave nectar, egg whites, whole wheat flour and flaxseed meal. There's no way Nathan could blame me for anything other than increased fiber and protein in his diet.
The cookies turned out healthy AND delicious; this recipe is a keeper for sure, especially with the couple slight changes I made. Enjoy!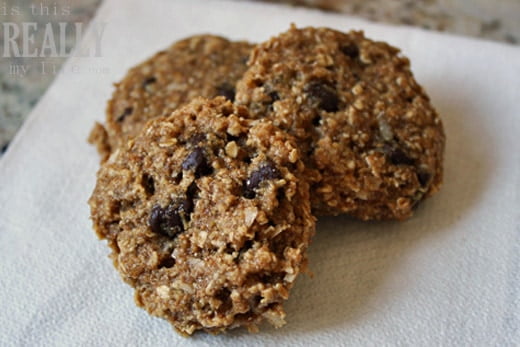 …
Whole Wheat Oatmeal Chocolate Chip Cookies
Olive oil cooking spray (I used a Sillpat mat)
2 1/2 cups quick-cook old-fashioned oats
1 cup whole wheat pastry flour (or 1 cup whole wheat flour plus 1 tsp dough enhancer)
1/4 cup flaxseed meal
1 tsp cinnamon
1 tsp baking powder
1/2 tsp sea salt
1 cup agave nectar
2 large egg whites
1/4 cup unsalted almond butter
2 tsp pure vanilla extract
1/2 cup flaked coconut
1/2 to 1 cup semisweet or bittersweet chocolate chips
Preheat oven to 350 degrees and lightly spray a baking sheet with cooking spray (or use a Silpat mat). In a large mixing bowl, combine oats, flour, flaxseed meal, cinnamon baking powder and salt. In a smaller bowl, whisk together agave, egg whites, almond butter and vanilla. Add egg wet ingredients to dry ingredients and combine. Stir in coconut and chocolate chips.
Drop a rounded tablespoonful amount onto baking sheet. Using the back of a slightly dampened spoon or your fingers, gently flatten each cookie dough ball into 2 1/2-inch circles. Bake 9 to 10 minutes. Let cool 2 minutes and then transfer to a rack to cool completely. Cookies will stay fresh for 2 to 3 days if stored in an airtight container. (Like they'll last that long!)