Sunday night I was craving something sweet (nothing new there) but had already had more than my fair share of mini Mounds and my husband's bag of peanut M&Ms (he doesn't know yet), so I wanted something a little on the healthier side. Healthier but super tasty of course.
I came across this recipe on Allrecipes.com for Crunchy Whole Wheat Cookies and had to try them. My husband loves the healthier cookies, especially when stashed in the freezer for a late-night chilled treat. (His latest faves are the day-old oatmeal raisin from Great Harvest or Hagermann's Bakehouse.) I personally love the healthier cookies because it means I can eat the first dozen out of the oven without feeling a titch of guilt.
...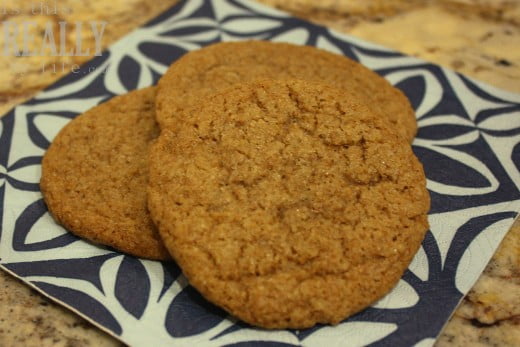 ...
In no time I whipped up the recipe (super easy) and had the first batch in the oven. After what seemed like an exceptionally long 10 minutes, I pulled them out. Holy cow, those babies were good! Keep in mind the recipe uses only whole wheat flour, so if you're not a fan, you probably won't like them. But for me they are the perfect late-night, guilt-free snack (okay, guilt-free if you eat like only 2 or 3). These whole wheat cookies are thin and boast a delicious combo of chewy and crisp; I can't wait to eat another dozen out of the freezer tomorrow!
(I apologize for the photo. Like I mentioned, it was late at night and I had a craving and I wasn't going to wait until the next morning and the perfect lighting to satisfy it!)
Printable recipe for crunchy whole wheat cookies below.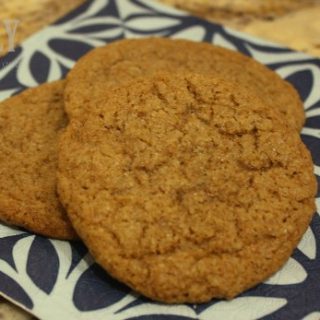 Crunchy Whole Wheat Cookies
Yield: 8

Prep Time: 10 minutes

Cook Time: 10 minutes

Total Time: 20 minutes

Healthy and tasty can exist in a single cookie. Just sayin'.
Ingredients
2/3 cup butter or margarine, softened
2/3 cup shortening
1 cup sugar
1 cup packed brown sugar
2 eggs
2 tsp vanilla
3 1/2 cups whole wheat flour
1 tsp baking soda
Instructions
Preheat oven to 375 degrees. Grease cookie sheet or use a Silpat baking mat.
In a mixing bowl, cream butter, shortening and sugars. Add eggs, one at a time, beating well after each addition. Beat in vanilla.
In a separate bowl combine flour and baking soda; gradually add to creamed mixture.
Roll into 1-inch balls. Place 2 inches apart on greased baking sheets. Gently flatten with a glass dipped in sugar.
Bake for 10-12 minutes or until golden brown. Remove to wire racks to cool completely.
Note: Mine baked in about 9 minutes and I let them cool for 2 minutes on the pan before removing to a wire rack. Also, this made about 4 dozen cookies, half of which are in the freezer already to prevent me from eating them all in one sitting.
P.S. Words to Sweat By has a quick post on baking with whole wheat flour. Check it out!
...



...
Feel free to "like" is this REALLY my life? on Facebook. It won't always earn you an extra entry in a giveaway but it will give you warm fuzzies.
Don't forget to sign up for free is this REALLY my life? updates via RSS or email so you don't miss a single awesome post.
...