Back in August we moved for the third time in nine years within our neighborhood. Yes, we love our neighborhood—and our ward—that much. Believe me, it's true. (If you're looking to move to Sandy, THIS is the place. Seriously.)
We love our new-to-us home. The kitchen is a step up for sure. Here's our previous kitchen (if only you saw it before I painted over the 1970's fake walnut cupboards). What you can't see is how easily the paint chips and how often we nearly knocked ourselves out on those overhead cupboards: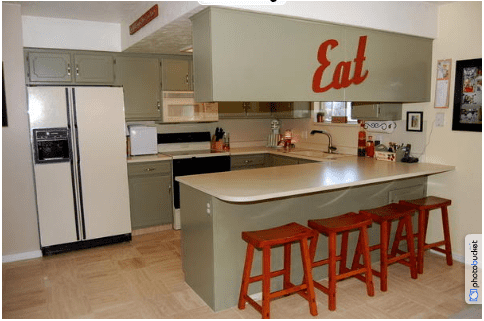 And here's our current kitchen: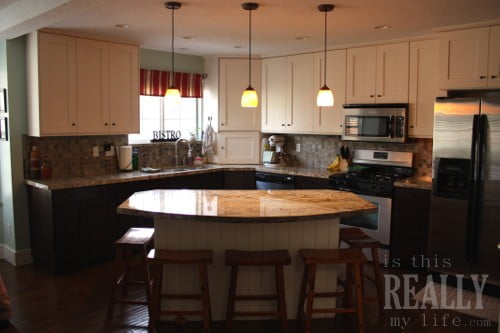 I couldn't find a photo of the master bath in our previous home, but picture 40-square feet (including the shower and everything else) with one shower tiled in a sort of splotchy, marbled 4″ tile; a toilet in the direct line of fire of the shower door; a single sink with very little counter space; and a stylish mirrored medicine cabinet.
Now picture this, our current master bathroom (yes, it's pure heaven!):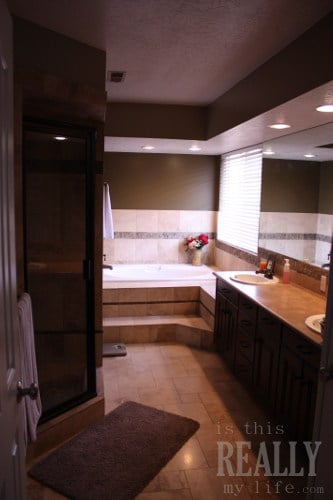 Trust me, I love our new home, but the one thing I would love to change is the staircase. The stairs are not original to the house and poorly installed by the original owners. (You can't tell but the stairs are uneven—a few of us have about killed ourselves on the way down to the basement…yes the spiral continues.). I will say it makes for an interesting conversation piece and for some serious entertainment when we need to move large objects (e.g., a treadmill) up and down the stairs. But it also closes off the entry and screams, "I'm a rather large, angular, funky wall!" when you walk through the front door. Here, let me show you. This is the view from the front door: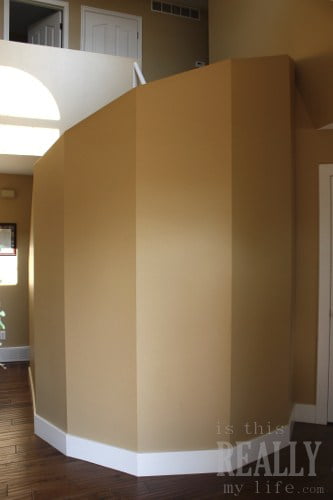 And the view from the kitchen: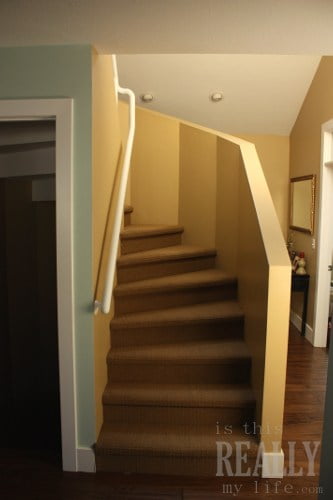 And finally, the view from the top: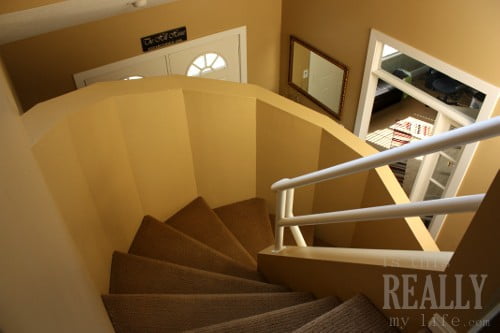 Our plan was to tear down the wall to stair level and put up a combo of wrought iron and wood railing (to match the dark hardwood floors). Then we discovered if we were to do that we also ought to change them from spiral to a sort of u-shape (down, a landing, turn 180 degrees and down again if that makes sense). And then our architect friend pointed out if we also railed the half wall at the top of the stairs (across the upstairs hallway in the first photo above), friends who came in the front door could see right into the upstairs bathroom. Not an option.
Anyway…the dollars started adding up quickly and with a new roof and new exterior paint, new stairs were not in the budget. So, what are my options, my designer friends? I know you're out there and you KNOW I need the help! Suggestions for the outside wall have included:
wainscoting
chair rail
multiple frames in various sizes (sort of like a gallery of photos)
I am way open to any and all ideas. In fact, I need them. What would you do with all this funky wall space? Vinyl wall decals in varying inspirational phrases from top to bottom? I'm all ears!