This week is all about back to school thanks to guest posts by some of my dearest blogging friends. Today's post is from Kim and tackles the tough question of what to wear in family photos. The family photo is a fall tradition for many right around the time school is back in session.
…
Back to school always reminds me that fall is fast approaching, and with fall comes some of my favorite things. Layers, long sleeves, crisp air, and family photos.
I began taking photos professionally when my son was a little boy. I quickly learned what looked amazing in photos and what left people looking less than desirable. Clients ask me all the time, "What do you suggest we wear for family photos?" To which I have an easy answer which I can break down into four basic parts:
1. Coordinate: Perhaps one of the most important "rules" when it comes to choosing outfits for family photos is to remember to coordinate. I can almost guarantee that you will look a million times more awesome if everyone in your photo is coordinated and NOT matching. Long, long gone are the days of everyone wearing white polo shirts and khaki pants. (Yuck.) Coordinating allows individuality and more color into the photo which will look a lot more amazing on your wall than bright whites and khakis which will do nothing for you but wash you out and distract from who you are. Dressing this way will not take away from the most important subject of the photos: You. Your clothes will compliment you and not steal the show. I promise.
2. Prints and Solids: My recipe for choosing clothing for photo sessions, and I have done this since my first child was born, is to put one person in a print, and then coordinate everyone else around that print.Usually I will decide on the person who will be wearing the print and then pull colors out of that print for everyone else to wear. Doing this gives you a lot of options to add colors that will be flattering on different skin tones and hair or eye color. This way, no one is stuck wearing something that makes them look and feel awful about themselves.
This year I was actually inspired by my youngest daughter's dress which is a teal green color. This was a bit opposite of what I normally do and required me to find a print with this color in it.
…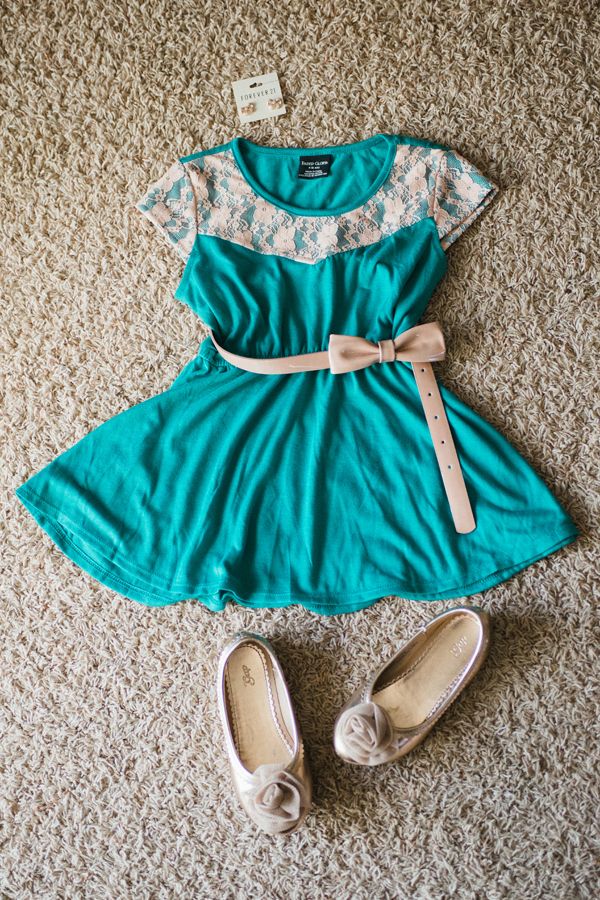 Dress: Walmart
Shoes: Gap
Belt: Thistles Boutique
Earrings: Forever 21
…
It just so happened that I was photographing a family the same week I fell in love with Camilla's teal dress. My good friend Kristina was wearing this amazing hummingbird dress with a blue cardigan and a cute coral belt and earrings. I texted her and begged her to let me copy her outfit for my family photos. She obliged and I owe her a million.
…

Dress: eShakti
Cardigan: Downeast Basics
Heels: Forever Young Shoes
Belt and earrings: Target
…
Once the print was chosen I was able to pull navy and coral out for my older daughter.
…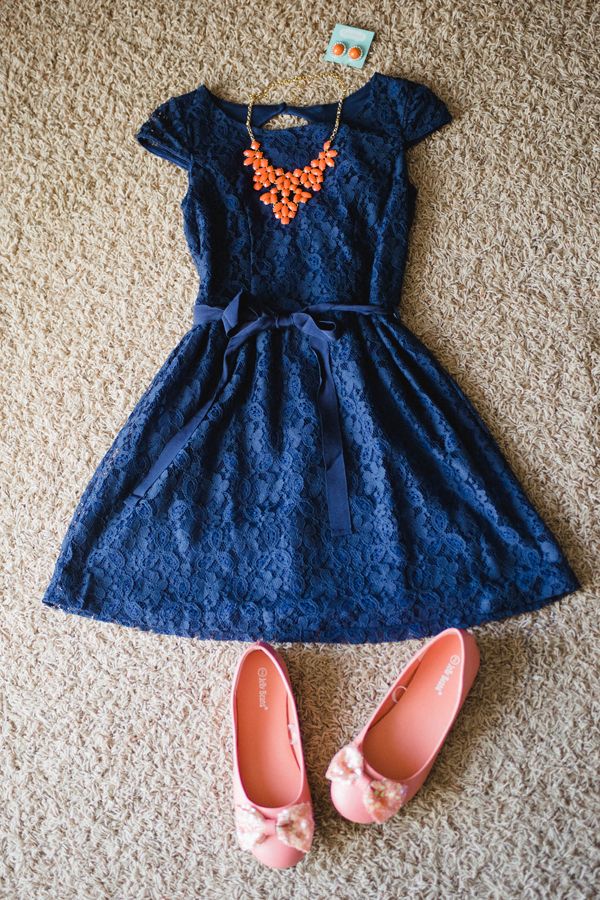 Dress: TJMaxx
Shoes: eBay
Necklace: Downeast Basics
Earrings: Maurices
…
I coordinated my son's outfit with his little sister's dress by putting him in teal jeans. He coordinates with his dad through his burgundy shirt and the gray in his sweater, and I pull the blue from his sweater to coordinate with me and his sister.
…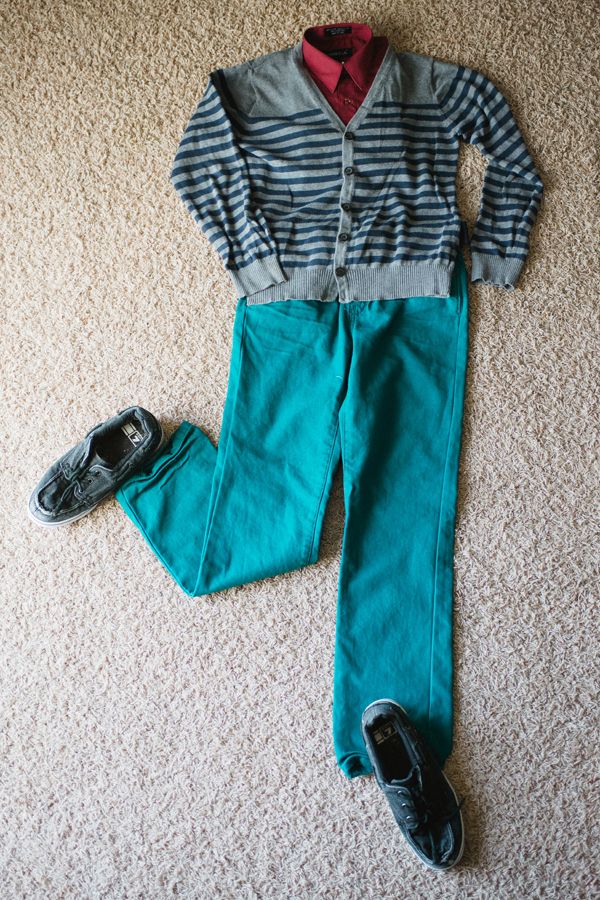 Cardigan: H&M
Shirt: eBay
Shoes: Ross
Pants: Macy's
…
Finally, I coordinated my husband with my son's outfit by putting him in a burgundy cardigan and pulled out some of the brown from my dress to coordinate with what I was wearing.
…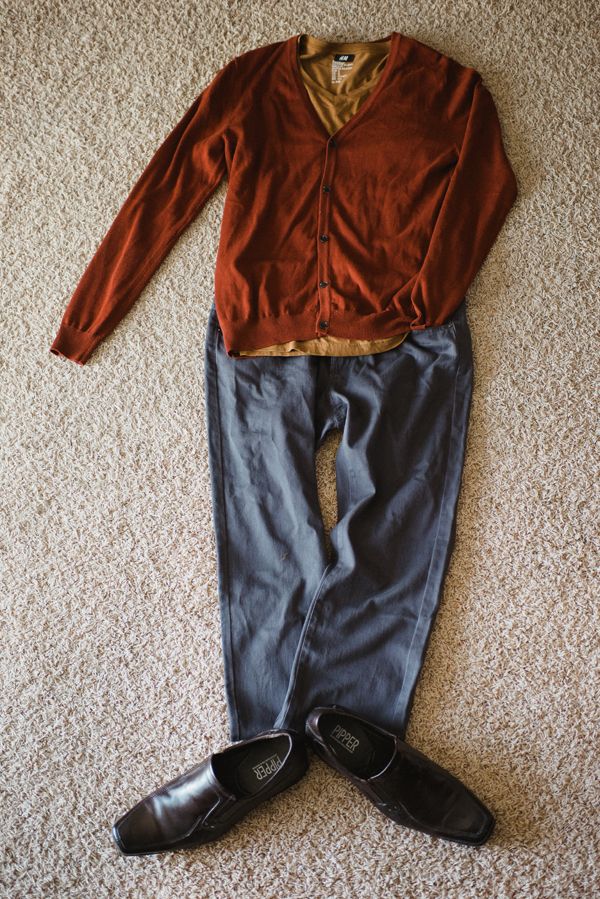 Shirt, cardigan and pants: H&M
Shoes: Brazil
…
3. Layer: Here you can see all of our outfits together. Layers are flattering and can often hide "flaws" we may feel that we have. A cardigan will cover extra cleavage or flabby arms, or hide a bit of post pregnancy weight. Layering looks very nice in photos and allows an extra level of coordinating options.
…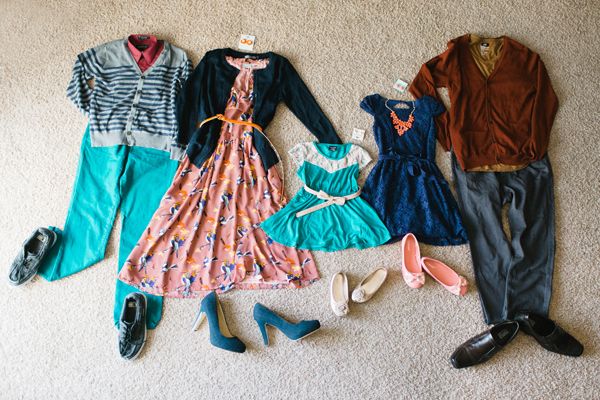 …
4. Accessorize: By accessorizing you can put the finishing touch on your photos. Just like layering helps us hide our flaws, a great statement necklace can bring the eye to your face, or a great pair of heels can give your calves a little bit of extra umph and elongation to your legs, a very feminine touch. Add a little headband to your girls, and if their ears are pierced choose a pretty pair of earrings to help coordinate with their outfit or someone else's.
Other ideas to accessorize? A great watch on your hubby, a pretty belt to cinch in that waist (I promise you will look 10 lbs slimmer), or a great scarf. Most important? Have fun! Remember to chill out and relax. A stressed out, yelling mama doesn't make anyone happy. Promise your man a delicious dinner (and dessert *wink*) as a reward for his good attitude and cooperation. Promise your kids an extra song and book at bedtime for their smiley faces during photo time.
Remember to be the real you. Love on your kids, tickle them, and squish them, most importantly, remember that they are kids. They might cry…embrace it. They might not smile, so what? Remember that this time is the time you want to take to capture the real them, the real you, not the "look at the camera and say 'Cheese!'" them.
Kiss your man passionately, take family photo time as a way to remember how much you loved one another the day you got married.
Think happy thoughts and your love and happiness will shine right through into your photos.
…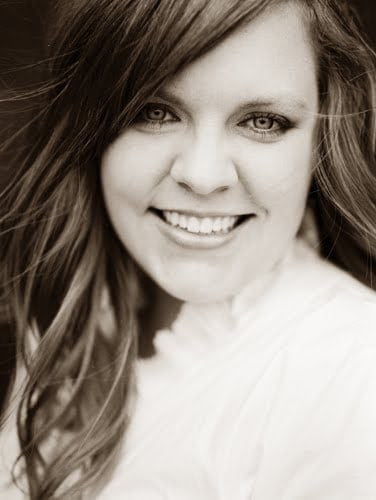 Kim Orlandini is a dear friend of mine (in fact all the guest posts this week are from dear friends…I'm extremely blessed that way). She takes some of the most beautiful photos I've ever seen. And I'm so not exaggerating. Her birth stories make me wish I were pregnant again—at least for 5 1/2 seconds. She will be taking our family photos in October and I can hardly wait. (I'm hoping she'll coordinate our outfits as well.)
…
…


Feel free to "like" is this REALLY my life? on Facebook. It won't always earn you an extra entry in a giveaway but it will give you warm fuzzies.
Don't forget to sign up for free is this REALLY my life? updates via RSS or email so you don't miss a single awesome post.
…