Don't get me wrong. I love all the mini Twix, bite-size Kit-Kat and full-size Snickers my kids bring home after trick-or-treating. But I can buy those any time of year. (Of course they're half off the day after Halloween. And Christmas. And Valentine's Day. And Easter.) What I really love are the creative alternatives to Halloween candy I see floating around the school parties and in my kids' trick-or-treat bags.
And none of them require pipe cleaners, scrapbook paper and hot glue.
.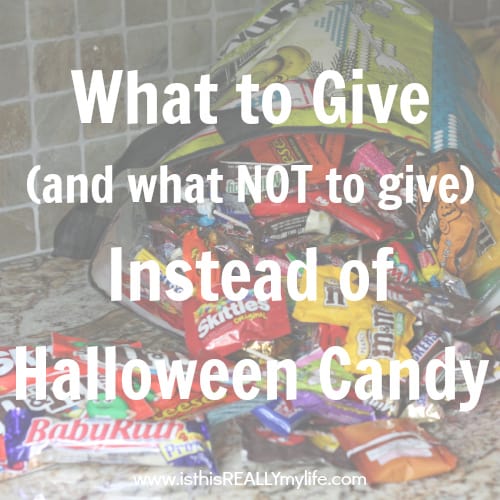 .
This year instead of Halloween candy, try passing out something a little different...a little less Laffy Taffy-ish. Here are some great ideas thanks to  a bit of brainstorming with the family.
Okay, it was just Madison and Nathan because Lauren and the others were already in bed but I think we did a pretty good job.
...
If you still want to give out food, try:
Homemade popcorn balls (these may get tossed for being suspicious but they're so yummy)
Mini bags of Goldfish crackers or pretzels
Juice boxes
100-calorie snack packs
Bottled water (to wash down all the candy)
Bags of microwave popcorn (see "according to moms..." section below)
Drink flavor packets
Coupons for free treats (e.g., Chick-fil-A sandwich, ice cream cone)
...
 If you'd rather give out toys, try:
Glow bracelets or glow sticks (thank you, Sari, for this idea!)
Bouncy balls
Mini coloring books
Spider rings
Tattoos (fake, not real)
Vampire teeth (also fake, not real)
Wax lips (just don't leave them in the sun on the seat of a red tricycle)
Mini containers of play dough (although this is kind of a mean thing to do parents)
Bubbles (always a good option)
Cool bendy straws
Pinwheels (always a hit)
Small kaleidoscopes
Paddle balls
...
If you'd rather give out fun-yet-practical items, try:
Pencils (make sure they're festive)
Bookmarks (make sure they're cool)
Crayons
Sharpie markers (hahahahaha...totally kidding!)
Mini flashlight
Mini compass (so you can send the kids out on their own next year)
Holiday books
Sidewalk chalk
Stickers (this may be considered a toy but this list was shorter)
...
According to my kids, you should NOT give out:
Fruit
Organic fruit & nut bars
Mini boxes of raisins
Toothbrushes
Floss
Anything to do with dental health
Anything other than a king-size candy bar
Anything less than a $5 bill
...
According to moms, you should NOT give out:
Noisemakers like kazoos and whistles and yes, even wind-up toys (not enough Diet Coke in the world)
Silly Putty or slime (always ends up ground into the carpet)
Mini slinky (always end up twisted)
Yo-yos (they can never figure them out)
Parachute guys (they're good for only one jump...if that)
Ink stamps (you will find them on more than paper)
Bags of microwave popcorn (it's always movie theater butter and it always ends up smeared all over the couch)
If you're looking for some ideas as to how to handle the candy haul your kids are sure to bring home, check out our nifty ticket system. My kids love it and it's super easy to manage.
Good thing I get unlimited tickets.
For some other fun Halloween ideas, check out my Halloween boards on Pinterest. You'll find them at the top of the page!
...
Visit Emily Hill's profile on Pinterest.
...

Feel free to "like" is this REALLY my life? on Facebook. It won't always earn you an extra entry in a giveaway but it will give you warm fuzzies.
Don't forget to sign up for free is this REALLY my life? updates via RSS or email so you don't miss a single awesome post.
...