Ever swooned over an outfit worn by a character from your favorite TV show? Or wished your husband sported vintage suits like those on Mad Men?
Shopping for your favorite prime time styles just became easier with eBay's new iPad app, Watch With eBay. The new app combines shopping and entertainment so you can browse—and buy—merchandise inspired by your favorite shows, sports teams and celebrities.
…
…
Did you catch how easy it is? Just three simple steps:
Download the Watch With eBay app for iPad.
Enter your zip code and cable or satellite provider
Choose the show you are watching from the programming guide.
…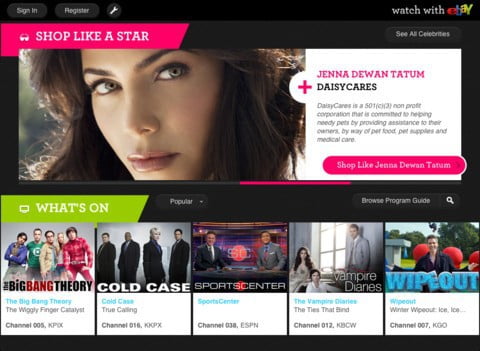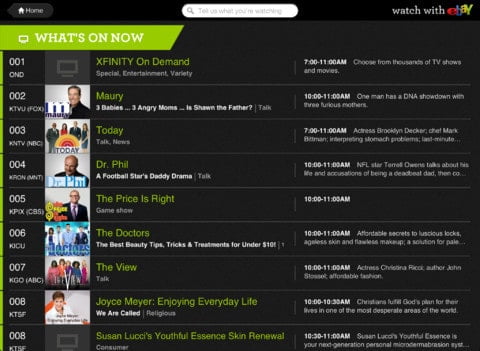 …
That's it! After you select your show, Watch with eBay will populate a list of merchandise related to your program.
Due to the late hour at which I downloaded the app, the best shows for my Watch With eBay test run were Two and a Half Men and How I Met Your Mother.
Both shows didn't disappoint. You wouldn't believe the listings of retro bowling shirts inspired by Charlie Sheen's character on Two and a Half Men or the number of autographed 8x10s of Sheen up for bid. How I Met Your Mother's related eBay merchandise boasted licensed Legen—Wait for It—Dary t-shirts, series box sets and 8x10s of Cobie Smulders.
Oh, one more cool thing about this app is the Shop Like a Star feature. This new feature combines charity and celebrity by letting you shop like your favorite stars (e.g., golfer Bubba Watson or actor Kevin Smith) while learning more about—and supporting—their favorite charities.
Right now you can view Olympics-related merchandise on Watch With eBay. If you move fast enough, you might even get your purchases in time for the closing ceremonies!
Before you know it, your favorite prime-time shows will be kicking off the new fall season. Why not show your support by sporting a Community-inspired sweater?
…
P.S. My friend Caroline over at Smarty Pants Mama talks Mad Men Fashion with the Watch With eBay app. Check it out!
P.P.S. Feel free to "like" is this REALLY my life? on Facebook. It won't earn you an extra entry in any giveaway but it will give you warm fuzzies. Even better.
P.P.P.S. Don't forget to sign up for free is this REALLY my life? updates via RSS or email.
…