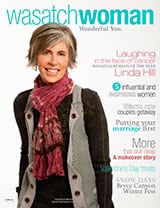 Like Vanessa (I Never Grew Up), I deal with the "who can watch my kids?" dilemma every time a function comes up that takes place between the hours of 9am and 4pm. For that reason I choose my functions wisely so I don't abuse the kindness of friends willing to watch my kids. One function I will be attending is the Wasatch Woman of the Year luncheon on January 29th. I missed this event last year and have been looking forward to it ever since!
This year's overall winner is Linda Hill, a woman who has kicked cancer to the curb no less than four times and who shares her positive attitude and sense of humor through her So Much More t-shirts. The philosophy behind the tees? Cancer does not define a person. Linda is definitely living proof of that after having birthed seven healthy children and sharing her positive, healthy attitude with everyone around her.
Prepare to be inspired! And who doesn't want–or need–to start off 2010 with some serious inspiration. (Is "serious inspiration" an oxymoron? Hmmm…) The Wasatch Woman of the Year luncheon is on Saturday, January 29th from 11am to 1pm at the Hilton Salt Lake City Center. Tickets are only $25. That's $25 for enough inspiration and warm fuzzies to last you until the next luncheon in 2011.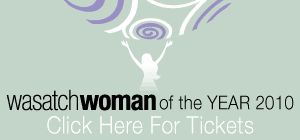 Here is a list of other Wasatch Woman of the Year honorees for 2010 (in no particular order):
…
I'll be seeing Vanessa, Quinn and Evonne there. (You gals better save me a seat and act like you know me!) I hope you'll be there too…there's nothing like group inspiration!