And no, the warm pineapple sauce is not served atop the Reese's chocolate peanut butter cake, but they can be served during different courses of the same meal—and I promise both will be huge hits!
The first recipe is for a warm pineapple sauce perfect for spiral-cut ham or any kind of ham. I imagine it would even be good as a condiment for a grilled chicken sandwich (I'm thinking a Malibu-style chicken sandwich). I'm not sure how it would taste over vanilla ice cream because it's more for a savory dish, but feel free to give that a shot. I'm wondering if you could even combine it with something bacon-wrapped…what do you think?
This warm pineapple sauce recipe comes to you courtesy of a good friend's sister. I love good friends' sisters who have delicious pineapple sauce recipes!
Warm Pineapple Sauce
1 (8.5 oz.) can crushed pineapple
1 cup brown sugar
1 T prepared mustard
2 T lemon juice
1 T corn starch
Whisk all ingredients in a small saucepan and bring to a boil. Simmer 1 to 2 minutes. Serve warm.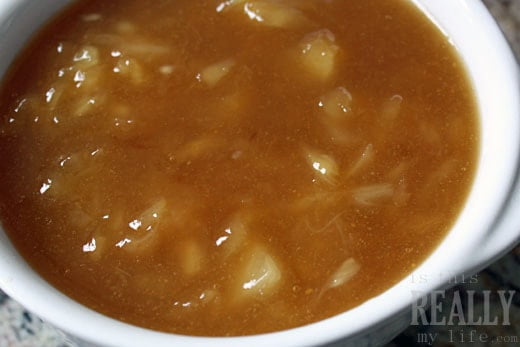 …
I rarely branch out and experiment when it comes to recipes, but I was in the mood (yet again) for a chocolate peanut butter dessert. I had recently made my favorite peanut butter swirl brownies and wanted something a little fancier for a family dinner. Being fresh out of eggs, I used my favorite egg-free cake recipe courtesy of Sherbet Blossom and combined it with a decadent sounding peanut butter frosting recipe from Allrecipes.com. I topped it all off with some shopped Reese's peanut butter cups. It was delicious!
Feel free to combine your favorite chocolate cake recipe or boxed cake mix with this peanut butter frosting. You could even chop peanut butter M&M's or plain ol' peanuts and sprinkle those on top!

Reese's Chocolate Peanut Butter Cake
Original cake recipe from Sherbet Blossom.
3 cups all-purpose flour
2 cups sugar
1/3 cup baking cocoa
2 tsp baking soda
1 tsp salt
2 cups water
3/4 cup vegetable oil
2 tsp vanilla
2 tsp vinegar
In a mixing bowl, combine flour, sugar, cocoa, soda and salt. Add the water, oil, vanilla and vinegar and mix well (batter will be thin). Pour into a greased 9×13-inch pan. Bake at 350 degrees for 25 to 30 minutes or until toothpick inserted near center comes out clean. Cool completely.
Frosting:
1/2 cup butter, softened
1 cup creamy peanut butter
3 tablespoons milk, or as needed
2 cups confectioners' sugar
Chopped Reese's peanut butter cups, peanut butter M&M's or peanuts (optional)
Place the butter and peanut butter into a medium bowl and beat with an electric mixer until combined. Gradually beat in the powdered sugar and milk, alternating the sugar and milk. Add more milk as needed so the frosting is thick yet spreadable. Beat for at least 3 minutes until it's good and fluffy. Frost cake and top with chopped Reese's peanut butter cups.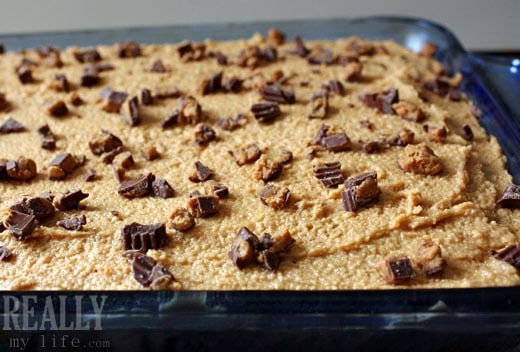 I really wish I had a photo of the sliced cake but I took this to Layton for a family dinner and didn't want to subject myself to strange looks from the in-laws. Trust me, it looks all decadent, rich and chocolaty when sliced too.