Explore new recipes to make with everyone's favorite comfort food ingredient in our 25 Scrumptious Vegan Potato Recipes round-up.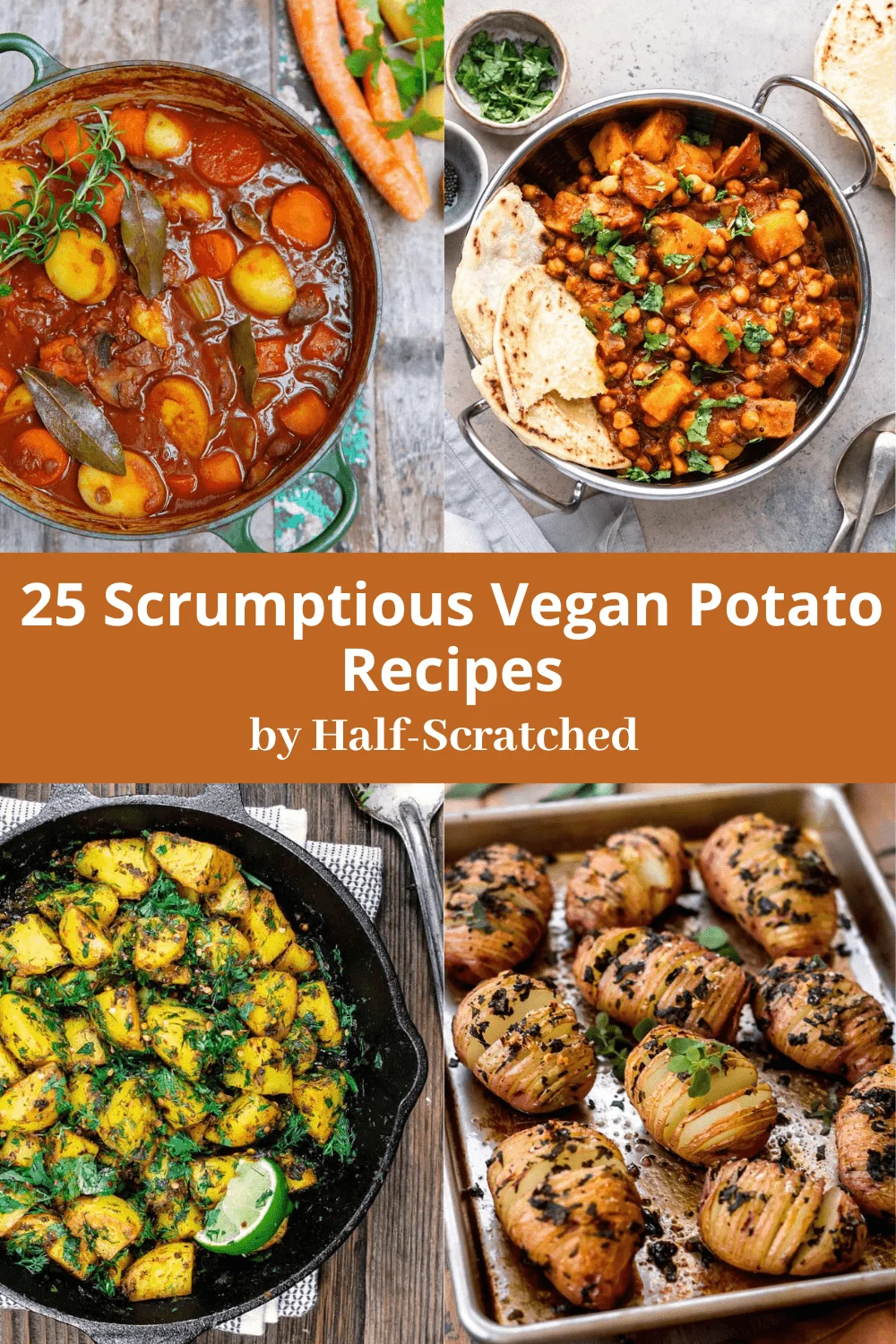 Potatoes are one of those staple foods that we all love. They are incredibly versatile and so comforting. There are so many ways and possible recipes to cook potatoes; from boiling, roasting, frying, mashing and making them into chips or crisps.
Potato casseroles, bakes and soups make one of the coziest hearty meals. Just how much do we all love roasted or mashed potatoes and we're not even talking about our obsession with chips and crisps.
Because of their firm texture potatoes make the most amazing salads and how yummy is a potato salad.
In our 25 Scrumptious Vegan Potato Recipes round-up, we have selected some of the best vegan potato recipes that are totally wholesome and simply delicious. Get inspired below.
1. Vegan Scalloped Potatoes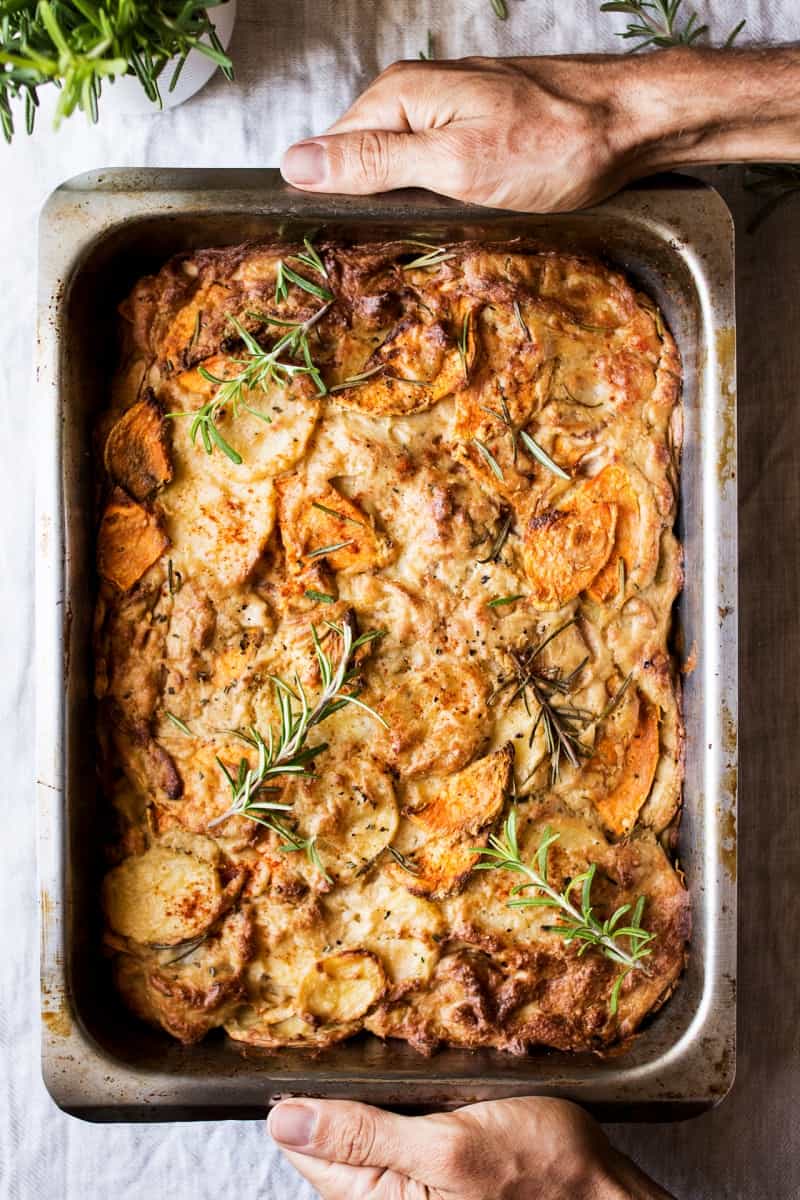 These must-try Vegan Scalloped Potatoes by Lazy Cat Kitchen are pure comfort and indulgence. This plant-based version of potato dauphinoise uses a mixture of white and sweet potatoes layered with a white miso cashew sauce that is baked to perfection.
2. Hearty Potato Stew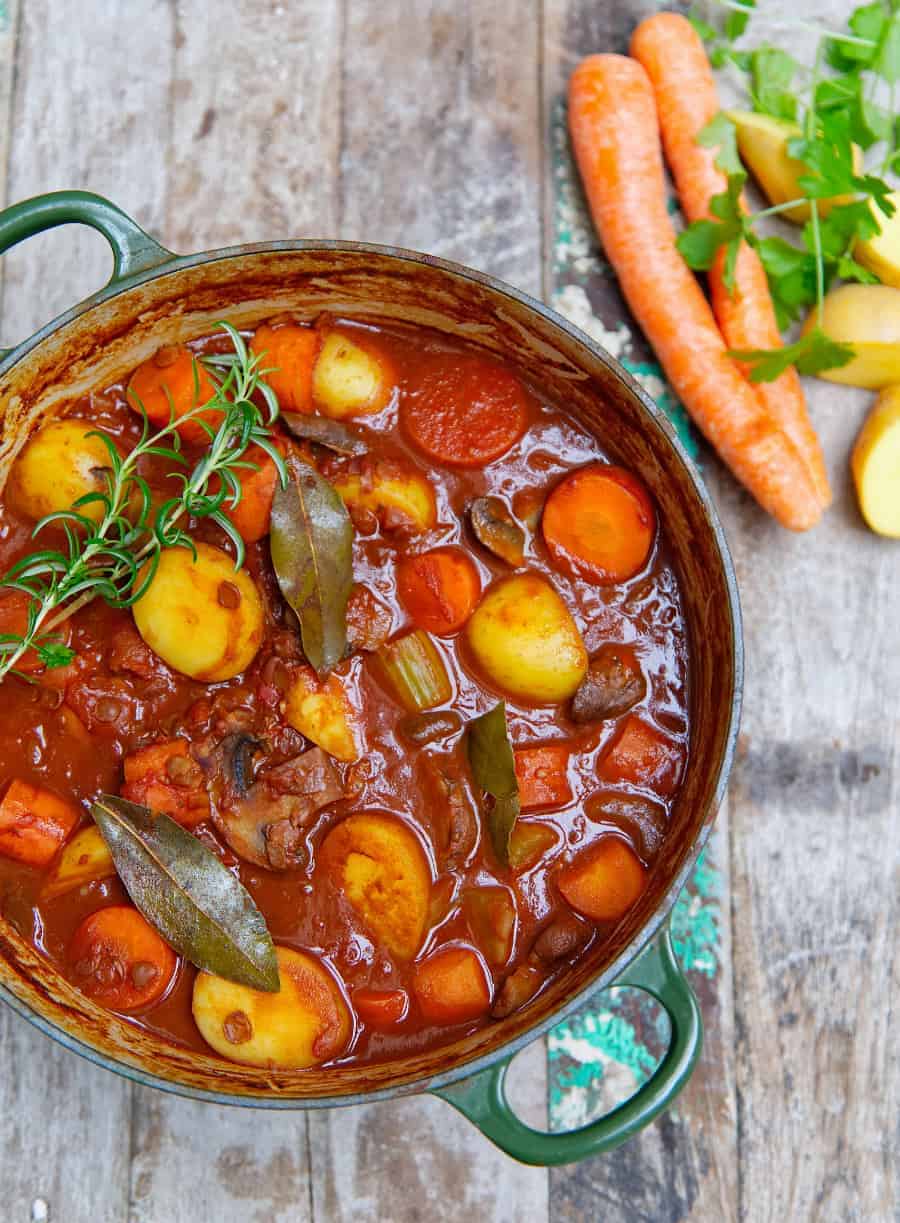 You absolutely have to try this amazing Hearty Potato Stew by Healthy Living James. This wholesome stew is packed with veggies, flavor and goodness and is sure to satisfy the whole family.
3. Vegan Potato Cakes with Carrot and Rice
These scrumptious Vegan Potato Cakes with Carrot and Rice by Little Sunny Kitchen are crispy on the outside and super soft on the inside. This easy simple recipe with only a handful of ingredients is quick to make and toddler friendly.
4. Vegan Potato and Chickpea Curry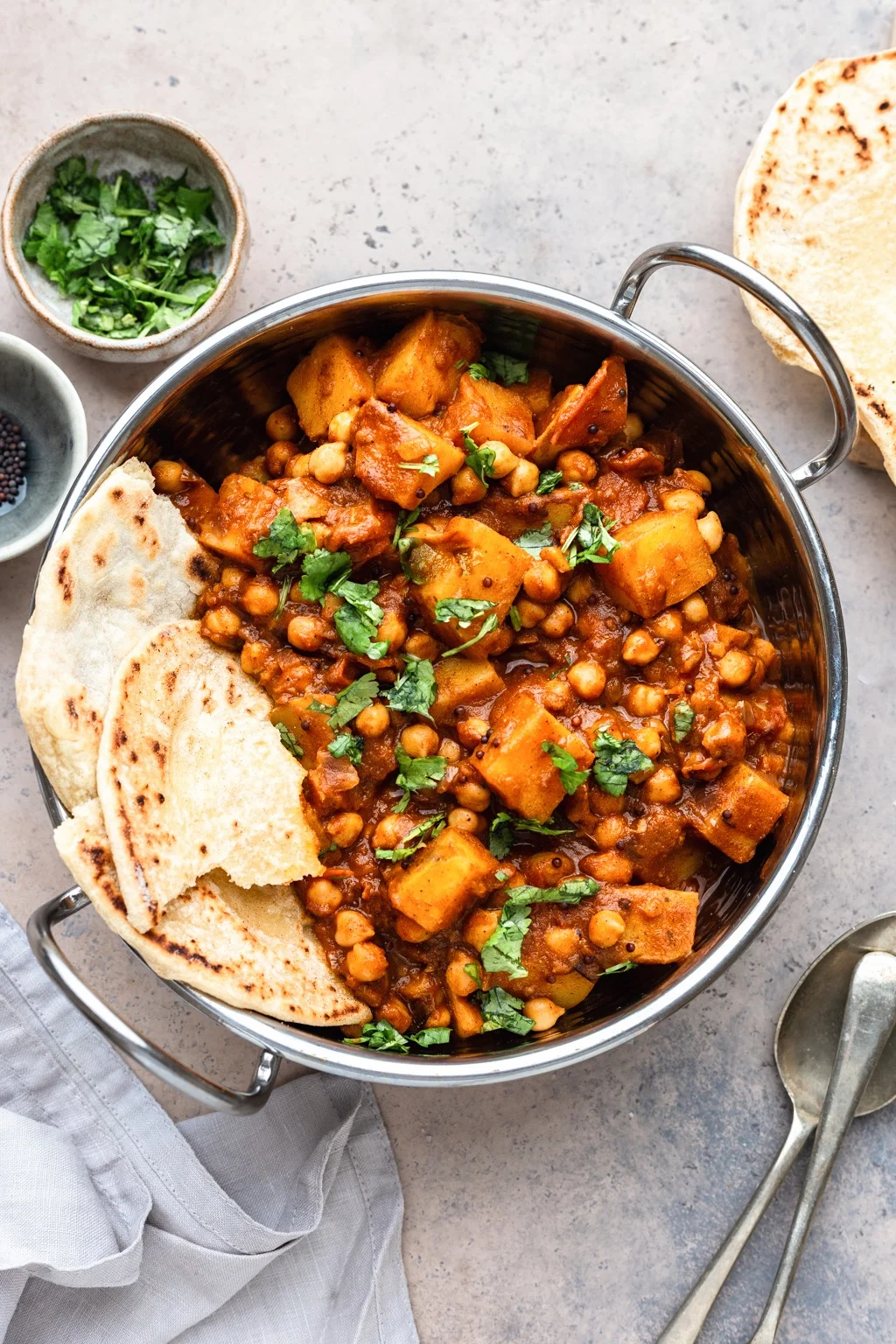 If you love curry you will love this easy one-pot Vegan Potato and Chickpea Curry by Cupful of Kale. This delicious wholesome dish with potatoes and chickpeas is packed with aromatic spices and flavor.
5. Crispy Garlic and Herb Smashed Potatoes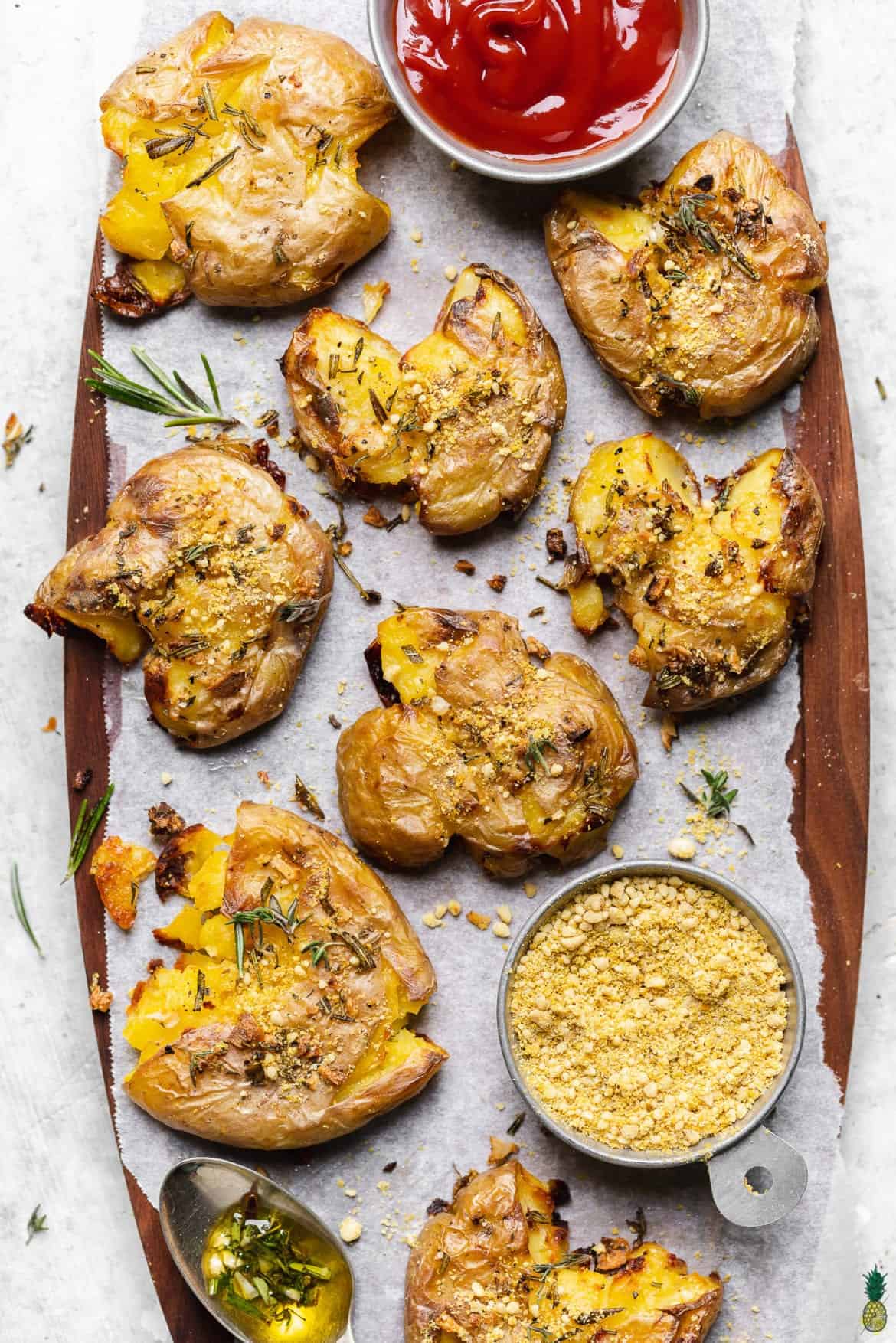 Smashed potatoes are literally the best potato recipe to make. These Crispy Garlic and Herb Smashed Potatoes by Sweet Simple Vegan with garlic, fresh rosemary and thyme are crispy, soft and oh so moreish.
6. Stuffed Baked Potatoes with Mushroom and Spinach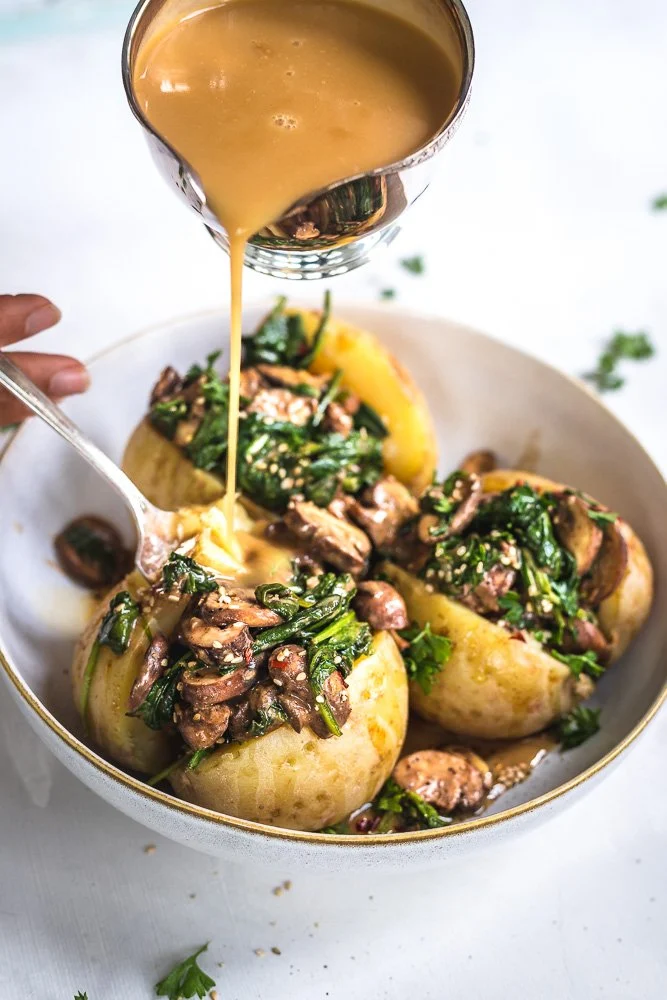 You will love this vegan version of Stuffed Baked Potatoes with Mushroom and Spinach by Two Spoons. In this cozy comforting recipe, baked potatoes are stuffed with mushrooms and spinach enhanced with almond butter, balsamic vinegar and lemon juice and drizzled with vegan gravy.
7. Vegan Potato Soup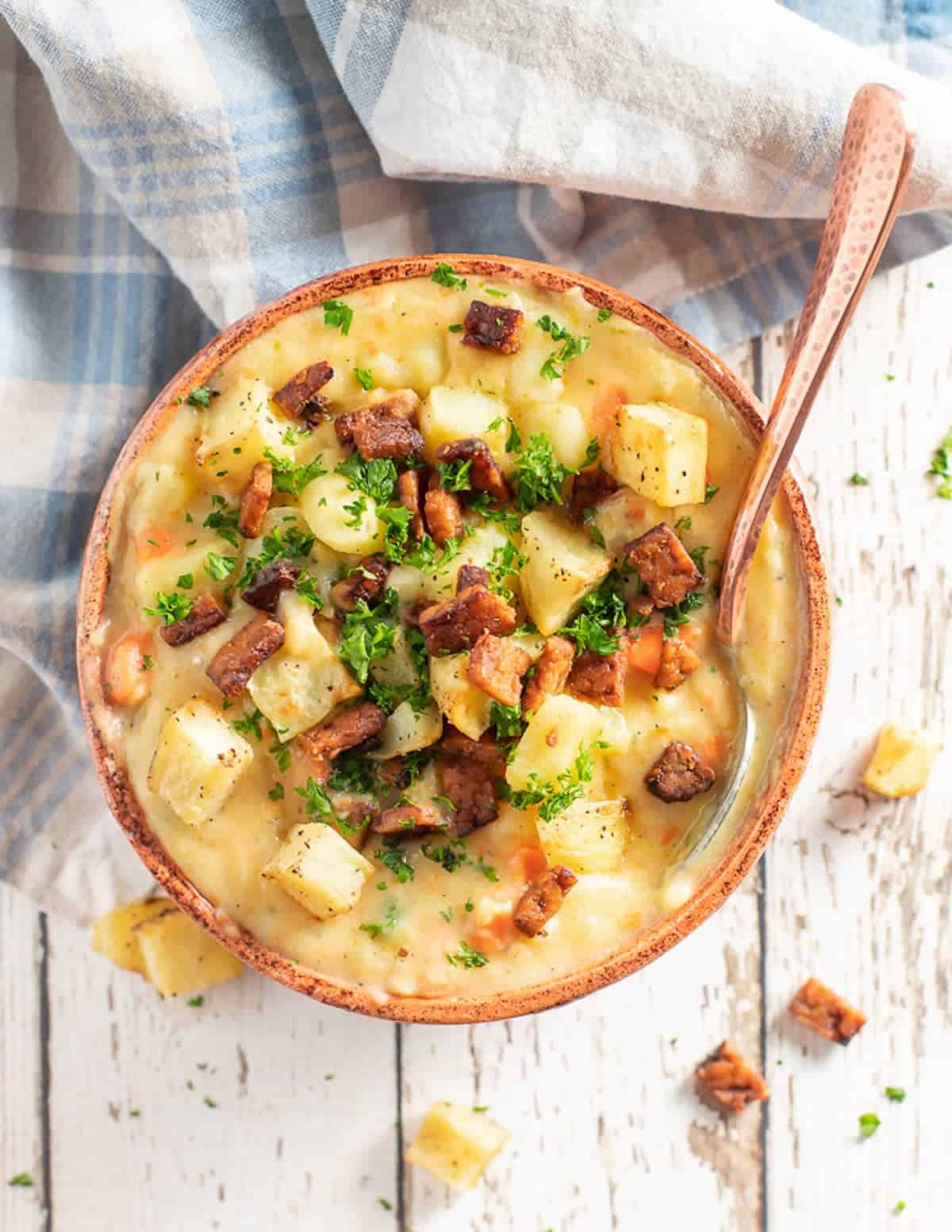 This hearty creamy Vegan Potato Soup by A Virtual Vegan is a simple budget-friendly tasty meal. For extra flavor serve with some crumbled tempeh bacon, crispy roasted potato chunks and fresh parsley.
8. Vegan Potato Latkes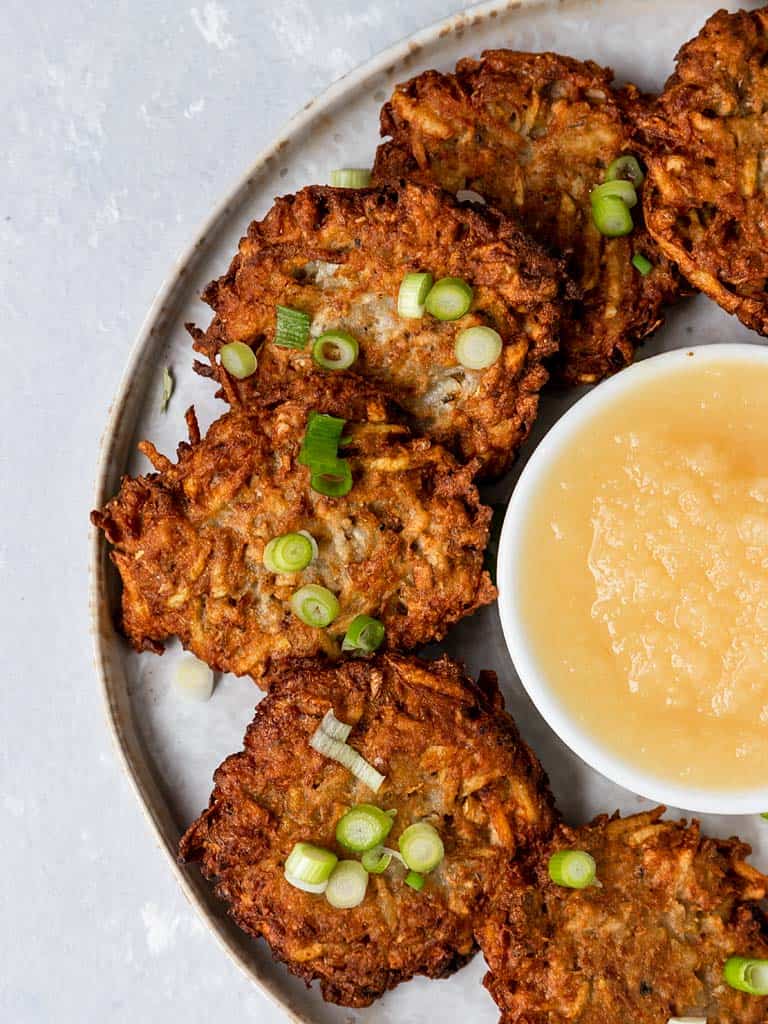 Potato latkes are one of the most popular Jewish recipes. These crispy Vegan Potato Latkes by Short Girl Tall Order made with hand-grated potatoes are an eggless dairy-free version of this famous recipe.
9. Crispy Poblano and Potato Tacos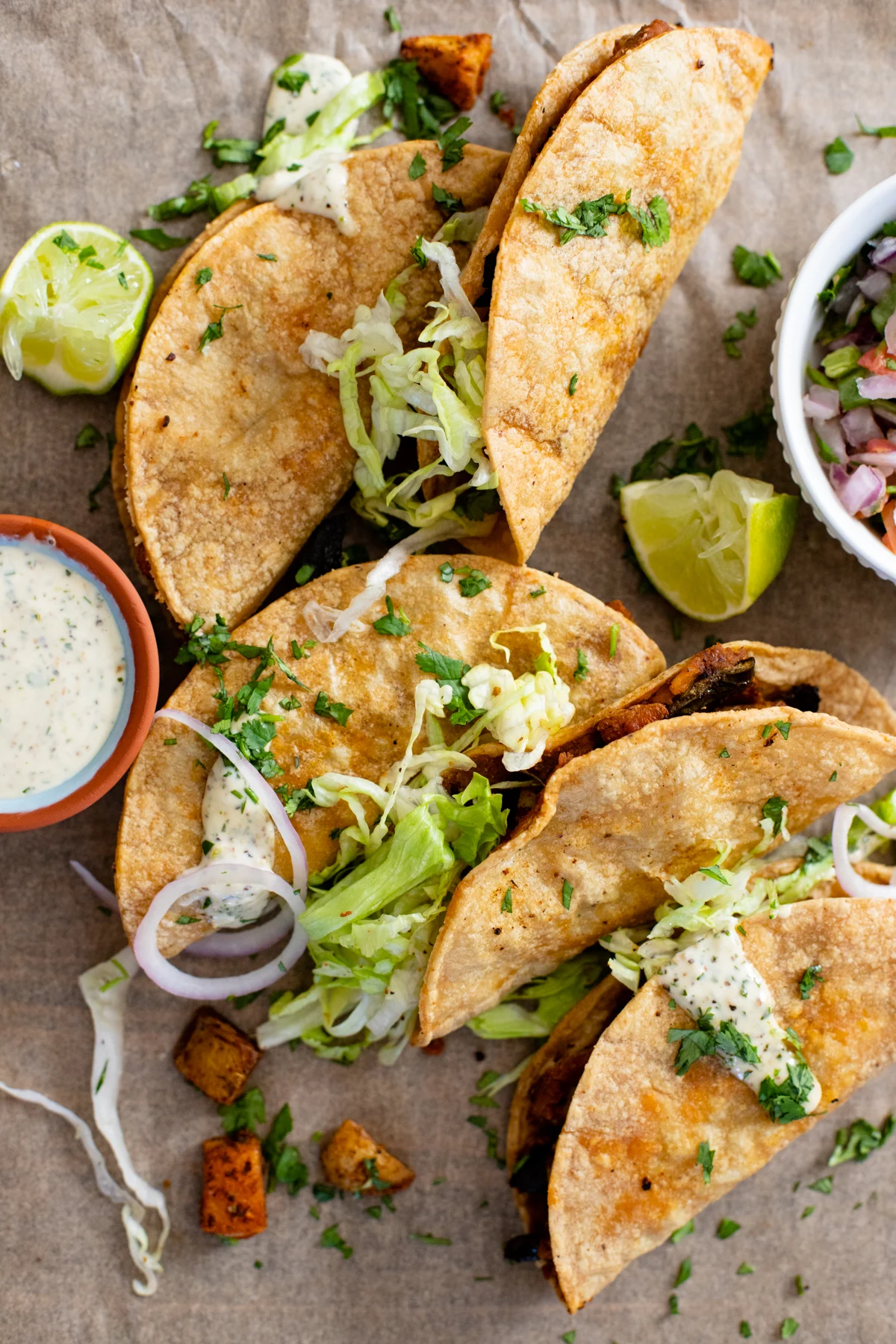 These Crispy Poblano and Potato Tacos by The Savory Vegan make the perfect Friday night dinner. In this recipe, corn tortillas are loaded with roasted potatoes and poblano slices, refried beans and served with a creamy vegan sauce and your favorite taco toppings.
10. Healthy Vegan Mashed Potatoes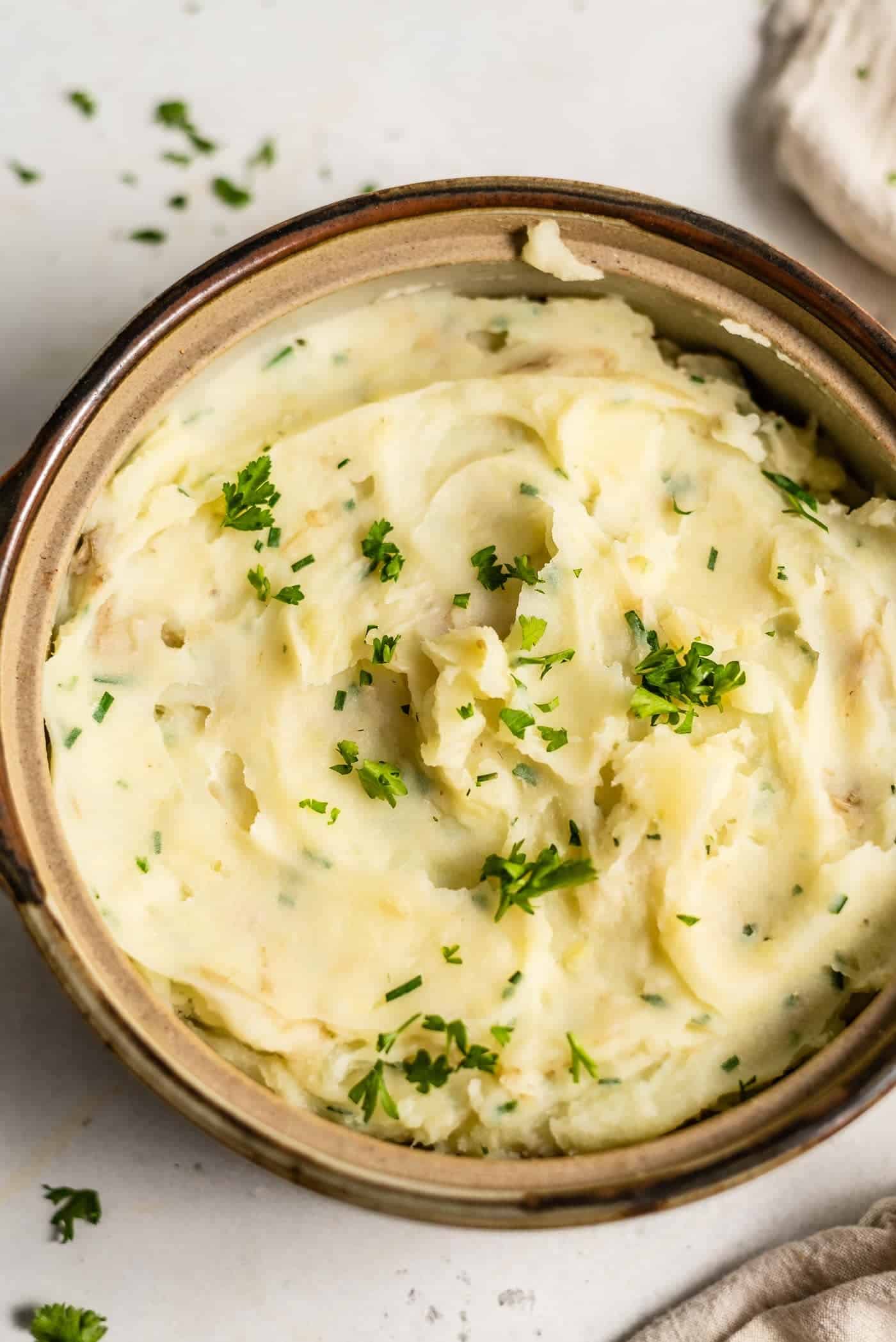 Try making these Healthy Vegan Mashed Potatoes by Running on Real Food. This easy oil-free plant-based recipe is made without butter or cream and flavored with roasted garlic and fresh chives.
11. Greek Lemon Potatoes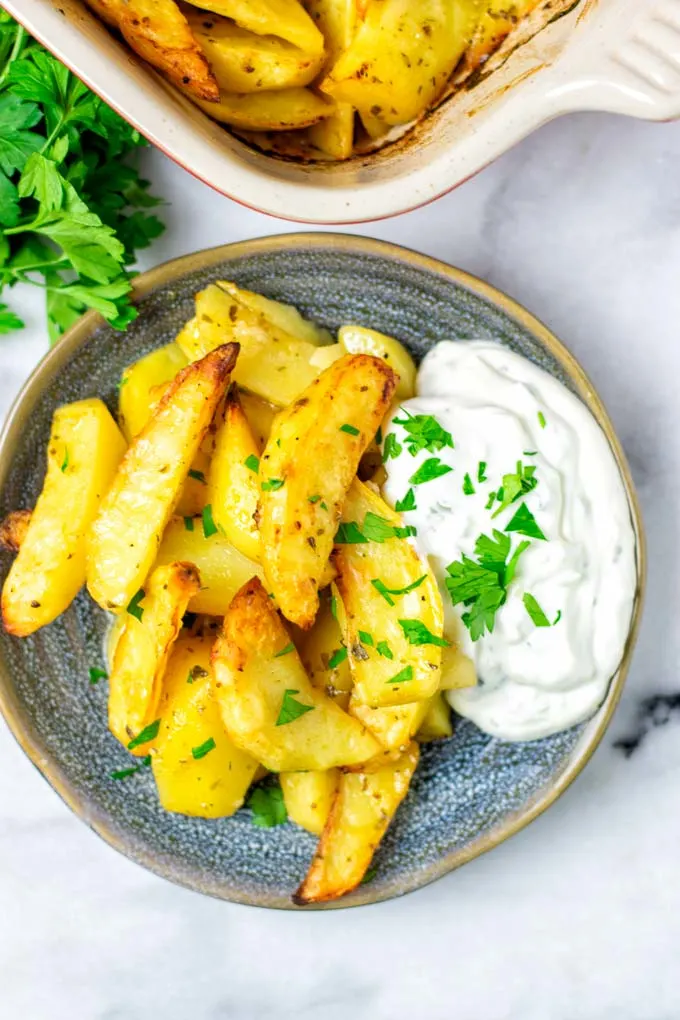 These perfectly crispy Greek Lemon Potatoes by Contentedness Cooking have the most amazing lemon flavor. A flavorful twist to roasted potatoes and wonderful served as a side dish or party food.
12. Crispy Stuffed Potato Skins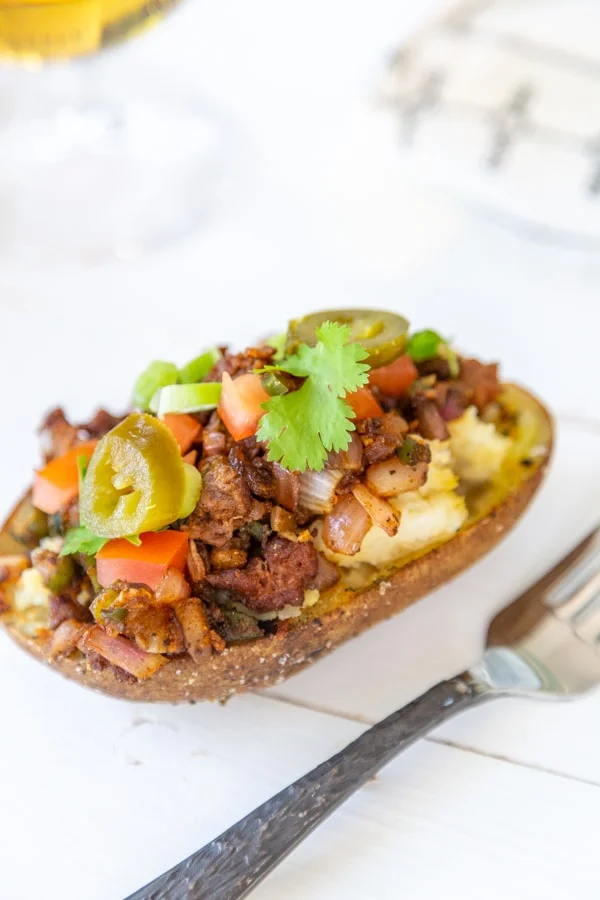 Have you got a vegan game day party coming up? These Crispy Stuffed Potato Skins by Veganosity are the perfect appetizer to make for your party guests. Filled with cheesy potato, vegan taco filling and topped with green onion, fresh tomatoes and crushed pepitas these potato skins are seriously yum.
13. Easy Bombay Potatoes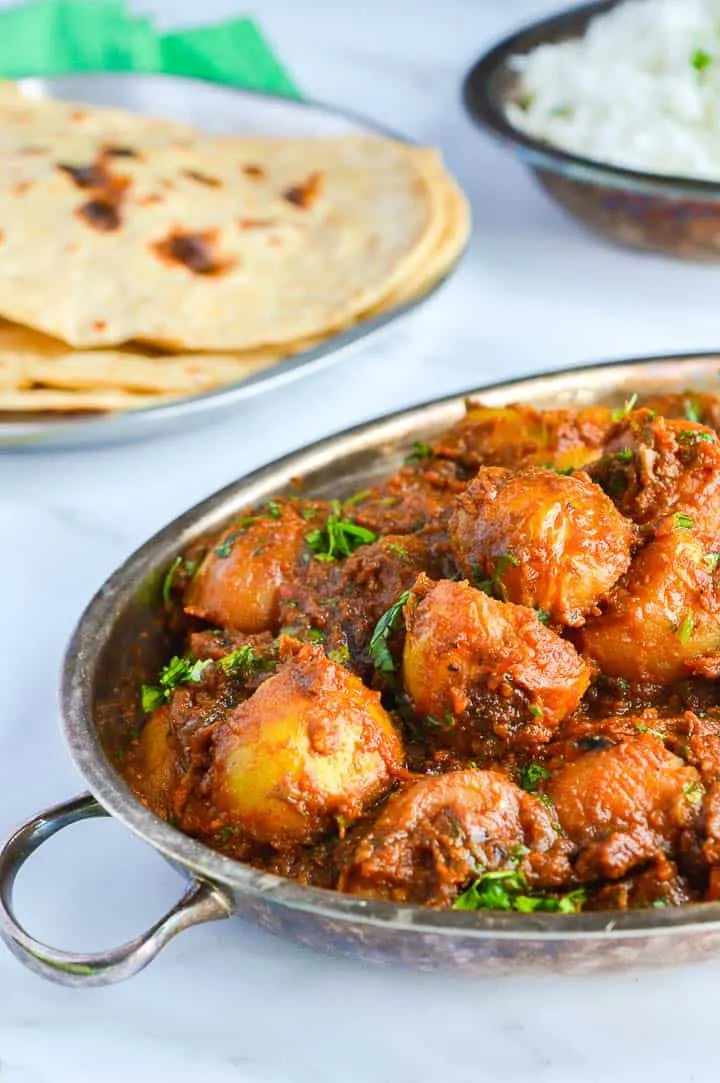 These incredibly tasty Easy Bombay Potatoes by The Fiery Vegetarian named Bombay aloo are mildly spiced Indian dish. Easy to make and packed with delicious spices they make a wonderful addition to your Indian-inspired meal.
14. Potato Waffles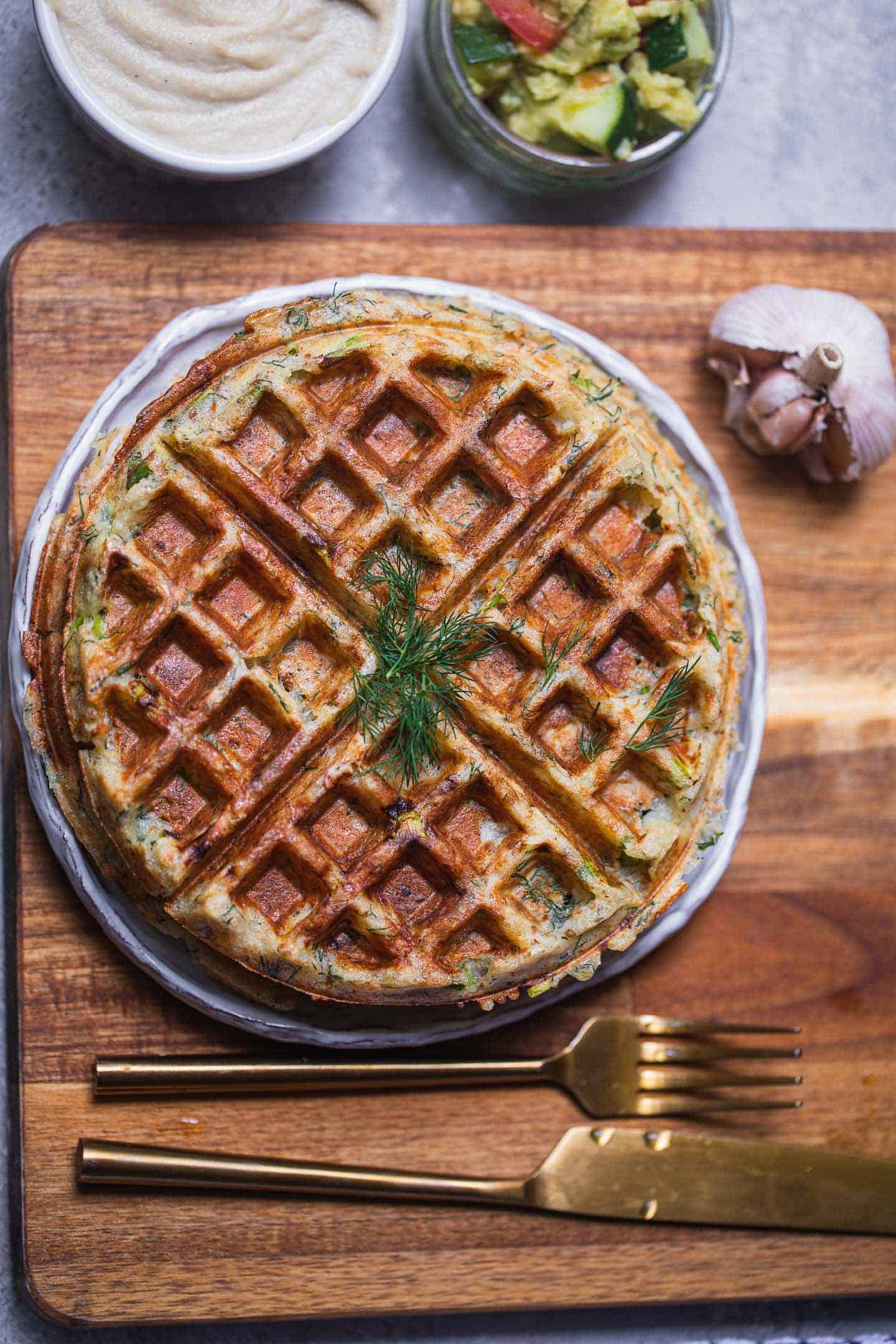 For a delicious savory breakfast look no further than these Potato Waffles by Oh My Veggies. These melt-in-your-mouth waffles made with potatoes, flaxseed, garlic, spring onion, tapioca flour and fresh dill are gluten-free, oil-free and incredibly moreish.
15. Sage & Garlic Hasselback Potatoes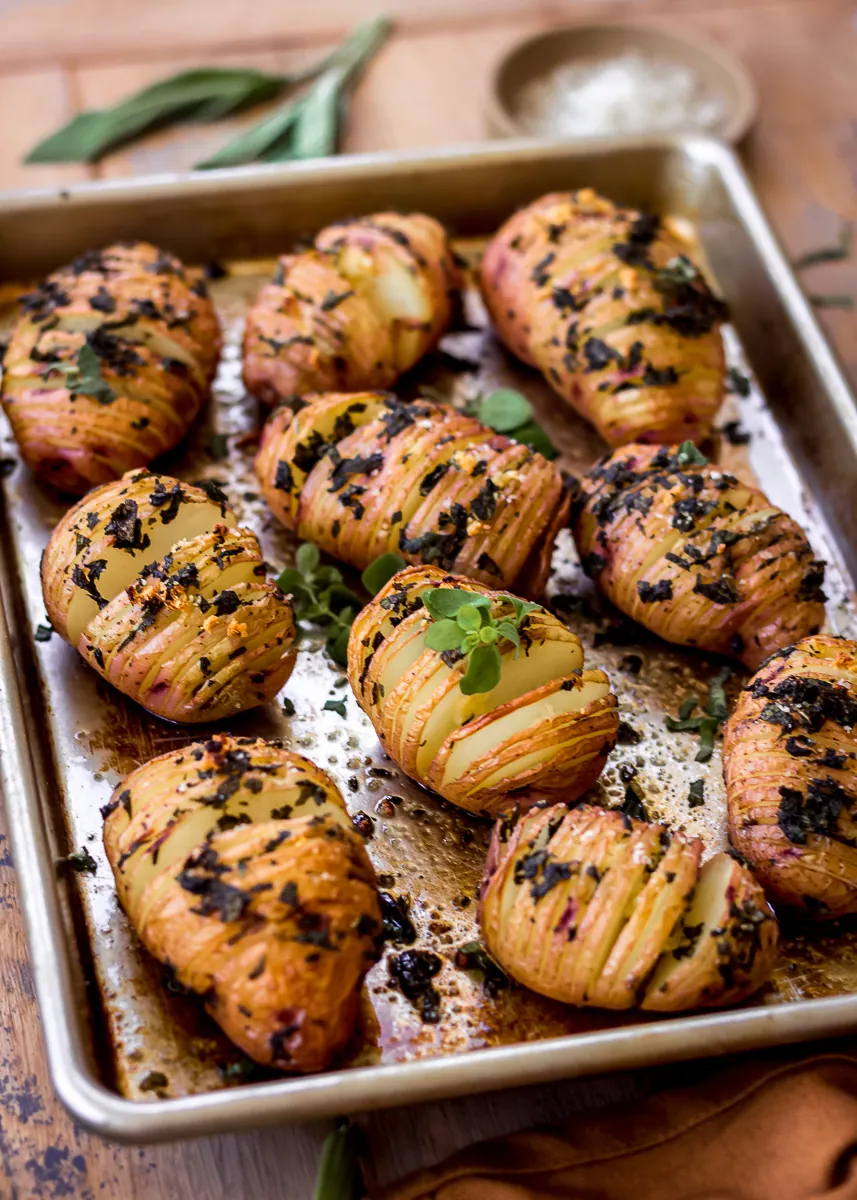 Hasselback potatoes are an impressive-looking side dish and you will love this vegan version of Sage & Garlic Hasselback Potatoes by Vancouver with Love. Flavored with fresh sage, crushed garlic and avocado oil this recipe is a must-try for any potato lover.
16. Vegan Potato Jackfruit Stew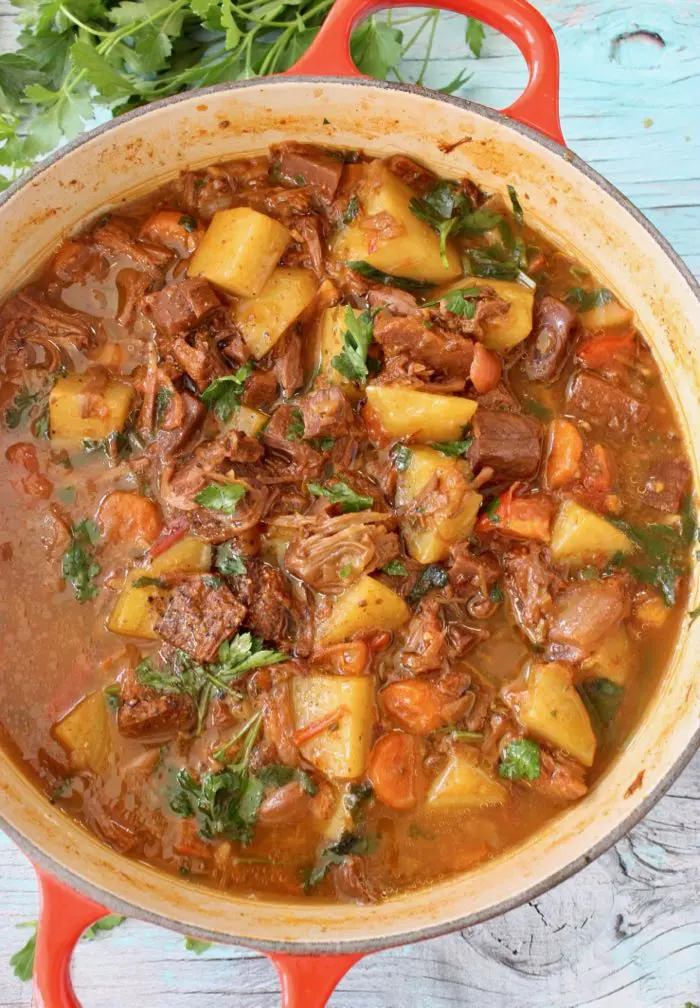 This hearty Vegan Potato Jackfruit Stew by Veggie Society is a wholesome plant-based recipe with meaty jackfruit, potatoes, carrot, tomatoes and smoky spices. This cozy healthy pot of goodness will soon become your dinner staple.
17. Batata Harra: Middle Eastern Skillet Potatoes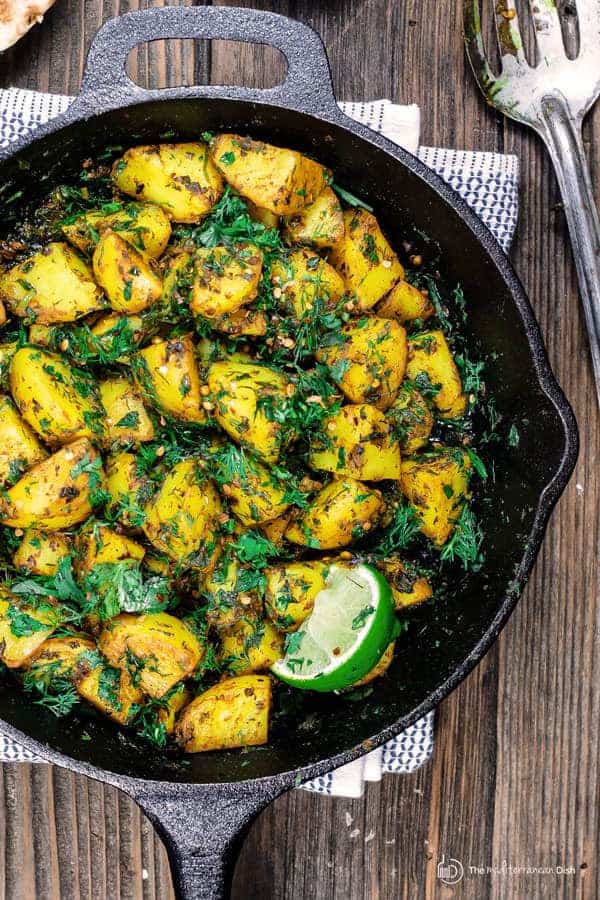 Batata Harra aka Middle Eastern Skillet Potatoes by The Mediterranean Dish is a bright flavorful dish. Packed with wonderful flavors from fresh herbs, garlic, lime juice and a unique mix of warm spices this delicious recipe is unique and so delicious.
18. Mashed Potato Pizza Crust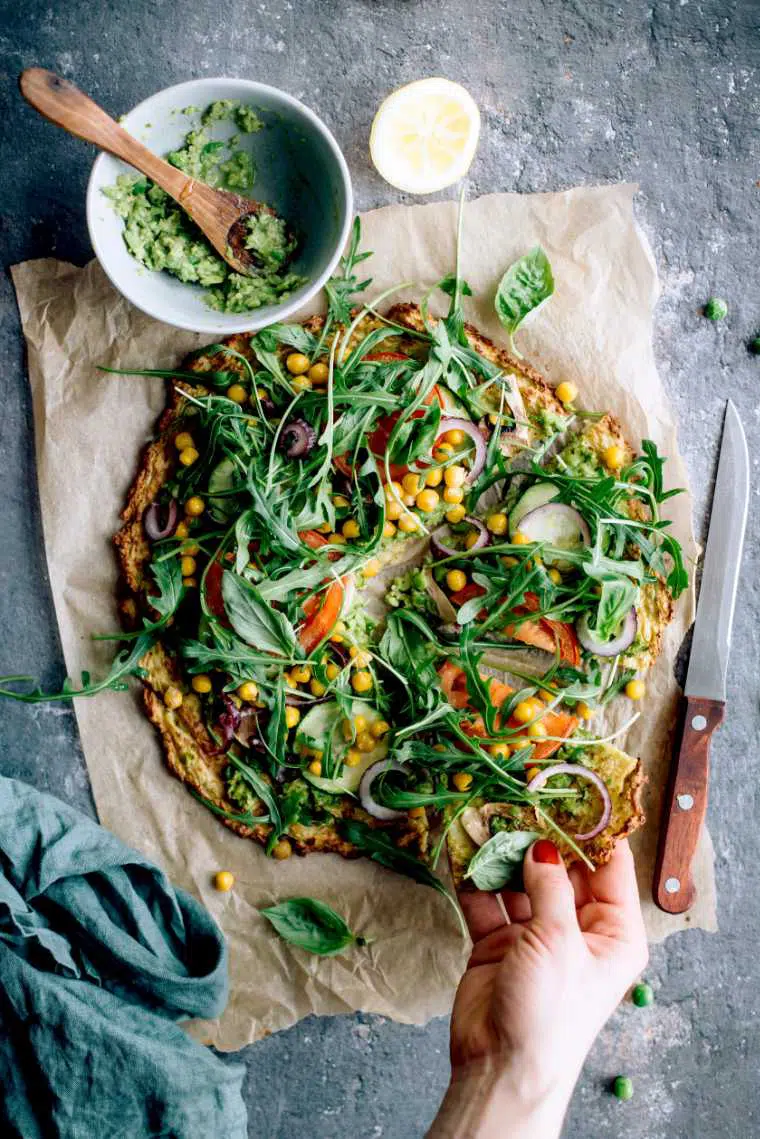 This gluten-free vegan Mashed Potato Pizza Crust by Nutriciously is a creative nutritious recipe. Made with only 3 ingredients – potatoes, cauliflower and potato starch and topped with a ton of veggies this recipe is a healthy pizza alternative that calls for your attention.
19. The Best Vegan Potato Salad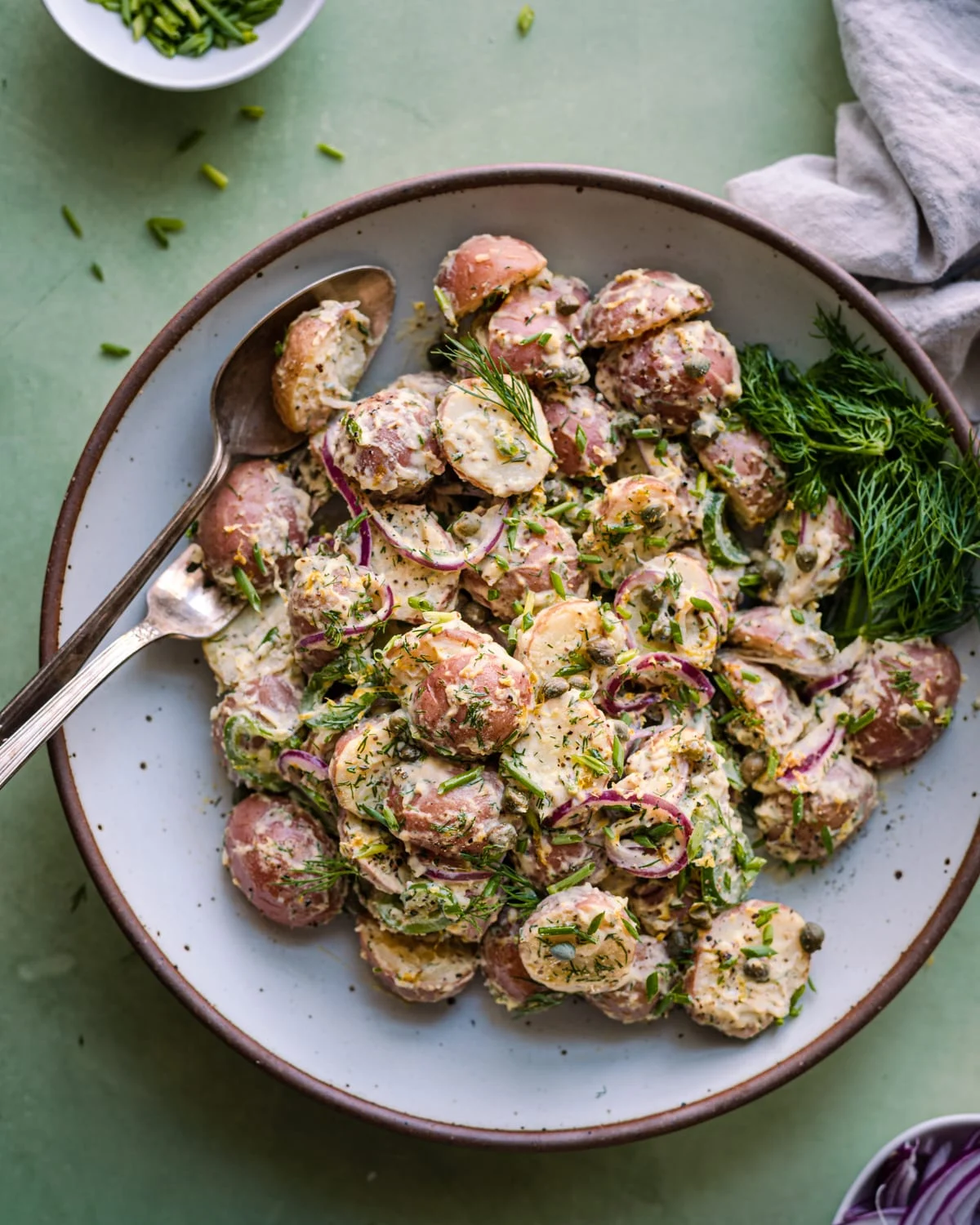 Meet your new favorite potato salad. The Best Vegan Potato Salad by Rainbow Plant Life is a mayo-free plant-based recipe featuring perfectly tender potatoes tossed with capers, red onions, jalapeno and chives dressed in creamy tahini, coconut yogurt, mustard and lemon dressing.
20. Vegan Saag Aloo in 25 Minutes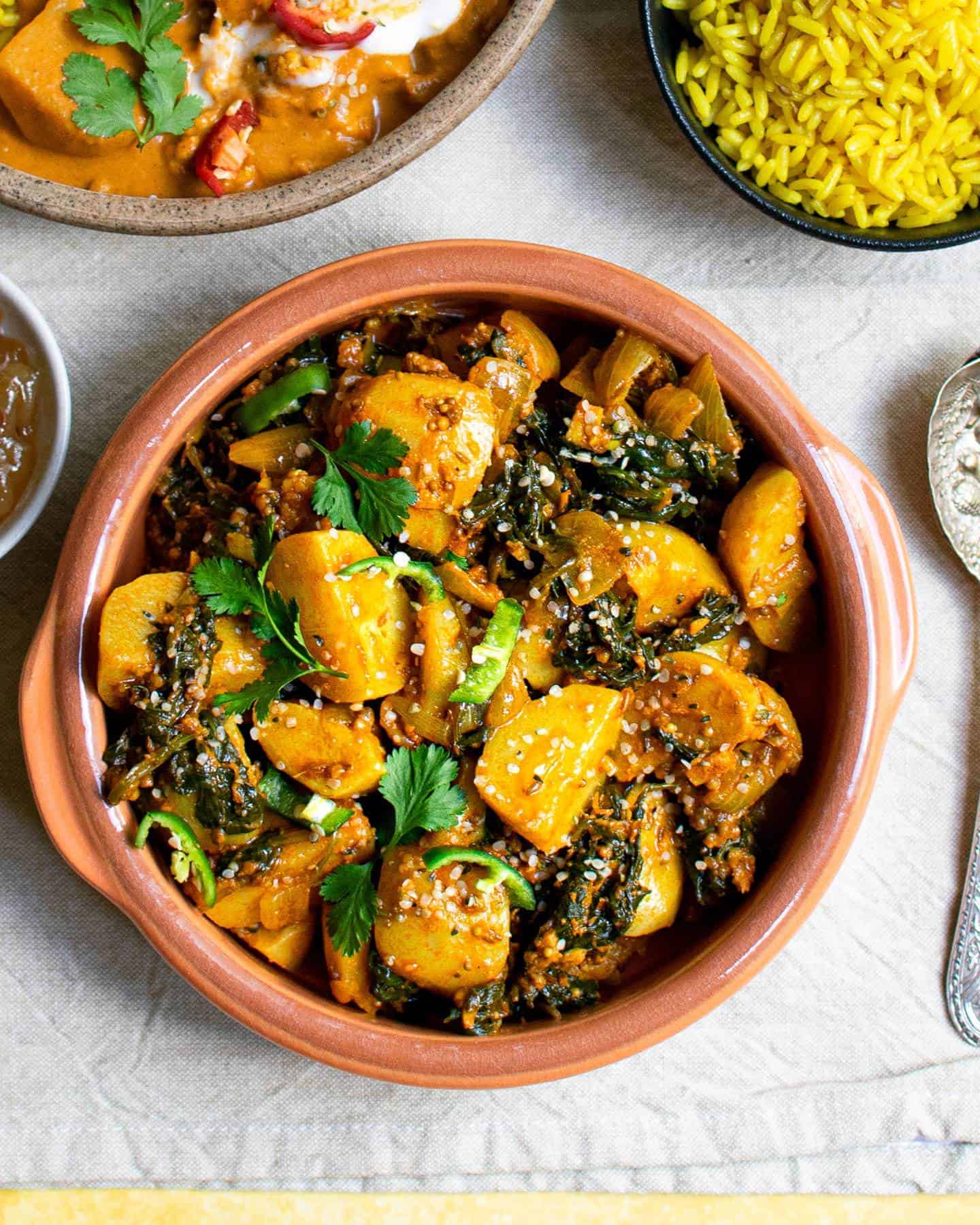 This amazing Vegan Saag Aloo in 25 Minutes by Vegan Punks is a deliciously fragrant mild Indian dish. Make this vegan version of one of the most popular North Indian recipes in only 25 minutes.
21. Vegan Potato Tortillas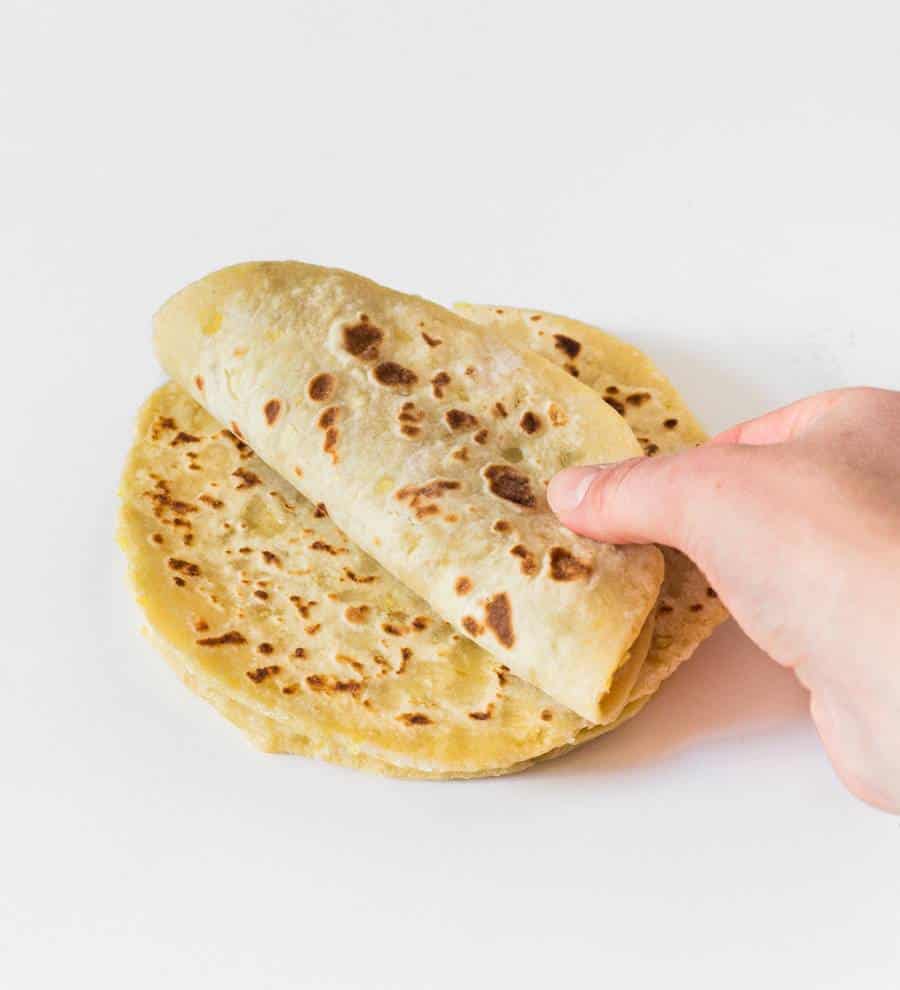 Have you tried making potato tortillas yet? These yummy Vegan Potato Tortillas by Blooming Nolwenn made with only two ingredients are flexible soft tortillas that are perfect for wraps, tacos and burritos.
22. Vegan Potato Casserole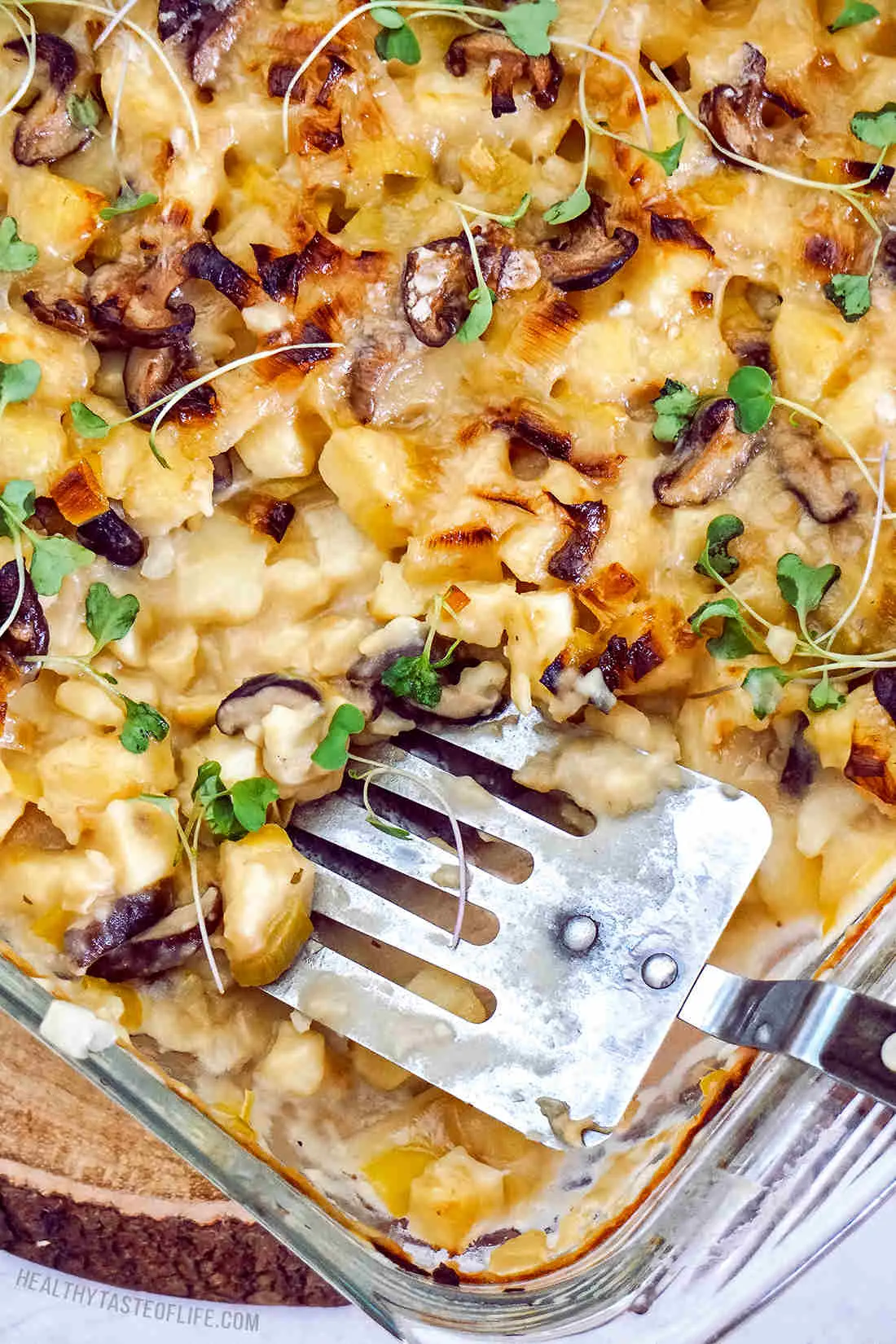 This seriously tasty Vegan Potato Casserole by Healthy Taste of Life is a gluten-free vegan potato bake that is incredibly easy to make. This amazing recipe consists of layers of potatoes, mushrooms and leeks smothered in a creamy chickpea sauce and vegan feta cheese.
23. Vegan Potato Soup with Kale
For veggie-loaded comfort food look no further than this Vegan Potato Soup with Kale by Midwest Foodie. This creamy coconut milk plant-based soup is packed with veggies and herbs for cozy make-ahead dinners.
24. Homemade Baked Potato Chips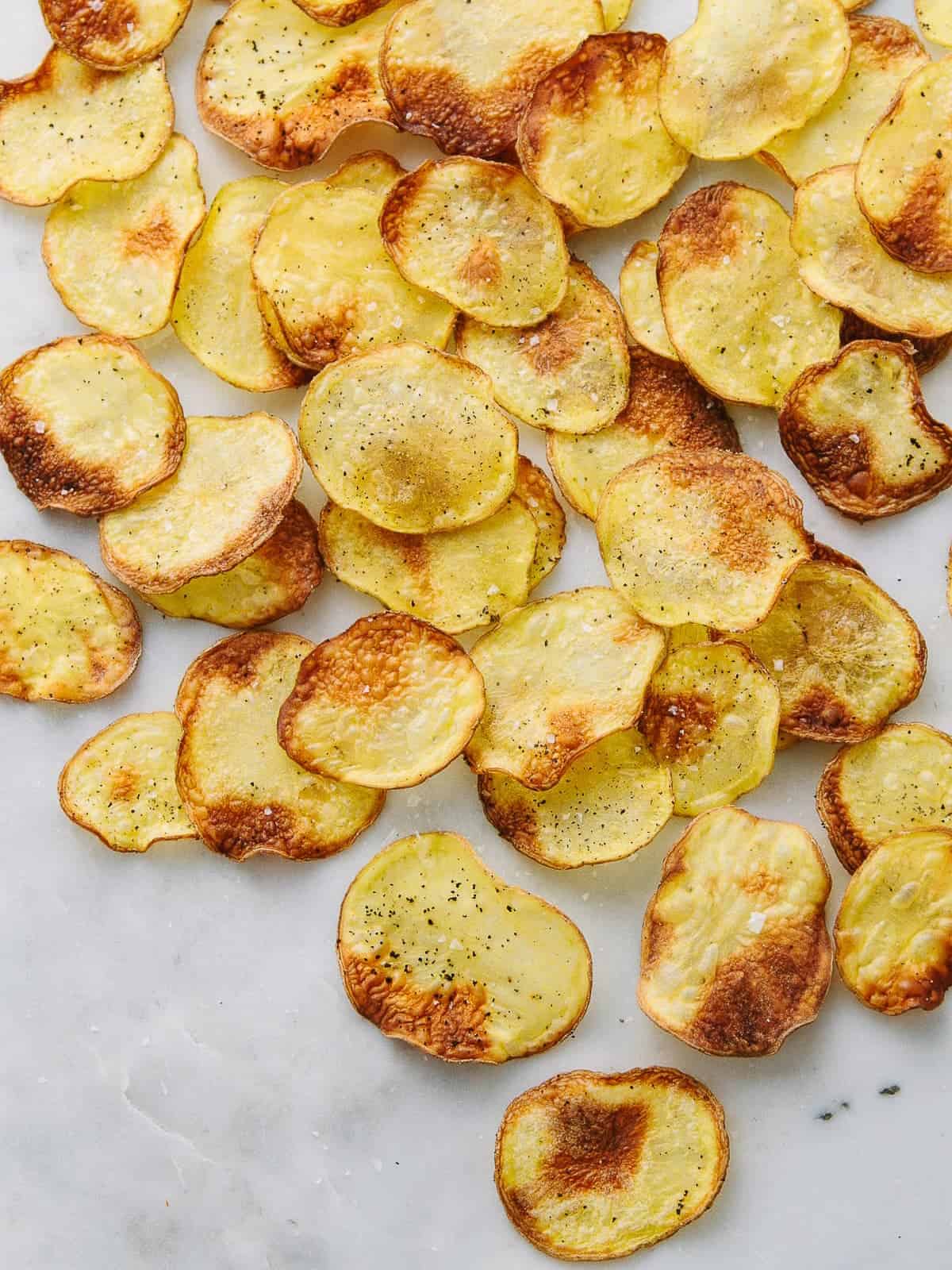 Next time you want to grab that bag of crisps why not try making your own healthier alternative? These Homemade Baked Potato Chips by The Simple Veganista are rustic crispy and so easy to make.
25. Vegan Shepherd's Pie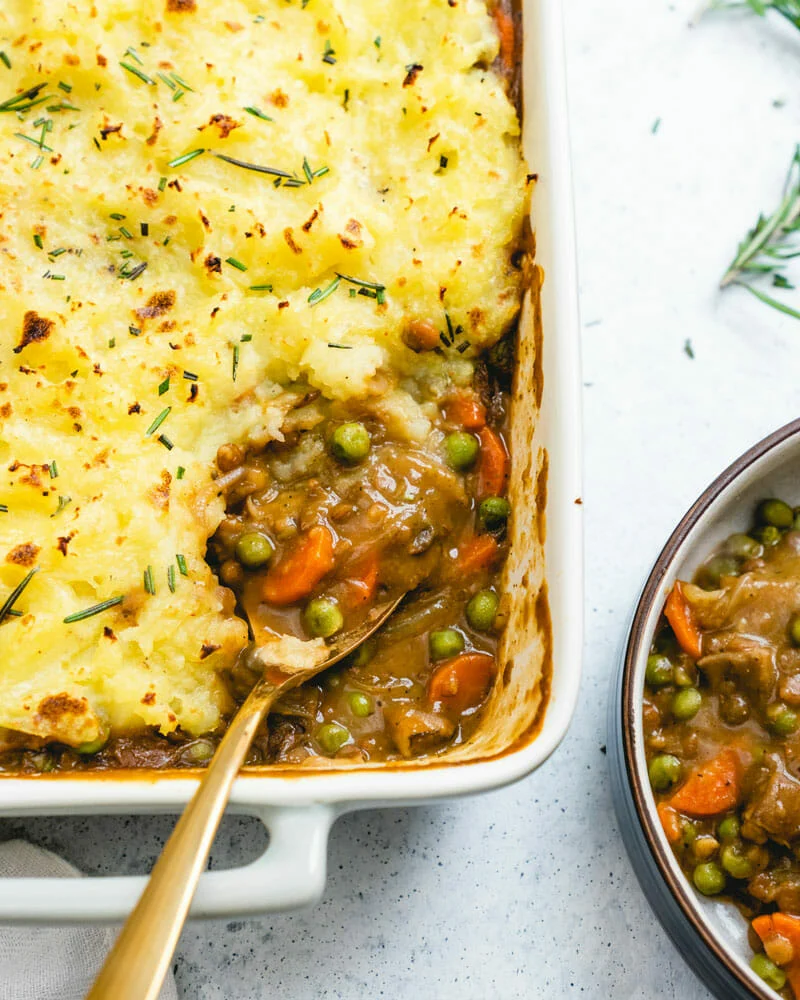 If you love to indulge in slow-cooking this Vegan Shepherd's Pie by A Couple Cooks is a cozy slow-cooked comfort food. Made with hearty veggie and lentil filling and topped with fluffy mashed potatoes this is an indulgent vegan version of this classic dish.