If you think cabbage is boring, then think again. You'll be amazed by our fabulous round-up of the most delicious vegan cabbage recipes.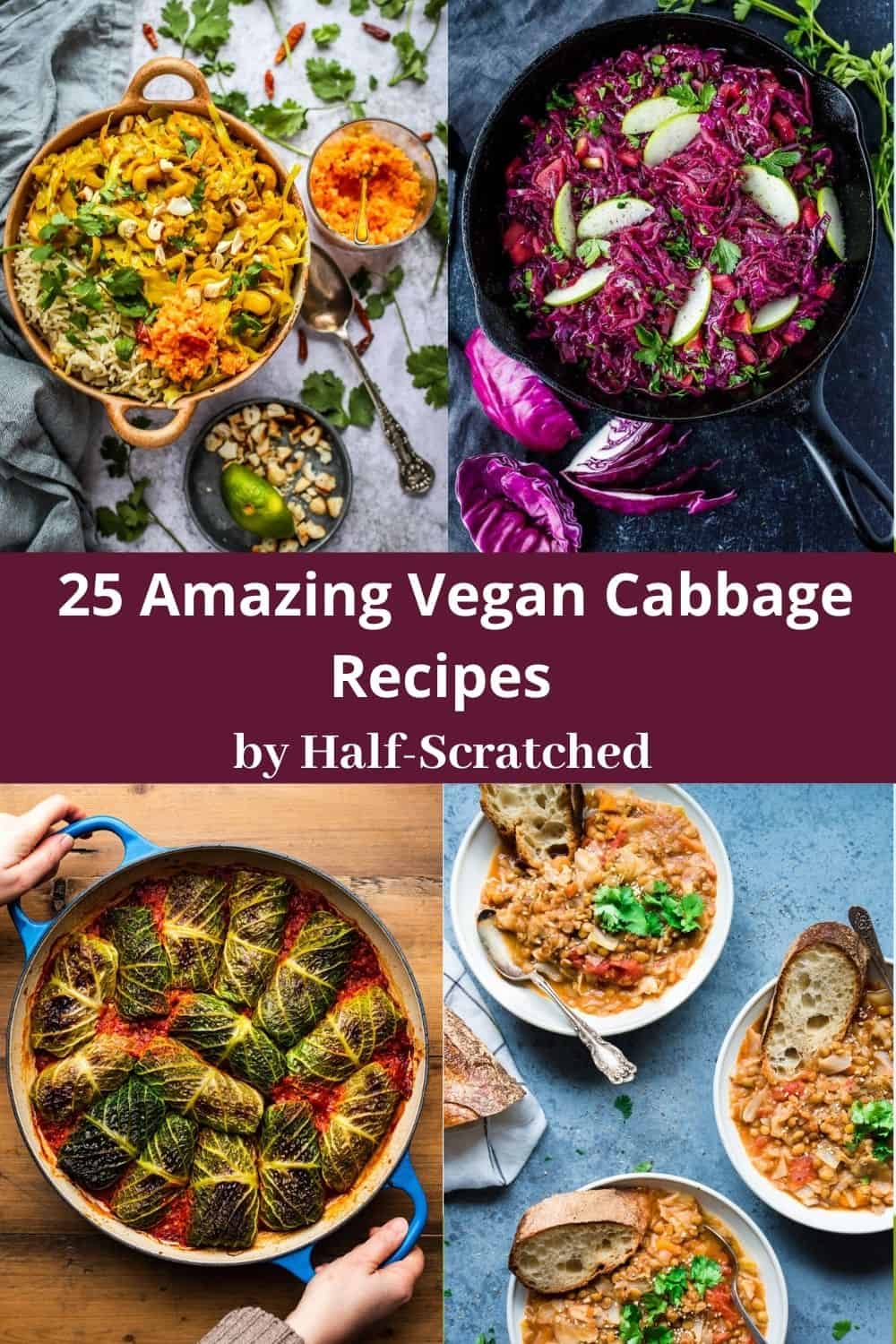 When it comes to cabbage we are spoilt for choice with so many varieties to choose from - white cabbage, red cabbage, savoy cabbage, pointed cabbage and napa cabbage are the most popular and readily available. Cabbage is a rich source of vitamin K, vitamin C, antioxidants, fiber and anti-inflammatory polyphenols and you definitely want to include it in your diet.
You can cook cabbage in just any way you can think of; from eating it raw to sauteing, steaming, boiling, roasting, stewing and fermenting.
Sauerkraut and kimchi are perhaps the most popular preserving recipes, both utilizing this tasty widely available vegetable.
There are many wonderful and traditional cabbage recipes from around the world and we have picked the most exciting selection to get you cooking.
1. Sri Lankan Style Cabbage, Coconut and Cashew Curry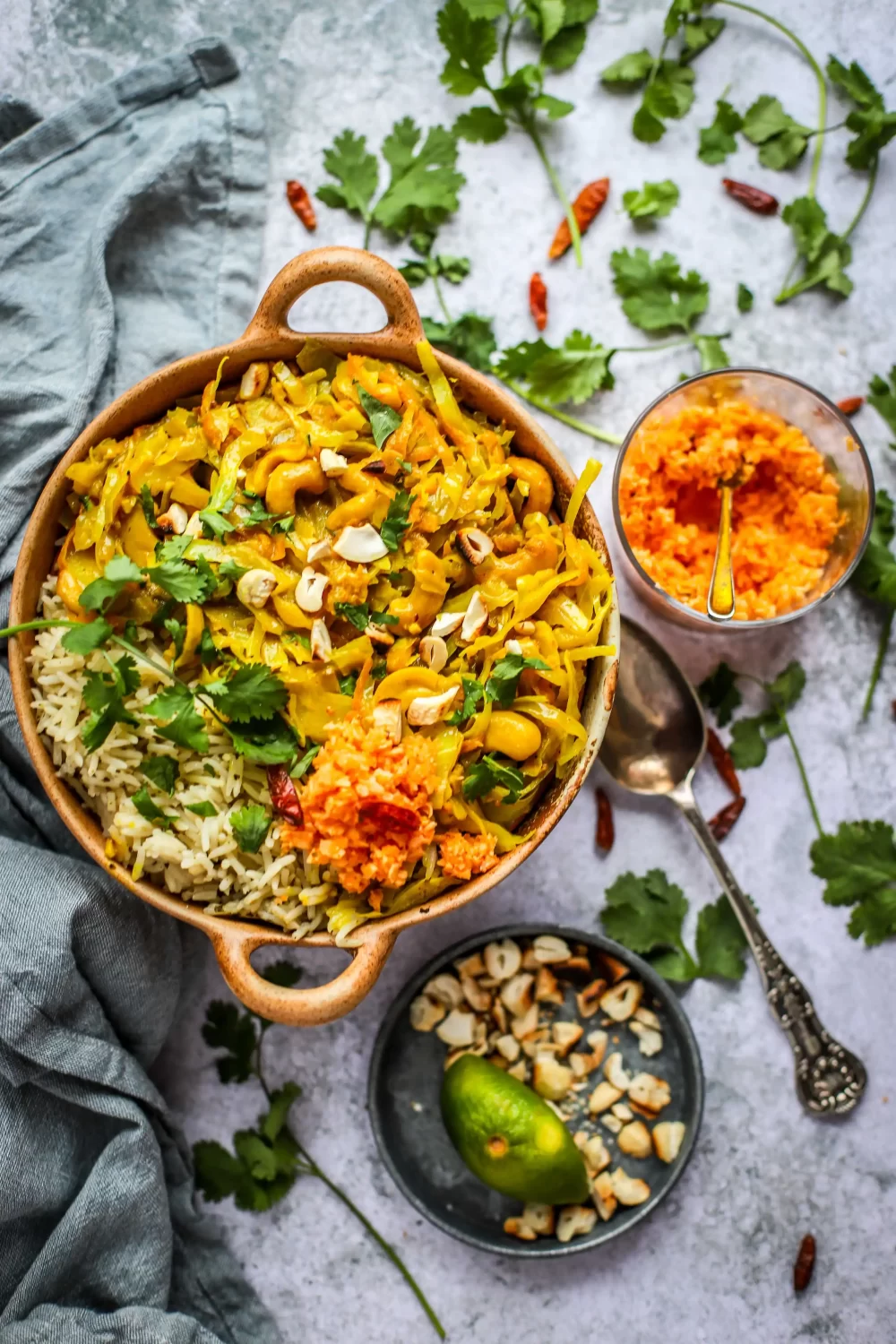 This delicious looking Sri Lankan Style Cabbage, Coconut and Cashew Curry by Food to Glow will change the way how you think about cabbage. This mild creamy curry with cabbage, toasted cashews and coconut milk is topped with spicy coconut and lime sambal.
2. Baked Vegan Cabbage Rolls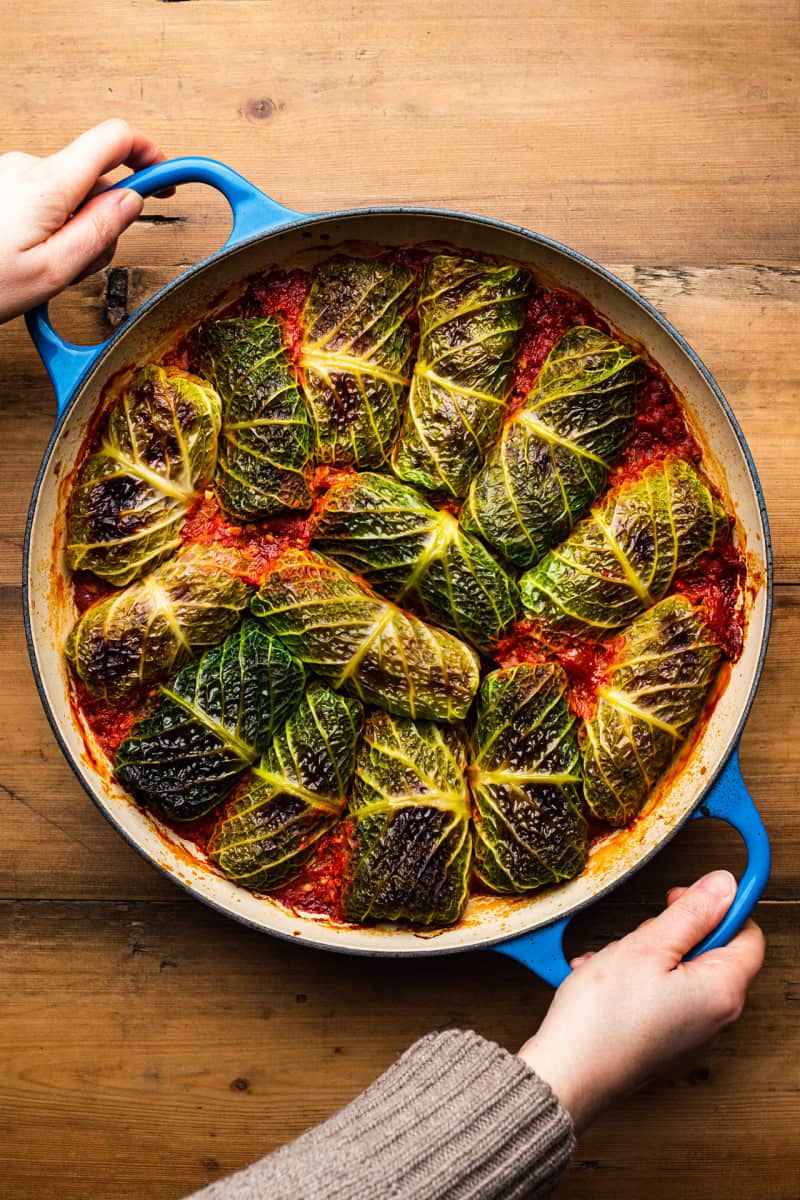 Inspired by the traditional Polish recipe Golabki these Baked Vegan Cabbage Rolls by Lazy Cat Kitchen are a wholesome vegan version. Savoy cabbage leaves are stuffed with a mixture of porcini and chestnut mushrooms, rice, walnuts, spices and herbs and baked in tomato sauce.
3. Grilled Cabbage Steaks with Jalapeño Chimichurri Lentils and Maple Mustard Tahini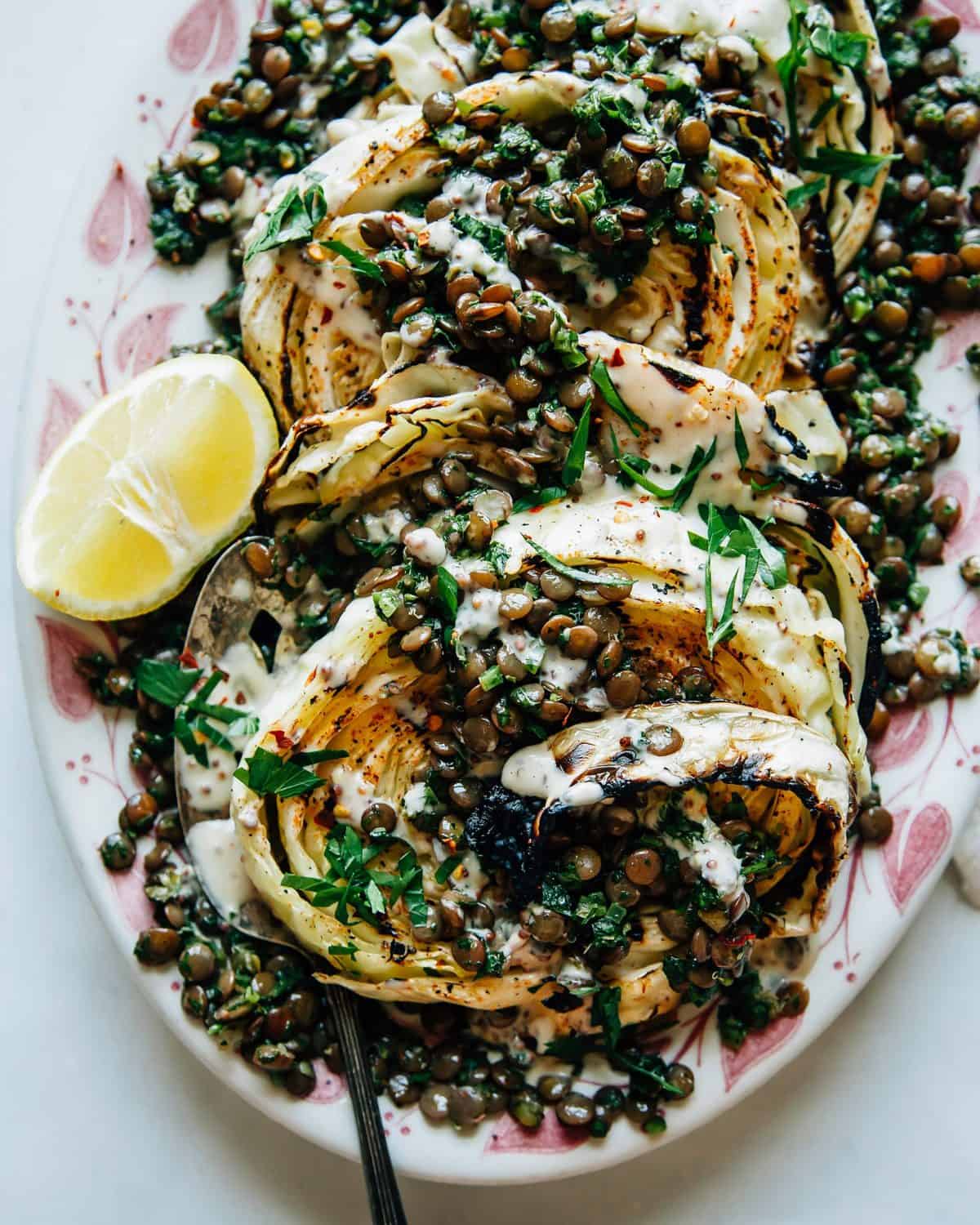 These Grilled Cabbage Steaks with Jalapeño Chimichurri Lentils and Maple Mustard Tahini by The First Mess are an explosion of flavor. If you're thinking about what to make your vegan friends during your barbecue party, this could be the recipe.
4. Spicy Cabbage Stir Fry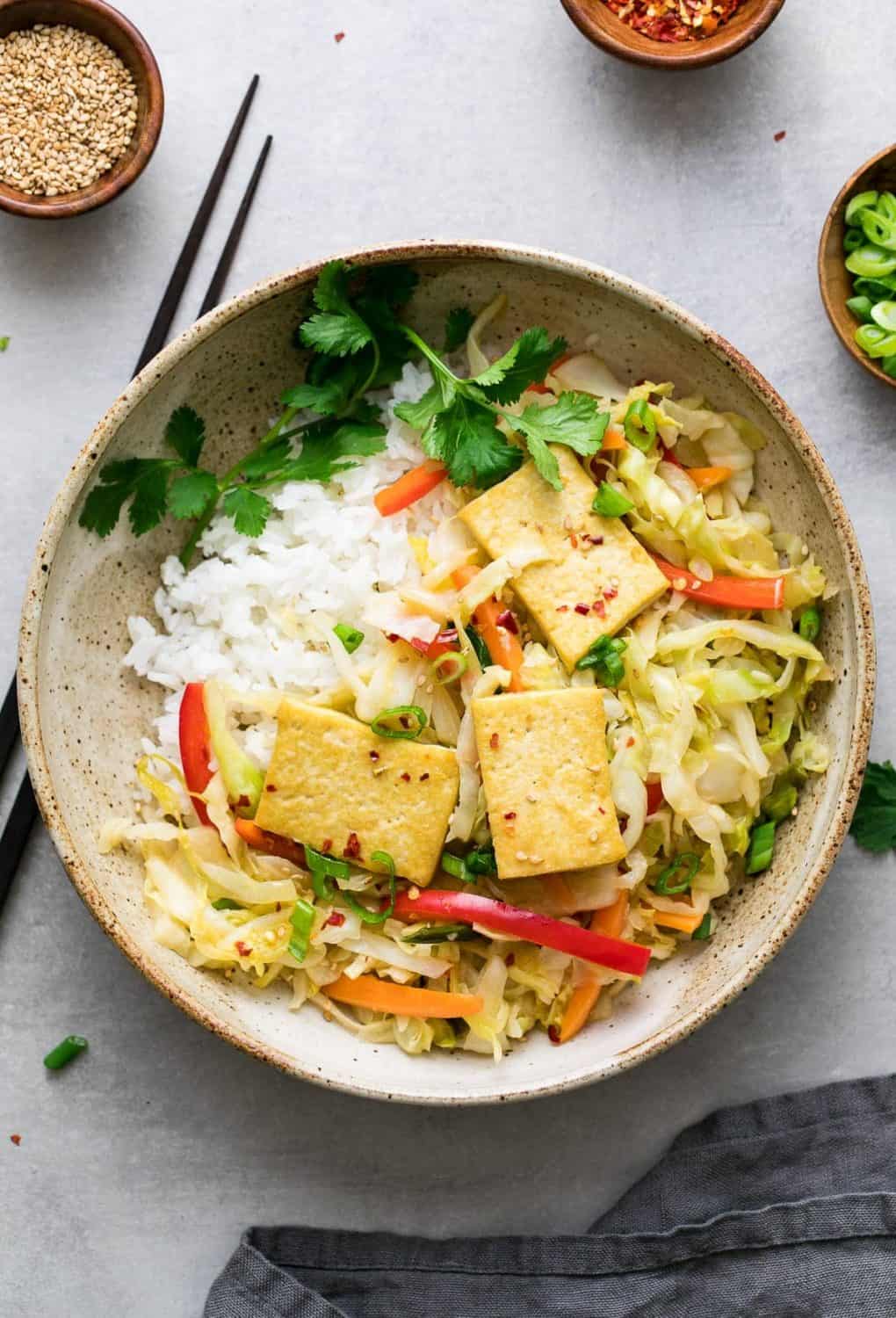 This Asian-inspired Spicy Cabbage Stir Fry by Simple Veganista is a quick easy healthy meal. Made with stir-fried cabbage, carrots, bell peppers, green onions, tofu and light tamari sauce.
5. Sauerkraut and Bean Stew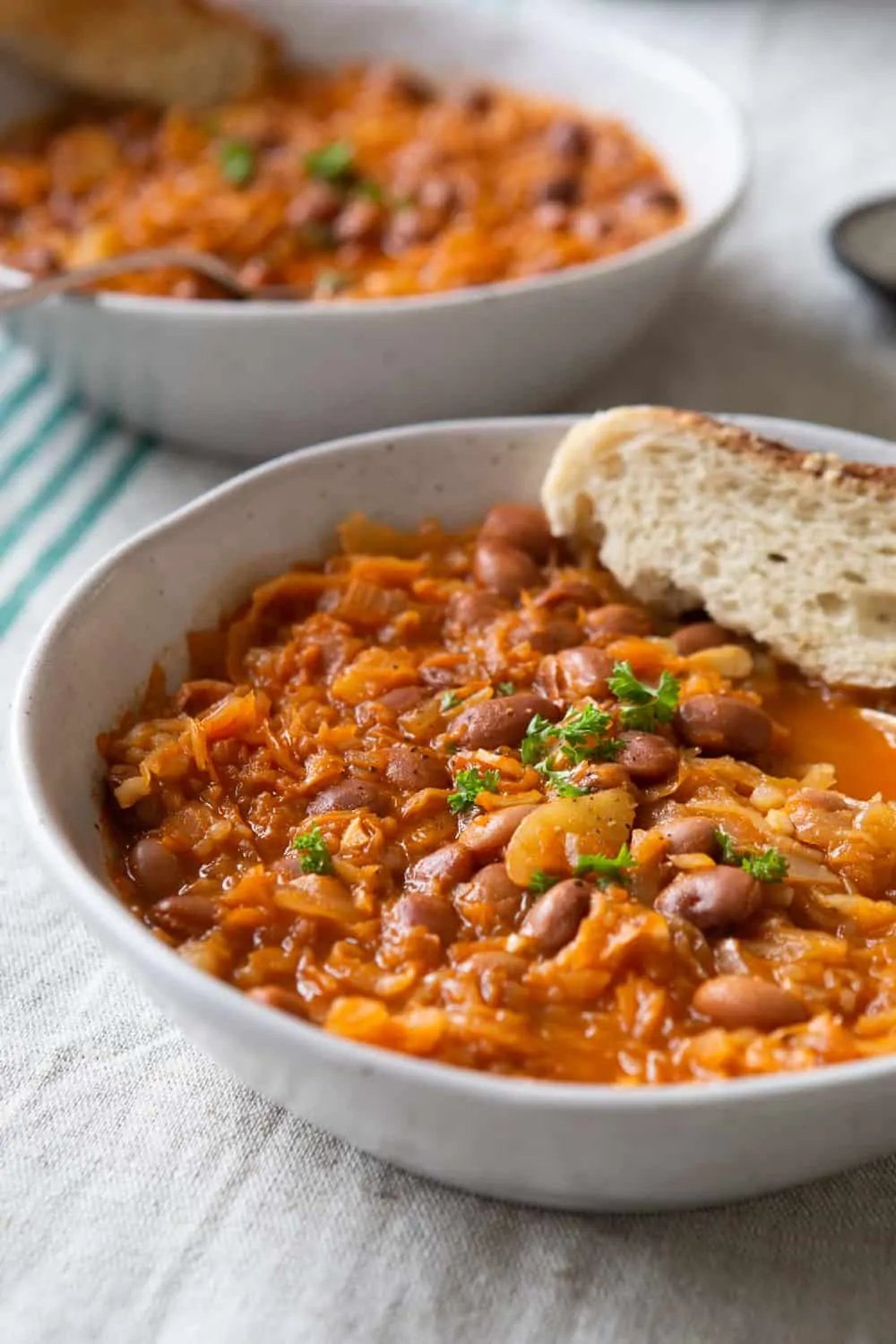 Pure comfort in a bowl is this Sauerkraut and Bean Stew by Heartful Table. This hearty easy Slovenian dish is created with borlotti beans, potatoes, sauerkraut and spiced with smoked paprika.
6. Vegan Cabbage Soup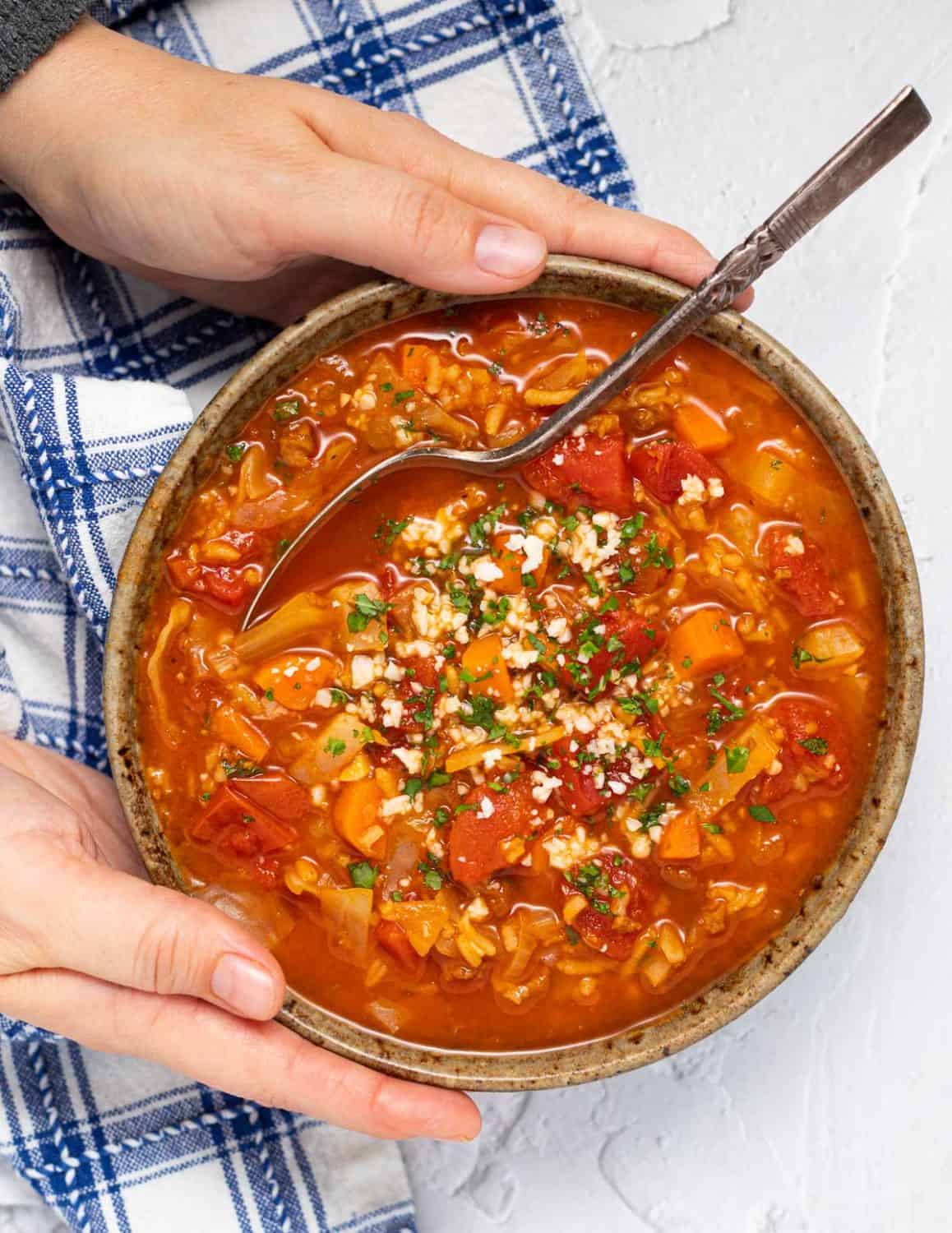 This cozy warming Vegan Cabbage Soup by A Virtual Vegan is bursting with goodness. It's full of flavor, easy to make, budget-friendly and freezes well. And if you love cabbage rolls you will love this recipe.
7. Vegan Cabbage, Leek and Potato Tart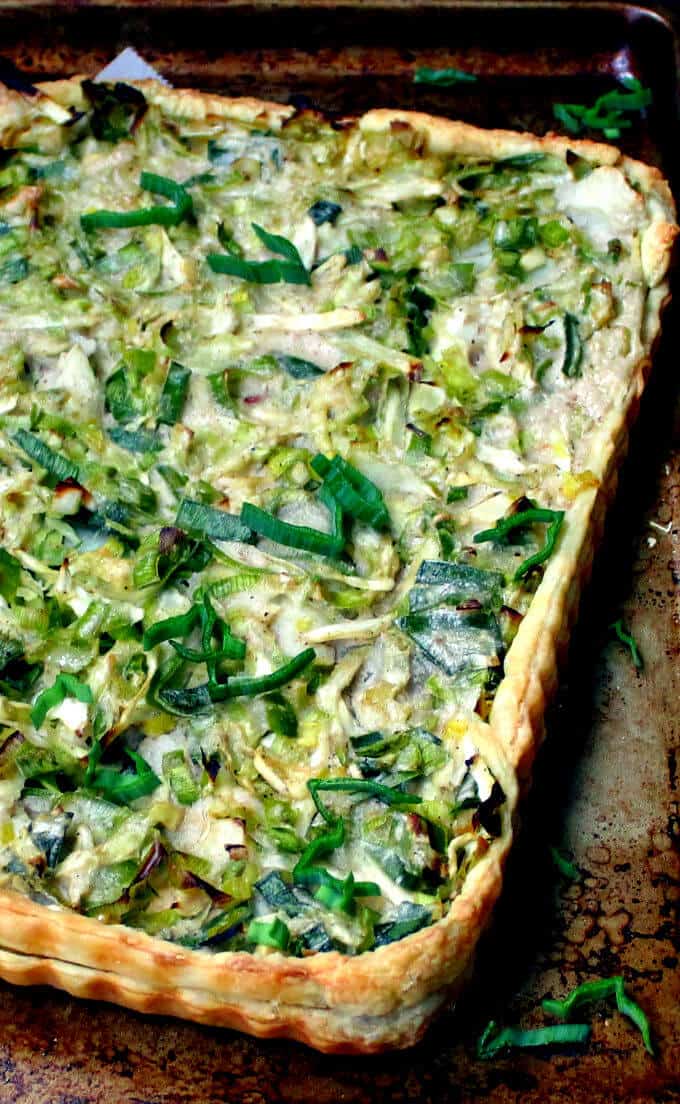 We are very excited about this Vegan Cabbage, Leek and Potato Tart by Holy Cow Vegan. Potatoes, leeks and cabbage are mixed with creamy vegan sauce and baked in a golden crispy puff pastry. How delicious.
8. Classic Vegan Coleslaw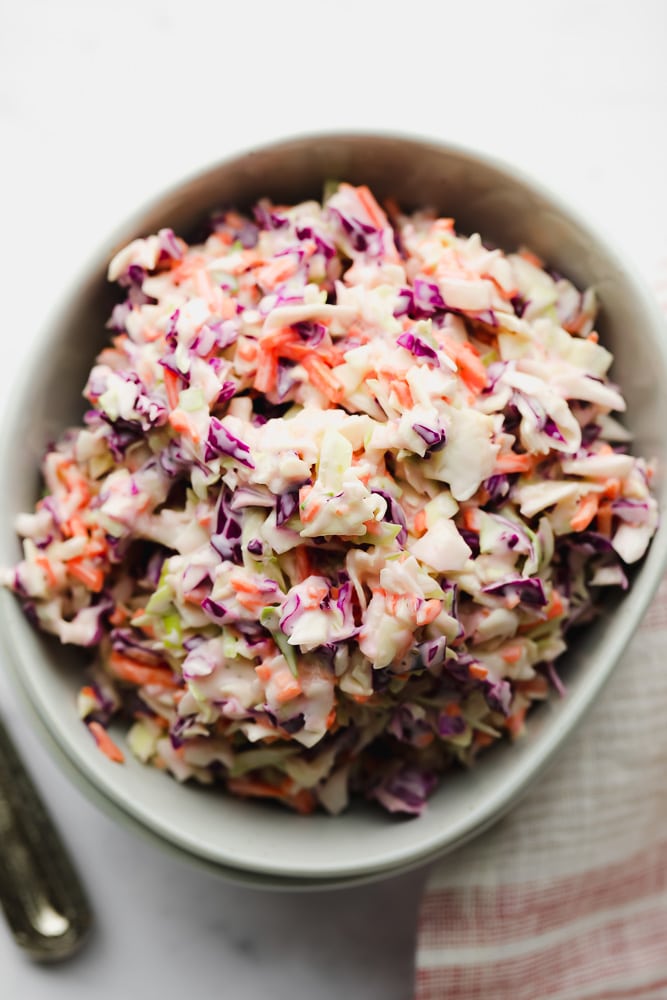 This Classic Vegan Coleslaw by Nora Cooks couldn't be simpler to make. To save time buy coleslaw mix with red cabbage and carrots and toss it with Nora's creamy dressing.
9. Vegan Sloppy Joe's with Wilted Red Cabbage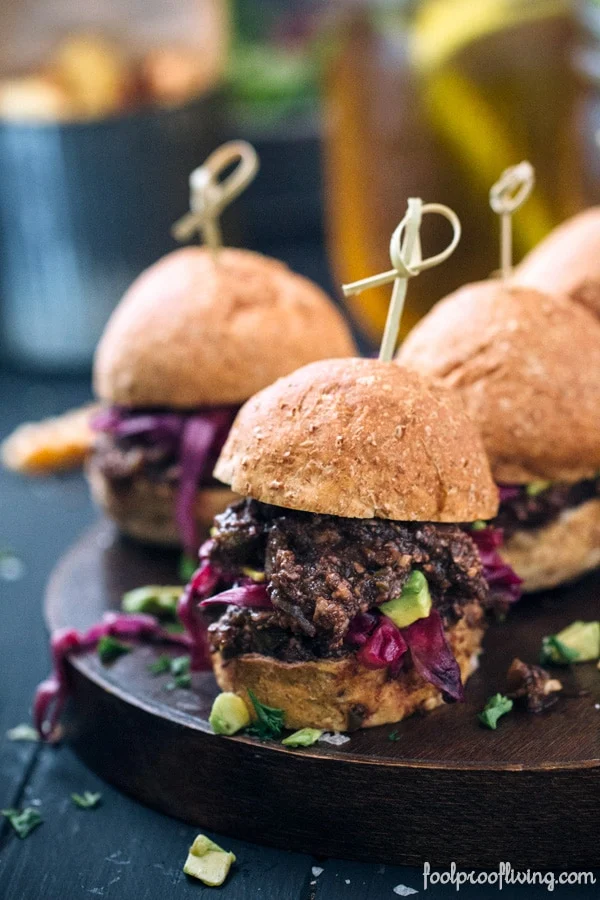 Sure to impress is this Vegan Sloppy Joe's with Wilted Red Cabbage by Foolproof Living. Portobello mushroom and walnut mix is spooned onto freshly toasted slider buns and topped with balsamic vinegar-flavored wilted red cabbage and avocado.
10. Raw Cashew Mango Cabbage Wraps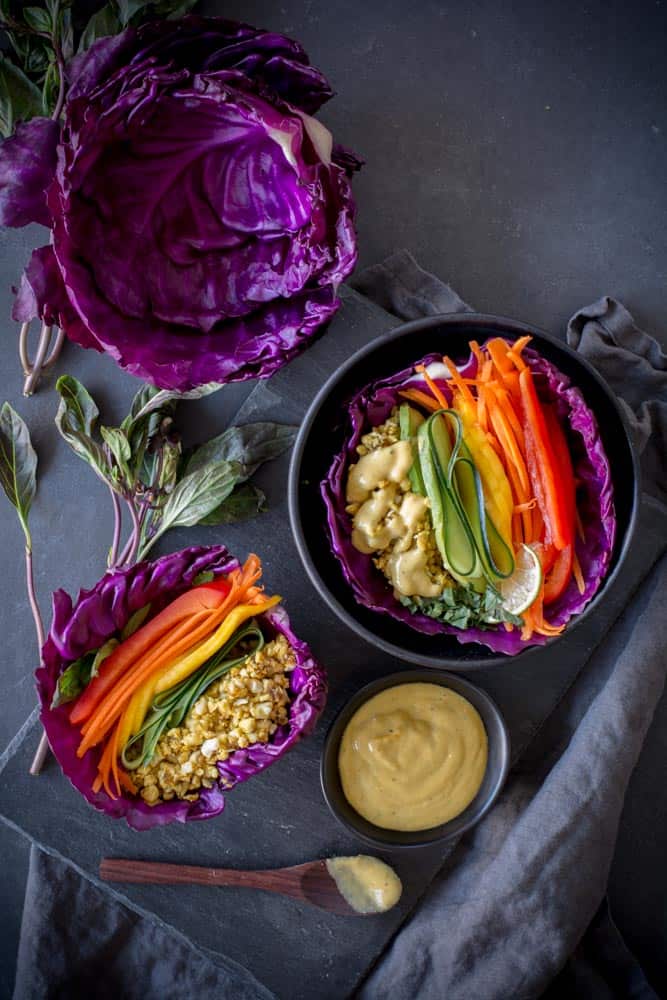 Bursting with colors of the rainbow are these Raw Cashew Mango Cabbage Wraps by Simply So Good. These lovely cabbage wraps are filled with curry-spiced cashews, sliced veggies and topped with a mango tahini sauce.
11. Malfouf Salad (Lebanese Cabbage Salad)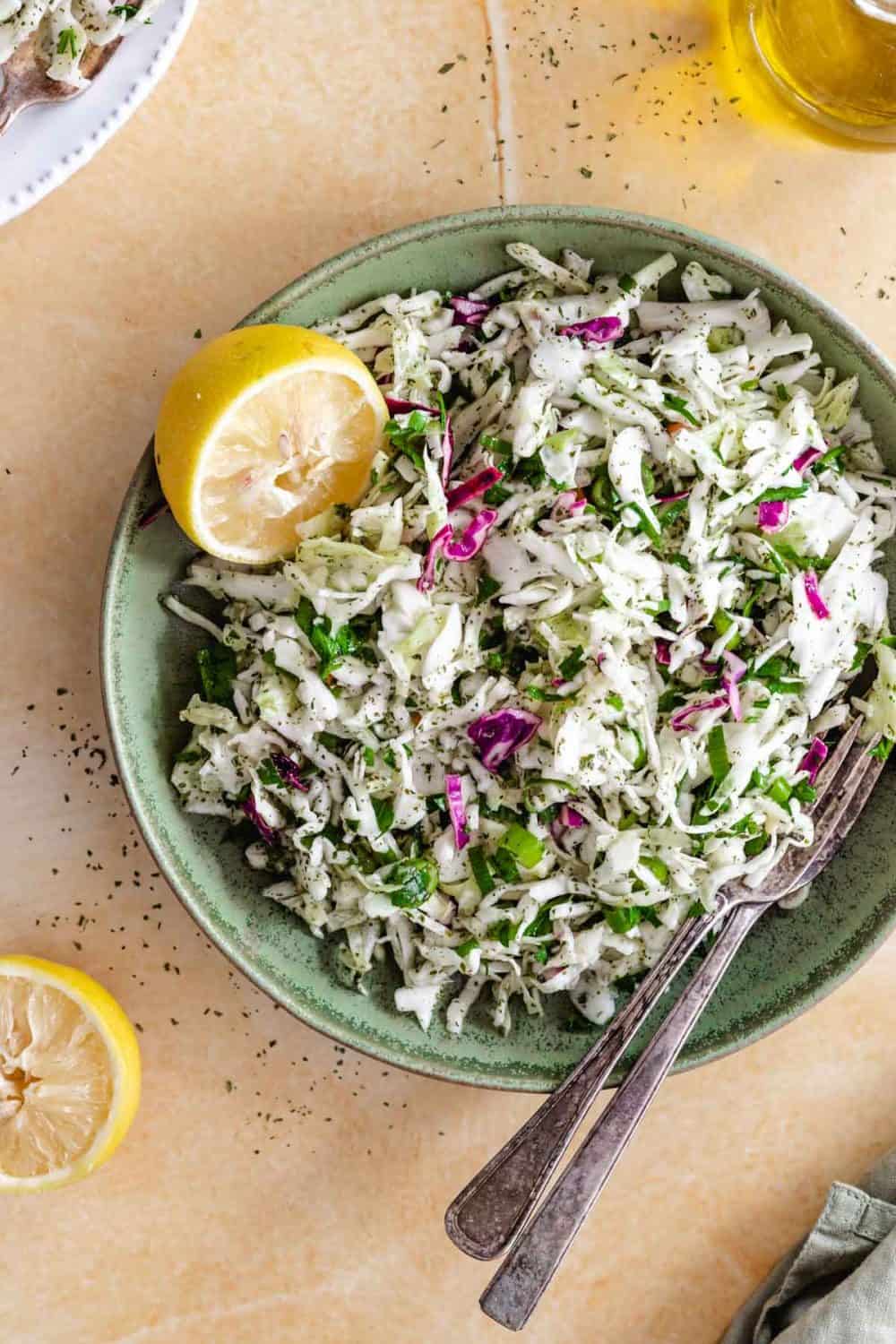 This Lebanese Cabbage Salad, Malfouf by Hungry Paprikas is simple yet has so much flavor. Made with shredded white cabbage, fresh herbs, lemon juice, olive oil, garlic and plenty of mint. Perfect for those summer meals.
12. Quick Pickled Cabbage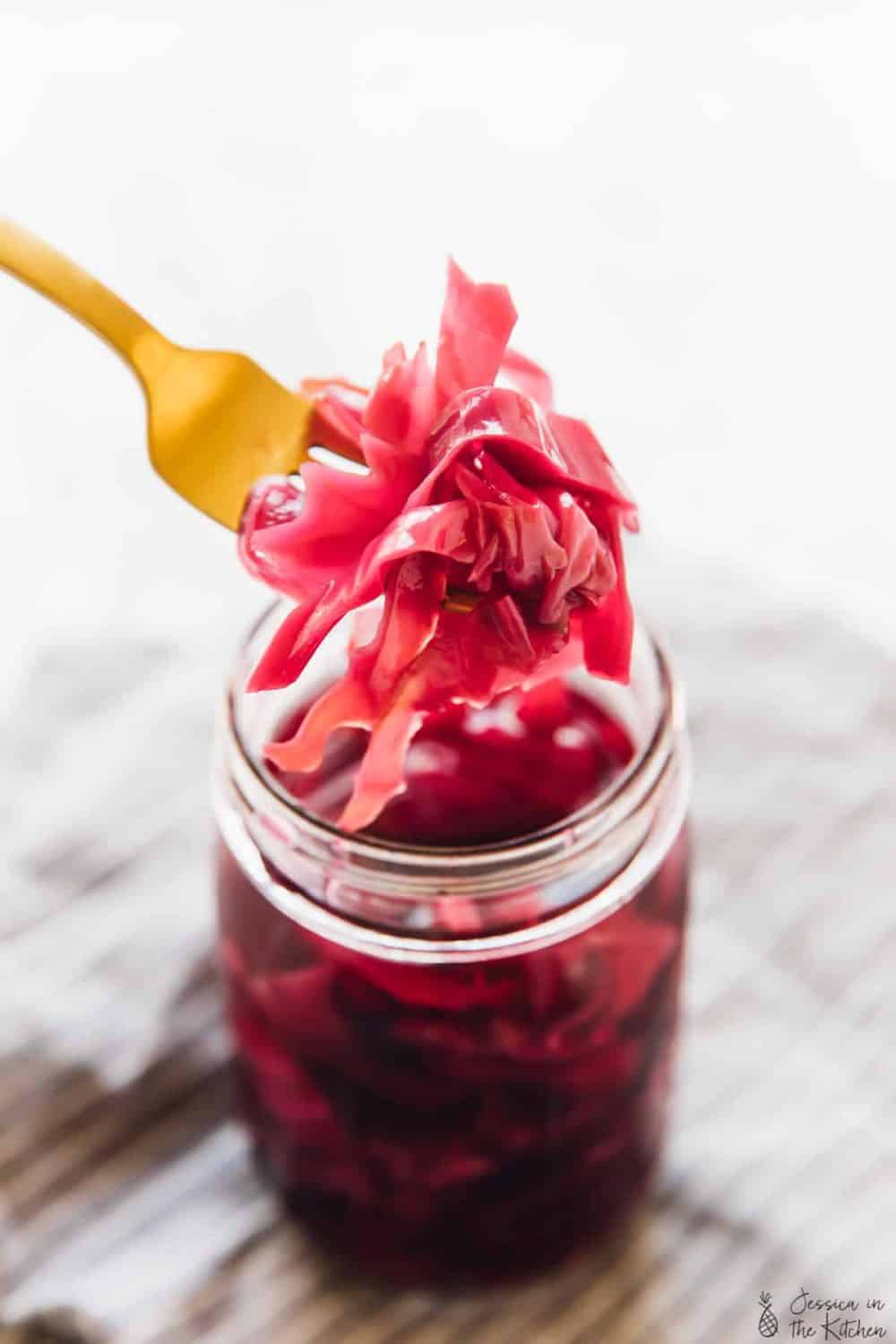 10 minutes is all it takes to make this Quick Pickled Cabbage by Jessica in the Kitchen. Top any of your vegan meals with this sweet, briny deliciousness for a pop of flavor.
13. The Best Vegan Borscht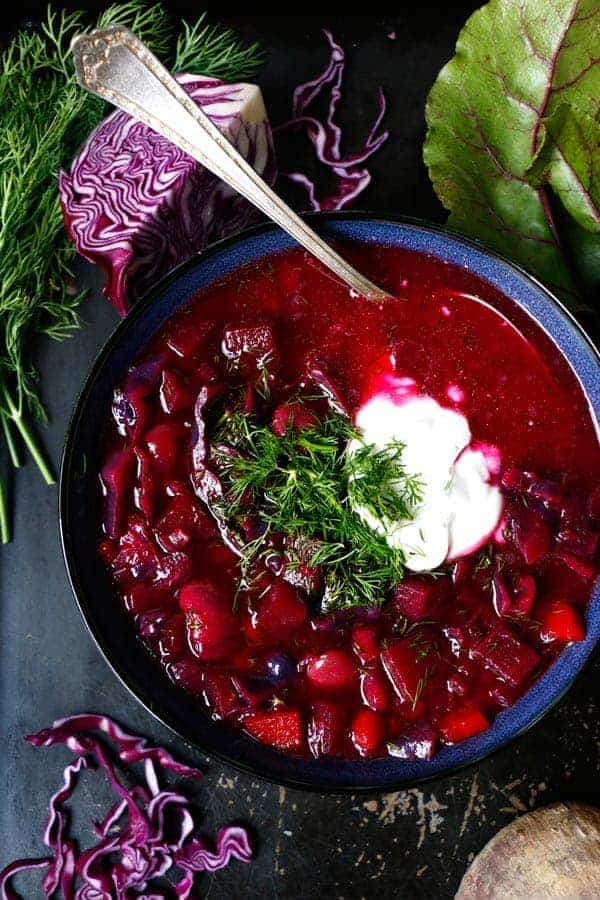 The Best Vegan Borscht by Nirvana Cakery is a filling and satisfying packed with veggies soup. Bursting with color and flavor from red cabbage, beetroot, caraway seeds and fresh dill this is a wonderful plant-based version of the classic borscht recipe.
14. Warm Red Cabbage Slaw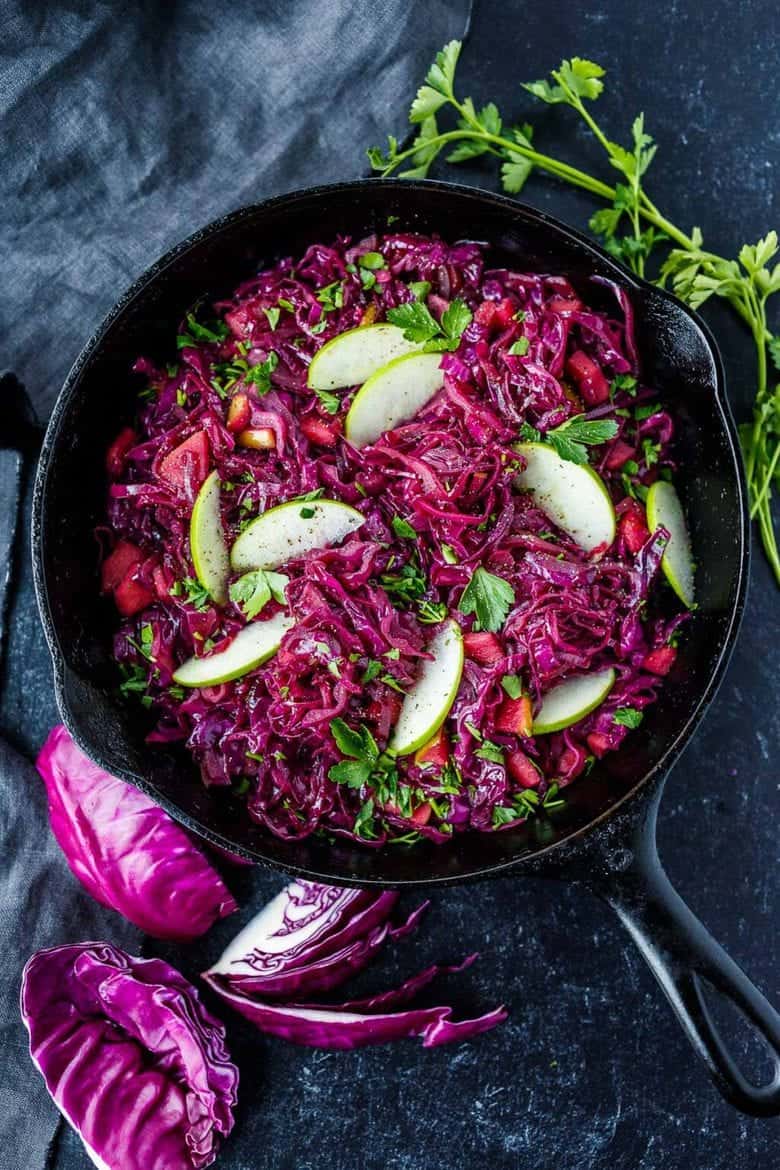 This Warm Red Cabbage Slaw by Feasting at Home makes a perfect side dish for your holiday meals. This warming winter slaw is a perfect balance of sweet and sour flavors with stewed red cabbage, tart apples, onions and cloves.
15. Crispy Cabbage Fritter With Chili And Curry Leaf Oil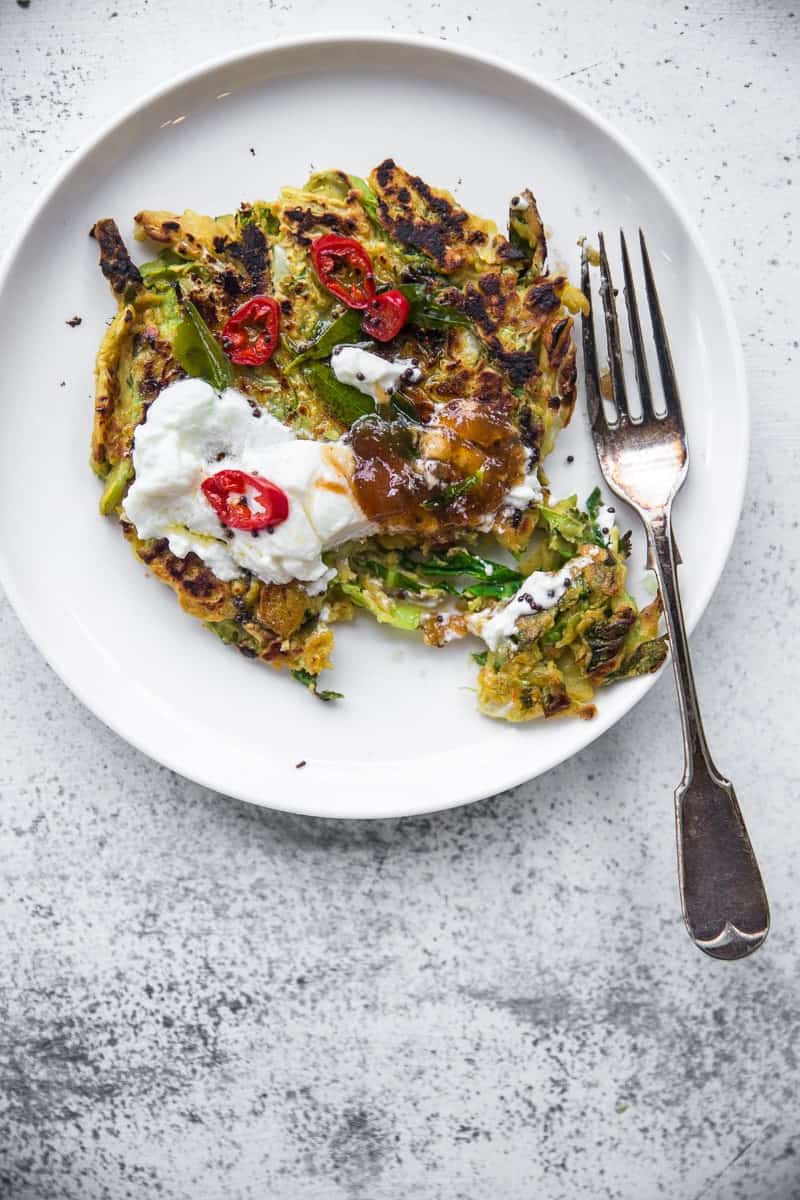 This gluten-free vegan Crispy Cabbage Fritter With Chili And Curry Leaf Oil by Cook Republic makes a delicious satisfying light meal. Shredded cabbage is mixed with fresh coriander, Indian spices and a mix of besan and rice flour and fried until crispy.
16. Healthy Napa Cabbage Salad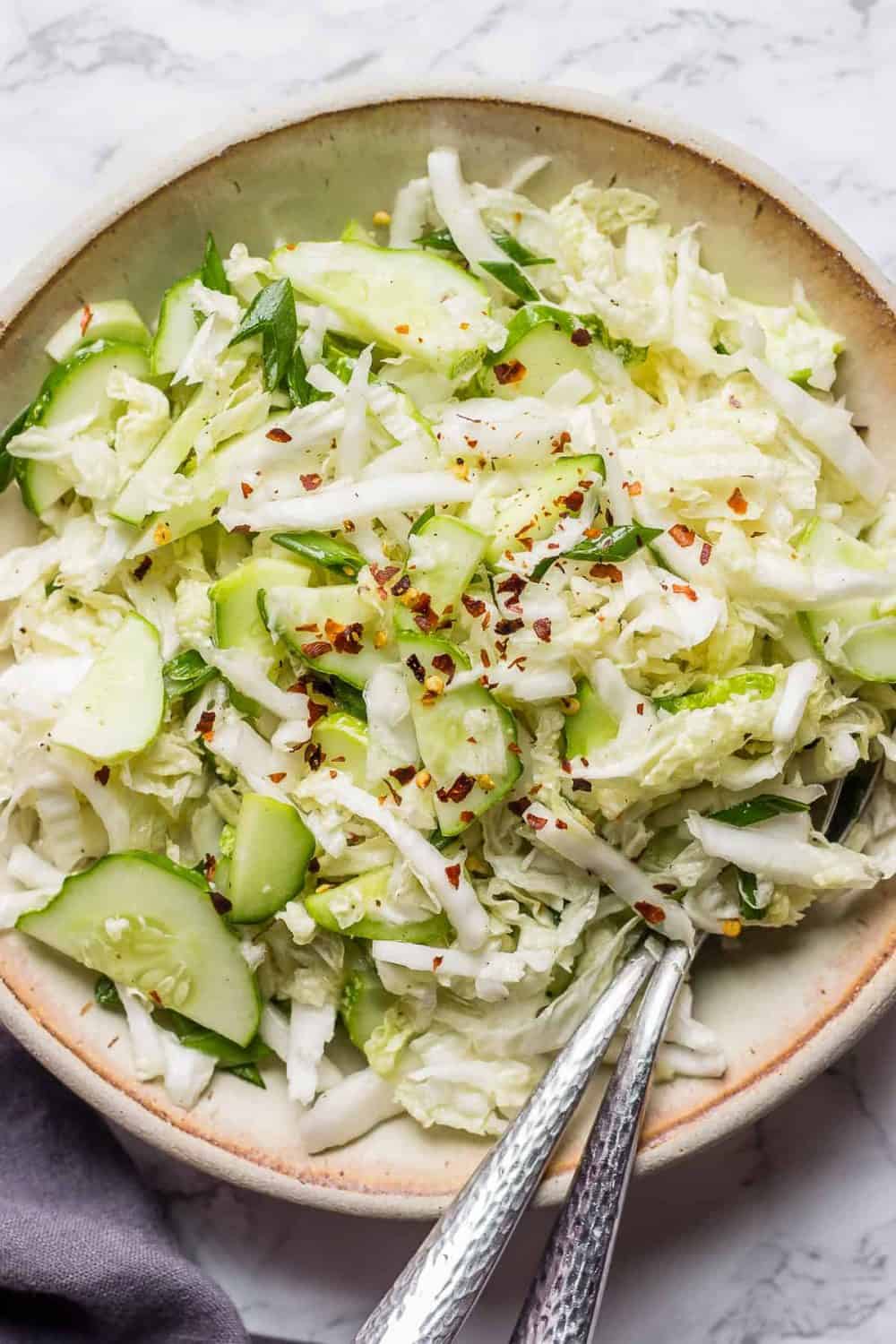 Picnic friendly Healthy Napa Cabbage Salad by Lavender & Macarons is a wonderful light crunchy salad. Made with only 5-ingredients, napa cabbage, cucumber, green onions, lime juice and olive oil.
17. Cabbage and Pea Curry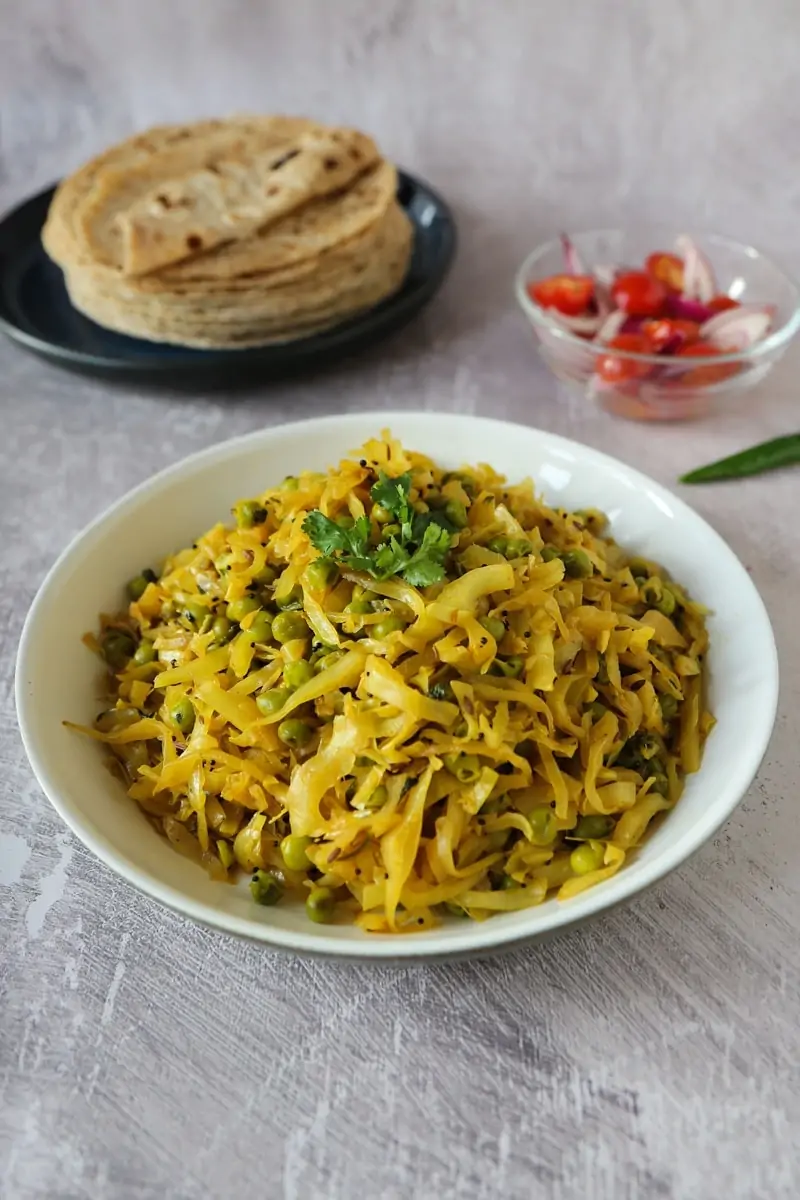 This quick Cabbage and Pea Curry by Cooking with Parita is one of the easiest curries to make. Delicious paired with rice, roti, vegan yogurt, fresh tomatoes and onions.
18. Aloo Patta Gobi Sabzi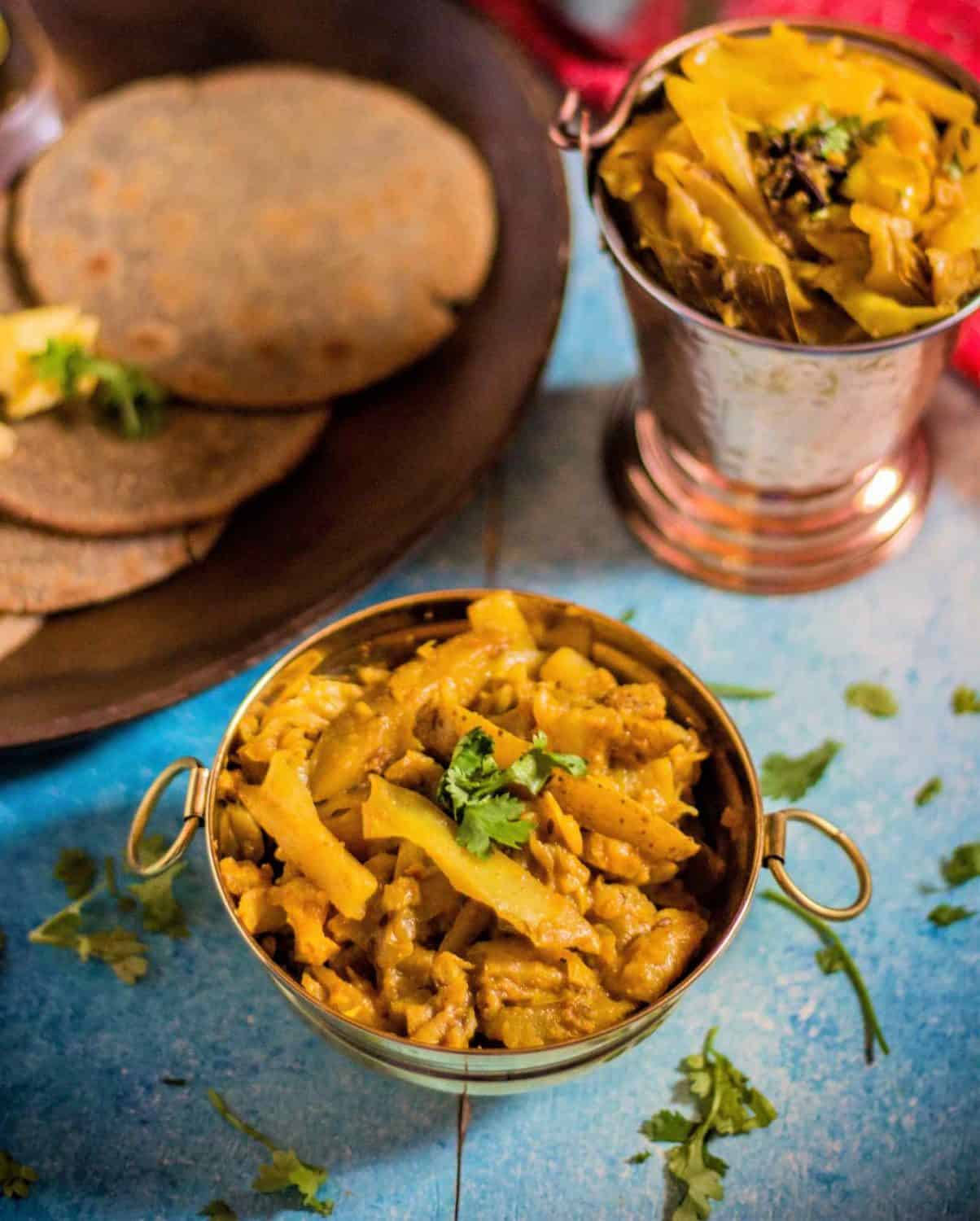 Aloo Patta Gobi Sabzi by Archanas Kitchen is a simple Indian stir fry recipe with cabbage, potatoes and spices. It can be also served with rice and dal for a comforting filling meal.
19. Cabbage Thoran
Cabbage Thoran by Dassana's Veg Recipes is a beautiful lightly spiced Indian dish. This Kerala speciality consists of cabbage cooked in coconut oil, tempered with spices and curry leaves, and finished with freshly grated coconut.
20. Vegan Cabbage, Potato, and Chickpea Sheet Pan Dinner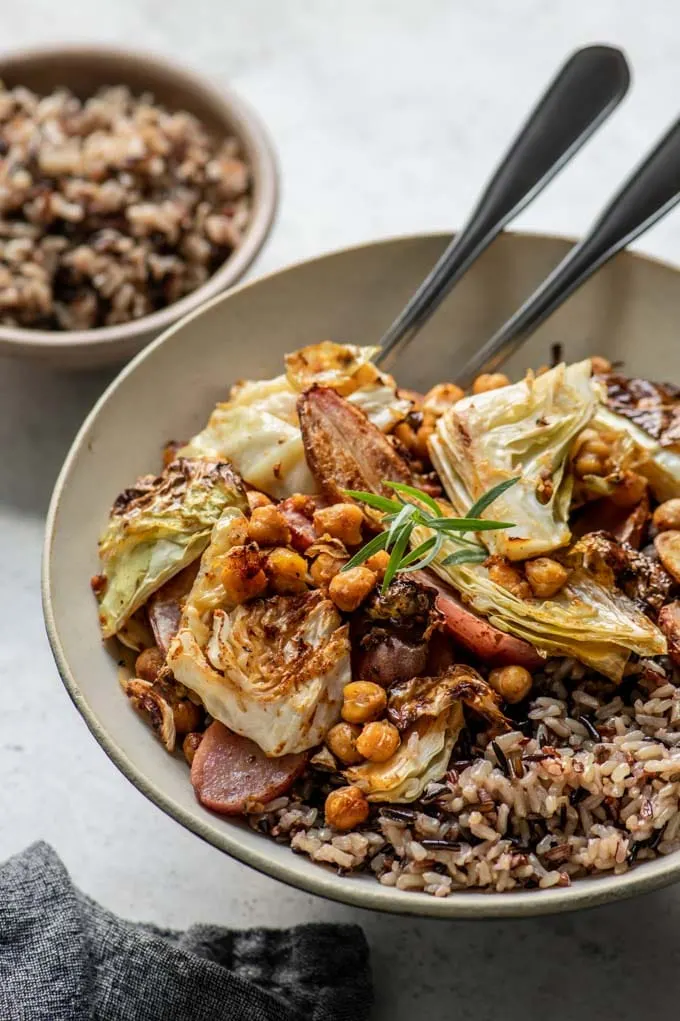 Don't feel like cooking, then this Vegan Cabbage, Potato, and Chickpea Sheet Pan Dinner by The Curious Chickpea is perfect. Throw all the veggies onto a sheet pan, toss with mustard vinaigrette and bake until tender and caramelized.
21. Vegan Instant Pot Lentil and Cabbage Soup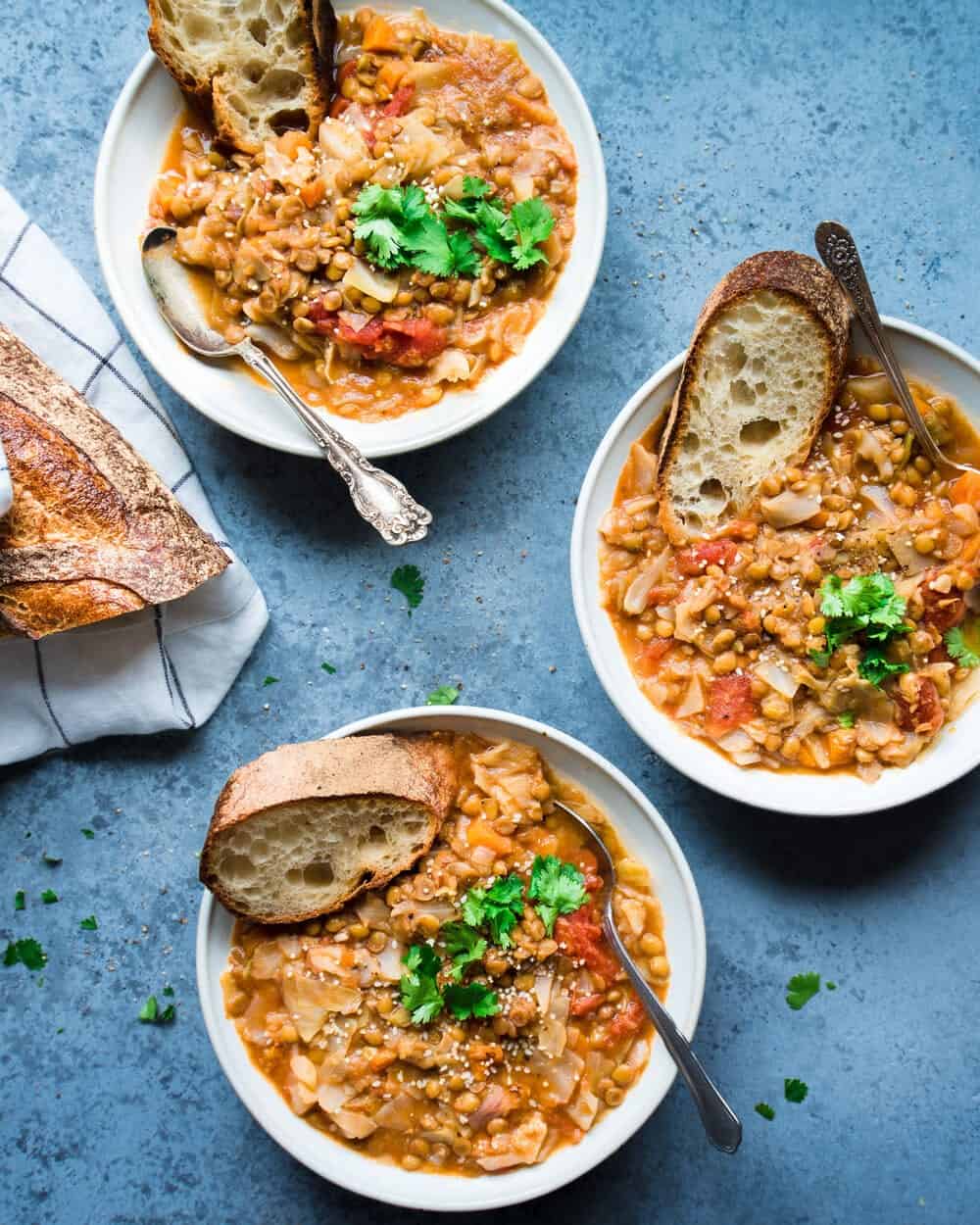 This hearty and easy Vegan Instant Pot Lentil and Cabbage Soup by Rainbow Plant Life is perfect for meal prep and easy, quick dinners. Using pantry ingredients and utilizing the lovely flavor of green cabbage makes a wonderful filling meal.
22. Roasted Cabbage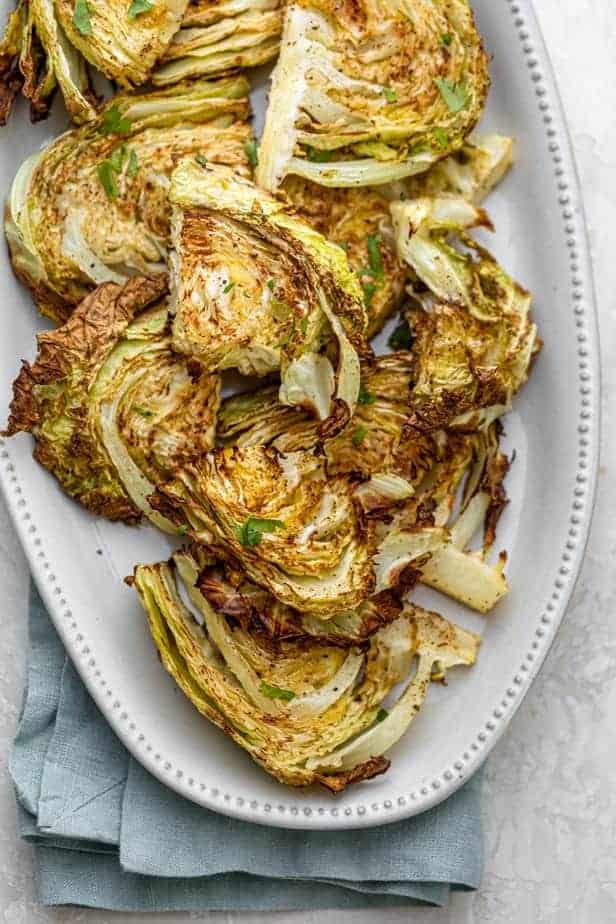 If you've never tried roasting a cabbage you absolutely have to make this Roasted Cabbage recipe by Feel Good Foodie. It couldn't be simpler and you will be pleasantly surprised how tasty roasted cabbage is!
23. Caramelized Cabbage and Onion Pasta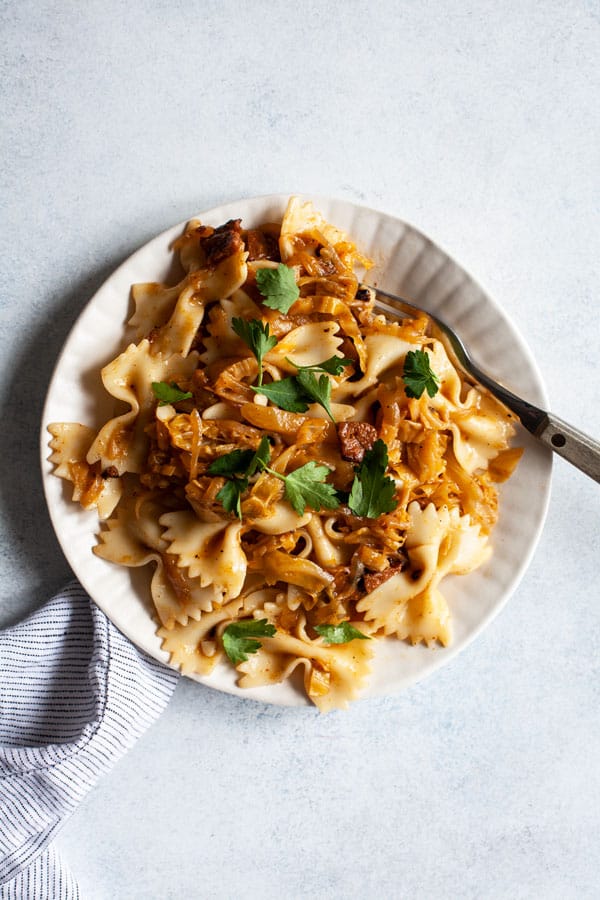 This hearty Caramelized Cabbage and Onion Pasta by The Full Helping has the perfect savory sweet flavor. Perfectly caramelized cabbage and onion are paired with vegan bacon and tossed with your favorite pasta.
24. Homemade Sauerkraut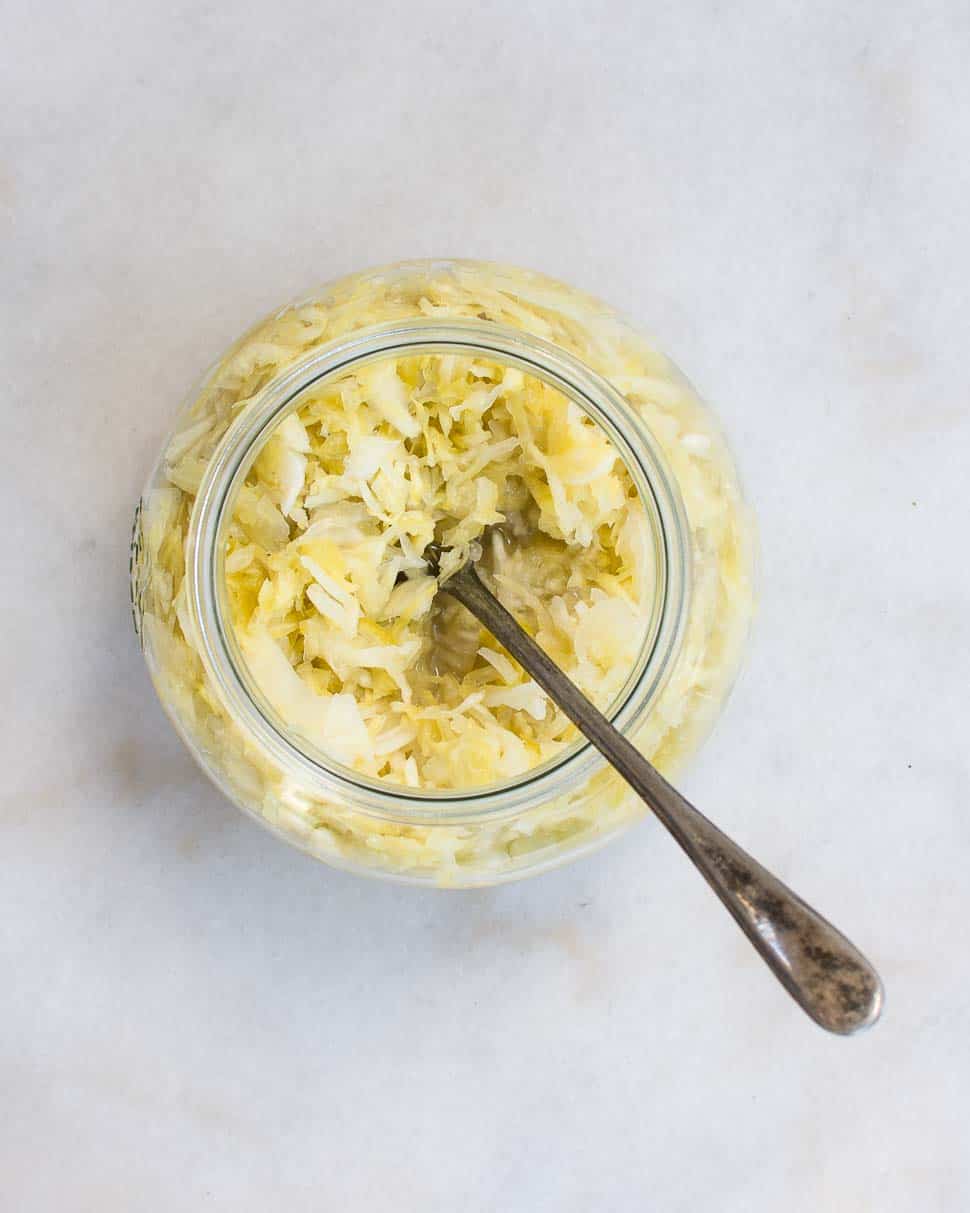 Sauerkraut is perhaps the most known cabbage recipe. Make your own Homemade Sauerkraut by following this simple recipe by Nourished Kitchen.
25. Vegan Haluski with Smoky Tofu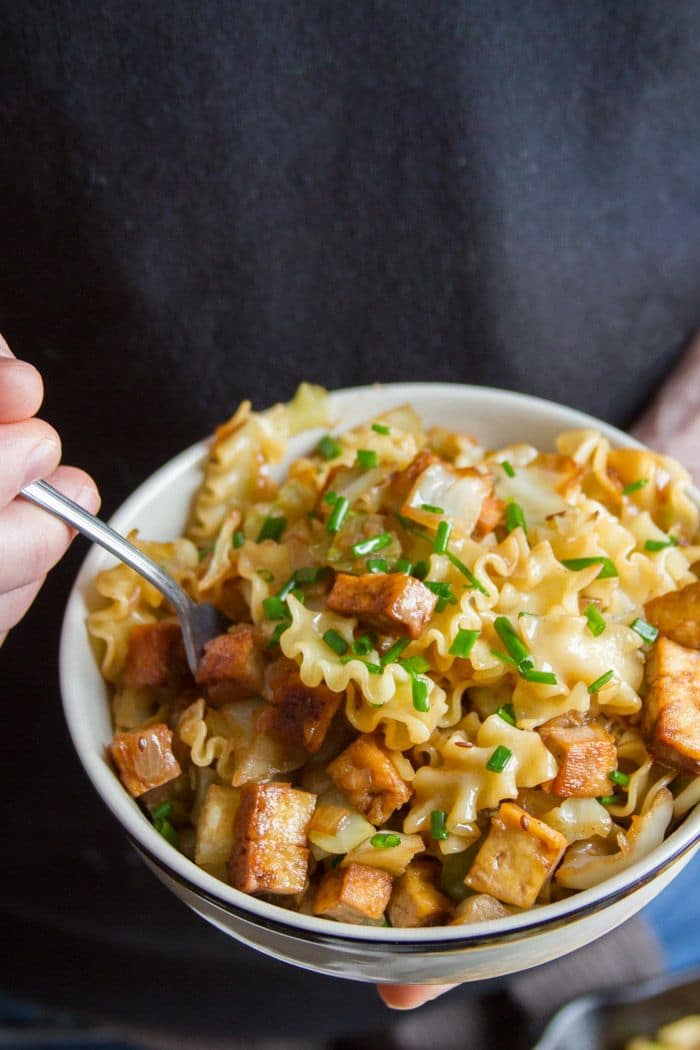 This Vegan Haluski with Smoky Tofu by Connoisseurus Veg is a delicious and comforting meal. This recipe features stir-fried cabbage and onions mixed with noodles, sauerkraut, and smoky tofu.