This is a sponsored post written by me on behalf of V8 Protein. All opinions are 100% mine.
Yep, I'm one of those who actually enjoyed drinking a can of the original V8—you know, the one that was fully loaded tomato juice. Then came their V8 Splash line and I was hooked on the Berry Blend. Now V8 has a new line of V8 Protein shakes and bars and I'm once again a fan.
.
.
It's kind of nice when you can curb those cravings and get a boost of energy from ingredients you're familiar with like honey and brown rice. For example, V8 Protein Shakes blend dairy, soy, pea, brown rice and quinoa proteins with sweet honey and sugar for a great on-the-go (i.e., late-for-the-gym) breakfast. V8 Protein Bars blend soy protein, nuts, oats and spices so you have a delicious snack during those crazy busy hours between lunch and dinner. The protein shakes come in Chocolate, Vanilla and Chocolate Raspberry. They offer 12 grams of protein, 3 grams of fiber, a quarter cup of vegetables and as much calcium and Vitamin D as a glass of milk…all without high fructose corn syrup.
Let's take a closer look at all that V8 goodness…
.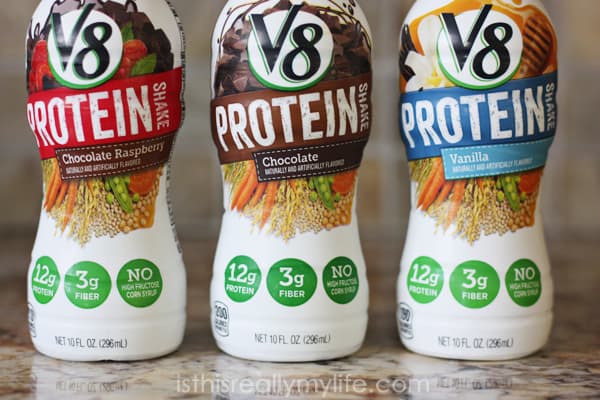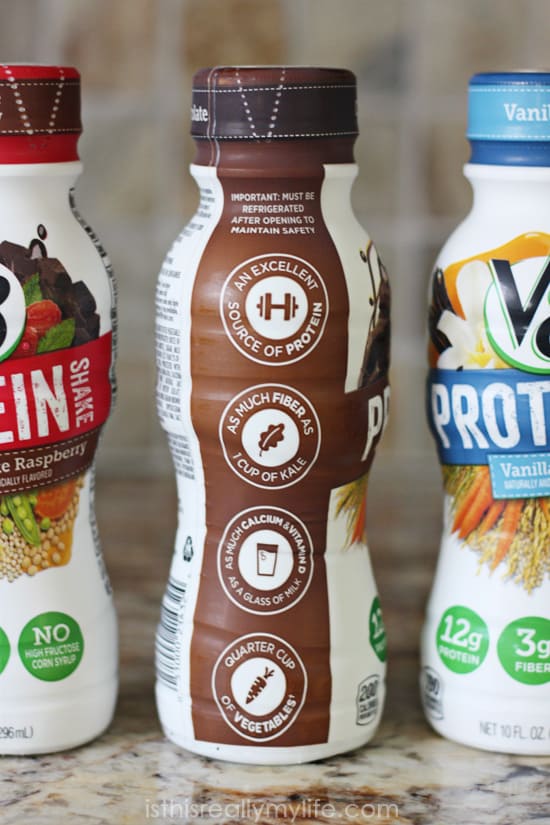 .
Did you catch that part about as much fiber as a cup of kale? I would SO much rather get my fiber via a delicious chocolate protein shake (and the chocolate is definitely my favorite) than a cup of kale, but maybe that's just me. Now for those V8 Protein bars. Those babies come in Chocolate Peanut Butter, Chocolate Pomegranate and Oatmeal Raisin. They provide 10 grams of protein, 5 grams of fiber and a quarter cup of vegetables and taste great without the addition of high fructose corn syrup.
Let's zoom in a bit…
.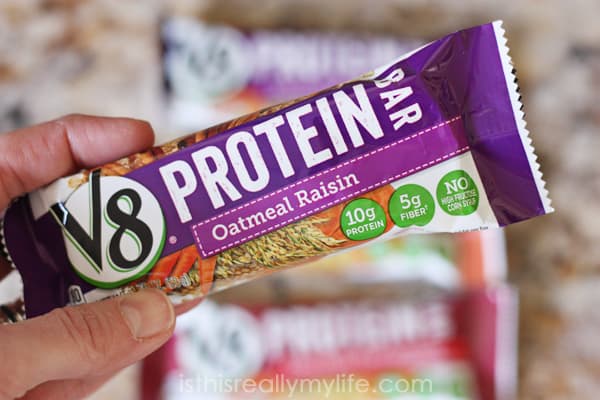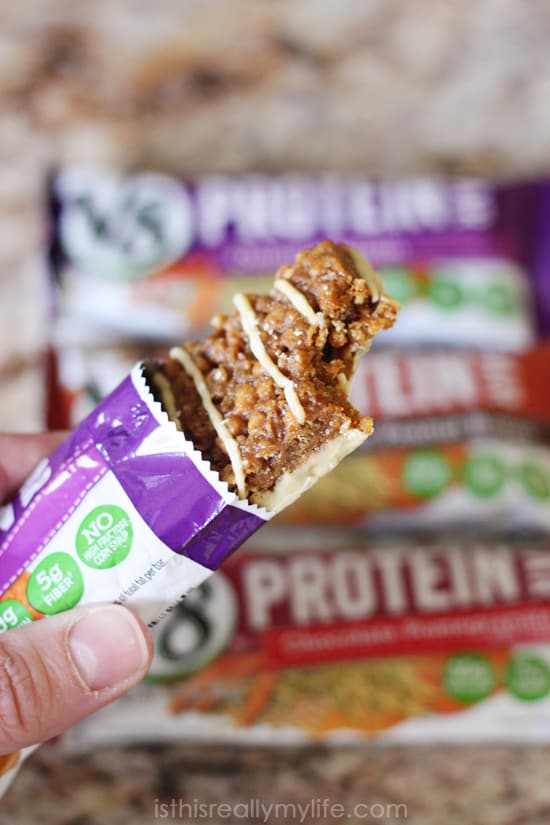 .
The Oatmeal Raisin was for sure my favorite. It tasted just like a frosted oatmeal cookie but slightly less decadent. I find it the perfect snack between breakfast and lunch on spin class days. It helps battle crazy snack cravings, which is good because my freezer always seems to have a batch of cookies hidden in its depths. It would be worth your time to learn more about V8 Protein bars and shakes. They just may be the energy you've been looking for. Nothing but good stuff in those bars and shakes. V8 Protein Bars and shakes can be purchased online on Amazon (Buy now!). You can also find them in your local store's health and beauty aisles.
.