Disclosure: The following post is sponsored by FitFluential LLC on behalf of the Cherry Marketing Institute. All thoughts, opinions and recipes featuring tart cherries are 100 percent honest and all mine.
A couple weeks ago I wrote my first post about tart cherries—the post in which I admitted to never hearing of tart cherries or tart cherry juice before participating in the 7-Day Tart Cherry Juice Challenge?
It featured my latest healthy snack addiction, cherry chocolate chip protein bites. You know, these delightful bundles of goodness: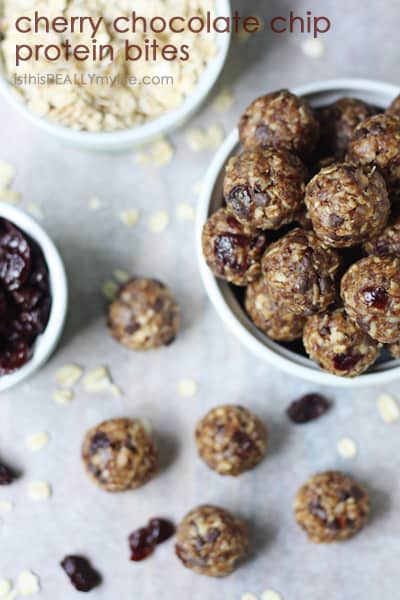 Well...guess what? I'm back with another good-for-you recipe involving tart cherries. This time I took the tart cherry juice concentrate and created a rather delightful tropical tart cherry smoothie.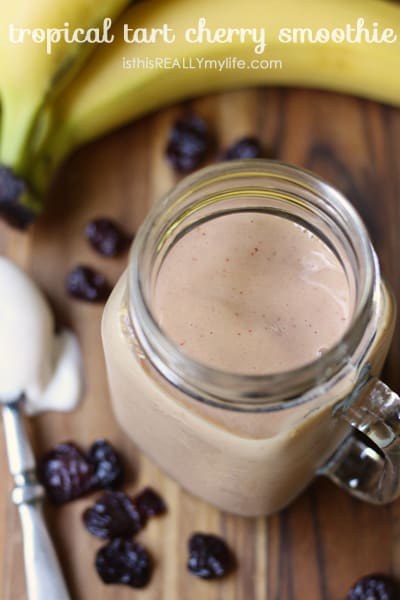 This tropical tart cherry smoothie combines the refreshing tartness of tart cherry juice concentrate, frozen tropical fruit, almond milk and Greek yogurt. You can throw in a half banana to thicken the mixture and add a bit of magnesium, vitamins C and B-6.
You'll find the recipe for this tropical tart cherry smoothie at the end of the post.
...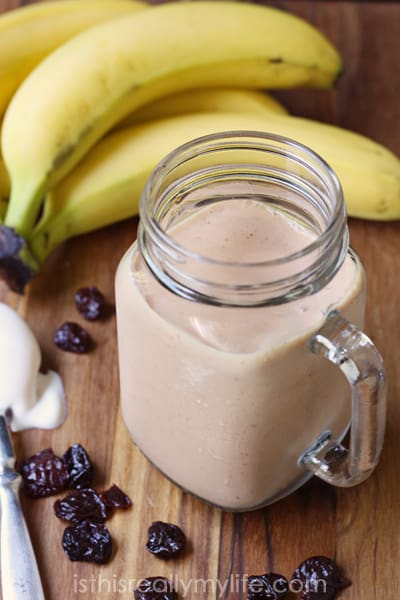 Now it's time to remind you why I think tart cherries and tart cherry juice are so awesome.
Do you remember the research suggesting tart cherry juice may help ease muscle pain associated with intense exercise? I was all over that 7-day challenge, hoping it would help my sore hips and knees after some treadmill work.
I drank 8 ounces of tart cherry juice twice a day for 7 days. And just like the research indicated, I experienced less inflammation and muscle soreness post workout. Rather than aches and pains requiring ibuprofen, those same aches and pains were hardly noticeable.
But I wanted to make sure the tart cherry juice was really helping, so after those seven days I went off the tart cherry juice for a full week. And I'm here to tell you, my joints feel the difference. More recovery time post Zumba (hey, I really bust a move!) and I didn't realize the tart cherries were helping my shoulders in yoga. So now I'm going back on the juice, especially with my 40th birthday just around the corner.
If only tart cherry juice reduced the appearance of fine lines, wrinkles and age spots.
You should try the 7-Day Tart Cherry Juice Challenge. You can find tart cherry juice and tart cherry juice concentrate at stores like Whole Foods, Trader Joe's and your local grocery store.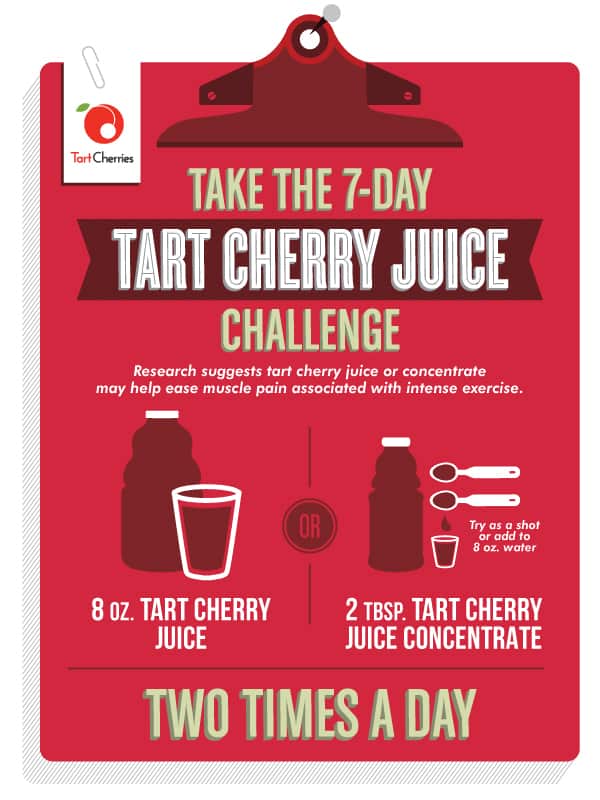 Printable recipe for tropical tart cherry smoothie below.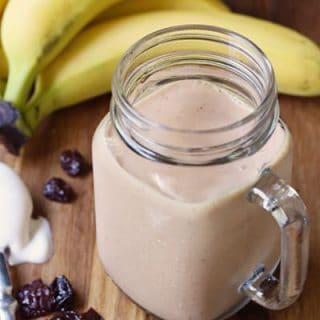 Tropical Tart Cherry Smoothie
This good-for-you smoothie combines tart cherry juice concentrate with frozen tropical fruit, Greek yogurt, almond milk and banana (banana is optional).
Ingredients
1 cup unsweetened vanilla almond milk
1/4 to 1/2 cup Greek yogurt
1 tablespoon tart cherry juice concentrate, to taste
2 cups frozen tropical medley (pineapple, mango, strawberry)
1/2 banana (optional)
Instructions
Place almond milk, Greek yogurt, cherry juice concentrate, frozen tropical medley, and banana in a blender in order listed. Blend on high speed (or smoothie setting).
Add more almond milk until mixture reaches desired consistency. Add more tart cherry juice concentrate to taste. Serve immediately.
Notes
FOLLOW HALF-SCRATCHED ON INSTAGRAM (@half_scratched) and share the recipes you're whipping up in the kitchen. Don't forget the #halfscratched hashtag so we can see what you've made!
Nutrition Information:
Yield:

1
Serving Size:

1
Amount Per Serving:
Calories:

180
Total Fat:

4g
Saturated Fat:

0g
Trans Fat:

0g
Unsaturated Fat:

4g
Cholesterol:

6mg
Sodium:

63mg
Carbohydrates:

23g
Fiber:

3g
Sugar:

15g
Protein:

14g
To learn more about tart cherries and the benefits of tart cherry juice, visit ChooseCherries.com. You can find more tart cherry goodness on Facebook, Twitter, Pinterest and YouTube.