Post may include affiliate links to support my Diet Coke habit.
Saturday was my 41st birthday. Somehow my spin class instructor talked a few of us into signing up for our rec center's annual sprint triathlon, the I Can Tri Challenge. It's a great sprint triathlon for beginners because it's a smaller tri with a very supportive, friendly atmosphere. Granted, there are plenty of seasoned racers (more so this year than years past), but it's not nearly as intimidating as other triathlons and doesn't require a wetsuit…always a bonus.
Have you tried peeling off a wetsuit in under 30 seconds? I dare you to try it.
My first triathlon was five years ago and was followed by three more that summer. (You can read about my transition from marathon to triathlon here.) The next year I did only one, and while I participated in a couple bike rides (Goldilocks, Little Red), that was my last triathlon until this summer.
Yes, I trained but not nearly as consistently as 2010. Isn't it funny how life—and your priorities—change over time? Five years ago, nothing would get in the way of my workouts. This year, if I had a better offer, you better believe I didn't get in a run that day.
So I set my expectations low (or so I thought) telling myself all that mattered was crossing the finish line.
Because really, that's all that matters.
.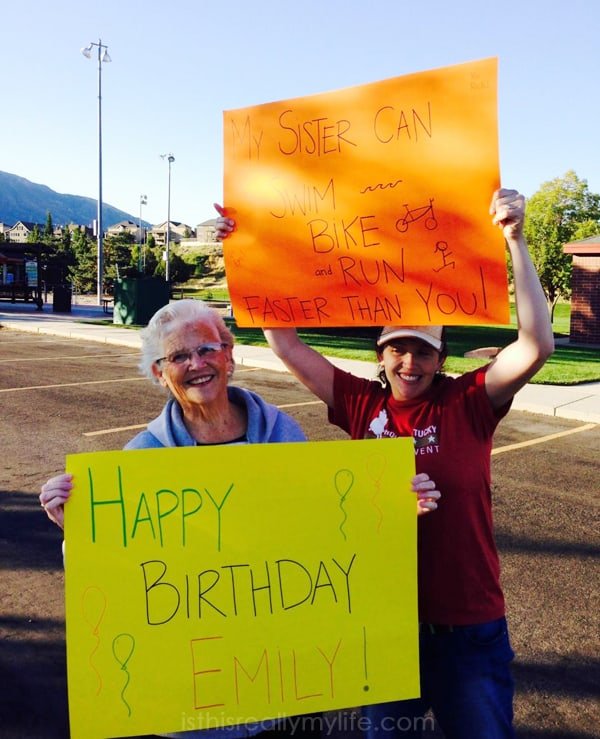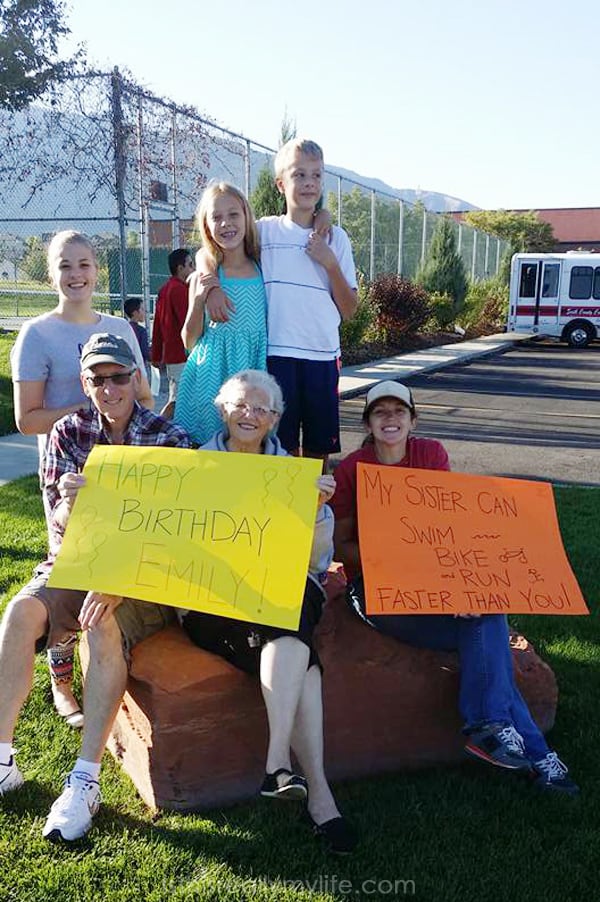 .
And cross the finish line I did. Five minutes slower than five years ago. And 40 seconds behind the third-place finisher in my age group.
*sigh*
Apparently I'm still fairly competitive and expected similar results to 2010…you know, when I'd already completed three triathlons and was 36. Of course I shouldn't have expected that, but I still beat myself up about all the little failures during that 1:17.01 minute race: my slow T1 (first transition) and then my slower swim, slower bike and slower run. Family and friends, doing what family and friends do best, told me to knock it off because, HELLO, I'd competed in—and finished—a triathlon. On my 41st birthday.
Yet here it is two days later and I'm just barely getting over the disappointment. That means I spent two days not fully celebrating the accomplishment, not appreciating the fact I was 41 with a healthy, strong body and definitely not seeing the big picture. The one where I swam 400 meters, biked 9 miles and ran 3 miles.
And that's the lesson I apparently still need to learn. How many times have I failed to truly celebrate an accomplishment because all I see are tiny failures along the way? Sure, I crossed the figurative finish line, but I should have crossed it sooner. And in first place. With a shiny gold medal. Friends and family are cheering because, DUDE, an accomplishment! But don't they know my swim was lame, my transitions messy and my running shoes slow?
No. They don't know, and even if they did, they wouldn't care because they see the big picture. The one where I did something pretty amazing. The one where I crossed the finish line. WITH MY KIDS.
.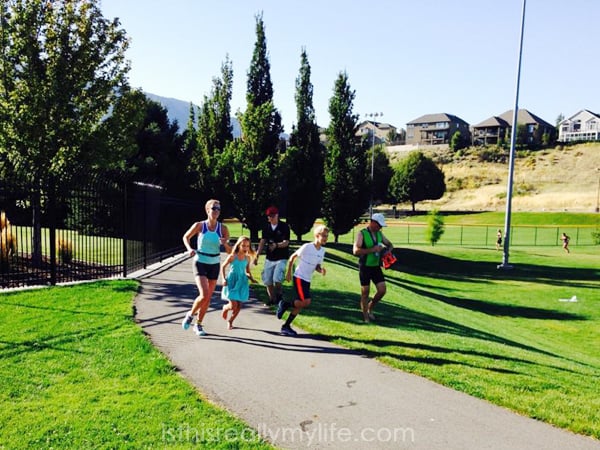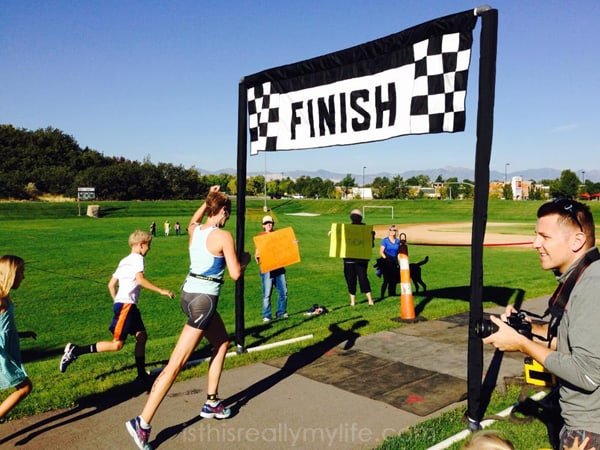 .
They could care less about my time or my place because those things don't matter, not in the grand scheme of things.
If I ever fail to fully celebrate an accomplishment, I'm going to remember the woman in my spin class who competed in the I Can Tri Challenge. It was her first triathlon and she was terrified. She was still on her run when I passed her in my minivan headed home. I cheered her on knowing it didn't matter if she came in first or last because she was going to cross that finish line having accomplished something amazing.
I saw her in spin class yesterday and she was still on a high—a high I should have been riding all weekend.
Let's hope I've learned my lesson because I'm not sure I'm up for another triathlon to prove it.
If you're thinking of "tri-ing," here is some of my favorite gear:
.
I have a favorite running shoe but because everyone's build is so different, I recommend going to a running store and getting fitted for running shoes. You—and your knees and your hips—won't regret it.
I wear a tri tank and shorts that go from pool to bike to run but a tri suit isn't necessary. Many people wear a swimsuit and throw on a shirt and shorts for the ride. Also, you don't need a super fancy bike to participate in a sprint triathlon. I've seen mountain bikes and 20-year-old bikes. A road bike is easier but if you're not ready for the investment, don't make it! If you are, visit a local bike shop. Not only are you supporting local business but those guys totally know their stuff. Nathan bought mine at Salt Cycles (happy Mother's Day to me!); I still adore my powder blue 2010 GT Series 4.
If you're thinking of getting into triathlons but have questions, feel free to leave them inthe comments below and I'll do my best to answer them. I may not do a ton of tris but I have learned a thing or two (other than celebrating the finish).
.


Feel free to "like" is this REALLY my life? on Facebook. It won't always earn you an extra entry in a giveaway but it will give you warm fuzzies.
Don't forget to sign up for free is this REALLY my life? updates via RSS or email so you don't miss a single awesome post.
.