Disclosure: American Idol Productions treated me to an all-expense paid trip to Hollywood Week. All thoughts, opinions and behind-the-scenes photos are 100 percent honest and mine.
…
…
Let's be honest. If you knew Harry Connick Jr. was a judge this season, your top 10 list would look something like this:
…
Top 10 Reasons to Watch American Idol Season XIII
Harry Connick Jr.
Keith Urban and Jennifer Lopez.
Phenomenal talent.
Harry Connick Jr.
Family-friendly entertainment.
Harry Connick Jr.
Harry Connick Jr.
Less focus on bad auditions.
Amazing chemistry among the judges.
Harry Connick Jr.
…
But in all seriousness, Harry Connick Jr. is the main reason I'll be watching.
…
Touted as the "Simon" of American Idol Season XIII, Harry doesn't mince words when it comes to judging Idol contestants, yet he does it without an ounce of sarcasm or meanness.
I can't say the same for his predecessor.
…
…
Harry* has seriously classed up American Idol with his handsomeness vast musical education and training. He is all about the voice, not the backstory. When I tell friends and family that little piece of information, I hear "hallelujah" every time.
Sometimes I even hear "halle-freakin-lujah!"
Though Harry is reasons 1,3, 5, 6 and 10, the other reasons are no less important. Keith Urban and Jennifer Lopez make for a well-rounded judging table. Though nicer (i.e., more cheerleader) than Harry, they bring valuable industry insights to the table without the egos and drama found in past seasons.
Can I hear another "hallelujuah"?
And the talent. OH MY, THE TALENT. We had a sneak peek of the Idol premiere and I'm here to tell you, American Idol Season XIII has talent in spades.
…
…
I've already picked a few favorites. And no, I'm not going to tell you who they are. You will have to see—and hear—them yourself on January 15th and 16th.
I was able to watch some of the group performances and listen as the judges gave their feedback to those hopeful contestants. I'm not gonna lie. Watching firsthand as some were sent home was extremely hard. I can only imagine how it was for the parents sitting in the audience.
Family friendly? Totally. I can't wait to watch the show with my kids thanks to a more positive, wholesome vibe. You won't find Steve Tyler giving a contestant a golden ticket simply because she's wearing a short skirt (thank heavens) and you won't see the humiliation of less-than-stellar contestants found in seasons past.
This season has "feel-good family entertainment" written all over it. And this family will be watching.
* Yes, I call him Harry. We're pretty much BFFs after I snapped this photo just outside his dressing room.
…
Official American Idol Twitter party TODAY (1/13) @ 4:00 p.m. PST!
Follow along using the hashtags #IdolPreParty and #IdolTweethearts.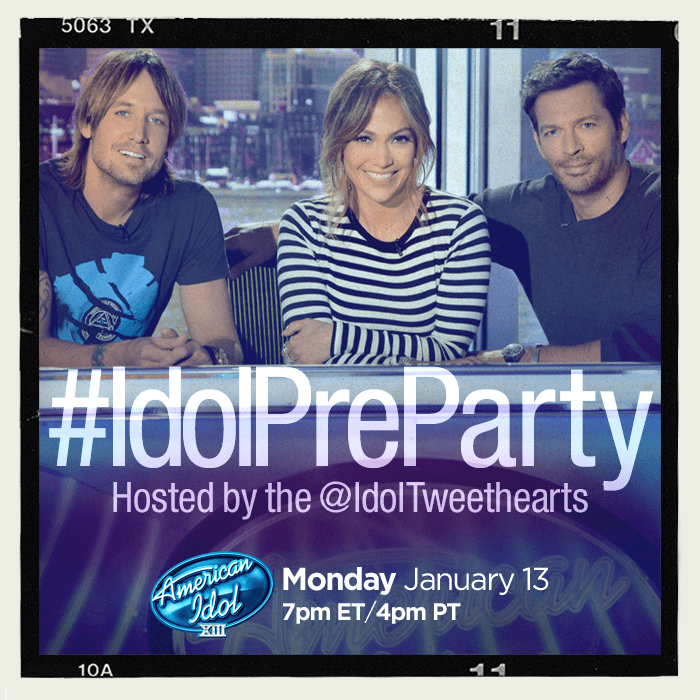 …
If you want to keep up with the IdolTweethearts, you can find us on Facebook and Twitter. You can also follow the hashtag #IdolTweethearts.
…


Feel free to "like" is this REALLY my life? on Facebook. It won't always earn you an extra entry in a giveaway but it will give you warm fuzzies.
Don't forget to sign up for free is this REALLY my life? updates via RSS or email so you don't miss a single awesome post.
…