If you're a longtime friend then you know I'm a huge fan of eBay. I've been buying and selling on eBay for close to 15 years.
The buying came first; the selling quickly followed to support said buying.
During those years I experienced a few favores. Here's a top 10 list of my most favorite eBay memories in no particular order (though I have to say that last one is probably the best).
…
Top 10 eBay Favorites
Favorite holiday-themed purchase: Cheesy but oh-so-cute Halloween dress with matching tights for Madison. If I remember correctly, this was also my very first eBay purchase so it's extra special.
Favorite sale (because it was my biggest sale): Vivienne Tam HP Mini 1000 netbook.
Most indulgent purchase: Kate Spade Flicker Ellie black clutch for my 20-year reunion this weekend. It's absolutely beautiful.
Most necessary purchase: Spare TY Beanie Babies for my kids. They each had a special Beanie Baby and I learned the hard way how poorly they sleep if they lose it. Now I have at least 1 or 2 backups.


…





…

Favorite garage sale item that turned a profit: Garmin Forerunner 405 Black Sports GPS Receiver (all it needed was a charger; ended up with about a $30 profit after buying one on Amazon.com).
Most surprising sale: Broken Nintendo DS (sold it for over $15 even though the touchscreen didn't work)
Favorite repeat purchase: Schwarzkopf Osis Freeze Finish Strong Hold hairspray.
Cheapest purchase (also a repeat purchase): Silicone gel cell phone cover.
Silliest purchase: Halloween tutu for our dog Coco.
Favorite message found in my eBay inbox: "you are the hottie ebay seller that ı have ever seen :)"
What you don't see on the list are my two latest favorites, the new eBay logo…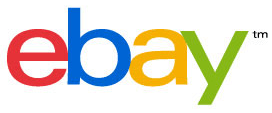 …and their eBay Thanks You campaign. Prepare to be inspired. (How can you not? It's Michael J. Fox for heaven's sake.)
…
…
This is just one of series of videos detailing the good that has come from buying and selling through eBay Giving Works. In 2011, the eBay community raised $63 million to help support non-profits.
I bet you had no idea eBay was doing so much good along with all that buying and selling.
The new eBay Thanks You campaign is a way for eBay to give back to its community. Here are some ways they'll be thanking eBay users from October 16 through November 6:
Enter to win daily and weekly prizes including iPads, home entertainment systems, and a new car.
Hear about extra-amazing Daily Deals.
Get inspired by stories from members of the eBay community.
…
Plus eBay is offering special thank-you prizes for eBay sellers like FREE listings for a year, FREE pass to an eBay Business Boot-camp and FREE 2-month eBay Stores subscription.
I have to admit I like when people thank me for stuff. I'm sure I contributed at least $4.35 to that $65 million.
Perhaps it's time I did more…kind of like this cute couple.
…
…
As part of this campaign, eBay will pay it forward with a special $50,000 grant to one of three non-profits who use the site most effectively. And the community will vote to pick the winner.
Get involved, support the cause and start building your Top 10 eBay Favorites list.
Disclosure: As an eBay Parent Panel member, my eBay-related posts are sponsored by eBay. My opinions, thoughts, views and love of buying and selling (basically selling so I can buy) on eBay are mine, all mine. And yes, I really do the eBay thing; check out my eBay seller ID: emihill.
…


Feel free to "like" is this REALLY my life? on Facebook. It won't earn you an extra entry in any giveaway but it will give you warm fuzzies. Even better.
Don't forget to sign up for free is this REALLY my life? updates via RSS or email so you don't miss a single awesome post.
…