Cheesy in a totally good way. I do have teenagers, after all.
Wait, what was I saying? Oh yeah, something about cheese…
I'm all about after-school snacks, especially if they involve baked goods like the week of cookies I featured when my kids started school. But let's face it, cookies aren't always the healthiest choice for after-school snacks; even I like something with a bit more nutritional value…most of the time. When I heard about the Tillamook campaign to promote healthy school eating habits, it got my rusty snack wheels turning.
The campaign supports Feeding America, the nation's leading domestic hunger-relief charity, and for every recipe/tip/inspired snack posted on Tillamook's Back to School tab, Tillamook will donate $10 and enter the poster (i.e., the person who posted the tip or recipe, not an oversized piece of heavy-duty cardstock) to win a yummy orange backpack full of all-natural Tillamook goodies.
Being a huge fan of eating donating, I turned those rusty snack wheels round and round until I came up with two fun and healthy after-school snacks.
Look how excited Madison was to try them out:
And who wouldn't be? We're talking cheese and pepperoni stackers and mini banana sliders with a side of grapes. Don't forget the tall glass of milk to wash it all down!
Here's what you'll need to make these after-school goodies:
Cheese & Pepperoni Stackers
Whole wheat Ritz crackers
Medium cheddar cheese, sliced*
Turkey pepperoni
Sliced olives
* We've fallen in love with Tilla-Moos, Tillamook's new pre-packaged medium cheddar cheese snacks. In fact, my kids pretty much ate our friends' entire bag while on vacation at Lake Powell. If you slice a Tilla-Moo in half, it's the perfect size for these stackers. And yes, I became a fan of Tilla-Moos long before this post.
Mini Banana Sliders
Bananas, sliced thick
All-natural peanut butter
Mini graham cracker squares
…
Who knew healthy could be healthy AND delicious AND fun?
…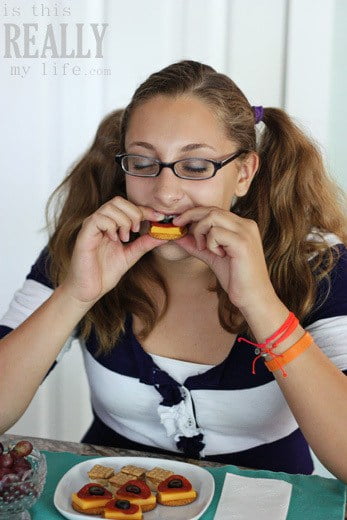 …
I bet you already have some fun ideas to share with other Tillamook fans. In fact, I'm sure of it because my readers are super awesome like that and love supporting a worthy cause.
If you're ready to submit your recipe (or tip or advice), visit Tillamook's Facebook page and click on the Back to School tab. You'll be able to submit your fab idea and check out all the cheesy news, recipes, photos and tips posted by other fans.
By the way, my friend Carrian over at Oh Sweet Basil posted a yummy recipe for frozen banana pops as her healthy and delicious after-school treat—check it out!
Remember, for every one who participates, Tillamook will donate $10 to Feeding America and enter you to win that safety orange Tillamook backpack!
BONUS!
Use coupon code BACKTOSCHOOL for 15% off your Tillamook purchase from now until September 14th.
If you want to join in the live twitter chatt during the campaign, use the hashtag #backtoschool and tweet with @tillamookcheese and @feedingamerica.
…


Feel free to "like" is this REALLY my life? on Facebook. It won't earn you an extra entry in any giveaway but it will give you warm fuzzies. Even better.
Don't forget to sign up for free is this REALLY my life? updates via RSS or email so you don't miss a single awesome post.
Disclosure: Tillamook provided our family with a spiffy orange backpack full of Tillamook goodies. But they didn't need to because we'd buy Tillamook goodies even without coupons.
…