I really, really do have some great posts in mind for this week but all-too-common strep has the odds stacked against me. I don't have it but my girls have been fighting it since last weekend. We're on our second round of antibiotics so keep your fingers crossed they'll work. I'm sick of co-pays and obnoxious waits at the pharmacy.
Those deep posts will have to wait, so thank heavens Kalli took time out of her super busy schedule (said in all seriousness; wanted to clarify in case you thought I was being sarcastic) to post a follow-up of today's quilting bee in support of Haiti. Wait, I just realized when you read this post it will be Tuesday. Just pretend it's late Monday evening…
We headed down after picking up some batting from Jo~Ann's (who knew there were different kinds of batting? thank heavens someone was kind enough to tell me I didn't know what the heck I was doing and point me in the right direction) and showed up with batting, brownies and kids in tow. My two were unbelievably well behaved, probably the result of a sugar coma after a couple cupcakes and a large donut, and the time went quickly. I was even lucky enough to run into Becca and an old friend from high school. (Stephanie, you're freakin' awesome!)
Here's a photo I snagged from Kalli's post showing me in a super flattering pose with Becca on the right, and on the left, the aforementioned high-school friend holding the yummiest little baby: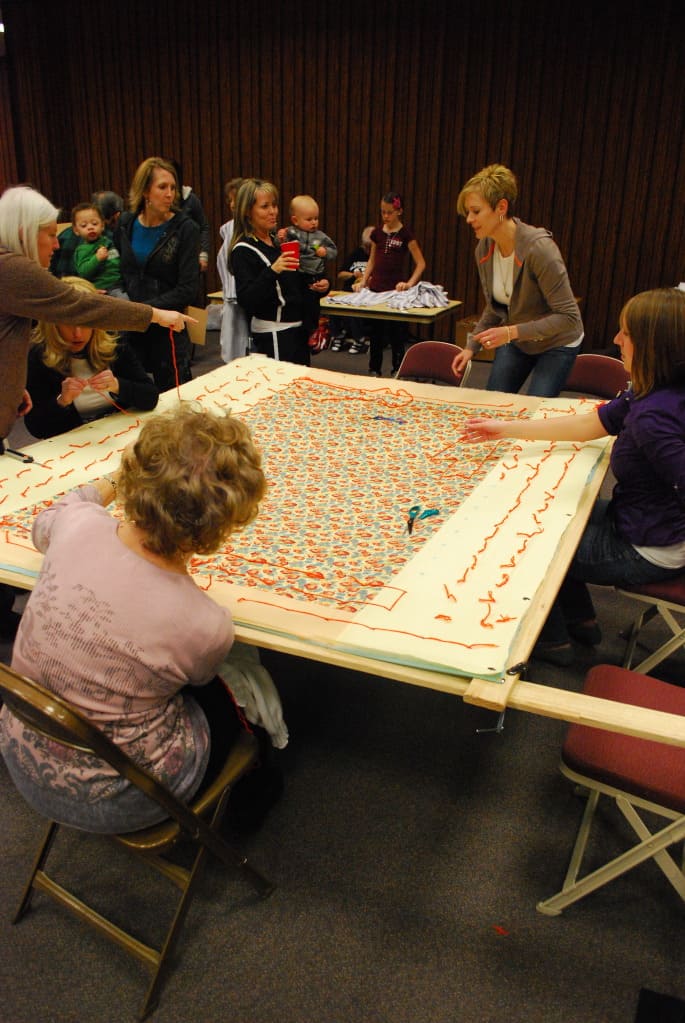 By the way, if you want any suggestions on posing for photos, I'm your gal. I obviously have it down to a science!
Along with discovering I do remember how to tie quilts and can fold receiving blankets like a pro, all while making sure my children stayed sugared up and within the confines of the multipurpose room, I also discovered Sue's blog and her new "Not Necessarily Just Utah Bloggers But Also Real Life Friends Who Are Not Bloggers Plus Random Facebook Friends and Relatives Who Like to Eat and Do Painless Service clique." Curious? I suggest you check it out AND subscribe. You might laugh so hard milk comes out your nose. (Milk didn't come out my nose but half of my Sonic 44-ounce Diet Coke with vanilla almost did.)
I wish I could've stayed longer but Livi was minutes away from a sugar coma and I wanted her in bed at home when it hit so I could get some work done. (Didn't happen anyway since it was only an hour before our trip to the doctor—he actually has a room with a "Strep St." street sign on the wall. I seriously LOVE our pediatrician…also said in all seriousness.) I had a wonderful time and am so impressed with how many people showed up to show their support by tying, folding, cutting, surging (is that even a word?), baking and even delivering pizzas. It made for a busy day but also a warm-fuzzy sort of day, and I don't experience those nearly often enough. Thank you, Kalli!
Photo by Kalli from My Life as a Kalli