It wasn't too long ago—okay, it was only like two days ago—I felt super guilty about how long it took me to get around to posts like the ones for Evonne's baby shower (and my super awesome cupcakes) and Parts 1 and 2 of The Raw Melissa project. But then a good friend of mine pointed out to me that I take a lot of time writing my bigger posts. The photos take a while to edit and the posts take a little while to write. So now I'm not feeling quite so lame, though I still feel a little lame but that's normal everyday lameness. Nothing new there.
My point? I'm finally writing Part 3 of The Raw Melissa Project and I refuse to feel bad it's taken me so long. So there. (Can you hear me sticking out my tongue and going "ppppppbbbbbbbbtttttttt"? Good.)
Back in March my good friend Steph, the winner of the Raw Melissa giveaway in Part 1 (yes, it WAS a coincidence—don't even go there), and I headed to Melissa's Fresh Food Demonstration Workshop at Blue Lemon Bistro in Highland.
...
The workshop was taught by Melissa and her boyfriend, Chef Christopher Stefanciw and was a five-hour eye-opening, "hey, I can do that!" and "have you ever seen so many fruits and veggies in one place" learning experience for both Steph and me. (You can read about Steph's experience here.)
...
Those five hours seriously flew by as I watched Melissa and Chris slice, dice, puree, blend, prep and serve an amazing collection of recipes: salads, condiments, entrees and desserts.
...
I had my favorites of course (Spinach & Red Pear Salad, Strawberry Salad, Almond Butter, Apple Corn Lettuce Wraps and Apple Crisp) but every dish was yummy and best of all, fresh! I took a ton of photos—way too many to include in this post so I put together a couple slideshows to show you what you missed. Here are some snapshots of the Melissa, Chris and a few class members (yes, that's my friend April from Sweet Life in the Valley and the super cute girl with the super cute haircut is my new friend Jennifer from Delightful Delicacies):
...
And here are the mouthwatering photos of the dishes made and sampled (and thoroughly enjoyed) during the Raw Melissa workshop:
...
Throughout the class we also heard about fabulous CSAs, great places to stock up on things like bulk nuts, natural sweeteners and oil and helpful tips and tricks in the kitchen. You should see Melissa attack a mango! Who knew there was a special way to slice and peel those babies?
Of course I can't share with you all the recipes from Melissa's class (you'll have to wait for an upcoming workshop in the fall OR her new cookbook debuting in June) but Melissa did give me permission to give you the recipes for her Strawberry Salad and Chocolate Fudge. You can thank me later. And then thank me again.
Strawberry Salad
1 head romaine lettuce
1 orange or tangelo
1 pint strawberries
Dressing
1 cup frozen strawberries, thawed
1 T honey to taste
1 splash balsamic vinegar (optional)
Cut romaine into strips and arrange on four plates. Peel, section and cut orange or tangelo into bite-size pieces. Slice strawberries. Arrange fruit on top of romaine. Blend all dressing ingredients in a blender. If necessary, add a small amount of water or orange/tangelo juice to make blender run smoothly.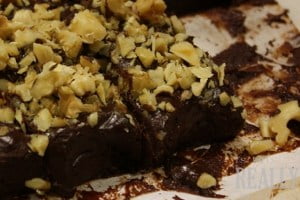 Chocolate Peppermint Fudge
1 cup cocoa powder (unprocessed is best)
1 cup agave
1/2 cup coconut oil
1/3 cup chopped walnuts, almonds or filberts
5 to 6 drops peppermint essential oil (optional)
Put cocoa powder, agave and coconut oil into a food processor and process until smooth. Use a rubber spatula to scrape into a pan lined with wax paper. Top with nuts. Freeze for at least two hours. Cut into squares and serve. Store in freezer.
If I sound a bit biased in this review it's because I am. I love Melissa (and you too, Chris) and all that she is doing, from her Raw Melissa food line found in Good Earth Natural Foods and Whole Foods to her fabulous work as a doula. How could you not lover her? She's beautiful inside and out. I can't help myself—these two are great. Just look at this all-natural power couple:
...
I mean, how could you not? He even helps her with her chapstick:
...
Oh, and I couldn't wrap up Part 3 without another shout-out to Jen. She's so dang adorable!
...
Stay tuned for Part 4 (eventually) in The Raw Melissa Project series. I'll be sharing with you some of the changes we've made toward creating a healthier lifestyle for our family. Hint: the changes include a little Green Bee.