Excuses, excuses. I have a ton of them as to why it's taken me so long to get to Part 2 of the Raw Melissa Project but they all sound lame so let's skip my extensive list and get right to it!
A few weeks ago I introduced you to Melissa Chappell, the beautiful, funny, can't-help-but-love-her woman behind Raw Melissa, in "The Raw Melissa Project: Part 1." We compared fridges, freezers and cupboards. Hers had more fruits and veggies (and grains and wholesome goodness) by far. No surprise there!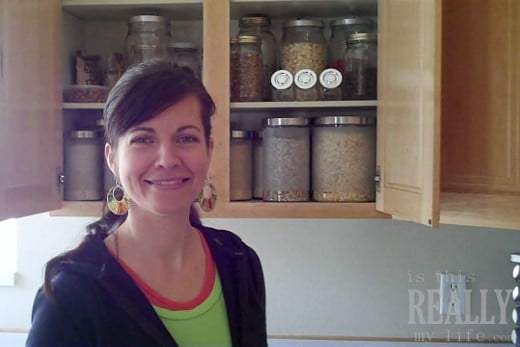 I thoroughly enjoyed visiting Melissa in her home, figuratively sitting at her feet—while holding the Flip video and keeping my kids from destroying her home—and learning about sucanat and kefir and how to keep asparagus longer in the fridge. (You'll learn that in the second video!)
Today you get the wonderful opportunity to learn from Raw Melissa as well as she explains the contents of her bulk cupboard, her fridge and how she makes her healthy, hearty, go-to breakfast.
In the first video you'll learn about sucanat (new to me) and other healthy substitutes for processed sugar. She also may shock you with her take on soy milk and soy products in general. (NOTE: In the video Melissa mentions soy is full of estrogen. She sent me an email correcting what she said stating it's actually full of phytoestrogens.)
In the second video you'll get a tour of Melissa's fridge, which includes artichokes, asparagus, kefir and even the cheesecake I mentioned in Part 1. She'll even tell you how she prefers to cook beets. (I prefer mine from a can--I know, I know. Not the best way to eat them.) You'll also see two "mystery" veggies. Pay close attention to those because they're the subject of today's giveaway!
In the third video Raw Melissa shows you how to make a quick-and-easy breakfast that's sure to satisfy even the sweetest sweet tooth. (I know. I have a sweet tooth and it was really yummy!) I'm talkin' oats, goji berries, pumpkin seeds, blueberries, yogurt, kefir...I'm sure I've left something out so take notes!
The Raw Melissa Project: Her cupboards
...
The Raw Melissa Project: Her fridge
...
The Raw Melissa Project: Her breakfast of champions
...
Did you catch sight of those "mystery" veggies in the second video? I hope so!
On the way home after visiting Melissa I had a couple questions pop into my head I should've asked her at the time, so I sent her an email hoping she'd satisfy my curiosity AND share with me her eggplant parmesan. She not only answered and shared but added in the recipe for that scrumptious cheesecake and her favorite green smoothie. Questions and answers below followed by the aforementioned recipes:
...
Do you ever stop for fast food and if so, what are your healthy choices?
VERY occasionally I'll let my kids get fast food but NEVER burgers and fries. Usually something like a burrito from a locally owned place, NOT Taco Bell. When I'm traveling and if I need something fast I'll go into a health food store or a grocery store and pick up some things like fresh fruit, cheese and bread. The other day my babes and I were on our way to the symphony but we were in a BIG hurry and everyone was hungry. We stopped at a health food store and bought Swiss cheese rounds, healthy crackers, peanut butter and almond butter packets (we had apples in the car) and some mandarin oranges. The kids ate this on the way and felt like it was such a treat!
...
Do you have any secret indulgences that are definitely not healthy?
Not really. My favorite things to eat are fresh fruit, artisan bread and cheese and ethnic food of almost any kind. Since I stopped eating refined sugar regularly (about six years ago), I find I just don't crave it now. I have cravings for something sweet every now and then and I will eat some of my macaroons or another treat like my boyfriend's brownies (sweetened with sucanat and made with unbleached organic flour). That said, when I'm in a restaurant sometimes I'll splurge on dessert. When I'm in another country, I often eat off the street vendors and when I'm in a friend's home, I eat what I'm given and relish every bit of it because it's offered to me in love and gratitude. Those occasional indulgences will not make me sick but allow me to live life. I'd much rather experience another culture (be it in another country or at someone's home) than to stick to a strict diet.
...
What are your two or three favorite things to buy at Good Earth, Whole Foods, Pirate O's and any other specialty stores?
Fresh fruit, fresh fruit and fresh fruit! I also love fresh veggies and avocados, artisan breads and cheeses. And because I love to cook, buying components for recipes really excites me: local farm eggs, herbs and spices, exotic grains and butter are a few of the things I love.
...
Because you use agave and maple syrup a lot, where is the best place to buy those items?
I also use honey a lot and I like getting that at the farmers market. You can also purchase honey throughout the winter from local honey producers. There are a lot of them! Just search honey and your area and you're sure to find several. The maple syrup is an east coast product so I try to use it a lot less, but I've found the cheapest place is one of those big-box stores like Sam's or Costco. Agave can be found at any health food store but can get expensive if you buy it in small quantities. I always buy gallons. It's a lot, but it doesn't go bad quickly, especially if you keep it in a cool place.
...
What do you drink? Do you ever drink sodas? (I think I already know the answer to that one!)
I really don't drink anything but water and sometimes herbal teas in the winter, and seriously, I NEVER drink soda. It's liquid sugar and add to that the other chemicals and preservatives and dyes and you've got a recipe for an early death. I know it sounds harsh, but that's really the way I feel about soda. It always feels weird when people ask me this question because I forget that other people actually have "drinks" throughout the day. It just seems weird to me (but then, I'm unconventional). I'd rather be well hydrated and then eat actual food for my energy needs.
...
Do you do the food storage thing and if so, what kind of foods do you stock since you're all about "fresh" and unprocessed?
Mostly what I have is dried fruits (which can be hydrated) and tons of different grains; flour to make bread; and seeds. Seeds are really important because fresh leafy greens are what we miss from our diets when we don't have regular access to a grocery store. I have all kinds of gardening seeds that take a whole summer to grow, but also sprouting seeds which take only a few days to be delicious and nutritious sprouts.
Also, a good cold storage place like a basement or unfinished concrete area is really important for storing things like potatoes, garlic, apples, onions, squash and other hardy foods. You can keep these things for quite a long time if you store them cold enough. For example, I have 81 pounds of apples in my garage that were picked in September. They're a little older and not as flavorful but they will be good until at least May. They're good for things like apple pies and crisps, chutneys and even some fresh eating.
Squash are amazing sources of nutrients and with the proper storage will stay edible for a good nine months or so. I know many people are trying to have enough food storage on hand for two years. These fresher veggies obviously won't be good for two years in cold storage, but if you have garden seeds you will be set to have fresh food, even if you're out of work or there's no food in the grocery stores for a good long time.
My number one recommendation for food storage is to have grains (all of which are sproutable) and a good collection of seeds, dried fruits, beans, nuts and cold storage items at all times and of course spices and seasonings and fats like olive oil and coconut oil. Here are some examples of some things you could make with that kind of storage:
Apple butternut squash soup or casserole
Roasted potatoes
Homemade breads
All kinds of soups
Pasta tosses (noodles, garlic, red pepper flakes, olive oil, dried tomatoes, olives)
Green salads (greens grow really quickly even in the windowsill)
Beans and rice with lots of delish spices and seasonings
Squash and bean casseroles (what the native American Indians used to eat all the time)
...
And now for the recipes!
Green Smoothie
1-2 C spinach
3 C frozen blueberries
2 C orange juice
1 mango (peeled unless you have an awesome juicer)
Blend and drink.
Note from Melissa: Here is a great green smoothie recipe that I've given to so many people. Every time someone drinks it, they are astounded at the flavor considering it has greens in it.
...
Cheesecake
Crust:
1 1/2 C graham crackers (buy these from a health food store to ensure you're getting quality ingredients)
6 T melted butter (organic)
2 T sugar (sucanat or turbinado)
Press into a pie pan.
Filling:
3 8-oz. pkgs softened cream cheese (if you can find good quality organic cream cheese, GREAT!)
3 eggs (farm fresh local if possible)
2 c least processed sugar you can find (sucanat or turbinado)
3/4 tsp. vanilla (not the kind with sugar in it)
Beat with mixer until smooth. Pour into crust. Cook at 300 degrees for 60 minutes or until the middle is not jiggly and the top has started to crack. Smash fresh or frozen raspberries or strawberries with a little sucanat and drizzle over the top.
Note from Melissa: This isn't good for you in large quantities but just a slice won't hurt. It will make you feel happy and not deprived.
...
Eggplant Parmesan
2 medium eggplants
3/4 C milk (use a good locally produced raw milk if possible)
2 C fine whole wheat bread crumbs or wheat germ (I like to use half and half)
1 tsp. dry basil
1/2 tsp each oregano and thyme
1 jar of spaghetti sauce good quality without sugar) or homemade tomato sauce
1 lb. mozzarella
1/2 C Parmesan
Preheat oven to 375 degrees. Lightly oil a baking tray with olive oil and a 9 x 13 pan or glass baking dish. Cut the eggplants into rounds 1/2-inch thick (you can peel them if you'd like). Dip them into the milk and then into the bread crumbs and place on baking sheet and the pan. Bake until tender (about 20-30) minutes.
Without cleaning the 9 x 13 pan, layer eggplant rounds, tomato sauce, mozzarella and Parmesan. Repeat layering until you run out of eggplant. Bake, covered, for about 40 minutes or until bubbly and tender. Eat and enjoy!
Note from me: I'm super anxious to try this recipe. The one and only time I made eggplant Parmesan it was a total disaster. The poor missionaries who came to dinner that night were troopers—it was awful!)
With all this new information I've already made a few changes in what I buy and how we eat, but I'll save that for Part 4! In Part 3 I'll cover Raw Melissa's healthy food prep class held at Blue Lemon Bistro in Highland. Steph attended with me and has already posted about it in Foodie Friday—Raw Melissa. She's so on the ball! Not sure why she think I'm her life coach. I'm lame.
Taking George and Livi with me to visit Melissa was an adventure. Of course the two thoroughly enjoyed themselves what with Chef Brian's fabulous brownie, Melissa's daughter's cheesecake and Raw Melissa ice cream on the side. What do you suppose George is thinking in the first picture? Perhaps something like: "Holy crap! This is one good brownie. My life has forever been changed!" And I'd have to agree. Dang that Chef Brian and his secret brownie recipe!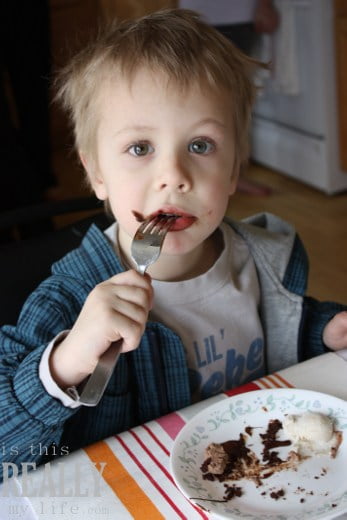 On the other hand Livi didn't think. Instead she dove right in. That's my girl!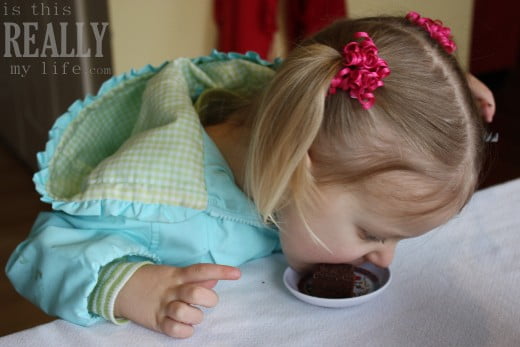 Next up in the Raw Melissa Project is Part 3 with my food prep class wrap-up. You simply must attend next time she has it!
And now for the giveaway:
I'm giving away one (1) dozen Raw Melissa macaroons, winner's choice (plain or chocolate drizzled)!
These babies are worth breaking your New Year's "I'm totally avoiding sweets" resolution. (I don't even bother setting that one.) For five entries, comment below with the CORRECT guess—or solid answer—to the question:
What were the two "mystery" veggies in Melissa's fridge shown in the second video?
Of course I want everyone to have the chance to become addicted to try Raw Melissa's macaroons, so for extra entries you can do any of the following. Leave a separate comment for each one you do:
Follow Raw Melissa on Twitter and leave a comment telling me you're her newest follower.
Subscribe to isthisREALLYmylife.com and leave a comment telling me you're the newest subscriber.
Become a fan of ITRML on Facebook and leave a comment telling me your my newest fan.
Become a follower of ITRML by clicking "Follow" on the right-hand side of the page and leave a comment telling me you're ITRML's newest follower.
Tweet and/or Facebook about this giveaway and leave a comment with the URL of your tweet/status update.
The contest will end one week from today at 11:59 PM on April 22nd. Good luck!