I first met Melissa Chappell (aka Raw Melissa) at the Moms Who Make It conference last summer where she taught attendees how to eating more fruits and veggies on a budget. I was immediately drawn to this woman who had a glow about her. She's beautiful--I'm talking gorgeous hair, engaging smile, flawless skin, generous, easygoing and passionate. (I'll only scrape the surface of all she's passionate about in this series of posts.) Before the idea hit me for this "project" I'd only seen Melissa a handful of times since the conference. But since then I feel like we've been friends far longer than that. I'm sure everyone who gets to know her feels the same. You can't help but absolutely adore this woman!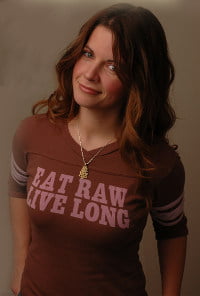 One night I was brushing my teeth, and with a mouthful of toothpaste (it wasn't pretty), I wondered aloud to Nathan just what one would find in Melissa's fridge/freezer/pantry. Would a woman who is all about avoiding processed foods and eating as organic, fresh and local as possible have anything in her freezer? Would she have a completely bare pantry except for some grains and organic coconut for her to-die-for macaroons of which I can eat an entire carton by myself? And wouldn't it be fun to take photos of her fridge/freezer/pantry and compare them to what we have in ours? Those thoughts—and an email to Melissa with all my crazy ideas—were the beginning of the Raw Melissa Project, a series of posts I can't wait to share with you.
I'm not sure how many parts this series will have (probably around 3) but it's all about Melissa's approach to healthy eating, how she manages it with a family (she only spends around $500 a month for a family of five...and that's mostly raw, organic, local foods), a few tips and tricks on how we can be smarter about what we put into our bodies and even a video or two of Melissa showing us how things are done in her kitchen. Oh, and quite a few photos of quite a few fruits, veggies, grains, spices, my kids (did you not see Wednesday's post?) and even dessert. Yes, I found a brownie pan and a cheesecake in Melissa's fridge before she had a chance to hide them! Okay, it's not that scandalous: Melissa believes in having a treat now and then but they're always healthy and always in moderation.
Enough with this text-heavy post! Part 1 of the Raw Melissa Project features side-by-side shots of her kitchen and mine and all the glories found therein. It will definitely pique your curiosity about just what Melissa does with all that produce, all those spices (no spice rack could even attempt to contain them) and all those bulk containers. You will have to wait for Part 2 to discover the whats, hows and whys of what you see BUT you won't have to wait to enter a fabulous giveaway! (details at the end of this post)
Oh, and NO JUDGING when you see what's in my kitchen. I'm showing you so you can feel better about what's in yours.
Melissa's fridge on the left; my fridge on the right (like you couldn't tell!)
Melissa's fridge door on the left; my fridge door on the right
Melissa's single fridge drawer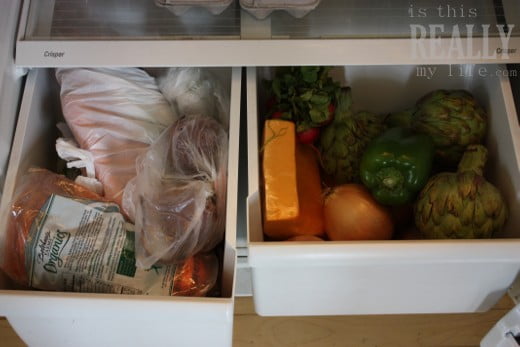 My multiple fridge drawers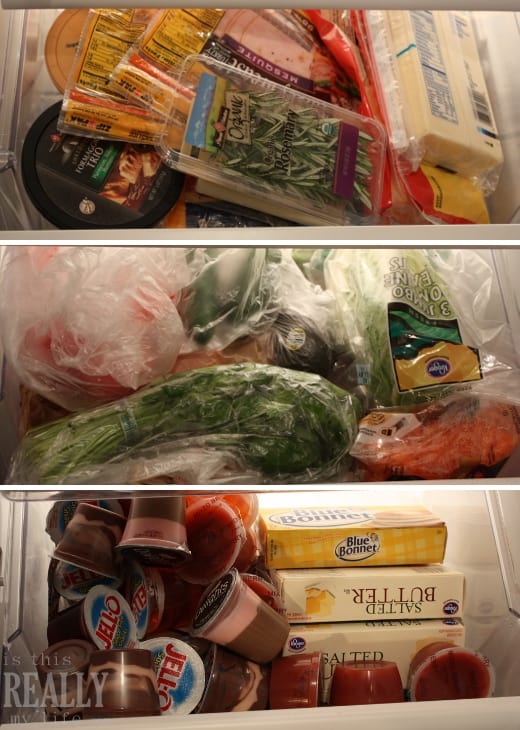 Melissa's freezer (note the package of My Dough Girl cookie dough; another reason I love this girl!)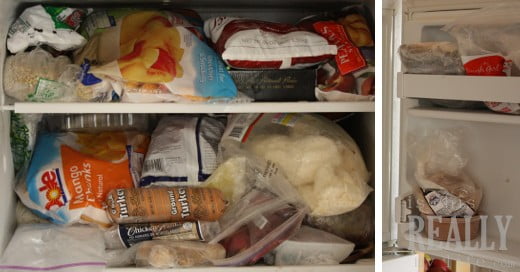 My freezer (what you don't see are the Dino Nuggets typically found inside)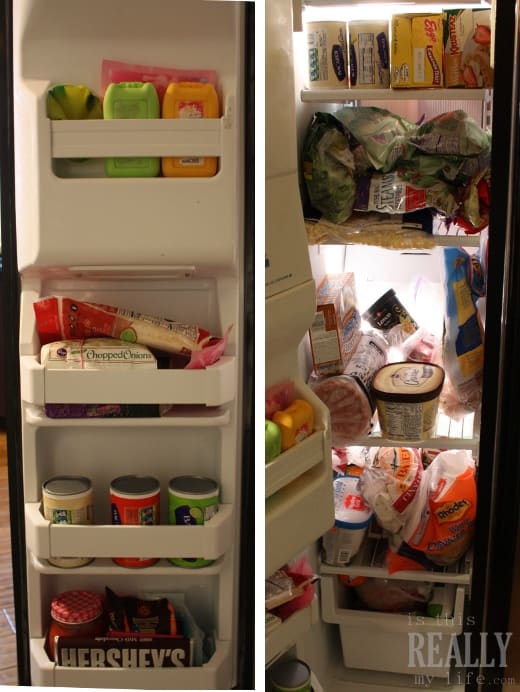 Melissa's "pantry" (she doesn't actually have a pantry—seriously!)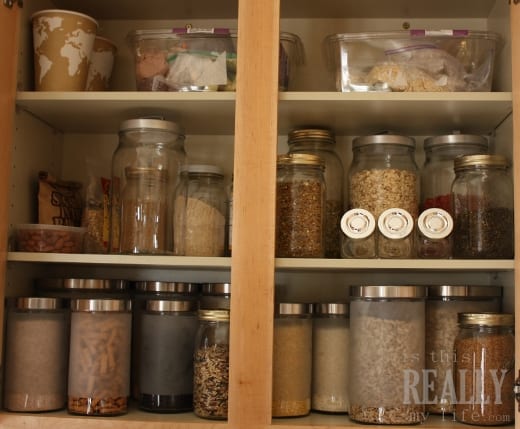 My fully stocked pantry (someone must have eaten the Costco-size carton of Goldfish or you'd see that too)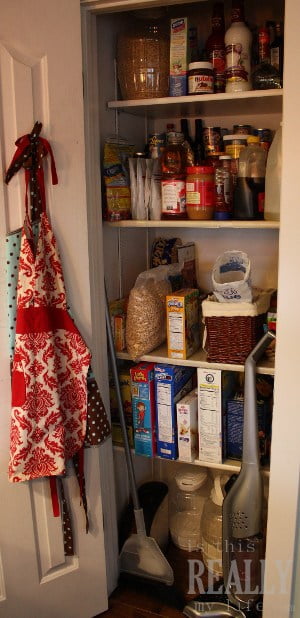 Melissa's spice collection on the left; my spice collection on the right (at least in one area I'm a close second!)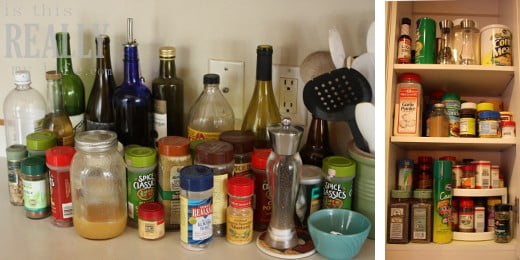 Melissa's "baking" shelves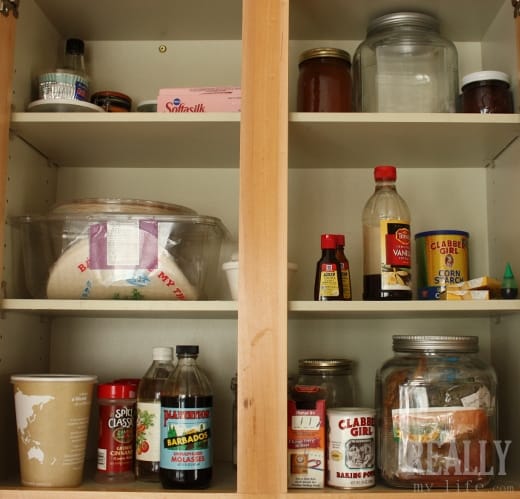 My baking shelves (gotta be prepared for any dessert emergency!)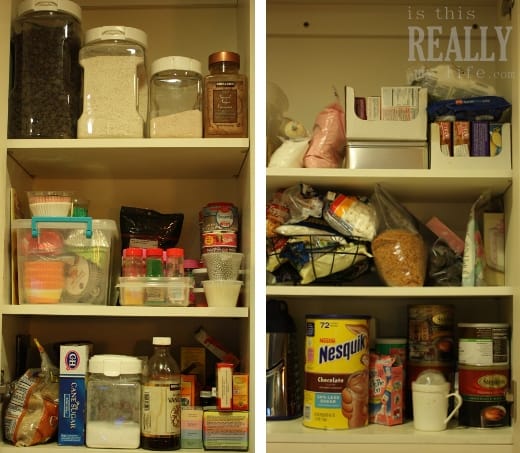 ...
Though my counters are fairly empty aside from a stand mixer and some decorative oils, Melissa had fruit here, there and everywhere. Here are a few random things I found in her kitchen. The cheesecake on the right? Made from scratch by her adorable daughter, who stayed up until 1 a.m. to make it. On the left? A plate of eggplant parmesan on top and a pan of brownies (top-secret recipe) made by Melissa's boyfriend Chris, former chef of Maestro's Cafe.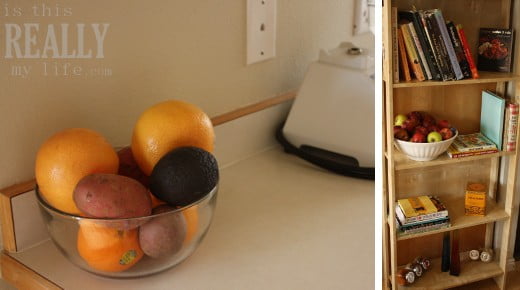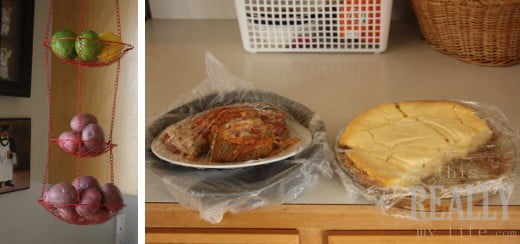 ...
In Part 2 of the Raw Melissa Project we'll go into more detail about what you see in Melissa's kitchen and how she incorporates it all into a healthy meal plan for her family. I'll throw in some video to spice things up a bit, and I might even share Melissa's go-to breakfast, the recipe for her eggplant parmesan and even a yummy smoothie recipe. Not sure what Part 3 will bring but I have a feeling it will be some random photos of my kids with chocolate brownie smeared all over their face and another Raw Melissa giveaway. And now for today's giveaway:
Melissa is giving away one spot ($80 value) in her upcoming "Eat More Fresh Fruits & Vegetables and LOVE It!" workshop at Blue Lemon Bistro on Saturday, March 27th!
You can read more about the class on Raw Melissa's blog. It will be five hours of fresh food preparation taught by Melissa and Chef Chris. You'll receive lots of fun goodies to boot! Oh, and I'll be there in case that sweetens the deal. (I know it doesn't but perhaps a package of chocolate-covered macaroons will...and those are included too!)
To enter to win, leave a comment on this post confessing the one totally unhealthy thing we'd find in your kitchen. For additional entries you can do any of the following; just leave a separate comment for each one you do:
Visit Raw Melissa's blog and tell her (via a comment) what you'd most like to learn in her workshop.
Follow Raw Melissa on Twitter and leave a comment.
Subscribe to isthisREALLYmylife.com (just click the RSS icon in the top right corner).
Become a fan of is this REALLY my life? on Facebook
Tweet and/or Facebook about this giveaway and leave the URL of your tweet/status update
This giveaway ends at midnight on Wednesday, March 24th and I'll announce the winner the following Thursday morning so she''ll have plenty of time to plan for Saturday's class!