A recent post by my friend Shelle got me thinking about forgiveness. Shelle forgives easily, which for most would be a blessing. Far too many of us hold on to grudges, offenses, mistakes others have made that have affected us or perhaps our families in one way or another. But as Shelle mentioned in her post, sometimes this easiness to forgive leads people to take advantage of my beautiful, sweet, forgiving friend. That fact makes me want to grab a few dozen eggs and a case of Costco toilet paper...all for a very good cause, of course.
Though someone who forgives easily may find themselves used and abused at times, in my little world I like to think this kind of person leads a happier, healthier life—and we should all be blessed with a forgiving heart. I don't hang on to grudges or hurt feelings for extended periods of time but I do hang on to them long enough to get a glimpse at what can happen if you don't let go.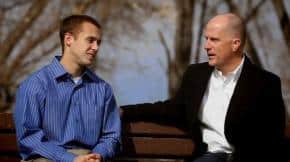 On Sunday our bishop showed us "Forgiveness: My Burden Was Made Light," a video from the Church of Jesus Christ of Latter-Day Saints' Mormon Messages YouTube channel. It is about Chris Williams (pictured above), a Salt Lake City man whose wife and two children were killed by a teenage drunk driver in 2007. I have been anxious to share it with you since the moment I saw it. You'll want to grab a Kleenex or two. In fact, grab an entire box. I am choking up just thinking about it. I may never be the same again. And I hope neither will you.
I haven't been truly tried or tested to know just how much I am willing to forgive. (Honestly, I hope I never am.) Forgiveness such as this man has given seems nearly impossible yet the story speaks to my soul telling me this is the way it should be: complete forgiveness so hearts and lives can be mended. Chris Williams is an example of Christlike love in action. If he can forgive, what the heck are we waiting for?
Photo above from this LDS.org article