Some of you may know about georgie tees, the little t-shirt business I started with a girlfriend back in 2005. For those of you who don't, LeShan and I designed a line of infant and maternity t-shirts with an awesome sense of humor. I'm talking "heavy drinker," "i wasn't born yesterday" and "lullabies rock" for the babes and "made it past third base," "no longer childproof" and "packin'" for the moms-to-be.
Well, sometimes life happens and you find yourself moving from one project—in this case, designing and selling the most awesome t-shirts ever—to another (and another and yet another). To help downsize our expenses, I've downsized our site and moved it to a single page on isthisREALLYmylife.com. I'm sorry you no longer get to read our fun "about us" page or catch a glimpse of the rest of our infant and maternity tees, but this little blog page saves us a good chunk of change…and we need all the chunks of change we can get.
…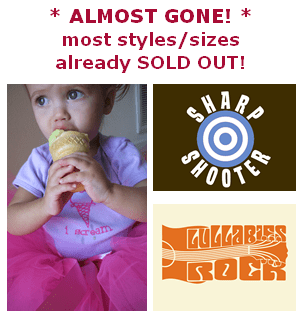 …
We only have a handful of infant onesies left, and at $7 each, they won't last long! You can check them out by clicking on georgie tees in the nav bar above or in the image below. We are also selling our super soft white and gray women's tees for only $6 each. (These tees would be great for layering or as a promotional item emblazoned with your logo!)
They really do make the best shower gifts, and now you could even consider them limited-edition tees!