I must give credit where credit is due. The inspiration for this post came from my dear friend Steph over at The Daily Blarg. Her "Bieber Inspired Vlog—To Haircut or Not to Haircut" is a masterpiece.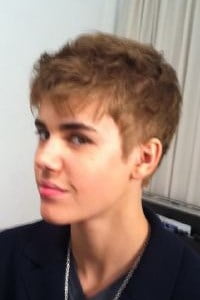 Who knew my 2003 hairstyle would eventually inspire a super mega teen pop star like Justin Bieber? I mean, I assumed one day one of my chosen styles would do something big (launch a thousand ships, become the face—or hair—of Aqua Net, redefine bedhead), but I had no idea it would grace the head of someone like Justin Bieber. If only he knew where the side swoop originated, he might never have gone in for that new haircut.
Okay, so my 2003 hairstyle isn't the reason The Biebs (thanks, Steph) sported those swoopy bangs, but the prepubescent uproar over Justin Bieber's new haircut had me wondering what all the fuss was about (more so than the usual fuss over Justin Bieber in general). I mean, it's only hair, and for me it's the one of the few things you can change that's not permanent, so you ought to change it up ALL. THE. TIME. At least, that's my philosophy.
And because at least one of you kinda likes my current hairstyle (love you, Shannon!), I thought I'd share with you my hair journey of sorts. Don't worry, I started the flashback with my high school senior picture and spared you the scary typical 80's dos.
Let's start with 1992, the year I graduated. I'm sporting a more mellow version of the early 90's "hair bear" bangs. (That line through the photo? Someone circled my yearbook pic and wrote "I love you!" next to it. If only I could remember who it was, I could thank him for preserving that moment for generations to come.)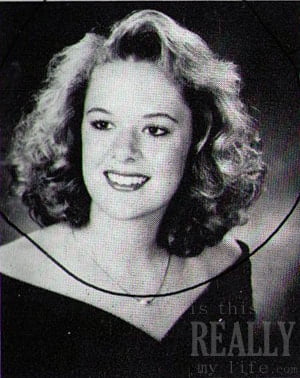 …
Moving along to 1993. This is one of my favorites. The photo doesn't do my bouffant of spiral-curled hair, each strand lovingly and painstakingly curled using one of those spiral curling irons. We were going dancing and you better believe I was going to rock someone's world…with my hair, of course.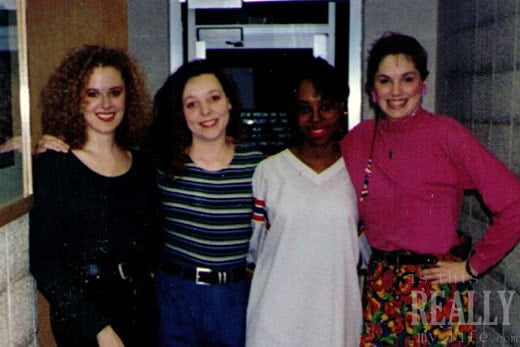 …
Oh, dear 1994! I don't know what I was thinking with those sparse bangs or the Olan Mills photo. And no, I'm not engaged though most BYU co-eds are at this age.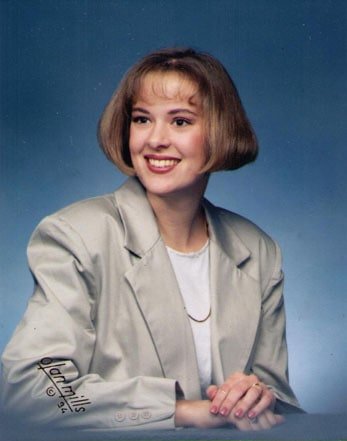 …
If you can look past the awesome red eye effect in this photo, you'll see 1994 was also the year of the home (dorm) dye job. Bet your bottom dollar I was going for blonde, not orange, highlights. At least it's a nice, curly take on the A-line bob I had in the previous photo. (I have no idea why I was buzzine my friend's hair in this photo—or why on earth he let me do it.)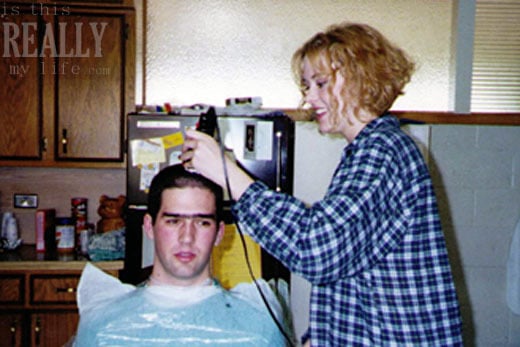 …
I like to think 1995 wasn't a bad year at all. I do still have that arching bang thing going on, but I am sporting some good volume thanks to Pantene. I asked for it every Christmas because I was too poor a college student to buy such a fancy shampoo.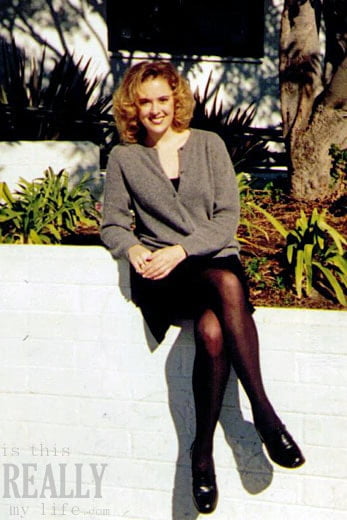 …
Of course, 1995 was also a great time to sport the Jennifer Aniston shag haircut. I have proof I partook of the fad, though it's slightly grown out in this photo. But believe me, I shagged!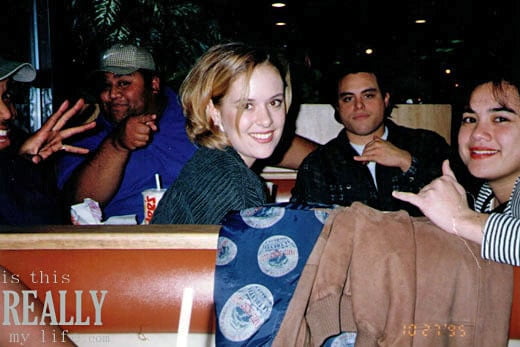 …
And when I wasn't shagging, I was curling. Man, 1995 was a busy year!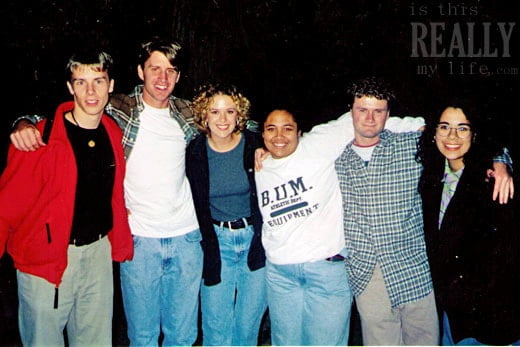 …
In 1996 I got married. I'm not sure if this had any effect on the chosen style, but I went with long and naturally curly. Note the natural part in the middle. I am still fighting that to this day. (Anyone recognize the Alpine slide?)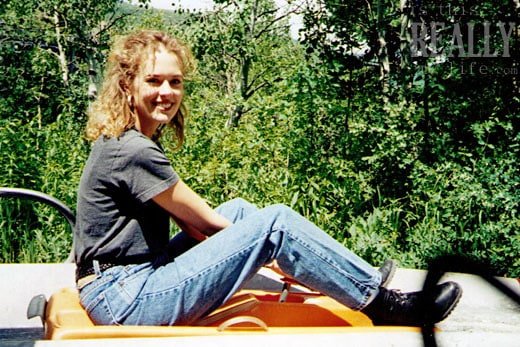 …
After a couple babies and a couple new hairstyles (the Olivia Newton John and a brunette pixie; lucky for you I couldn't quickly find photos), I went back to the A-line in 2000…but bang- and Olan Mills-free this time.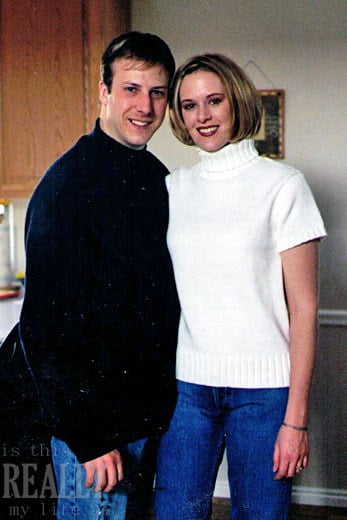 …
And this? I have no idea what the crap I was thinking or why I would even document this hairstyle on film. But I did to prove bad hair does happen to good people.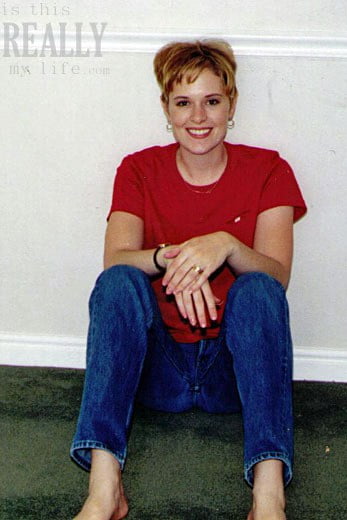 …
In 2002 I went back to the pixie, though that natural part and natural side cowlicks made it more Hayley Mills and less Halle Berry.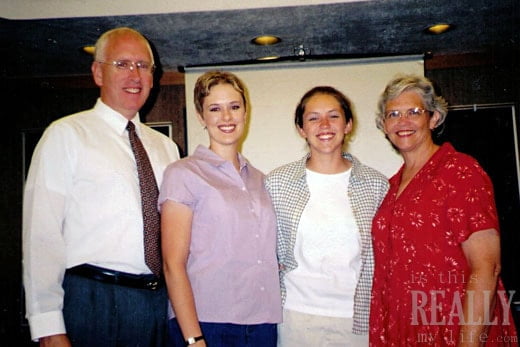 …
And now for 2003 and the hairstyle I like to think was the inspiration for Justin Bieber's recently retired signature look: the pixie with bangs. It was only a matter of time before he went full-on pixie.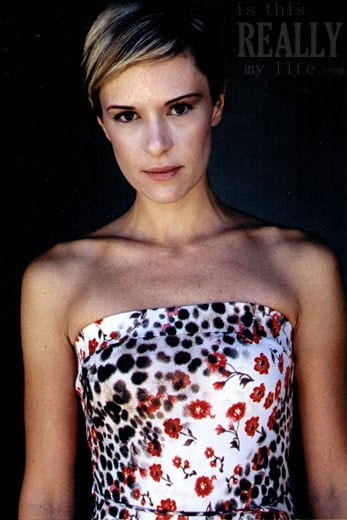 …
Let's compare, shall we?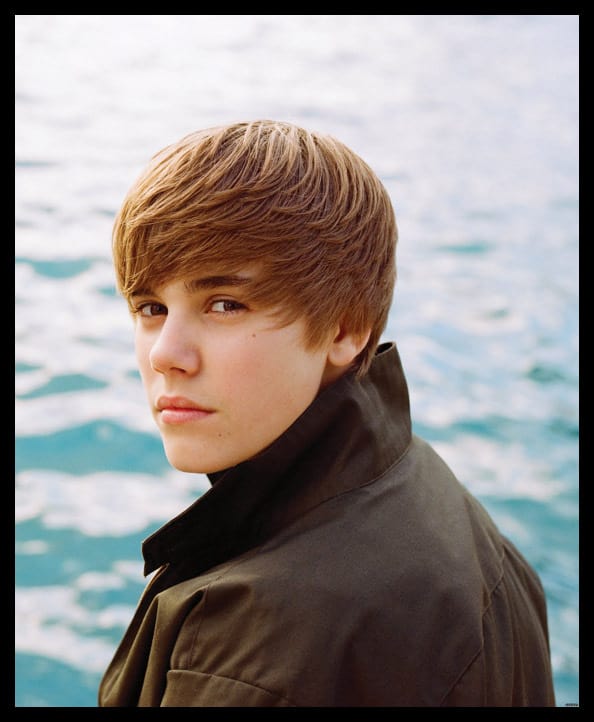 …
Okay, maybe his has a bit more volume and oomph—or at least it did. Moving right along…
Not one to keep short hair for long—and taking total advantage of the power that is prenatal vitamins, I did grow out my hair one more time in 2005. Shhh…I'm in the middle of hypnobirthing.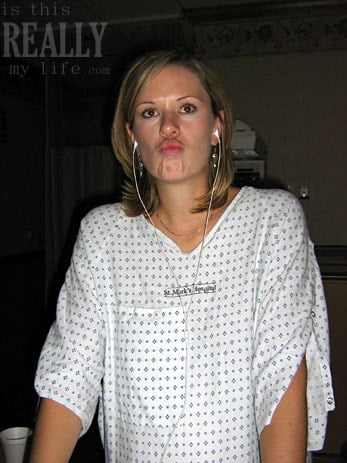 …
Soon after George's birth, I went back to the modified pixie with bangs and have kept it that way ever since except for one wild weekend in 2009. (Okay, it was only a wild couple of hours and it was for my stylist's portfolio. But still, it WAS fun.)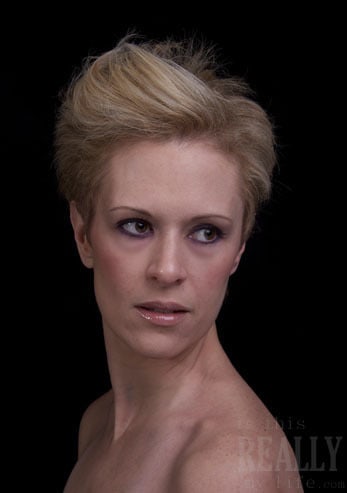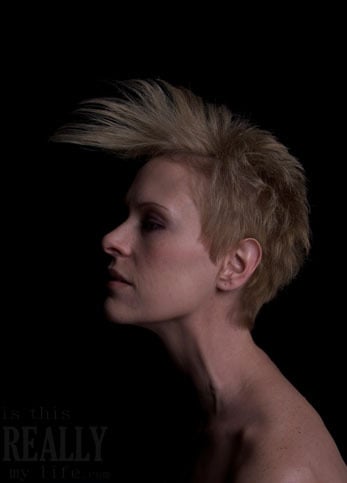 …
Perhaps I finally feel comfortable in my own skin, or maybe I've simply found a hairstyle that leaves me enough time to apply makeup in the morning. Whatever the reason, this hairstyle has stuck for a good few years now (plus or minus a couple color changes). Sometimes I'm tempted to grow it out, but then I get a random compliment on it and vanity gets the better of me. What can I say? I'm human…and a girl.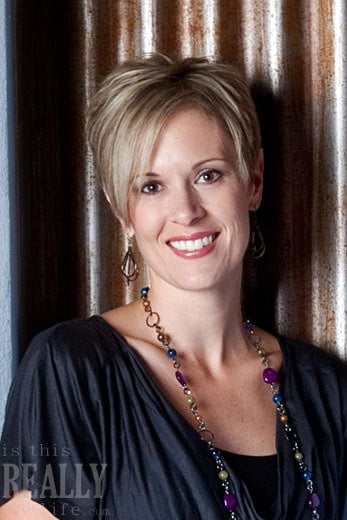 …
P.S. If you made it to the end of this post, you are:
A) an old friend reliving our college days.
B) a new friend thinking I should rename this blog "is this REALLY my hair?"
C) highly caffeinated with nothing better to do.
Whatever the letter, thank you from the bottom of my roots.