As most of you know, I've had my ticket for the Casual Blogger Conference for a while now and I'm super excited about it. I have a few conference buddies already and even booked a hotel room Friday night of the conference for a mini getaway (i.e., slumber party) with a couple girlfriends. I'm so jazzed I may have to created a paper chain counting down the days!
Fortunately I have a couple events to tide me over until the CBC. One is our fab SassyScoops.com/Casual Blogger Conference girls' night out, which I'll be posting about next week. The other is even sooner than that: a teleseminar with some of the awesome speakers you'll hear at the conference. Whoo hoo!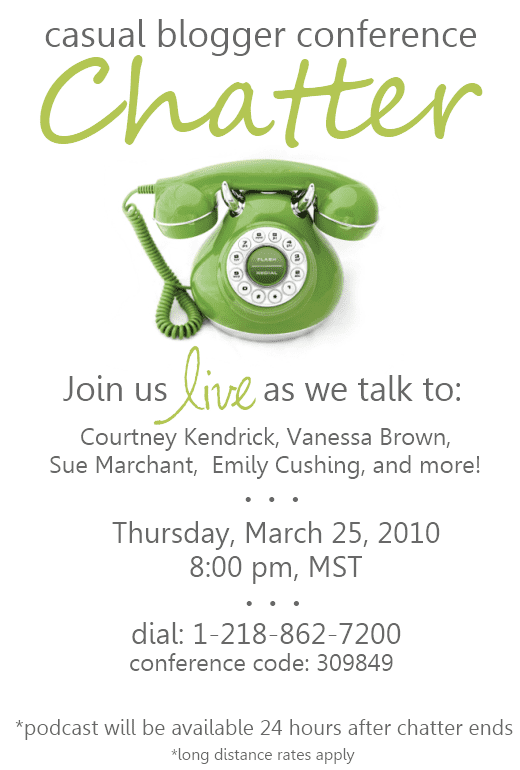 Some of the CBC gals you'll hear from during this don't-miss evening of "chatter" are Elisa from Mormon Mommy Blogs, Vanessa of I Never Grew Up, Courtney Kendrick of C Jane, Sue Marchant of Navel Gazing, Emily Cushing of My Give Away Today.
Topics for the evening include (but definitely won't be limited to):
Is it too late to cash in on that cash cow of blogging?
How to make your online business/blog more profitable
Blogging: Man vs Woman. Who has more power?
Your life is not a bed of roses: Why you should be authentic on your blog
The train wreck of blog haters.
Why do you keep blogging?
I have it penned on my calendar. You better believe I won't be missing it! By the way, the teleseminar is FREE and you aren't required to join any list. Even better, if you already have something on the calendar you can't reschedule, you'll be able to listen to the audio once these busy gals have time to put it all together.
I'll be listening in—hope you will too!