Have you heard of The Color Run?
Perhaps I should ask if you've seen The Color Run—it's rather hard to miss when you're talking thousands of people from age 2 to 82 covered head to toe in a rainbow of colored chalk.
In fact, it looks something like this:
…
…
Three days ago the girls and I participated in our very first Color Run.
Fun doesn't even begin to cover the awesomeness that is a 5k filled with people of all ages, shapes, sizes and running ability sporting purple hair, pink arms and blue thighs.
I may have sported green armpits for a good 36 hours after the race.
Here we are in our pristine white t-shirts before The Color Run.
Note our super fashionable socks courtesy of my sister.
Even the starting line was a party complete with music, early chalk-throwing and the national anthem.
…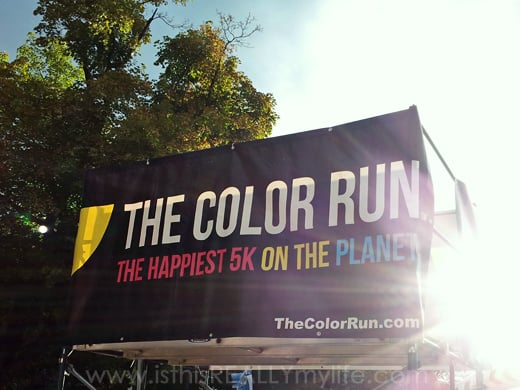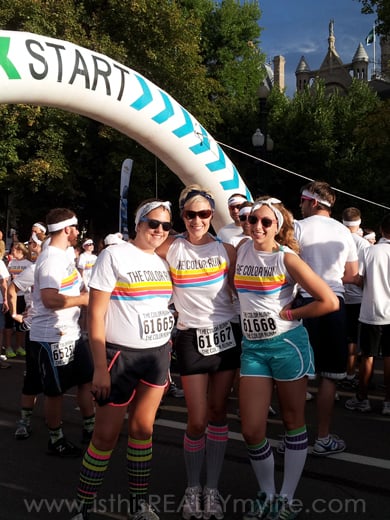 …
Those white shirts didn't stay white very long. To mark every kilometer, we had to make our way through a different color station. I didn't dare take my phone out of its Ziploc bag to document the chaos, but I did take it out to document these awesome chalk angels.
After crossing the finish line, we enjoyed a few minutes of the Finish Festival and a few more packets of colored chalk to celebrate healthy living, an underlying theme of The Color Run.
We're already looking forward to participating in next year's Color Run. We may even sport tutus and tiaras. Or rainbow suspenders. Or all three.
The find out if (or when) The Color Run is coming to your city, visit TheColorRun.com/locations/.
I highly recommend participating in The Happiest 5k on the Planet. We're totally taking George and Livi next year; they're so excited they can hardly stand it.
I'm a firm believer you can never have too much happy.
…


Feel free to "like" is this REALLY my life? on Facebook. It won't always earn you an extra entry in a giveaway but it will give you warm fuzzies.
Don't forget to sign up for free is this REALLY my life? updates via RSS or email so you don't miss a single awesome post.
…