Usually today would be my Slow Cooker Anyday feature, but due to a crazy week, I am totally unprepared. At least I pulled off the 5th grade Valentine's Day party with only two or three sugar coma casualties!
In lieu of Slow Cooker Anyday, I'm going to post my new favorite chocolate layered cake recipe. Heck, instead of a slow cooker meal this weekend, make this instead and let it sit on a cake stand for 6 hours before eating!
Up until the age of 8, I make my kids super fun cakes or cupcakes (castles, Blue's Clues, gut-filled spiders, Halloween tombstones and sharks, oh my!). But after age 8, they simply get their favorite cake and frosting combo with decorative accents—if they're lucky.
On Monday we had the official cake-and-ice-cream celebration for Lauren's birthday. She requested a triple-layer chocolate cake with chocolate frosting and I was more than happy to oblige. I mean, we're talking three layers of chocolate topped with whipped chocolate fudge frosting. What's not to like? (Unless you're Steph who doesn't do the chocolate thing…and yet I still love her. Bizarre.)
For Lauren's chocolate cake, I took my favorite decadent chocolate bundt cake recipe and used three 9-inch round pans instead, decreasing the cooking time by about half. I then found this Rich Chocolate Frosting recipe on Allrecipes.com and halved it. It was perfect!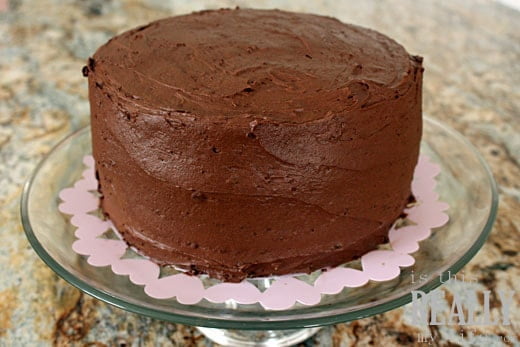 …
Triple-Layer Chocolate Fudge Cake
3/4 cup sour cream
4 eggs
1/2 cup water
1/2 cup oil
1 package chocolate cake mix (I love Devil's Food or Tripe Fudge)
1 small box instant chocolate pudding
1 cup mini chocolate chips
Preheat oven to 350 degrees. Beat sour cream, eggs, water and oil in a large bowl until thoroughly combined. Add cake mix and pudding mix. Stir in chocolate chips. Spread in three greased and floured 9-inch round pans. Bake approximately 20 to 25 minutes or until a toothpick inserted in the center comes out clean.
Cool 10 minutes in pan, then transfer to a wire rack. Cool completely before frosting.
Frosting
1 cup butter (no substitutes), softened
4 to 5 cups powdered sugar
1 1/4 cups baking cocoa
1/2 teaspoon vanilla
1/2 to 3/4 cup milk
In a large mixing bowl, cream butter. Gradually beat in powdered sugar, cocoa and vanilla. Add enough milk until frosting reaches spreading consistency.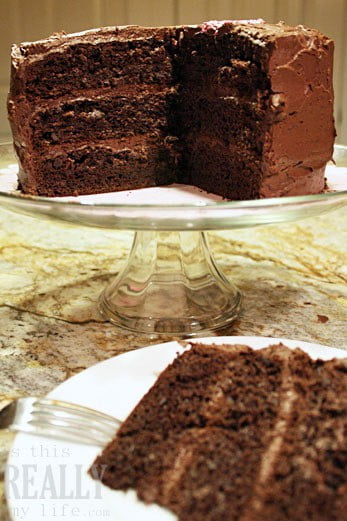 …
Have a very wonderful, chocolate-filled Valentine's Day!