That's the title of my itty bitty video over on the Pretty Darn Funny contest website. The contest, sponsored by Deseret Book, presents user-submitted videos featuring funny-but-true stories. Visitors to the site can vote for their favorite story with a simple click of the "thumbs up."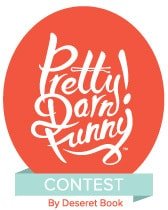 Notice how I used the word "simple." Because it really is that easy.
I didn't have a lot of material. Sadly, it's true. I may lead a busy life but it's not very exciting and my stories (permanent marker on the carpet and walls, diaper cream on comforters, missteps into the men's restroom) are nothing spectacular.
But then we had our SassyScoops.com review at Pallet, a new downtown restaurant, and an experience there made for a great little story aptly titled "That was Phil Dunphy?" You can check it out on PrettyDarnFunny.com…and of course give it a quick "thumbs up" if you'd like. You'll find it under the "most recent" section.
I'm only 140 or so votes away from the current leader, so no pressure.
Of course prizes include an all-expense-paid cruise for two courtesy of Morris Murdock Travel. Just sayin'.
If I win, I promise to send you a postcard.
…