This Texas sheet cake recipe was one of my favorite desserts growing up. My mom always referred to it as chocolate cookie cake so I didn't know its "real" name until I'd grown up a bit and heard it referred to as Texas sheet cake. No matter the name, this Texas sheet cake is easy to make and extremely easy to devour.
.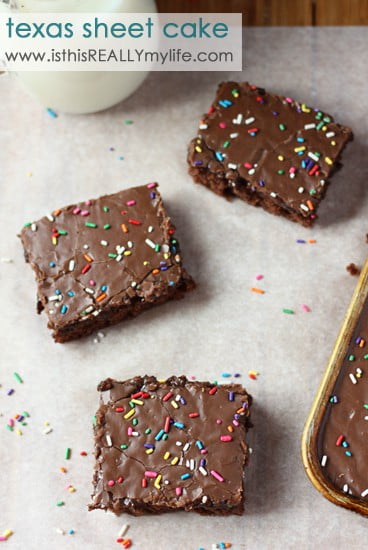 .
My favorite trick is to even out the pan every time I walk through the kitchen. It keeps things nice and neat and makes me feel better about eating half the pan.
Dessert justification is one of my many talents.
…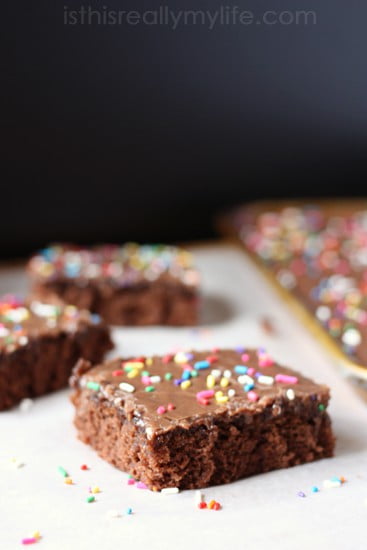 …
This sheet cake is super versatile and can be made for any occasion. I threw on some sprinkles because it makes it feel more like spring around these blustery parts. During the holidays my mom will often cut them into squares, frost with a couple green leaves and add one or two red hots as berries. You can pretty much decorate it however you'd like…or eat it straight from the pan immediately after frosting.
Note: If you don't have buttermilk, you can substitute with milk and lemon juice. For 1 cup of buttermilk, pour 1 tablespoon of lemon juice in a liquid measuring cup. Add enough milk until it reaches the 1-cup mark. Let stand 5 minutes.
Printable recipe for Texas sheet cake below.
…

Texas Sheet Cake
One of the simplest cakes to make (though it can make for a lot of dishes). Always a hit at family parties and get-togethers.
Author:
Emily ~ isthisREALLYmylife.com
Ingredients
Cake
2 cups flour
2 cups sugar
½ tsp salt
½ cup unsalted butter
1 cup water
4 T cocoa
2 eggs, lightly beaten
1 tsp vanilla
1 tsp baking soda
½ cup buttermilk
Frosting
½ cup unsalted butter
3 T cocoa
1 (1-lb) box powdered sugar
1 tsp vanilla
6 T milk
½ cup chopped nuts (optional)
Instructions
Cake
Preheat oven to 350 degrees. Lightly grease a 18x13-inch cookie sheet.
In a large bowl sift together flour, sugar and salt. Set aside.
In a medium saucepan, combine butter, water and cocoa. Bring to a boil. Remove from heat and add to flour mixture. Stir until combined.
In a separate bowl combine eggs, vanilla, buttermilk and baking soda. Add to flour mixture and mix until thoroughly combined.
Pour into greased cookie sheet and bake for 20 minutes.
Frosting
Start frosting the last 5 minutes of baking time.
In a medium saucepan, combine butter and cocoa. Melt but DO NOT boil. Remove from heat and whisk in powdered sugar, vanilla, milk and nuts (optional). Whisk until no lumps remain. Frost cake while still very warm.
…
As for my other favorite chocolate cake, this decadent
death by chocolate bundt cake
wins hands down.
…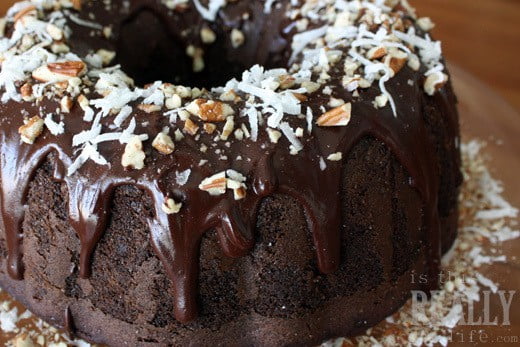 …


Feel free to "like" is this REALLY my life? on Facebook. It won't always earn you an extra entry in a giveaway but it will give you warm fuzzies.
Don't forget to sign up for free is this REALLY my life? updates via RSS or email so you don't miss a single awesome post.
…