Disclosure: Though intelliBED provided us with a Relief Perfect bed, we purchased the Tempur-Pedic all by ourselves and regretted every minute of sleep on that thing. Post may include affiliate links.
.
This is the first of a series of posts sharing why we switched from Tempur-Pedic to intelliBED and discovered how intelliBED is perfecting the science of sleep . . .
or the science sweet dreams.
After 14 years—and countless restless nights accompanied by countless aches and pains—it was time to replace our old-school pillow top mattress. But which mattress should we buy? I know! Let's ask friends and family on Facebook. Crowdsourcing is perfect in this type of situation.
But not this time. Our "crowd" told us Tempur-Pedic was the way to go.
And it so wasn't. And I so posted this on Facebook the next morning:
Most of the replies were along the lines of "give it a few weeks" and "it can take about 30 days." Funny story. The sales guy at the store even told us he had to rotate the mattress and sleep on his wife's side for a few weeks as she was much lighter than he and needed help breaking it in.
Funny in a "we no longer own a Tempur-Pedic" kind of way.
But then I came across these comments:
I started to wonder if we'd chosen the wrong mattress. I was intrigued by this intelliBED with its magical intelli-GEL but figured we ought to give that Tempur-Pedic a couple more weeks . . . even though I have a firm belief it shouldn't take more than a few days to get used to a new mattress.
Well into our second week we were wishing we had our old mattress back never mind its permanent valleys on either side. That's when we decided it was time to learn more about intelliBED. The more we read, the more we felt buying an intelliBED mattress would be a genius move on our part. Why? Because intelliBED has lots of amazing features (you can read more about them here) but a few really sold me:
Completely non-toxic (google "memory foam off-gassing" for fun; you'll see why in the second video I make a point of how uncool it was my pj's and pillowcase smelled like memory foam)
Best pressure relief (great for my side sleeping)
Best back support (super important for Nathan)
30-year warranty (YES, 30 YEARS!)
60-day risk-free trial (how else can you tell if you like a mattress?)
.
We were more than ready to switch, and because we thought there may be others out there feeling the same, we thought it would be fun to share a bit of our story.
.
.
And even more fun (lots more fun!) to share the top 5 reasons we dislike Tempur-Pedic and the joy I experienced the day our intelliBED Relief Perfect mattress arrived.
Who knew American Authors would understand exactly how I felt?
.
.
After three weeks on that Tempur-Pedic, this was the happiest thing to pull into my driveway since the UPS man delivered my red Italian leather boots.
And this was the happiest thing I'd seen in my office since Nathan set me up with two monitors.
Goodbye, Tempur-Pedic. Don't let the door hit your box spring on the way out.
Stay tuned as we share more of our story  including our meeting with intelliBED founder Bob Rasmussen (he sheds some light on this whole "perfecting the science of sleep" thing) and what we really thought of our first couple weeks on that crazy awesome intelli-GEL.
Until then, you should probably switch out whatever mattress you have for an intelliBED, especially since I get to offer ITRML readers 10% OFF your intelliBED purchase. For reals. Talk about sweet dreams! Just click the image below or go to http://bit.ly/buyintelliBED and use code ISTHISREALLYMYLIFE.
.
** UPDATE! You can now listen to my interview with intelliBED founder Bob Rasmussen and read my detailed intelliBED review (it's been 8 months since we got it) including the 7 most important reasons to buy an intelliBED. **
.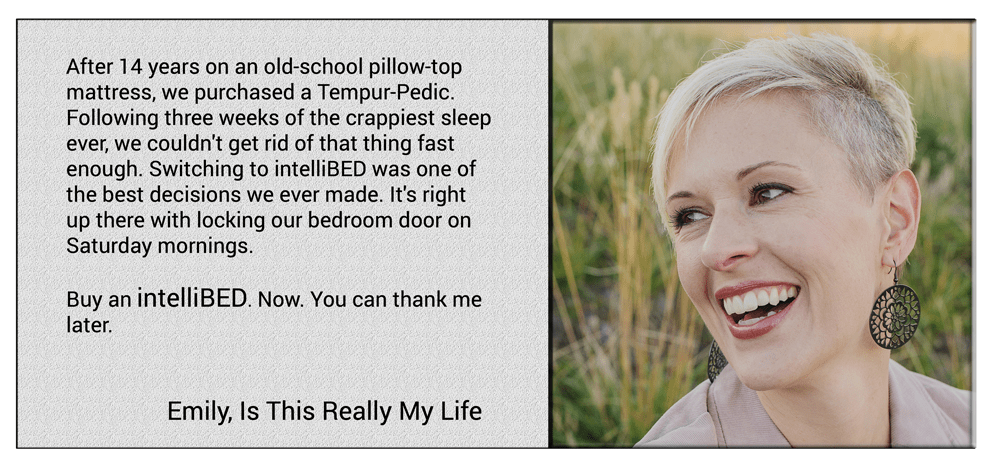 Like the quote says, buy an intelliBED. Now.
You can thank me later.
.


Feel free to "like" is this REALLY my life? on Facebook. It won't always earn you an extra entry in a giveaway but it will give you warm fuzzies.
Don't forget to sign up for free is this REALLY my life? updates via RSS or email so you don't miss a single awesome post.
.