Those who know me well know I don't get up early and make my family breakfast . . . even on Sundays . . . even when church isn't until 1pm. I make an exception Christmas morning, but cinnamon rolls are always worth an early-morning roll call. My kids have no choice prefer to eat cold cereal, Eggo waffles and oatmeal. (Who am I kidding? They never fix oatmeal.)
On the rare occasion I don my dusty supermom cape, I like whipping up a batch of what I consider THE BEST bran muffins ever. This recipe makes a good 4 dozen muffins, maybe even close to 5. I usually bake 2 dozen to start and then refrigerate the batter until we need more. That's what's so great about this muffin recipe—it keeps in the refrigerator for up to a week or two. My husband loves grabbing a couple muffins—no, not those muffins, though he does try to grab them too—on his way out the door for work. They are packed full of fiber and good stuff and oh-so-handy. Literally.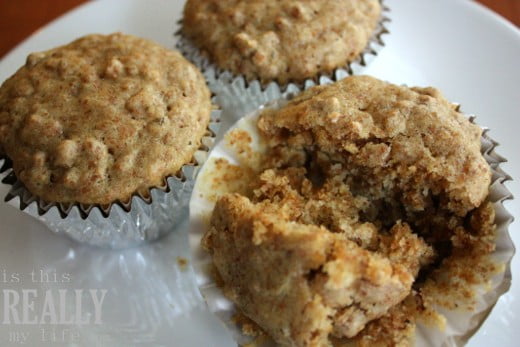 It's not often I find a bran muffin recipe the kids love, so I pretty much carved this one into my back splash. I bet you could even bake the whole batch and freeze half. A little turn in the microwave and you're good to go!
Below is the original recipe. I made a few tweaks (see notes below the recipe) to bump up the healthy factor a bit. Enjoy! (We've been enjoying these since 3:47pm yesterday afternoon.)
Printable recipe for make-head bran muffins below.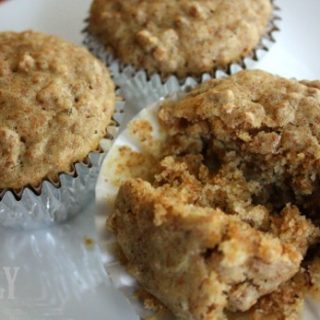 Make-Ahead Bran Muffins
My family adores these bran muffins and asks me to make them all the time. The batter can be made ahead and refrigerated for up to a week so you can make a dozen at a time. Enjoy!
Ingredients
2 cups boiling water
1 T + 2 tsp baking soda
1 cup Crisco shortening*
2 cups sugar**
4 eggs
1 qt. buttermilk
5 cups flour***
1 tsp salt
4 cups 100% bran buds
2 cups bran flakes
1 cup chopped walnuts (optional)
Instructions
Preheat oven to 350 degrees.
Add baking soda to hot water and let cool.
In an extra large bowl (and I mean extra large—this recipe fills my Kitchen Aid mixing bowl to the brim), whip shortening and sugar until light and fluffy.
Add the eggs slowly. Mix well.
Add the buttermilk, flour and salt; mix well.
Add the soda/water mixture very slowly.
Fold the two bran cereals into the mixture and then the chopped nuts.
Put a lid on the bowl and place in the fridge for an hour or two before baking. (This softens the bran buds and makes the batter fluffier.)
Spray the inside of a muffin tin with non-stick spray or line with cupcake liners. Spoon a generous amount of mixture into the muffin cups, filling them to the top.
Bake for 18 minutes or until they are slightly golden brown on top. Let cool for 5 minutes and then serve. Makes 4 dozen.
Notes
* I use either 1 cup butter or ½ cup butter and ½ cup margarine. ** Sometimes I substitute ½ cup organic sugar and ½ cup Splenda. *** I use 3 cups white flour plus 2 cups whole wheat flour and 1 T dough enhancer. (You could probably even do 3 cups whole wheat to 2 cups white and these would still taste great!)
Nutrition Information:
Yield:

24
Serving Size:

1
Amount Per Serving:
Calories:

334
Total Fat:

13g
Saturated Fat:

4g
Trans Fat:

0g
Unsaturated Fat:

9g
Cholesterol:

36mg
Sodium:

361mg
Carbohydrates:

53g
Fiber:

8g
Sugar:

22g
Protein:

7g