Translation: Team Awesome SL,UT's new Team Awesome Smashburger burger FOR THE WIN!
Remember those Big Gulp #PDR cupcakes?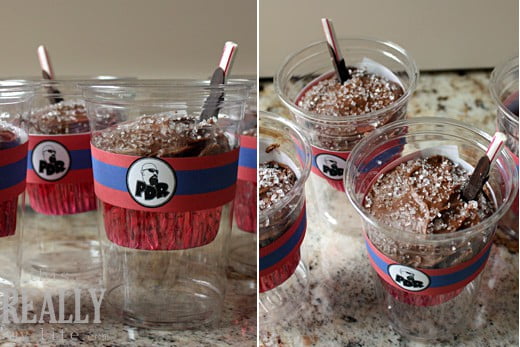 ...
The event I took them to was the launch of a new off-the-menu burger from Smashburger in West Valley City, Utah. Affectionately named the Team Awesome burger (#TASmash on Twitter) and originally designed by Heather King (@slclunches), it is my new favorite Smashburger menu item—and that's saying a lot because I love their mushroom & swiss. LOVE. IT. (With a side of fried pickles and ranch, of course.)
...
Before I unveil what you'll find in the new Team Awesome burger, let me tell you a bit about Team Awesome SL,UT or TASLUT for short. I can still remember the moment Scott (@Paco_Belle) bestowed upon me the honor of being TASLUT's newest member: I was sipping my Diet Coke with fresh lemon and keeping my eye on George and Livi who were playing in the Smashburger parking lot sitting quietly in the booth.
...
Being TASLUT's newest member, I asked Scott just what the group was all about. He enlightened me:
It started the night of the second SMCSLC event. After the event, a group of us were hungry and headed to Red Rock Brewery for a bite. Towards the end of the night Rick Galan suggested we call the group Team Awesome. Over the next couple months, people would talk about getting together for lunch but there wasn't anything for people to follow on Twitter, so people started using #TeamAwesome to find out where things were happening...until some doofus teenagers somewhere started hashtagging all their crap #TeamAwesome. Someone suggested we add a "SL,UT" at the end of it...that way it's a local thing. And that is how TASLUT got its name.
And the original members? Scott (@Paco_Belle), Darin Berntson (@iGoByDoc), Josh Peters (@JoshSPeters), Rick Galan (@RickGalan) and Nick Johnson (@NteeJ).

You can only see Nick in the photo above (green shirt, far left) but I loved this shot of Matt (@MerkProf) (beard, dead center). He makes me smile. Lots.
...
So how did TASLUT come to create a "secret" burger for Smashburger? Well, there's a bit of a story there so I'll give you the short version: it was kind of a TASLUT reunion paired with a fabulous social media move by Smashburger. The End.
Well, not really. There is still the burger to drool over talk about. It really is the star of this post, and why not when the #TASmash looks as awesome as this:
...
Team Awesome burger is a well deserved name, don't you think? Wait, one more photo just for fun.
...
What's in the new #TASmash burger? A whole lotta goodness: 100% Angus beef, smashed, seared and seasoned on the grill; Swiss cheese; fried egg; grilled onions; sauteed spinach; bacon; chipotle mayo; butter-toasted artisan bun. Holy crap, I want one. Now. I mean, especially if it makes you as happy as it made Darin:
...
Though for my kids it was the new, limited-edition grasshopper Oreo shake (available only through April 30th):
...
I had that big a smile on my face too, but someone had to snap the photos!
So basically here's what you need to know after all that:
You can

only

order the Team Awesome burger (#TASmash) off the menu at Smashburger in West Valley. (It is totally worth the drive even with two very busy kids in tow and you have to sit with those kids while you eat.)
Don't forget to order a side. I suggest the sweet potato smashfries (tossed with rosemary, garlic and olive oil) and regular smashfries. And fried pickles. Don't forget the fried pickles.
Every Smashburger meal needs a shake. Get the grasshopper one while you can.
Smashburger (West Valley)
3513 South 2700 West
West Valley City, Utah 84119
801.988.4613
Open 10 AM to 10 PM daily
You can find Smashburger on Facebook, Twitter and YouTube as well!
P.S. Check out Smashburger's online menu for unique burgers depending on the location. Las Vegas has the Sin City burger, Utah has the Beehive Burger and San Diego has the San Diego Smashburger (fresh avocado and fresh cilantro plus pepper jack cheese on a torta roll)!
P.P.S. The gals from SassyScoops.com reviewed the Draper Smashburger with their families a while back and had a blast! I hear we'll be back at Smashburger this month. I. Can. Hardly. Wait.
P.P.P.S. I'd like to see you look this cute with French fries poking out of your mouth and snot running down your nose. Bet you can't do it!
You can find all my photos from the TASLUT event on Flickr.
Thanks to that angel of a man, Scott, I now have some BOGO (buy one, get one free) coupons for Smashburger. Dude, you want these. That's two Team Awesome burgers (or Mushroom Swiss or Baja Chicken or Beehive Burgers or even a Smashsalads) for the price of one!
I am giving away a set of five (5) Smashburger BOGO coupons to three (3) lucky ITRML winners!
Just comment for your chance to win. Like Smashburger, I love giving you extra options. You can do any/all of the following for more chances to win. Please leave a separate comment for each one you do (each one earns you an extra entry).
~ "Like" Smashburger on Facebook.
~ Follow SmashburgerUT on Twitter.
~ "Like" ITRML on Facebook.
~ Follow ITRML on Google Friend Connect (sidebar) and/or subscribe to ITRML.
~ Tweet about this giveaway and leave the URL of your tweet.
~ Update your Facebook status with a link to this giveaway.
This giveaway will end at midnight on Friday, April 15th (tax day—the perfect reason to celebrate). Good luck!
Disclosure: Smashburger provided me with the awesome experience of designing a unique burger just for their West Valley location—and of course taste testing it too. The opinions and drool-inducing (and smile-inducing) photos are all mine. But I'll share the burger. (Who am I kidding? I totally won't share. Get your own.)