A quick note: I can't yet feature more than one printable recipe per post, so I've broken up last week's tasty Taco Tuesday into three parts. Today is the final post: sweet cilantro rice…and just in time for your own Taco Tuesday tonight!
Part 1: Fish tacos with spicy chipotle mayo plus a link to my recipe for Cafe Rio-style creamy cilantro dressing
Part 2: Refried black beans (great alternative to out-of-the-can refried beans, especially if you love black beans like I do)
Now, this sweet cilantro rice isn't everyone's favorite. I am a big fan as is about half the family, but don't let that fool you. The other half includes one picky eater and two little ones who've never been a fan of rice. If it's a bit too sweet stick with about 1/4 cup sugar rather than 1/2 cup. I use about 1/3 cup because I'm all about compromise.
…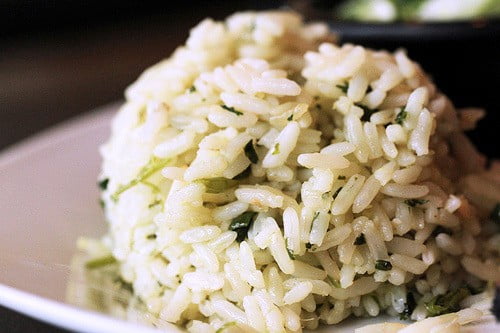 Photo by The Hungry Dudes, shared via Flickr.
…
This cilantro rice recipe taste very similar to rice served at Bajio (and now Costa Vida). For more of a cilantro lime rice, toss with a little fresh lime juice before serving. Hope you enjoy it!
Printable recipe for sweet cilantro rice below.

This is similar to a cilantro rice served at Bajio (now Costa Vida). For a hint of lime, toss with fresh lime juice before serving.
Author:
Emily ~ isthisREALLYmylife.com
Ingredients
½ to 1 T canola oil
½ white onion, diced
½ bunch fresh cilantro
1⅓ cup long grain white rice, uncooked
3 cups chicken broth
¼ to ½ cup sugar
Instructions
Combine sugar and broth and whisk until sugar is thoroughly dissolved. Set aside.
In a large saucepan, saute onion in oil over medium heat until onion is translucent. Add cilantro and saute 1 minute. Add rice and saute until light golden brown.
Add broth mixture to rice and bring to a boil. Cook on low 25 to 30 minutes or until rice is fully cooked and liquid is absorbed. Serve immediately.
…
If you prefer a flavor less sweet and more like Chipotle's lime cilantro rice, try this
Lime Cilantro Rice recipe
I found on
AllRecipes.com
. This
Cilantro Lime Rice recipe
from
Two Peas & Their Pod
 looks totally delicious too! YUM!